All weekend
BREATHE: A weekend of installations, performances and workshops, Space to Breathe at Somerset House is a creative response to the rising pollution levels in London. Find out what you can do to make the city less congested and more energy efficient. Free, just turn up, until 29 January (noon-6pm)
THE LITTERATI: Follow Millie on her journey to becoming a serious journalist as she goes underground with the Litterati community, in this play at Vaults Festival. £15, book ahead, 25-29 January
BOOK SALE: Get your hands on some bargain rare and collectible books with the Taschen book sale in Chelsea. With up to 75% off, you can really stock up your home library with sophisticated texts. Free, just turn up, until 29 January
MAGIC LANTERNS:The Magical Lantern Festival is back at Chiswick House Gardens. Follow the trail through the gardens to see lantern installations themed on the Silk Road and the Chinese Year of the Rooster. Oh, and Parliament. You can also enjoy ice skating, food from around the world and funfair rides. £16.50/£10.50, book ahead, until 26 February
OPEN PLAN: Open Plan at House of Vans in Waterloo is an immersive exhibition showcasing works by modern artists that use painting and sculpture to explore space and architecture. Free, just turn up, 26 January-12 February
EXHIBITION OF PAINTINGS: Despite being colourblind and having tunnel vision, William Lethorn has found success in the world of art. Working with oils, acrylics, charcoal — and taking inspiration from religion, history and landmarks — Lethorn's selected works are currently being displayed in Exhibition of Paintings at Artsdepot in North Finchley. Free, just turn up, until 8 February
RECORDS & REBELS: Explore the late 1960s, a decade of era-defining music, fashion and political activism at the V&A. You Say You Want a Revolution? Records and Rebels 1966-1970 evaluates the impact of these finished, and unfinished, revolutions — and how they impact us today.  Various prices, book ahead, until 26 February
RE-IMAGINATION: With the Transport Museum's Poster Parade: Re-imagining historical posters, old posters and memorable designs are cleverly modified for contemporary audiences. £16/£13.50, book ahead, until 27 April
ETHICAL TAXIDERMY: Jazmine Miles-Long challenges the ideas and perceptions of taxidermy with her exhibition, Memorial. A Tribute to Taxidermy, at the Horniman Museum. Miles-Long pays tribute to unknown craftsmen of the past, while demonstrating that taxidermists not only preserve animals, but are masters of many skills. Free, just turn up, until 1 May
Saturday 28 January
FAMILY TIME: CelebrateChinese New Year at Museum of London Docklands. Take the kids along for storytelling, paper-cutting, dragon dancing and more with this special family festival Free, just turn up, from 11am
A SQUARE WORLD: A touching story looking at the unfairness of being left out in the world, A Square World follows three friends as they tackle the feeling of being left out. The theatre show, aimed at 3-6 year olds, takes place at Half Moon Theatre in Limehouse. £7, book ahead, 11am/2pm
KEATS: Explore the tragic life of romantic poet John Keats on this guided walk around Hampstead village. Listen to readings of his poetry and letters, and discover the locations that inspired him. £12/£10, book ahead, 11am-1.30pm
CHARACTER ENCOUNTERS: Take the kids to the National Maritime Museum for Character Encounters. Explore the struggles of tea trade between Britain and China, dive into the sea with Neptune or learn about life as a Caribbean woman from Pearl Morris. Free, just turn up, noon-3pm (different time slots)
INSIDE THE BOX: Perfect for quick-thinkers and creative minds, Inside the Box Game Jam on Brick Lane is a day dedicated to creating a tabletop game in a short amount of time. There are prizes and the chance of getting your game published. From £10, book ahead, noon-10pm
MEMORY LOSS & THEATRE: Join Sally as she adjusts to a new life with a robot husband, fading memories and figuring out whether love can really conquer all. Spillikinhas been praised as astonishing, evocative and moving — see it at Greenwich Theatre. £15/£12.50, book ahead, 2.30pm/7.30pm
DOMESTIC THEATRE: A pitch black comedy with an all female cast, The Wives of Others surrounds a group of women, all spouses of underground criminals, at a dinner party. Set in 1955, New York City, the job that their husbands are on falls apart... and so does the dinner party. At OSO Arts Centre in Barnes. £12-£15, book ahead, 7pm
CLAZZICAL MUSIC: Join British Jazz Award winner Julian Marc Stringle and his Dream Band as they join forces with Sonia Slany's Solid Strings. You're in for an evening of classic melodies fused with Latin rhythms at Chickenshed Theatre in Southgate. £20-£25, book ahead, 8.30pm
DJ, DRINKS & DANCE: Fancy an evening of cocktails, dancing and old-school tracks? Let loose with Drink, Shop & Do's DJ, Drinks & Dancing in King's Cross. Free until 10pm, £3 after.
Sunday 29 January
CHINESE NEW YEAR: Head to Chinatown for the 2017 Chinese New Year Parade. Complete with puppeteers, costumes and music, it's the biggest Chinese New Year parade outside of Asia. Free, just turn up, from 10am
THE BEAR: Keep the little ones entertained with a performance of The Bear at Artsdepot in North Finchley. Follow Tilly on her adventure with a very large polar bear that turns up in her bedroom one night. Aimed at age 3+. £9, book ahead, 11am/2pm
RIVER FLEET: Go back in time with this guided tour down the erstwhile River Fleet. Learn secrets of the Fleet Valley, from the hidden viaducts to the Grecian villas. £12/£9, book ahead, 10.30am-12.30pm
IMPACT BOXING: Test your right hook with IMPACT Boxing's workshop at Ace Hotel in Shoreditch. Suitable for all levels, get yourself ready for the week ahead with this crazy fitness workshop. £20, book ahead, 11am-noon>
ANTI WINTER BLUES: Fight those January blues with a movie at House of Vans. Chosen especially as a part of their Anti Winter Blues season, they will be screening It's Kind of a Funny Story, a movie about a teenage boy who checks himself into a psychiatric ward as he battles depression. Free, just turn up, 2pm/4pm
BURNS CELEBRATION: Celebrate Burns Night (ish) with an evening of music from the UK's top folk performers at Union Chapel in Islington. Visitors will hear some of poet Robert Burns's work put to music for the first time. £15, book ahead, 7pm
RAILWAY COMEDY: Have a laugh with Comedy at the Railway Streatham. Join Ellie Taylor, Nigel NG and other comedians as they take you through their hilarious anecdotes. £6, book ahead, 7.30pm
Stage review: A devastating portrayal of benefit cuts
It's not hard to see why Katherine Soper's debut play bagged the Bruntwood Prize: tightly structured, surprisingly funny, and incredibly poignant, this is a quietly devastating portrayal of life under Britain's benefit cuts. The four-strong, first-rate cast in Matthew Xia's production will leave you feeling battered, but oddly hopeful, in this exposé of the lengths to which some will go to protect the ones they love. Wish List, Royal Court, Sloane Square, SW1W 8AS.From £10, until 11 February ★★★★☆ Savannah Whaley
Stage review: Relentless locker room talk to music
A bubbling Bacharach soundtrack, inspired production and enthusiastic cast doesn't hide the fact that Promises, Promises at Southwark Playhouse overplays its paper-thin story, for three hours. But leads Gabriel Vick and Daisy Maywood make such a cute couple you might feel inclined to want to take them home. When they come together and sing I'll Never Fall In Love Again it is sublime music making. Promises, Promises, Southwark Playhouse, Newington Causeway SE1. £25/£20, until 18 February ★★★☆☆ Paul Ewing
Fun things to do with our friends and sponsor Funzing...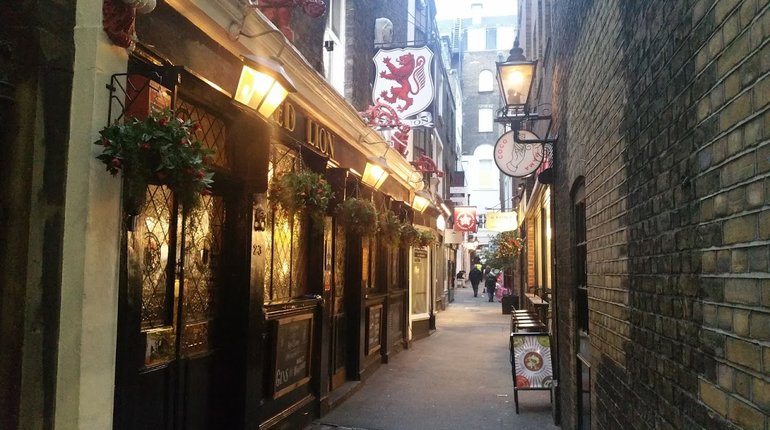 London is a city of incredible transformation. With structural remains that date back to ancient history still in existence, this unique walking tour takes in Lost London in all its former glory. From the Titanic booking office to the graveyards of man's best friend, you'll discover the weird and wonderful places that used to exist in the capital but are now only committed to memory. Using old photographs, newspaper cuttings and stories from the past, you'll be amazed at what has largely been written out of our history books... Get tickets
Whether you're a pre-grated cheddar sprinkler or mimolette fan, this cheesy walking tour will delight your senses. Starting off at a cheese counter in Mayfair that has been serving for more than 300 years, you'll tour the city's best dairy delights - including Fortnum & Mason, where the royals get their fix. Get tickets
Take to the waters and glide about in this beginner paddleboarding session. By the end of it, you'll be standing up and paddling solo, and there's plenty of help on hand to improve your technique. Change of clothes required. Get tickets
The Underworld collides with the Underground in more ways that one -- from the angel that saved a tube worker from death to the ghosts of King's Cross, discover the ghoulish history of the Undergound on a tour around the city. £10 Get tickets