All week
SUMMER SCIENCE: A week long festival celebrating the cutting edge of UK science — this jam packed programme of events helps you explore the science shaping our future, and the people making it all happen. Carlton House Terrace, free, just turn up, 4 July-9 July
ART WEEK: More than 40 of the capital's most notable galleries and leading auction houses host an array of art from across the past seven millennia, including paintings, drawings and sculpture. It's open to  both seasoned collectors and newbies to the art world. Various locations, various prices, 30 June - 7 July
TENNIS FEVER: There so many cool places to watch the Wimbledon tennis instead of your living room, so head out to one of these free public screenings to grab a deck chair and a piece of the action. Various locations, free, just turn up, 3-16 July
SUMMER NIGHTS: How does free entry to outdoor film nights, live Wimbledon screenings, exotic street food stalls, pop-up bars and live music sound? If your answer is anywhere from "Yeah, pretty good" to "Let me at it" then you'll love British Summer Time Hyde Park's Open House. Hyde Park, free, just turn up, 3, 4, 5 and 7 July
Monday 3 July
TWILIGHT SCIENCE: Celebrate the materialistic side of life in this exploration of all things synthetic, simulated, fabricated and fake. The event features mixologists serving up intoxicating cocktails and edible insect treats, and a chance to glimpse the materials we'll be using to build things in the future. The Royal Society, free, just turn up, 6pm-10pm
OPEN AIR CINEMA: Family favourite The Lion King (starts 6pm) and the glitzy La La Land (starts 8.30pm) feature on the opening night of free open air cinema at Hyde Park. We can think of no better place to catch a film under the stars, can you? Hyde Park, free, just turn up, 6pm-10.30pm
HYDE PARK: Silence is somewhat of an endangered species these days. Join this walking mediation group through some of the lesser-known parts of Hyde Park, and slow down to enjoy one of London's most beautiful settings. A great opportunity to 'check-out to check-in' with ourselves and nature. The Education Centre (Hyde Park), £15, book ahead, 6.30pm-8pm
GROUCHO CLUB:
Home to the creative elite since 1985, spend an evening exploring the club's
unrivalled collection of contemporary art
. A rare and exclusive look around this building adorned with art from more than 140 acclaimed artists. The Groucho (Mayfair), free, book ahead,
9pm-10pm
Tuesday 4 July
ITALIAN STREET FOOD: Each room of this immersive theatre experience features authentic food, sights, smells, textures and culture from various regions of Italy. Visit the orange groves of Sicily, the rolling hills of Tuscany and more. British Summertime (Hyde Park), £10, book ahead, 4, 5 and 7 July
MELTING POT: Soho has long been a magnet to foreigners. This walk celebrates 350 years of immigration to this melting pot of culture, starting in Soho Square and ending up in an iconic drinking venue, naturally. Tottenham Court Road station, £10/£7, book ahead, 6.30pm-8.15pm  
SUMMER SCREEN: Early '00s classic Legally Blonde features at this free open air cinema evening right in the heart of Vauxhall. Kick back with your own blanket or get one on site, while munching on some street food. Vauxhall Pleasure Gardens, free, just turn up, 7pm
EXTRAVAGANZA MACABRE: Spend an evening being transported to Victorian London with a whirlwind of plot twists, live music and mischief in this raucous summer show where two passionate lovers are parted by a freak storm. Will they ever be reunited or will a scheming villain have his wicked way? Battersea Arts Centre, £10-£25, book ahead, 7pm (until 29 July)
LAUGH 'TIL IT HURTS: A heavy dose of laughs all in aid of charity. Big names in comedy including Stewart Francis, Felicity Ward and Joe Wilkinson descend on Leicester Square to feature in this comedy night raising funds for Macmillan Cancer Support. Leicester Square Theatre, £15, book ahead, 7.30pm
Wednesday 5 July
MUSICAL NERDS: 16-25 year olds are invited to this music tech workshop and hackathon, with talks from professionals with diverse music backgrounds, a music tech performance and two hands on music hacker workshops which will teach you how to build your own instrument. Brixton Pound Cafe, free, book ahead, 9.30am-5pm
SMELLWALK: Walk with your nose first and discover natural environments large and small, from designed gardens, to tiny planters, to natural materials used in construction of the city. You breathe 24,000 times a day and are surrounded by smells — don't you think it's time to pay more attention? Wellcome Collection, free, book ahead, 3pm-4.30pm
SIT BACK, UNWIND: To celebrate its official opening, St James's Market invites you to an evening of live performances from Street Orchestra London and Classical PopUps Ensemble, whilst sipping on champagne and sampling the market's wide array of world cuisine. St James's Market, free, book ahead, 5pm-8pm
LETTERS HOME: Read real letters and emails from nurses in conflict situations, from Florence Nightingale's letters in the Crimean War to recent accounts of Iraq. Discover the truly human story behind healthcare in conflict situations. Royal College of Nursing, free, book ahead, 6pm-8pm
SHAKESPEARE IN THE SQUARE: Each summer, this not-for-profit theatre company takes over a London square for an evening of Shakespeare. Today, it's Connaught Square's turn for a bit of the all-time classic, Romeo and Juliet. Connaught Square, £25, book ahead, 7pm-10pm
Thursday 6 July
GENIE-US TEA: Bakery wizards Cutter & Squidge launch a new afternoon tea today, and it's genie-themed. The Genie's Afternoon Tea consists of magic carpet cookies, hidden gem macaroons and other sweet and savoury themed treats, all served in a decadent cave setting — plus, you'll get a treasure from the Genie Cave to take home. Cutter & Squidge (Soho), £29.50/£34.50, book ahead, ongoing from today
BEERFEST: Get your drink on as 14 breweries — household names and local brewers alike — gather in Guildhall Yard for a beer fest in aid of City Music Foundation and the Lord Mayor's Appeal Charity. A live music stage soundtracks the afternoon. Guildhall Yard, from £12, book ahead, 12.30pm-9pm
MARY WOLLSTONECRAFT: The foremother of feminism, an educational pioneer and an early human rights champion, her legacy has increasing resonance in these times of political turbulence. But she was a traveller too — retrace her steps in this evening event. St Pancras Old Church, £10, book ahead, 6.30pm
CURIOUS KEW: A rare opportunity to experience the remarkable Georgian tales, hidden cellars and spooky attics of Kew Palace once everyone else has gone home. Normally inaccessible areas are included in the tour, as well as refreshments. Kew Palace, £15, book ahead, 6.30pm-8pm
ST PAULS' ORCHESTRA: With 10,000 pipes, five keyboards, 137 drawstops and 140 other control buttons, the Grand Organ of St Paul's is well-equipped to produce a symphony of sound. But for one night only, it will be joined by not just one, but two more organs and a full orchestra, for a gala evening of some of the world's most-loved classical hits. St Paul's Cathedral, £12-£35, book ahead, 7pm
SHAM BODIE 38: Manchester's best (and only) comedy, music and hot dog show comes to London with some of the best acts from the past three years. Come for the free hot dog at half time, stay for the comedy either side of it. The Bill Murray (Islington), £8, book ahead, 8pm-10pm
Friday 7 July
NEW MUSIC BIENNIAL: A festival of composers and music creators who are pushing the boundaries of new music in the UK. All compositions are no more than 15 minutes in duration and performed in a range of settings. Southbank Centre, free, just turn up, 7-9 July
ELEPHANT SOCIAL MARKET: This brand new market celebrates the best of south London's diverse offerings in Elephant and Castle. Street food, farmers' market traders, local designers, live music, dance and art workshops all feature in this vibrant hub. The Artworks (Elephant and Castle), free, just turn up, 11am-6pm
UNEXPECTED INTERLUDES: The Wellcome Collection's Open Platform series invites visitors to propose any kind of small event that creates conversation and shares ideas. Why not go along and sample some of the unexpected interludes offered up by other people? Wellcome Collection, free, just turn up, 2pm-9pm
VIETNAMESE LONDONERS: A selection of second generation British Vietnamese citizens who have grown up in, or are now living in, London feature as the focal subjects of this exhibition exploring the British Vietnamese experience. At times, many have been uncertain of their identity as they negotiate their dual values. Oxford House Gallery (Bethnal Green), £8, book ahead, 6.30pm-8pm
Saturday 8 July
SALVAGE YARD: Over 50 handpicked vintage traders feature in Peckham's largest weekend vintage market, with treasures, oddities, salvaged home decor, and bargains. From veteran sellers to those just clearing their loft, there's plenty of gems to be found. Copeland Gallery, free, just turn up, 8-9 July
BEYOND THE BATTLEFIELD: Discover the personal stories behind some of Brompton Cemetery's monuments, linking them to the National Army Museum's unique collections as you walk between the two sites. Also highlighted is the historic relationship between Chelsea and the military. National Army Museum, £10, book ahead, 10.15am
SUMMER FETE: Hackney's beautiful lawns and gardens host a festival of local food, beer, vintage, fashion, yoga, kids activities and music. Oh, and there's a hipster dog show too. And an after-party on a London Fields rooftop. St John at Hackney, free, just turn up, 12pm-6pm
RADICALS IN SOHO: Tracing the stories of the Caribbean pioneers who brought jazz to London during the first world war, this tour covers the web of narrow streets in Soho, once known as 'negro quarter'. Discover how nightclubbing in Soho changed history. Black Cultural Archives (Brixton), £10, book ahead, 2pm-4pm
BLACK CAT CABARET: Witness high-kicking showgirls, jaw-dropping acrobats, comic street singers and musicians, this modern cabaret show is inspired by vintage, after-hours Montmartre. Underbelly Festival (Southbank), various prices, book ahead, 9.15pm
Sunday 9 July
WOMEN'S SUFFRAGE: This theatrical walking tour tells the story of how women campaigned to get the vote, taking you through the well known and side-streets of Westminster. Along the way, you'll meet a handful of women who fought for the vote... and those trying to stop them. The National Gallery, £12, book ahead, 10.30am
DOGGY SCREENING: Ever wanted to bring your (well behaved) dog to the cinema? Well now you can, at this special screening of My Life As A Courgette. Complete with bowls of water and blankets, you and your four-legged friend can sit next to each other and enjoy the film. Picturehouse Central, £8, book ahead, 12pm
ART CAR BOOT: It's a simple idea, really — artists show up to flog their specially made just-for-the-day wares. All participants are invited or recommended by other booters, and uniquely, there is no fee for participation. Maybe there's a piece here for you? The Workshop (Lambeth), £5, just turn up, 12pm-6pm
Fun things to do with our friends and sponsor Funzing...
London is a city of incredible transformation. With structural remains that date back to ancient history still in existence, this unique walking tour takes in Lost London in all its former glory. From the Titanic booking office to the graveyards of man's best friend, you'll discover the weird and wonderful places that used to exist in the capital but are now only committed to memory. Using old photographs, newspaper cuttings and stories from the past, you'll be amazed at what has largely been written out of our history books... Get tickets
Take to the waters and glide about in this beginner paddleboarding session. By the end of it, you'll be standing up and paddling solo, and there's plenty of help on hand to improve your technique. Change of clothes required. Get tickets
Tales of torture and plagues await you on a historical walk around London -- see bombed out ruins, discover Medieval markets and even visit a Roman ampitheatre. £12 Get tickets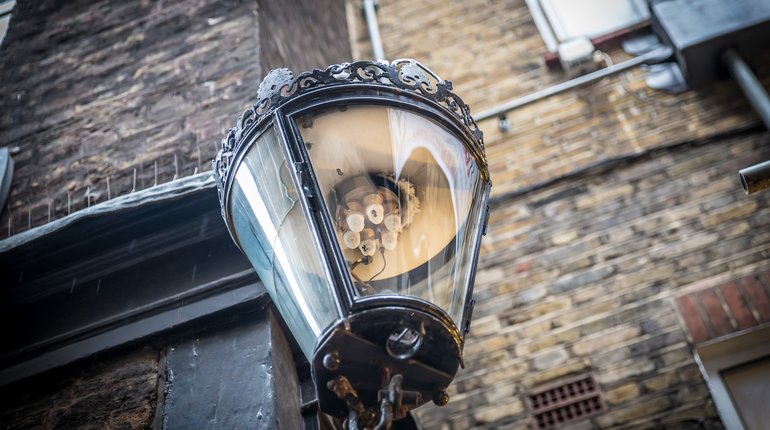 Cross gas lit alleyways and stroll by ancient pubs as you discover forgotten parts of London. See the world's smallest police station and visit London's most superstitious hotel on a walking tour covering everything weird, wonderful and London. £12 Get tickets