All week
SUMMER HOLIDAYS: If you're running out of ways (or money) to keep the kids entertained, take a look at our guide to what's on in London in the summer holidays. There are plenty of ideas, whatever their age and whatever your budget.
SURREAL SATIRE: When a naïve novice gives the worst Shakespearean performance ever seen, her bitter and disillusioned boyfriend makes it his mission to teach her the brutal truth about life as an actor. This brand new play gradually explore the self-importance of acting and questions the worth of theatre itself. The Star Of Kings (King's Cross), £12, book ahead, 21-24 August
JAZZ PIANO: Welcome to a week long extravaganza of Ronnie Scott's International Piano Trio Festival, a major placeholder in the international jazz calendar, with both traditional and innovative jazz performances to be enjoyed. Ronnie Scott's Jazz Club (Soho), £25, book ahead, 21-26 August
INTERACTIVE ART: If you were ever fascinated by interactive galleries and museums as a child, then you'll love Kristi Minchin's giant, colourful artwork installation. Discover its cogs to turn, levers to pull and pendulums to swing for a thrill for kids and adults alike. Discover Children's Story Centre (Stratford), £7, just turn up, 22 August-3 September
BEAUTYTHON: Celebrate all things beauty, skincare and fragrance with Beautython. Covent Garden beauty retailers will be open for a few days of late night shopping, with talks by experts throughout the week. Covent Garden, various prices, book ahead, 23 August-3 September
Monday 21 August
ALL ABOUT TRAINS: Join this walk in Paddington and find out everything you've ever wanted to know about the excavation of Brunel's Great Western Railway, the birth of the underground and Crossrail's new train depot. Museum of London Docklands, £25, book ahead, 11am-1pm
CIRCUS ANTICS: Ride a rollercoaster of feelings and experience a symphony of colliding bodies in Crash, a show of life's ups and downs with feats of aerial dance, acrobatics, fire performance, and an array of circus artists. The Cockpit Theatre (Marylebone), £20, book ahead, 9pm (repeated tomorrow)
Tuesday 22 August
TOAD HALL BANQUET: A glorious banquet awaits you down by the riverbank with Mole, Ratty and Toad as you chow through five-courses for a Literary Hour Dining Experience. Each dish is inspired by Kenneth Grahame's weird and wonderful The Wind In The Willows. Secret north London location, £53-£59, book ahead, 7pm-10.30pm (until 3 September)
MOSTLY HARMLESS QUIZ: Get together eight of your sci-fi and fantasy friends with an out-of-this-world team name and test your knowledge of the works, worlds and film adaptions of Terry Pratchett, Margaret Atwood and Douglas Adams. Tickets include a free Pan Galactic Gargleblaster Cocktail. The Reliance (Shoreditch), £10/£12, book ahead, 6.30pm
MUSIC AND FILMS: Music enhances the immersive atmosphere of films, but how do films influence music? Can they shape an album or create a concept? Film4 Summer Screen is taking a look at the relationship between cinema and music from the perspective of artists who draw on the world of film for inspiration. Somerset House (Covent Garden), £10, book ahead, 7pm-8pm
GONE NOT FORGOTTEN: The story of the often overlooked, long-suffering wife of Oscar Wilde comes alive in this one-woman play about the life of Constance Lloyd. She was a feminist, writer and mother of two children, and wrote letters to her brother Otho to tell him of her odd, occasionally funny and ultimately tragic life. Cecil Sharp House (Primrose Hill), £9, book ahead, 7.30pm (repeated tomorrow)
Wednesday 23 August
HISTORY WALK: Discover Greenwich and its naval and Tudor history with a lecture about the district including the Prime Meridian and the Royal Observatory. Society of Genealogists, Islington, £8, book ahead, 2pm-3pm
HIDDEN RIVERS: Tom Bolton, author of London's Lost Rivers, reveals the route of the River Westbourne buried under the streets of Knightsbridge and Chelsea in a walk that traces its course through the parks and streets of the West End. Start at Knightsbridge tube (Exit 2 Harvey Nichols), £15, book ahead, 6.15pm-8.15pm
SECRETS OF SOUTHWARK: Southwark Cathedral's long and distinguished 1400 year history comes to light in this guided tour that uncovers why Southwark Cathedral is strongly associated with Winchester, why a former Bishop is buried there, and the name of the famous London hospital that was founded by the church. Southwark Cathedral, £8, book ahead, 6.30pm-7.30pm
FILM PREMIERE: It's closing night of Film4 Summer Screen at Somerset House, and they're going out with a bang with the UK Premiere of Patti Cake$. Follow aspiring rapper Patricia Dombrowski's journey to find glory in her downtrodden hometown in New Jersey. Somerset House, £17, book ahead, DJs from 6.30pm, film starts 9pm
Thursday 24 August
CHILDREN'S POETRY: Lachlan Young is showing children that poetry can be fun, thought-provoking and cool in his merry show Modern Cautionary Tales For Children, full of silliness and mayhem. Children will be invited on-stage for a dance, a bit of acting, and completing fun simple poems. The Village Hall (Battersea), £7 adult/£3 child, book ahead, 2.30pm
NATIONAL BURGER DAY: The battle of the burgers comes to Hawker House where the best food traders and restaurants in London commence eight hours of scrummy food and booze at their Canada Water warehouse. Hawker House, £15, book ahead, 4pm-12am
A WORLD OF PLAY: Liven up a dull Thursday night at Casumo's pop-up casino extravaganza, #AWorldOfPlay, where you'll find a human slot machine, musical bingo, giant card games, 'Gospel-oke', plus complimentary drinks and performances from award winning beatboxer THePETEBOX and more. Kachette (Shoreditch), free (register here), 5.30pm-11pm (sponsor)
THE STORY OF TROY: Gather round for a story of adventure, bravery and tragedy as storyteller and musician Clare Goodall leads you through the tenth year of the siege of Troy; the year the soothsayers had predicted the city would fall. The Lion and the Unicorn Theatre (Kentish Town), £8, book ahead, 6.15pm (until 26 August)
REFORMATION KEYNOTE: Hear the keynote address of historian, author and broadcaster Suzannah Lipscomb, which explores the four key themes of the Senate House Library's exhibition Reformation. Senate House, £10/£5, book ahead, 7pm-8.30pm
Friday 25 August
FOODIE DELIGHT: For this year's Foodie Festival, Michelin Star chefs, MasterChef winners and top chefs concoct delicious dishes right before your very eyes in the Chef Theatre. Their champagne, wine and beer masterclasses may be right up your street, and Bake Off winners come together in the Cake & Desserts Theatre. Alexandra Palace, £16, book ahead, 11am-7pm (until 28 August)
GLADIATORS, READY: It's time to pick a side as gladiators clash their swords, shields and spears for ultimate glory. Which fighter will walk free, and who gets to decide? You? Or the Emperor? Each one-hour show is based on research into 1st-century gladiatorial combat taking place alongside a Roman festival. Guildhall Yard, £22, 7pm (until 28 August)
WAXWORKS: The Madame Tussauds after-hours late promises no queues, no kids and a complimentary glass of prosecco on arrival — it might be the only day worth going. Madame Tussauds London, £25/£29, book ahead, 7.30pm-11pm
Saturday 26 August
NOTTING HILL CARNIVAL: The Carnival begins in a small way today, although most of the action takes place tomorrow and Bank Holiday Monday. Here's our complete guide to Notting Hill Carnival 2017 — what's on, when it's happening, and how to get the best out of it.
LEGO MINI MISSIONS: Join top City Police detectives to form a heroic crime fighting team — completing missions, finding clues, and solving puzzles — in this immersive LEGO experience for all the family, featuring brick pits to spark imaginations. The Queen's Walk (Lambeth), free, just turn up, 10am-6pm, until 28 August
ROMANTIC WALK: This walk takes in landmarks in the lives of Romantic poets Percy Bysshe Shelley and Mary Shelley, from their first meeting to their notorious elopement and exile in Europe — we're guessing a trip to Europe isn't included in the price though. Meet outside King's Cross Station by the Henry Moore statue, £12, book ahead, 11am-1.30pm
FANCY A BREW: Peckham-based meadery Gosnells Mead is hosting a celebration of south east London's breweries for the August bank holiday weekend by bringing together five local breweries, each producing a unique, barrel-aged brew. Gosnells Mead (Peckham), £10, book ahead, 11am-3pm or 4pm-8pm (repeated tomorrow)
GO GREEN: Does growing fruit and veg confuse you? Do you usually manage to kill your house plants? Or do you just really love a good bit of gardening? Get your hands dirty in this DIY veg growing workshop with Capital Growth, London's food growing network. Museum of London (Barbican), £25, book ahead, 1.30-4pm
CITYDASH: Once the businessmen and women go home for the weekend, the historic City of London a quiet place indeed. So let's liven it up with Fire Hazard's Citydash to Monument. Players have to run, sneak, and scheme their way through the streets cracking cryptic clues to find as many hidden checkpoints as they can. But be wary of the Citydash guards who will chase you if they spot you. Cannick Tapps (Monument), £20/£15, book ahead, 2pm-3.45pm
NOTTING HILL WARM-UP: Get feeling those carnival vibes early, at Pergola's Paddington's Notting Hill Carnival warm-up. Scoff jerk spiced lobster bake, sip rum cocktails and dance to tunes spun by DJ Jade Avia. free entry, 7pm-11pm
Sunday 27 August
IT'S CLOBBERING TIME: Spend the early hours of Sunday at Waxy's to see the live showdown of the Mayweather vs McGregor fight with an all-day breakfast (served from 3am) included in the ticket. Waxy O'Connor's (Soho), £15, book ahead, 1am-10am
UNDERCOVER: In a game of stealth tactics, trench coats, and hidden dossiers, take to the street of the West End in Undercover where subtlety, quick thinking, and observation skills are going to be tested to the max as you compete against other players to be the best covert operative. Twist is: you won't know who else is playing. Anyone could be watching. Gravity Bar (The Royal Trafalgar Hotel), £25, book ahead, 1.45pm-4.15pm
OH INDY: Try this real-world museum puzzle adventure on for size and become the Indiana Jones you always wanted to be Raiders of the Lost Archive. Solve cryptic clues relating to exhibits at the V&A in order to find a mysterious lost treasure. The Hoop and Toy (Kensington), £20, book ahead, 2pm-4.15pm
FAMILY FRIENDLY: The dinosaurs are coming in a thumping adventure by Sir Arthur Conan Doyle, where intrepid explorers travel to an uncharted plateau and find plants and creatures beyond their wildest dreams. But how will they make anyone believe the wonders they have seen in this show actually exist? Stephens House & Gardens (Finchley Central), £16.50/£12.50, book ahead, 7.30pm
Fun things to do with our friends and sponsor Funzing...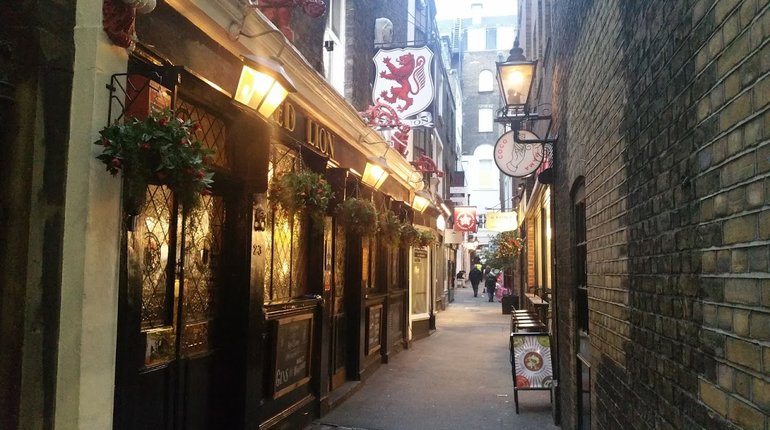 London is a city of incredible transformation. With structural remains that date back to ancient history still in existence, this unique walking tour takes in Lost London in all its former glory. From the Titanic booking office to the graveyards of man's best friend, you'll discover the weird and wonderful places that used to exist in the capital but are now only committed to memory. Using old photographs, newspaper cuttings and stories from the past, you'll be amazed at what has largely been written out of our history books... Get tickets
Whether you're a pre-grated cheddar sprinkler or mimolette fan, this cheesy walking tour will delight your senses. Starting off at a cheese counter in Mayfair that has been serving for more than 300 years, you'll tour the city's best dairy delights - including Fortnum & Mason, where the royals get their fix. Get tickets
Track the journey of humanity through this tour around the British Museum. The tour aims to help you understand why the world is the way it is, and show how humans learned to question absolutely everything. Get tickets
The Underworld collides with the Underground in more ways that one -- from the angel that saved a tube worker from death to the ghosts of King's Cross, discover the ghoulish history of the Undergound on a tour around the city. £10 Get tickets