Things to do this week is sponsored by the the Royal Horticultural Society.
All week
ARABIAN NIGHTS: Learn about contemporary Arab culture in Shubbak, a festival aiming to dazzle with visual arts, film, music, theatre, dance, literature and debate. Various venues and prices, book ahead when required, 1-16 July
WIMBLEDON SCREENINGS: As we head toward the all-important finals weekend, check out your viewing options with our guide to the best screenings in London. Most of them are free, although may are limited capacity, so get there early. Free, just turn up, 3-16 July
MUSIC FESTIVAL: The Summer Series at Somerset House is a great one for festival lovers who'd rather skip the muddy fields. Surrounded by beautiful architecture, listen to a mix of international and homegrown artists. Birdy, Warpaint and Tom Misch are all on the bill. Somerset House, from £30, book ahead, 6-16 July
EXCAVATED CROSSRAIL: Building Crossrail has unearthed 8,000 years of human history, and you can marvel at the artefacts that have been hidden underground for hundreds to thousands of years — until now. Displays of Crossrail's engineering story should also thrill any rail buffs. Museum of London Docklands, free, just turn up, ongoing
Monday 10 July
ESCAPING TO LONDON: When someone says arranged marriages, let's hazard a guess that Ireland is probably not the first place you think of. Play Body and Blood confronts the fallout of this practice for Aileen, her sister, and other characters set against the backdrop of Ireland and London in 1956. King's Head Theatre, £12, book ahead, until 12 July
COMEDY CENTRAL: Rough and almost ready, Shappi Khorsandi and Andrew Ryan appear in comedy night Laugh Train Home before they head to Edinburgh Fringe. The Four Thieves (Battersea), £7, book ahead, 7.30pm-10.30pm
Tuesday 11 July
SEASIDE NOSTALGIA: Memories of holidays to the seaside come flooding back at the Time Tunnel trail in the Museum of Brands. See how big brands enticed visitors to the seaside (not that we need much convincing) with adverts for Fab lollies and the bright lights of Weston-Super-Mare arcades. Museum of Brands, £9, just turn up, until 3 September
WE MARCH: What is the future of protesting in the UK and globally? And how did we even get to here? Get back to the historical roots of protests and trace their evolution through to the present day, and learn how social media is changing the game. Imperial War Museum, £12/£9, book ahead, 6.30pm-9.30pm
MI5 SPYMASTER: Allegedly the inspiration behind M from James Bond, the story of Maxwell Knight is revealed in MI5's Greatest Spymaster. How did a man with an almost total lack of qualifications manage to transform people into fearless secret agents? And do you have what it takes to be a spy? The British Library, £12/£8, book ahead, 7pm-8.30pm
Wednesday 12 July
BREAKFAST RAVE: Start the day with Morning Gloryville's sober rave movement. This time they're celebrating the 50th anniversary of 1967's Summer of Love with hundreds of early risers. Watch out for their secret headliner who'll really get the party going. Ministry of Sound (Elephant & Castle), £18, book ahead, 6.30am-10.30am
BREWERY LAUNCH: Unfiltered, unfinned and unadulterated: all the beer at this new bar is sustainably produced, sold and consumed under one roof. They'll even be serving 6% cookie beer — now there's one we've not seen before. Long Arm Pub (Shoreditch), free, just turn up, 6pm-11pm
PLOT TWIST: If you usually stay for pudding, you might think twice next time as Dessert hits the stage with a lavish dinner party that suddenly takes a sinister and alarming turn. Southwark Playhouse, £20/£16, book ahead, until 5 August
GRIMM THEATRICS: You don't truly know the stories of Red Riding Hood, Hansel & Gretel, and Rumplestiltskin until you know the original tales by the Brothers Grimm. Hear what really happened in these Pandemonium Performances at one of London's historical cemeteries. Abney Park (Stoke Newington), £13, book ahead, until 30 July
---
Sponsor message
Get green-fingered at this RHS garden show
The RHS Summer London Urban Garden Show is in town from 11-13 July, with plenty of tips on how to get green-fingered — even if you don't have a garden.
There'll be tons of ideas on how to grow things with limited space, and inspiration on getting creative with horticulture. Soak up advice at the expert talks before getting hands on with workshops on everything from floral origami to terrarium making.
There'll also be botanically inspired cocktails and delicious street food. Head to the late event on 11 July (open until 10pm) and you'll even get a free drink. Find out more about the show here. You'll need a ticket for the late opening event, but there's free entry on 12 and 13 July.
---
Thursday 13 July
COLOUR THE CITY: Brighten up your Thursday by getting covered in paint and refusing to stay within the lines at this special messy workshop for the suppressed creative. The Hive, Dalston, £25, 7pm-10pm
BRING THE TALENT: London's got talent, loads of it, and it's time to show it off at Bring it! open mic night. With a bar stocked with organic and craft drinks, and a bun and fries meal deal, you can't go wrong. Though maybe bring a couple earplugs in case of any wildcards. Grow (Hackney Wick), free, just turn up, 7pm-11pm
END OF THE WORLD: In Norse mythology, Ragnarök is the end of the world via huge volcanic explosion. At this South East London Folklore Society event, folklorist and author Carolyne Larrington looks at whether there's anything the gods can do to stop it, and if not — is there any consolation to be had in total annihilation? The Old King's Head (London Bridge), £3, just turn up, 8pm-10pm
Friday 14 July
BRANDING EXPERTS: Does branding absolutely fascinate you? For those who just can't get enough of it there's an intensive branding day-course that'll get you together with several industry professionals. Work out what makes the audience tick, before heading out for research in the streets of Portobello Market. Museum of Brands, £45, book ahead, 10am-4pm
HYPER JAPAN: Tobacco Dock is once again a hotspot for Japanophiles and Weeaboos as Hyper Japan returns with more food, fashion, shopping, and music. Don't miss out on the Sake Experience. Tobacco Dock, £15-£24, book ahead, until 16 July
GET STUFFED: Put a little more effort into eating today and navigate to Just Eat's Food Fest at Red Market for three days of food, music and fun. This year's theme is remote desert island, so who will you be taking with you to get stranded with? Red Market, free, just turn up, 14-16 July
PAINTED SKYLINE: Let out the artist within you for a glass of wine at PopUp Painting. No experience is needed, and all equipment provided. By all means follow along with the artist facilitator, but really free-styling is where it's at — especially after a glass or two of bubbly. Urban Meadow (Notting Hill), £29.99, book ahead, 7.30pm-10pm
Saturday 15 July
VEGAN BEER FEST: Spanning three spaces, this festival features a beer hall, beer market and a sit down beer and wine cafe. So pretty much beer, beer and more beer, which sounds perfect to us. It's all vegan too. Hackney Downs Studios, £5-£9, book ahead, 11am-8pm
10K SECRET MISSION: It's a race against the clock to solve a murder mystery and win a prize in this cryptic team challenge. Forget that you received the secret location to start your journey by text, for the year is 1698. The ever-curious Samuel Pepys will get you up to speed on the case, and then you're off to interview witnesses and interrogate suspects. North Greenwich/Deptford Bridge, £19-£25, book ahead, 11.30am-1pm
AFRICA UTOPIA: Most people will never visit every country in Africa, so get a flavour of the continent at Africa Utopia Festival. The range of talks, workshops, music, performances, fashion and food will give an insight into all countries. Southbank Centre, various prices, 15-16 July
STREET PARTY: This annual street party returns with a line up of performances from artists and the local community, as well as family friendly activities, cocktails and live music. Whitecross Street (Islington), free, just turn up, noon-6pm
ART JAM: What art really needs is a DJ. Thankfully Paint Jam London has us sorted with a prosecco reception on arrival, intro art exercises on paper, then a dramatic move onto your own canvas. Gulp. Let your creatively flow, mingle and go home with an original artwork. Secret Holborn space, £30-£102, book ahead, 7pm-10pm
Sunday 16 July
FAMILY FUN: 'Princess Freda', a Dunkirk Little Ship is on hand for free boat trips, departing Chiswick pier every 45 minutes. There's a great selection of stalls to entertain the children, freshly cooked BBQ food and a bar on hand, too. Chiswick Pier, free, just turn up, 11.30am-4pm
GARDEN PARTY: A fabulous and fresh selection of makers exhibit alongside veteran artists and designers. Over 50 artists spread across two days means there's plenty of time to grab yourself a screen-print, ceramic, summer dress, or much more. William Morris Gallery, free, just turn up, noon-6pm
DRAGON RACE: Make the pilgrimage to the annual Kingston Dragon Boat Race. It promises to be a day of family fun so make sure you bring yours, with face painting and Thames-side antics. The Boaters Inn (Kingston upon Thames), free, book ahead, noon-10pm
Fun things to do with our friends and sponsor Funzing...
London is a city of incredible transformation. With structural remains that date back to ancient history still in existence, this unique walking tour takes in Lost London in all its former glory. From the Titanic booking office to the graveyards of man's best friend, you'll discover the weird and wonderful places that used to exist in the capital but are now only committed to memory. Using old photographs, newspaper cuttings and stories from the past, you'll be amazed at what has largely been written out of our history books... Get tickets
Whether you're a pre-grated cheddar sprinkler or mimolette fan, this cheesy walking tour will delight your senses. Starting off at a cheese counter in Mayfair that has been serving for more than 300 years, you'll tour the city's best dairy delights - including Fortnum & Mason, where the royals get their fix. Get tickets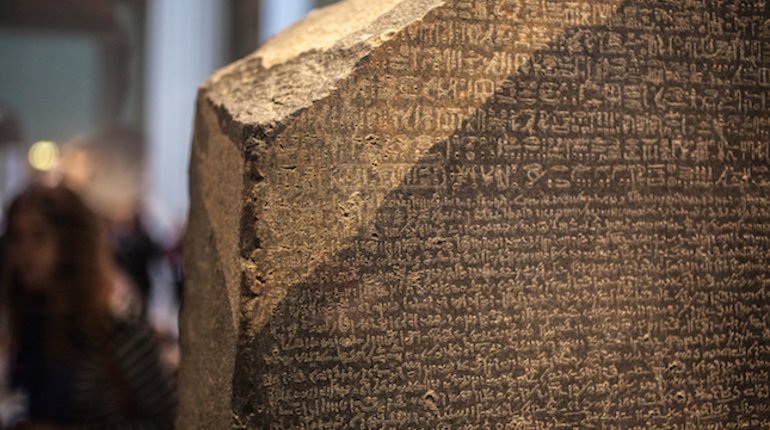 Track the journey of humanity through this tour around the British Museum. The tour aims to help you understand why the world is the way it is, and show how humans learned to question absolutely everything. Get tickets
The Underworld collides with the Underground in more ways that one -- from the angel that saved a tube worker from death to the ghosts of King's Cross, discover the ghoulish history of the Undergound on a tour around the city. £10 Get tickets