Things to do this weekend is sponsored by London Fashion Week Festival.
All weekend
BLOOMING MARVELLOUS GIVEAWAY: Spend £30 or more at The Broadwalk Centre and you'll receive a free posy of flowers. For every bunch handed out, some 50,000 poppy seeds will be donated to local groups wanting to brighten up their community ahead of Remembrance Day. The Broadwalk Centre (Edgware), £30 spend, just turn up, 24-25 February
INDEPENDENT LABEL MARKET: Sift through crates from independent labels, get your hands on rare vinyl, then fill up on street food and artisan goods to complete the hipster weekend. West Handyside Canopy (King's Cross), free entry, just turn up, 24-25 February
CANARY WHARF ICE RINK: It's your last chance to get your skates on under a canopy of twinkly trees at Canary Wharf's pretty rink. Canary Wharf Ice Rink, £10, book ahead, until 24 February
ORCHIDS FESTIVAL: Skip into spring at Kew Gardens, where almost 7,000 colourful blooms have sprung up for the annual Orchids Festival. This year's theme is Thailand and at weekends you can tuck into authentic Thai street food in front of live music from Thai musicians at 1pm and 3pm. Kew Gardens, £16/£4, book ahead, until 11 March
Saturday 24 February
CRAFT BEER RISING: £3 pints? Yes please, More than 175 brewers take over the Old Truman Brewery from Thursday. Once you're heavy with hops, hit up the food hall for grilled meat from Kansas City BBQ or vegan grub from Le Bao and stick around for the evening entertainment, which includes sets from Krafty Kuts and Don Letts. Old Truman Brewery (Brick Lane), £15 (includes a pint glass), book ahead, 22-24 February
TOWN HALL TOUR: Hornsey Town Hall may be a little frayed around the edges but it still has all its original features which makes it ripe for tours like this one. Take the 50 minute tour to get a closer look at the 1930s modernism. £6.50, book ahead, 11am
OPEN COCKPITS: The RAF Museum is throwing open its cockpits and cabs for a rare chance to see inside vehicles including the Phantom, Vampire F3 and Jet Provost 5. The special event celebrates 100 years since the formation of the RAF. RAF Museum (Colindale), £10/£13.50, book ahead, 10am-4pm/6pm-9pm
FEMINISM AND TECH: Bring your ideas on how to promote women in tech to this feminist conference, where you can also explore the feminist library resources through a tech lens. The Feminist Library, free (donations encouraged), just turn up, noon-4pm
FABULOUS BRUNCH, DARLING: Expect drag bingo, live DJs, a three-course brunch and more sequins than you can shake a feather boa at. 100 Wardour Street, £42, book ahead, noon-5pm
MARDI GRAS: Mark Mardi Gras with a day of craft, "authentic N'Awlins" live music, a busking stage and plenty of Louisiana themed food and drink. Pop Brixton, free entry, just turn up, noon-midnight
HERBAL TEA WORKSHOP: Learn how to infuse and blend the perfect cuppa in this tea-making workshop, where you create herbal tea bags to take home with you. Stick around for the afternoon debate over who does tea best, Team GB or Team China. The China Exchange, £18, book ahead, 12.15pm-2.15pm
BLACK PANTHER SCREENING & AFTERPARTY: A film as momentous as Black Panther definitely deserves its own afterparty. Watch the film, listen to the post-screening chat, browse the My Tribe Market (which supports black-owned business) then party like you just swallowed a load of vibranium. Lost Rivers Elephant (Elephant & Castle), £5.83, book ahead, 6pm-3am
SOCIAL ACADEMY BINGO: Bingo is no longer the preserve of oldies now there's a new younger crowd taking over the tables. Learn the drill of the bingo hall at this event. 141 Arlington Road (Camden Town), £8.50-£15, book ahead, 7.30pm-11pm
WINTER PRIDE MUSIC FESTIVAL: Expect four rooms of indie madness and Brit pop classics, including a set from gay clubbing legends Popstarz at the winter edition of the Pride Music Festival. Alongside the music, there will be 3D projections, fire dancers, body painting and other mayhem. The Scala (King's Cross), £20, book ahead, 9pm-5am
---
Sponsor message
Get a head start on this summer's key trends at the London Fashion Week Festival
Haven't managed to bag yourself an elusive ticket to the upcoming London Fashion Week? Don't worry, we haven't either — but London Fashion Week Festival is a great way to get a look-in on the city's fashion-frenzy this February.
This four-day bonanza grants you unrivalled access to the best of London's fashion world, with glittering catwalk shows, designer shopping at purse-friendly prices and exclusive appearances from all your favourite industry heroes. More than 150 of the most coveted British and international brands will be in attendance, and you'll get an exciting first glimpse at this summer's key trends.
Want in? We've teamed up with the organisers to offer Londonist readers an exclusive 20% off tickets — simply quote 'LONDONIST' at the checkout. The London Fashion Week Festival takes place from 22-25 February 2018 at The Store Studios, 180 Strand, WC2R 1EA, with tickets starting at just £20.
Code valid on Festival Entry and Silver tickets only, excludes Saturday tickets. Valid until 21 February 2018.
---
Sunday 25 February
MR SELFRIDGE: Hear about some of the major stores in the West End and the characters who created them on this Footprints of London guided walk. John Lewis, Debenhams, Selfridges and Harrods are all covered. Oxford Circus, £9-£12, book ahead, 11am-12.30pm
VINTAGE FAIR: Satisfy your curiosity to snoop you around the Freemasons Hall, while picking up vintage garb, accessories, childrenswear and homewares, stretching from the Victorian era through to the 1990s. Freemasons Hall (Covent Garden), £4.65, just turn up, 11am-5.30pm
CONTAINER RECORDS: Rifle through vinyl, take a chance on the raffle and shop to the tune of live DJs at the relaunch of record store Container Records. Pop Brixton, free, RSVP, 11am-11pm
CAMDEN BEER FEST: Sadly Proud is closing its doors in March but not without throwing one final beer-soaked soiree. Get half-price beers, German nosh and watch live performers from Proud's past. Proud Camden, £5, book ahead, noon-midnight
SUPA DUPA BRUNCH PARTY: Enjoy a two-course brunch and bottomless mimosas followed by a 90s-now music quiz and party, courtesy of London's finest hip hop clubbers Supa Dupa Fly. Ace Hotel (Shoreditch), £38, book ahead, 1pm-8pm
VEGETARIAN WORKSHOP: Make the transition to a plant-based diet easier with this cookery class, showing you how to rustle up delicious, healthy dishes. London College of Vedic Studies, £20, book ahead, 2.30pm-5.30pm
AFRICAN SUPERHEROES: Hot on the heels of the release of Black Panther is this  African inspired animation night, where you'll find stories of Nigerian women warriors, West African Folk Heroes, teenage black superheroes and other tales which aim to counteract the severe lack of positive images of black people in comics. Golborne Youth Club (Westbourne Park), £8, book ahead, 3pm-6pm
SKETCH COMEDY: It's the brutally funny Sketch Off semi-finals. Watch hilarious acts battle it out to be the hilarious-est. Then vote for your favourite. The quirky venue is smashing too — a crypt stuffed with comedy paraphernalia. Museum of Comedy (Bloomsbury), £8 (plus booking), book ahead, 7.30pm-9.30pm
MAKING TRACKS: Hear traditional Haitian roots music performed by ensemble Chouk Bwa. The music has its roots in religion, but has something of a celebratory sound which will end your weekend on a high. Rich Mix (Bethnal Green), £10-£12, book ahead, 7.30pm
Fun things to do with our friends and sponsor Funzing...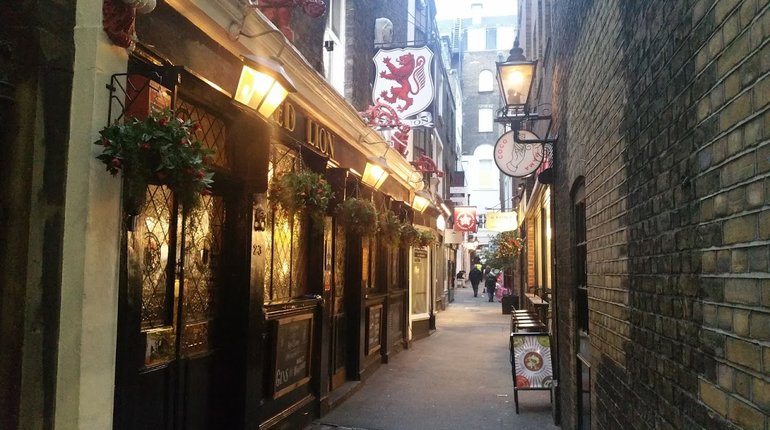 London is a city of incredible transformation. With structural remains that date back to ancient history still in existence, this unique walking tour takes in Lost London in all its former glory. From the Titanic booking office to the graveyards of man's best friend, you'll discover the weird and wonderful places that used to exist in the capital but are now only committed to memory. Using old photographs, newspaper cuttings and stories from the past, you'll be amazed at what has largely been written out of our history books... Get tickets
Whether you're a pre-grated cheddar sprinkler or mimolette fan, this cheesy walking tour will delight your senses. Starting off at a cheese counter in Mayfair that has been serving for more than 300 years, you'll tour the city's best dairy delights - including Fortnum & Mason, where the royals get their fix. Get tickets
Track the journey of humanity through this tour around the British Museum. The tour aims to help you understand why the world is the way it is, and show how humans learned to question absolutely everything. Get tickets
Take to the waters and glide about in this beginner paddleboarding session. By the end of it, you'll be standing up and paddling solo, and there's plenty of help on hand to improve your technique. Change of clothes required. Get tickets