Things to do this weekend is sponsored by National Portrait Gallery.
All weekend
RECCE RACERS: Drop into these fun, family-friendly workshops, where you can try your hand at making your own rubber-band powered vehicle before testing in the NAM track. National Army Museum, free, just turn up, 10.30am-4.30pm, 2-3 December
RHS FLOWERS AND FLEA: Learn about the pleasures of urban gardening, get advice on your patch of green and take home unusual plants, retro clothes and plenty of pre-loved items for your home at this flea and flower market in collaboration with the Royal Horticultural Society. Flat Iron Square (Southwark), free, just turn up, 11am-6pm Saturday, 10am-5pm Sunday
OPEN STUDIOS: This enigma of an island is only open to the public twice a year, so if you want an excuse to visit, head along to the open studios event this weekend to peruse the work of 26 artists. Eel Pie Island, free, just turn up, 10.30am-5pm, 2-3 December
PUPPET THEATRE: Get your little ones all excited for Christmas at this new festive production titled The Little Christmas Tree. It's on London's only theatre barge, which sees exquisitely carved wooden marionettes and shadow puppets tell the tale of a friendship between a young boy and a wonky Christmas tree. The Puppet Theatre Barge (Little Venice, £12, book ahead, 2 December-7 January
ROYAL NAVY WOMEN: Brush up on your her-story at this exhibition, revealing the lives and experiences of the women who served and trained in Greenwich to mark the centenary of the formation of the Women's Royal Naval Service. Old Royal Naval College, free, just turn up, until January 2018
ICE SKATING: Most of London's festive ice rinks are now open for the season. Check out our full guide if you fancy taking to the ice.
Saturday 2 December
LAB LIVE: Be prepared to get stuck in at this festive market, where the emphasis is on making rather than browsing. Join workshops in everything from birdfeeders and festive light boxes to 3D printing your own Christmas decorations. Imagination Lab, 26 Lambeth High Street, £6, book ahead, 10am-4pm
CRAFT FAIR: Decorate your own gingerbread man, browse ethically-made fashion and accessories from AfroRetro and colourful prints by South London Artists Dan, plus drop into Santa's grotto at this festive craft fair. Battersea Arts Centre, free, just turn up, 10am-6pm
SING-A-LONG SATURDAYS: Bring under 5s along for a toy-inspired sing-a-long, followed by a festive session adults can join in with before handing the floor over to the pros, Victoria Park Singers. The V&A Museum of Childhood (Bethnal Green), free, just turn up, 10.30am-2.30pm
BOOK FAIR: Leaf through thousands of rare collectible and quirky books, prints and vintage photographs at affordable prices to find that perfect gift for the literary lover in your life. Holiday Inn Russell Square, £2, just turn up, 10.30am-4.30pm
RUM FESTIVAL: Bringing all the Cuban vibes (but sadly not the sunshine) to the Capital is the UK's first travelling rum festival. Expect live music and street food to soak up the more than 100 rums on offer. Studio Spaces, £18, book ahead, 12.30pm-5pm today, 1-2 December
LIGHTS, CHRISTMAS, ACTION: See Tate Britain's main entrance all aglow with Christmas lights then warm up inside with mince pies, carols from London City Voices, torch-lit tours of Turner paintings and Christmas craft workshops using recycled materials. Tate Britain, free, just turn up, 2pm-6pm
OASIS CHRISTMAS MARKET: You're never too old to visit a farm and pet the animals, particularly when there's mulled wine, a winter barbeque and live music involved.  Oasis Farm Waterloo, £1, just turn up, 2pm-late
SOUND SCULPTURE: These five-metre tripods look like something out of Star Wars but those rotating arms are actually the source of a hypnotic sound installation. Hopefully, it'll be a harmonic drone rather than a headache-inducing one. Bell Square (Hounslow), free, just turn up, 4.30pm, 5.30pm and 6.30pm
FEMALE VARIETY SHOW: Expect cockney singalongs, queer beatboxing, spoken word, comedy and more performances from ultra-talented, extra sassy women, as part of the theatre company Wonderbox's first birthday celebrations. Hackney Picturehouse, £10, book ahead, 7.30pm
DAFT PUNK: This night is guaranteed to have everyone on the dance floor. Expect tunes from Daft Punk's label, Roule, to Kavinsky, Justice, LCD Soundsystem, Fatboy Slim and more all intermixed with enough Daft Punk jams to carry you into Sunday. Hoxton Square Bar & Kitchen, £5, book ahead, 8pm-2am
---
Sponsor message
Explore the possibilities of portraiture with the Taylor Wessing Prize
Forget cheesy school photos and forced smiles, it's time to rethink portraiture. For the tenth year running, the National Portrait Gallery is hosting the prestigious Taylor Wessing Photographic Portrait Prize, one of the most recognised photography awards in the world.
From 16 November until February 2018, head to the National Portrait Gallery to see 59 works by gifted amateurs and professionals, showcasing the exciting possibilities of contemporary photography. As the ultimate destination when it comes to portraits, the National Portrait Gallery is the perfect place to exhibit the internationally recognised prize, which is open to over 18s from anywhere in the world. The exhibition will tour around the UK in early 2018 — check it out while it's on display in London.
---
Sunday 3 December
BABYCCINO SHOPUP: From beautiful children's clothes spun from organic threads to curated gift sets for pregnancy, birth and the newborn phase, this fair is the perfect place to find quality clothes for little fashionistas, who can also meet Santa and take part in kids' activities. Chelsea Old Town Hall, free, just turn up, noon-6pm, 3-4 December
NATURE RESERVE RUN: Swap pigeons and traffic for birds of prey and fresh air on this Rainham Harriers Social Run. Rainham Marshes, £1, just turn up, 9.30am-10.30am

SANTA DASH: Want to work off all those office mince pies or just full of good cheer? Either way, sign up for this festive 5km run/jog/walk in support of your local hospice. Pooches welcome and you'll receive a Santa suit on registration. Danson Park (Bexleyheath), £10/£5, book ahead, 10am
ANIMAL AID'S FAYRE: No animals were hurt in the making of this festive fayre hosted by Animal Aid. Create your own snazzy bath bombs with Lush, stock up on toiletries not tested on animals and tuck into dairy-free cheeses, chocolate and more at this mecca for vegans. Kensington Town Hall, £3, just turn up, 10am-5pm
VEGAN MARKET: Feast your eyes on tonnes of vegan goodies, including seasonal, sustainably sourced dishes from Rupert's Street. And you don't have to go far to quench your thirst as the market is hosted by Wild Card Brewery. Unit 2 Lockwood Industrial Estate (Walthamstow), free, just turn up, 11am-4pm
WINTER GROTTO: Wander through narrow forested pathways, spy fairy spirits (created using a Victorian illusion) and encounter a waterfall-powered xylophone at this magical gnome grotto — formally Class Four's classroom — which parent Michael Beverley has spent nine years perfecting. Greenwich Steiner School, Blackheath, £3, just turn up 11am-5pm
FASHION FAIR: Antique watches, designer jewellery and gorgeous, high quality vintage garb from the 1900s to 1990s can all be found at Clerkenwell Vintage Fair. And as it's December, there'll be carols too. The Yard, £4.65, book ahead, 11am-5.30pm
WREATH-MAKING: Head to London's largest wetlands to create a lovely Christmas wreath with the help of local florist Alys Wood. Don't worry, you won't be battling the elements as the workshop takes place in the warmth of the listed Engine House. £45 (includes mulled wine and a mince pie), Walthamstow Wetlands, book ahead, noon-1.30pm
WINTER WONDERLAND: Wimbledon residents don't need to trek to Hyde Park for their festive fix, as Winter Wonderland has arrived in Wimbledon. Take part in make 'n' take workshops, boogie in the silent disco, or just fit in some Christmas shopping before the fireworks kick off at 5.30pm. Wimbledon Broadway, free, just turn up, noon-6pm
MIGRATION STORIES: Spend a Sunday afternoon filling your head with eloquent stories of migration from a range of speakers. Upstairs at the Ritzy (Brixton), £4, book ahead, 4pm-6pm
Fun things to do with our friends and sponsor Funzing...
London is a city of incredible transformation. With structural remains that date back to ancient history still in existence, this unique walking tour takes in Lost London in all its former glory. From the Titanic booking office to the graveyards of man's best friend, you'll discover the weird and wonderful places that used to exist in the capital but are now only committed to memory. Using old photographs, newspaper cuttings and stories from the past, you'll be amazed at what has largely been written out of our history books... Get tickets
Whether you're a pre-grated cheddar sprinkler or mimolette fan, this cheesy walking tour will delight your senses. Starting off at a cheese counter in Mayfair that has been serving for more than 300 years, you'll tour the city's best dairy delights - including Fortnum & Mason, where the royals get their fix. Get tickets
Take to the waters and glide about in this beginner paddleboarding session. By the end of it, you'll be standing up and paddling solo, and there's plenty of help on hand to improve your technique. Change of clothes required. Get tickets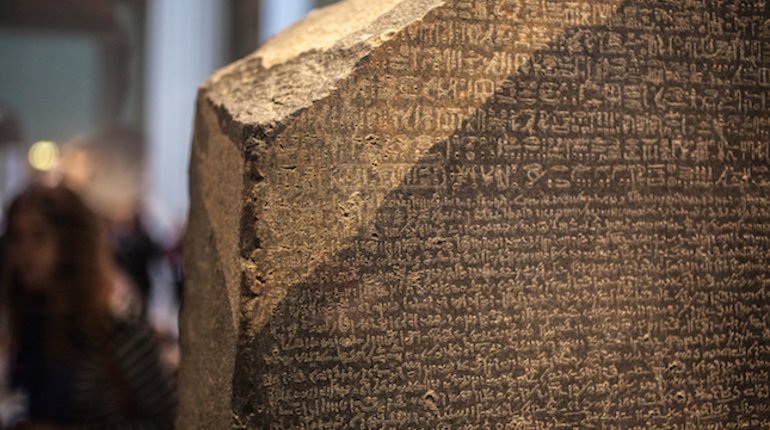 Track the journey of humanity through this tour around the British Museum. The tour aims to help you understand why the world is the way it is, and show how humans learned to question absolutely everything. Get tickets