Things to do this weekend is sponsored by London Fashion Week
All weekend
CHAMBER CONCERT: Composer and curator Iain Chambers is showcasing three new works alongside spoken word performances and an immersive sound walk in the incredible inner working chamber of Tower Bridge. Bascule Chambers (Tower Bridge), £15/£25/£50, book ahead, various times, 22-24 September
PADDINGTON BEAR: Families are able to discover and create their own Paddington Bear adventure as they travel down a specially created family trail around the Museum's Time Tunnel with historic displays of toys and games. Museum of Brands, Packaging and Advertising (Notting Hill), £9, various times, 23-24 September
DEPTFORD DESIGN: South East London Makers Club is celebrating the work of local designers and makers with exhibitions showcasing great British design and craft, maker demonstrations, and workshops in wood making, screen printing, marbling and woodcarving. Deptford Market Yard, free, just turn up, 10am-5pm, 23-24 September
WHEELY GOOD TIME: Love motorbikes? Love art? The Losers MCC vs Underdogs Custom Show celebrates the very best of motorbikes and biker art to the tune of live music and DJ's, and with a side of craft beer, food, and the Losers biker tea stall. The Underdog Gallery (Bermondsey), free entry, 11am-1am, 22-24 September
GOOD FOOD: BBC Good Food Show are bringing their annual feast to the Tower of London, with up to 200 cutting-edge food and drink companies from all over the world showcasing the best of what they can do for Londoners. Tower of London, £18, from 11am/10.30am, 22-24 September
UNUSUAL OPERA: The opera for people who don't think they like opera, Fever Pitch is based on the Nick Hornby's iconic memoir about his obsession with Arsenal football club. Union Chapel (Islington), £15, book ahead, 3pm/7pm, 22-24 September. Full review.
MOVE OVER SANDY: Rock out at this one with rock 'n' roll band Move over Sandy, who will be tearing up a storm at the BALABAM. Tottenham, £3, just turn up, 9pm-1.30am
Saturday 23 September
BIRTHDAY MARKET: To celebrate its 130th birthday this year, the North End Road Market will roll out over 150 stalls where you can enjoy live music and entertainment. Fulham, free, just turn up, 9am-5pm
SAVING THE SUMMER: Can't let the summer go? Well go and learn how to keep it alive at this workshop where you will be taught how to dry, pickle and preserve your summer produce. The workshop will finish with a tasting session and lunch cooked using produce grown on the rooftop. The Culpeper (Aldgate), £25, 10.30am-12.30pm
DRUM & BASS: Get tickets quick for Hospitality In The Park, brought to you by south London's drum and bass authority Hospital Records with a huge line up of performers ready to get the party started and your heart pumping. Finsbury Park, £56, book ahead, 11am-10.30pm
BIG KIDS: Get inventive with meltable bio-plastic FORMcard. Its inventor Peter Marigold is demonstrating how to melt the plastic in a simple cup of hot water and how easy it is to make amazing creations and modifications to other toys you know and love. Adults and children alike are welcome. Makerversity (Somerset House), £9, book ahead, 11.30am-2.30pm
MOBILE RAILTON: As part of Lambeth Heritage Festival, this walking tour Time-lining the Front Line looks into the past of Railton Road. How did it feature in the 1981 Brixton uprisings? Explore its history using mobile street photography, so don't forget to bring your phone. The Commercial (Herne Hill), free, book ahead, noon-2pm
BLOCK PARTY: Tuck into some brunch from an array of stalls offering food from around the world, then dance on the block to a mix of disco, afrobeat, and house tunes — although no confirmation yet if any Bloc Party tunes will play. Garden Bar (Borough), £10, just turn up noon-7pm
MOANA: Deck chair cinema season isn't quite over yet as the folks over at The Workshop put on Moana and invite the film's fans to come dressed in outfits inspired by the movie. There will also be poster designing, prop making, face-painting, singing and dance classes. The Workshop, £2.50/£5, book ahead, 2.30pm
LAST DAY: It's your last chance to find out what the Laura I. Gallery calls art in its exhibition Now That's What I Call Art. The exhibition explores art innovation from 30 professional culturally different artists who what to inspire people to think outside the box. Laura I. Gallery (Barking), free, just turn up, 6.30pm-9.30pm
PAINT JAM NIGHT: Bring your paint brush and some inspiration to this arty party, with a glass of prosecco on arrival. Secret Central London venue, £30, book ahead, 7pm-10pm
PROVOKED WIFE: It's your last chance to catch this comedy about the tedium and pitfalls of marriage. Expect extra marital drama, scheming lovers, all soaked in bourgeois angst and champagne. The Hope Theatre (Angel), £15, book ahead, 7.45pm
THE DECAY: Apparently gig promoters An Alternative Gathering are "well chuffed" to welcome back their friends and rock band The Decay for this live show. Go along and see why they're so happy. The Unicorn (Camden), free, just turn up, 8pm-11.45pm
LITTLE FEST: Swing down to the Steel Yard and party with Bohemian Wonderland as they celebrate four years of putting on shows in London. The Steel Yard, £15, book ahead, 10pm-6am
---
Sponsor message
Get discounted tickets to London Fashion Week Festival
Calling all trendsetters, fashion addicts and shopaholics; the stylish London Fashion Week Festival is popping up at the Store Studios. From 21-24 September, the venue on the Strand will see designer and trend catwalk shows, talks and insights from industry experts — and plenty of shopping opportunities too.
The official London Fashion Week may be an exclusive affair, but London Fashion Week Festival (LFWF) is open to all. Get the lowdown on what's hot for next season before indulging in some retail therapy. With over 150 brands on offer, and many items at discounted industry prices, this is the perfect opportunity to update your wardrobe ready for autumn.
Hear from big fashion names such as Alice Temperley, get an insight into the work of a fashion curator, or learn all about starting a career in the fashion world at the various talks taking place. Grab your tickets — Londonist readers can get 20% off tickets with code LONDONIST. Find out more about LFWF here.
---
Sunday 24 September
ART IN THE CITY: It's the last day to catch Villa Walala, an immersive and colourful art installation that'll remind many of a patterned bouncy castle, intending to inject a little joy underneath London's usual blanket of grey skies. Exchange Square, free, just turn up, 6am-10pm
RUN THE COMMON: What better way to end a blood pumping run than with a picnic in the park? Starfish offer 2k, 5k, 10k or 15k runs on flat ground and lots of cheering supporters. You'll receive a medal, Starfish t-shirt and a picnic basket to enjoy on the common when you finish. Clapham Common, £17 (BOGO half price), book ahead, 9.30am
JAPAN MATSURI: Immerse yourself in Japanese culture without even needing to step on a plane with Japan Matsuri. Get stuck into Japanese food, music, dance, and entertainment, as well as a rare chance to see performers from the little-known Japanese form of variety theatre known as yose. Trafalgar Square, free, just turn up, 10am-8pm
THE KENSINGTON TRENCH: Did you know a first world war trench was built in Kensington Gardens 100 years ago? A reconstruction of the original, which formed part of the Government's top-secret plans to devise ways to defeat the enemy, is open for visitors to discover the vital but undercover role played by London's Royal Parks during wartime Britain. Buckhill Walk (Kensington Gardens), free, just turn up, 11am-4pm
LIVE MUSIC BRUNCH: Sit back and relax with a full tummy at the Royal Albert Hall this Sunday and listen to to exceptional musicians from London's jazz scene. The music will be led by composer Barbara Snow and lyricist Tom Hannah. Royal Albert Hall, £31, book ahead, noon
SOUND ALONG THE STREAM: This workshop is perfect for those of you who are disposed to wearing chains of flowers around your neck, and delicately dragging the palm of your had across a tree trunk as you walk past it. Explore our relationship with rivers and ideas about presence, flow and the dynamics of water. River Wandle, free, book ahead, 1pm-4pm
RIVER WESTBOURNE WALK: As part of the Totally Thames festival, David Fathers, author and illustrator of London's Hidden Rivers, is leading a guided walk along the 'musical' River Westbourne. Hampstead Tube Station, £12, book ahead, 1pm
TROLL TWO: This movie is known as the "best worst movie ever made". So if you enjoy astoundingly dire dialogue, pathetic production design, crappy cinematography, awful acting, and a piffle plot then this movie covers all of those bases and more. Genesis Cinema (Stepney Green), £9, book ahead, 1pm-3pm
GALA CONCERT: Celebrate 30 years of West End musicals with Lesley Garett at the Theatre Royal this Sunday. Garett will be joined by Ruthie Henshall, G4, Jacqui Dankworth, The London Gay Men's Chorus, along with special guests Angela Rippon and Judith Chalmers. Theatre Royal Haymarket, £10-£85, book ahead, 5pm
BACH VESPERS: The Bach Vespers series will return again today for a range of orchestral pieces in an ecclesiastical setting. A cantata will be performed, which demands the audience consider the world around them. St Mary-at-Hill Church (Monument), free, just turn up, 6.30pm-7.45pm
COMEDY: Have a laugh this Sunday at Collywobblers night of comedy featuring award winning TV stars, special guests, Edinburgh previews and free lollipops too. The Railway (Streatham), £16, book ahead, 8pm-11pm
Fun things to do with our friends and sponsor Funzing...
Take to the waters and glide about in this beginner paddleboarding session. By the end of it, you'll be standing up and paddling solo, and there's plenty of help on hand to improve your technique. Change of clothes required. Get tickets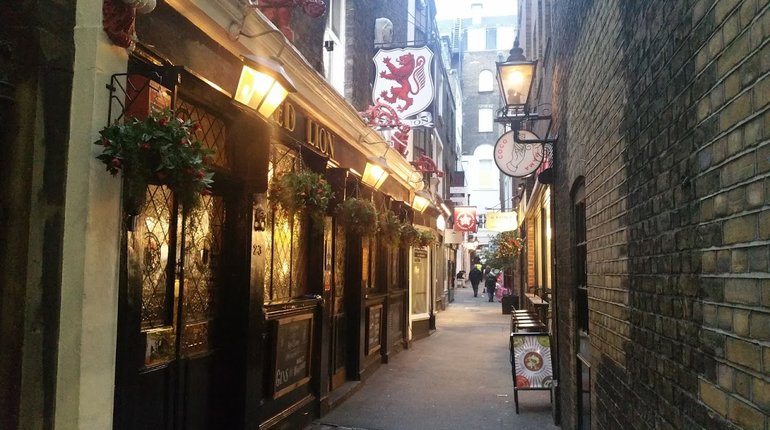 London is a city of incredible transformation. With structural remains that date back to ancient history still in existence, this unique walking tour takes in Lost London in all its former glory. From the Titanic booking office to the graveyards of man's best friend, you'll discover the weird and wonderful places that used to exist in the capital but are now only committed to memory. Using old photographs, newspaper cuttings and stories from the past, you'll be amazed at what has largely been written out of our history books... Get tickets
How well do you really know London? Visit the streets that inspired Harry Potter locations and see London's most superstitious hotel. On Matt's tour you will explore hidden places and discover stories unknown to even the most knowledgeable of Londoners. Get tickets
Whether you're a pre-grated cheddar sprinkler or mimolette fan, this cheesy walking tour will delight your senses. Starting off at a cheese counter in Mayfair that has been serving for more than 300 years, you'll tour the city's best dairy delights - including Fortnum & Mason, where the royals get their fix. Get tickets