This Weekend's Things To Do is sponsored by Taste of London. Scroll down for more information.
All weekend
PHOTOGRAPHY EXHIBITION: Striking images from over 70 photographers are on display at Espacio Gallery as part of London Independent Photography. Free, just turn up, until 25 November
ANTIQUES FAIR: Discover what it meant to be a child during the years 1750-1950 with a fair of antique dolls, teddy bears and toys at Olympia. £5, book in advance, 19-20 November
LONELY PLANET: Travel experts Lonely Planet have a pop-up store at Boxpark in Shoreditch and this weekend is kids' weekend. They can join in a poetry workshop, get involved with a giant colouring wall and more. Free, just turn up, 19-20 November
CONTEMPORARY PRINT FAIR: Whether you want a new print for the living room, or to expand your collection, browse works from over 70 artists in Woolwich for the UK's largest contemporary print fair. £5 (+booking fee), book in advance, 17-20 November
JAZZ FESTIVAL: From Allan Harris at the Southbank Centre to Zoe Francis at the 606, treat your ears to a variety of jazz performances as part of EFG London Jazz Festival. Various prices, book in advance, 11-20 November
TATE MODERN CHRISTMAS: Hop aboard a Victorian carousel, sip mulled wine and do your Christmas shopping at the Tate Modern's Christmas Market. Free, just turn up, 19 November-23 December
WINTER WONDERLAND: It's the first weekend of Hyde Park Winter Wonderland. Head to the Royal Park for all manner of funfair rides, a Christmas market, ice skating, an ice kingdom, food and drink stalls and more. Free entry (charge and booking for some events), 18 November-2 January
WINTER LODGE: Get a taste of hygge and Scandinavia without leaving Southbank Centre at the Rekorderlig Winter Lodge. Unsurprisingly it specialises in cider, but other food and drink are available. Free, just turn up, until 22 January 2017
ICE SKATING: You may not be feeling festive yet, but seize the chance to take to London's winter ice rinks before they get too busy. Natural History Museum, Somerset House, Winter Wonderland and Tower Of London ice rinks are welcoming visitors this weekend.
Saturday 19 November
WHAT IS BLACK?: Award-winning writer Ben Okri is the keynote speaker at Cultural Compounds, a day full of panel discussions at Senate House exploring the theories and traditions of the African diasporic communities. £10-£15 (+booking fee), book in advance, 9am
BRUNCH POP-UP: Looking for a new healthy brunch spot? Try out Emelia Ward's pop-up at Acton Pantry for an energising start to the weekend. £15 (+booking fee), book in advance, 10am/noon
ROMAN BATHS: Join a Museum of London guide on a 45-minute tour of Billingsgate Roman Baths on Lower Thames Street and get an insight into ancient life in the City of London. £8/£6, book in advance, various time slots 10.30am-2pm
ODDITIES OF STRAND: Join London expert Peter Berthoud on a walking tour along the Strand. Visit London's first wine bar, the scene of an elephant's execution and plenty of other interesting sights. £12-£15, book in advance, 11am-1pm
WINTER MARKET: Crafty Fox Markets takes over Oval Space in Bethnal Green for a winter market. Meet the makers at over 60 stalls, and maybe even make a start on your Christmas shopping. Free, just turn up, 11am-5pm
1930S LGBTQ: Experience the thrill of the 1930s by watching jazz dance performances and reading illicit love letters. Also hear about the historic troubles of the LGBTQ communities with panel discussions at The National Archives. Free, book in advance, 1pm
GRAFFITI WORKSHOP: Inspired by Banksy? Learn the basic techniques and have a go at tagging a canvas or a wall at Vanesa Longchamp's graffiti workshop in Hoxton. £35, book in advance, 6.30pm -8.30pm
PERFORMANCE NIGHT: Bridget Christie and Daljit Nagra are among the comedians, musicians, authors and poets gathering for Cabinet of Wonders at Cecil Sharp House. £25, book in advance, 7pm
DAMASCUS RESTAURANT POP UP: From flame-grilled aubergines to lentils stewed in pomegranate syrup, get a taste of Damascus with a pop-up restaurant in Lee. £20 (+booking fee), book in advance, 7pm/9pm
SILENT FILM NIGHT: St Giles' Church in Camberwell is showing Hitchcock's classic 1929 London-set film Blackmail, with live music. 20s costumes encouraged. £7, book in advance, 7pm
TRANSLATED POETRY: Qawwali group the Hussain Brothers Ensemble perform 12 poems by Sir Allama Muhammad Iqbal in the original Urdu at Kensington Town Hall. Qawwali is a rhythmic form of Sufi music often performed in India and Pakistan. £15, book in advance, 7pm
SMITHS TRIBUTE: How Does It Feel To Be Loved? are dedicating their club night at The Montague Arms to Smiths' album Hatful of Hollow. £6, book in advance, 9pm-2am
---
Sponsor message
Taste of London is back
If you're in the mood for a festive foodie extravaganza, head to London's Tobacco Dock from 17-20 November. Taste of London: The Festive Edition, will be taking over the east London location this weekend, offering demonstrations from top chefs, interactive visitor workshops, and tasters from some of the city's best restaurants. See Tom Kerridge and Gizzi Erskine cook up a storm, or sit down to sample dishes from over 20 restaurants including Café Spice Namaste and Tom's Kitchen.
Of course, getting ready for Christmas is central, so why not stock up on some gourmet gifts or learn how to create a festive floral centrepiece before relaxing with a glass of bubbles in the Laurent-Perrier Club House? With live music to get you into the party mood, and mulled wine to keep you warm, this is the perfect day out for food, drink and festivities. Turn up with Christmas spirit and an empty stomach.
Tickets are usually £15, but with Londonist tickets start from £12 — get your tickets here.
---
Sunday 20 November
WIKIPEDIATHON: Discover how to edit (and improve) Wikipedia at Wiener Library's Edit-a-thon, under the instruction of Victor Stepien, the library's Wikipedian-in-Residence (yes, that is a thing). Lunch is included too. Free, book in advance, 10am-4pm
HOUSEMAID'S TOUR: Step back in time to 1839 at the Charles Dickens Museum in Bloomsbury and take a tour of the house led by the character of the Dickens family's housemaid. £15/£12, book in advance, 10am/10.45am/11.30am
CHRISTMAS FAIR: The Friends of Age Exchange Christmas Fair returns to Blackheath Halls with 52 different stalls to browse. Money raised goes towards supporting those affected by dementia. Admission £2, just turn up, 10.30am-4.45pm
TOY PARADE: Hundreds of TV and film characters are taking over Regent Street for the Hamleys Christmas Toy Parade. Take the kids to see the parade (starting at 10.30am), and watch acts on the main stage outside Hamleys from 12.30pm. Free, just turn up, 10.30am-4.30pm
18 STAFFORD TERRACE: What was the 'House Beautiful' interior style of the late 1800s? Head to the Kensington home of Punch cartoonist Edward Linley Sambourne and discover its eccentric aesthetic. £10, book in advance, 11am
STREET WALL ART: Forget going to the Great Wall of China, visit the Great Wall of Portobello to see its art on a walking tour with local artist Albert Kueh. Free, book in advance, 11.30am
MARBLING WORKSHOP: Discover the art of paper marbling at the London Centre for Book Arts. £85 (+booking fee), book in advance, 1pm
SHADOW PUPPETS THEATRE: Take the little ones to Keats House's Family Day in Hampstead, where they can make a shadow puppet theatre. The theme of the day is Small World. Free, just turn up, 1pm-4pm
JAZZ DANCE CLASS: Whether you're a pro or have two left feet, take a street-jazz fusion dance class at Trapeze in Shoreditch. DJ Buddhaboy and Mike Perry will also be on the decks so you can show off your moves after the class until 8pm. £7, just turn up, 2-3pm (stay until 8pm)
CHRISTMAS CARD MAKING: Go to a lino printing workshop in Harringay and make your own personalised Christmas cards to send this year. £23, book in advance, 3pm/5.30pm
SWING DANCING: Grab your dancing shoes and head to Bishopsgate Institute, near Liverpool Street station, for Bishopsgate Swing. It's a social dancing event for those of all abilities, beginning with a taster class for beginners. £8-£15, book in advance, 6.30pm
MUSICAL SHOWCASE: Celebrate the careers of Michael Webborn and Daniel Finn at St James Theatre, in a show featuring music from musical The Clockmaker's Daughter, as well as their newest works. £17.50-£30, book in advance, 7pm
---
Fun things to do with our friends and sponsor Funzing...
Take to the waters and glide about in this beginner paddleboarding session. By the end of it, you'll be standing up and paddling solo, and there's plenty of help on hand to improve your technique. Change of clothes required.  Get tickets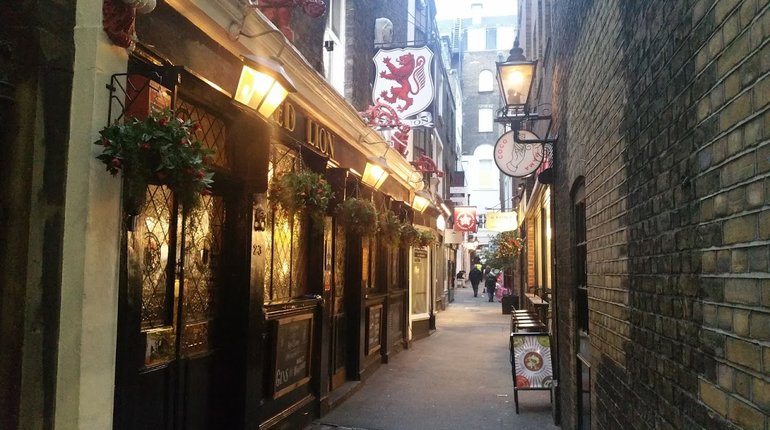 London is a city of incredible transformation. With structural remains that date back to ancient history still in existence, this unique walking tour takes in Lost London in all its former glory. From the Titanic booking office to the graveyards of man's best friend, you'll discover the weird and wonderful places that used to exist in the capital but are now only committed to memory. Using old photographs, newspaper cuttings and stories from the past, you'll be amazed at what has largely been written out of our history books...   Get tickets
How well do you really know London? Visit the streets that inspired Harry Potter locations and see London's most superstitious hotel. On Matt's tour you will explore hidden places and discover stories unknown to even the most knowledgeable of Londoners. Get tickets
Whether you're a pre-grated cheddar sprinkler or mimolette fan, this cheesy walking tour will delight your senses. Starting off at a cheese counter in Mayfair that has been serving for more than 300 years, you'll tour the city's best dairy delights - including Fortnum & Mason, where the royals get their fix.   Get tickets