What we're reading
Things to do
I, ROBOT: Explore the world of robot science with Robots. The exhibition reveals the 500-year journey from a 16th century mechanical monk to modern day film's most iconic robot creations (we're looking at you, C-3PO). Science Museum, £15/£13, book ahead, 10am-11pm
ROALD DAHL: It's a little-known fact that author Roald Dahl had a deep fascination with medicine. Listen to his friend and doctor, Tom Solomon, speak about the author's fascination. Royal College of Physicians, free, book ahead, from 6pm (lecture starts at 6.30pm)
THE NAME'S BOND: Hear the story behind Ian Fleming's James Bond series on this James Bond and the Spies of Mayfair guided walk. Find out about the author's hometown, where he gambled and drank, and most importantly, where he found the inspiration for Bond. Marble Arch, £12, book ahead, 6.30pm-8pm
MUSEUM OPERA: Spend the evening being serenaded among pickled moles at the Grant Museum. An improvised opera troupe will be giving musical performances about the museum's specimens, among other talks from museum experts. Grant Museum of Zoology, £12, book ahead, 6.30pm-9pm
JAPANESE LOVE: Travel to Old Japan and discover the meaning of love. Join author Lesley Downer for a pre-Valentine's Day discussion on how there used to be no Japanese word for 'love'... until, in the last half of the 19th century, everything changed. Asia House, £8/$6/£4, book ahead, 6.45pm-8pm
CRIME SCENE: Join a panel of top crime fiction writers for Dead Simple: Quick Reads Does Crime. The setup encourages you to take time out of your daily routine to read.... in this case, about people getting murdered. Foyles, Charing Cross, £5, book ahead, 7pm-8pm
CELLS AND TISSUES: Learn about recent advances in understanding the way cells work, with Touching and Holding: The Social Lives of Our Cells. The Royal Institution, £14/£10/£7, book ahead, 7pm-8:30pm
YOUTH IN REVOLT: A new generation of activists is changing the political and social landscape in London and beyond. Generation Revolution brings their story to the screen, showing the personal and political awakenings. A Q&A follows the screening. Stanley Halls, £8/£6, book ahead, 7pm-10pm
I WAS DOOMED: You Were High When I Was Doomed is "a show that has something to do with endings and afterendings." Find out exactly what that means at IMT Gallery, free, just turn up, until 5 March
SOMEBODIES & NOBODIES: Jo Brocklehurst's work documents her experiences with sex, androgyny and couture, which went onto inspire the work of designer Jean-Paul Gautier. House of Illustration, £7.50/£5/£4, book ahead, until 14 May
Stage review:
Under-ripe pair
The best we can say about Dirty Great Love Story is it could make a great date night for Valentine's Day. That's because your own relationship will look so much better than dopy Richard and neurotic Katie's in this trying-too-hard two-hander in rhyming couplets. Otherwise it proves rom-com is best left to Richard Curtis movies as this feels like The Last Five Years without the songs or Constellations without the wit. That's unless you count drunken vomiting during an in-car blowjob as satire. Male lead Felix Scott is Adam's bit-on-the-side Charlie Thomas, from The Archers... and somewhat too hunky to play this dweeb. Dirty Great Love Story, The Arts Theatre, Great Newport Street, WC2. From £15.90, until 18 March [Monday-Saturday] ★★☆☆☆ Johnny Fox
Art review: An algorithm on trial
The trial of superdebthunterbot looks at whether a computer programme can be held responsible for causing a death. Sit in a jury style bench and watch videos of the defence, the prosecution and the jury's deliberation. A particularly poignant art work. Helen Knowles: The trial of superdebthunterbot at Zabludowicz Collection, 176 Prince of Wales Road, NW5 3PT. Free, until 26 February ★★★★☆ [Wednesday-Sunday]
Good cause for the day
CHECK YOURSELF: Orchid and Cancer Black Care bring their Prostate Cancer Awareness Roadshow for African and Caribbean men to Lewisham on Wednesday. The idea is to help educate people on symptoms, risk factors and signs. Lewisham High Street, free, just turn up, 9am-5pm
Fun things to do with our friends and sponsor Funzing...
London is a city of incredible transformation. With structural remains that date back to ancient history still in existence, this unique walking tour takes in Lost London in all its former glory. From the Titanic booking office to the graveyards of man's best friend, you'll discover the weird and wonderful places that used to exist in the capital but are now only committed to memory. Using old photographs, newspaper cuttings and stories from the past, you'll be amazed at what has largely been written out of our history books... Get tickets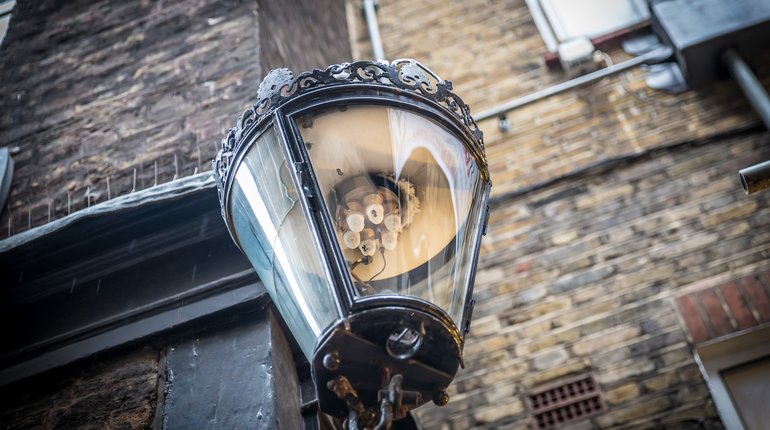 Cross gas lit alleyways and stroll by ancient pubs as you discover forgotten parts of London. See the world's smallest police station and visit London's most superstitious hotel on a walking tour covering everything weird, wonderful and London. £12 Get tickets
Join a full moon ceremony and uncover how to fully appreciate the cycles of nature, and how these align with the cycles of our own bodies. Simply, the full moon is a time when our energy peaks - a time of fruition, a time of perception, a time of strength. In this ritual experience, Ena and Gammadian will take you on a beautiful journey guided by the moon, lead a guided meditation and create a safe space in which to reflect, relax and grow in the company of like-minded people. Get tickets
Take to the waters and glide about in this beginner paddleboarding session. By the end of it, you'll be standing up and paddling solo, and there's plenty of help on hand to improve your technique. Change of clothes required. Get tickets