Things to do today in London is sponsored by CommuterClub
Things to do
TOY STORY: Love Toy Story? An interactive exhibition at House of Vans in Waterloo explores all things to do with the film. Immerse yourself in the world of Andy's toys, to mark the launch of the new Vans X Disney Pixar Toy Story collection. Free, just turn up, until 11 December
A DULWICH CHRISTMAS: Get that festive feeling as Dulwich Picture Gallery kicks off its Christmas season with Dulwich Winterlights. Launching today, you can enjoy Christmas treats including mulled cider, hot chocolate and mince pies, create a festive family photo, and listen to classics from pop-up choirs. Various prices, book ahead, until 18 December
CHRISTIE'S LATES: Get crafty with jewellery-making workshops, hear experts talk about art and enjoy a post-work drink; Christie's auctioneers in South Kensington is open late to celebrate its 250th anniversary.  Free, just turn up, 6pm-8.30pm
CHRISTMAS WITH THE MUPPETS: What could be better than a bit of Dickens, a bit of Kermit and mince pies? Head to the Prince Charles Cinema in Leicester Square for a screening of The Muppet Christmas Carol and enjoy a complimentary mulled wine and mince pie with the festive classic. £11, book ahead, 6.25pm
DED TALKS: Fancy a night of laughter and science? Then head over to the Harrison Gastro & Hotel for DED Talks: Ideas Worth Burying and listen to visitors of Christmas past talk about their ridiculous science, complete with hilarity and flaws. £5.90, book ahead, 7pm-10pm
CHEEKY CHRISTMAS CRAFTS: Running out of gift ideas? Make something cheeky for your Secret Santa and friends (but probably not your mum) at Drink, Shop & Do in King's Cross. Have festive fun and cocktails with Cheeky Christmas Crafts. From £5, just turn up, from 7pm
LET'S BE FRIENDS: Fancy being friends with a comedian? Well then, head over to Pleasance Theatre for Matthew Crosby's show, Let's Be Friends. The show is part of the theatre's Work In Progress series. £5, book ahead, from 7.45pm
A JOHN KEARNS CHRISTMAS: Treat yourself to some festive stand up comedy from John Kearns at Battersea Arts Centre. Kearns recorded his family 2011 and 2012 Christmas dinners, only to listen to them four year later. £12.50/£10, book ahead, 8pm, 6-10 December
WINTER CONCERT: Sit back and enjoy a night of music at Southbank Centre's Royal Festival Hall, with performances from Bryn Tefel, and the Royal Philharmonic Concert Orchestra, Hayley Wetenra and 11-year-old Alma Deutscher. £19-£29, book ahead, 8pm-10pm
---
Sponsor message
Get In Quick To Save Even More With CommuterClub
With commuter fares set to increase by 2.3% next year, the opportunity to lock in today's lower prices for a whole year seems almost too good to be true. Enter CommuterClub, the people making this dream a reality. With CommuterClub, the cost of an annual travelcard is spread out over 11 monthly payments: this not only saves money in comparison to buying monthly travelcards for a year, but means that your 12th month of commuting will be free. Customers will also get a Gold Card, giving 1/3 of National Rail fares, and 2 for 1 tickets for tons of London attractions – this a club worth joining.
---
Good cause of the day
BLOODWISE-BEATING CANCER: Head over to Royal Albert Hall for Bloodwise's Christmas With The Stars. For a night of music and goodwill, join BBC Radio 2's Frank Renton and his Concern Brass and the West End Chorus and give to a good cause. Various prices, book ahead, 6.45pm
---
TERRIFYING TOTEMS: Three sculptures made from cork loom over us intimidatingly. These works by Pakistani born artist Huma Bhabha are certainly memorable, even if the other works in this exhibition aren't. Huma Bhabha at Stephen Friedman, 25-28 Old Burlington Street, W1S 3AN, free. 22 November - 28 January ★★★☆☆ [Tuesday-Saturday]
---
Fun things to do with our friends and sponsor Funzing...
London is a city of incredible transformation. With structural remains that date back to ancient history still in existence, this unique walking tour takes in Lost London in all its former glory. From the Titanic booking office to the graveyards of man's best friend, you'll discover the weird and wonderful places that used to exist in the capital but are now only committed to memory. Using old photographs, newspaper cuttings and stories from the past, you'll be amazed at what has largely been written out of our history books...   Get tickets
Whether you're a pre-grated cheddar sprinkler or mimolette fan, this cheesy walking tour will delight your senses. Starting off at a cheese counter in Mayfair that has been serving for more than 300 years, you'll tour the city's best dairy delights - including Fortnum & Mason, where the royals get their fix.   Get tickets
Track the journey of humanity through this tour around the British Museum. The tour aims to help you understand why the world is the way it is, and show how humans learned to question absolutely everything. Get tickets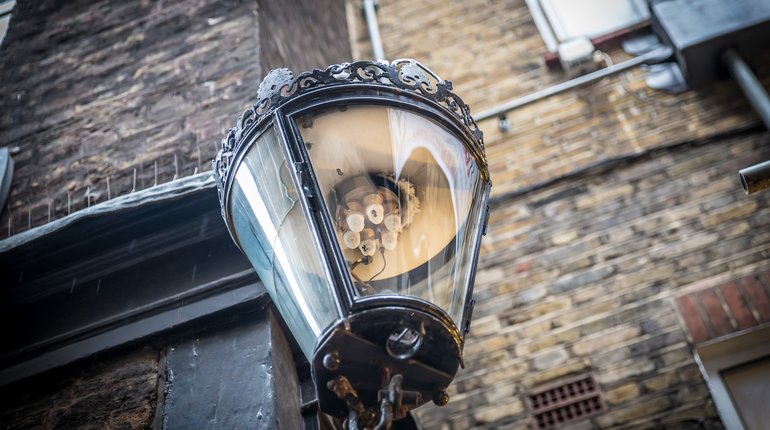 How well do you really know London? Visit the streets that inspired Harry Potter locations and see London's most superstitious hotel. On Matt's tour you will explore hidden places and discover stories unknown to even the most knowledgeable of Londoners. Get tickets