Things to do today is sponsored by CommuterClub.
What we're reading
Things to do
PIGS EAR BEER & CIDER FEST: Raid your piggy bank for this beer-soaked festival showcasing 230 of the finest beers and ales. Round Chapel (Hackney), £5/£3 with a CAMRA card, just turn up, 5-9 December
BRITISH LIBRARY SHOPPING: Planning a trip to the library tonight? You might find yourself sidetracked by an array of festive gift stalls and serenaded by carol singers on the way in. Plus, get 20% off in the library shop today, because it's Christmas. British Library, free, just turn up, 4pm-8pm
IMPERIAL FRINGE: Find out the ill effects of that Oxford Street dash from the School of Public Health's air quality busters, bottle clouds with an atmospheric physicist and hold onto your head when you enter one of Europe's longest wind tunnels at this event making science fun again. Imperial College London, free, book ahead, 5pm-8pm
AUTHORS EVENING: Bookworms should wrap up warm and head to Waterstones to meet the authors behind some of the best releases of 2017, from Rivers of London author Ben Aaronovitch to English novelist Victoria Hislop. Get your books signed and gift-wrapped in time for present giving season. Waterstones (King's Road), free, just turn up, 6pm-8pm
POSTAL MUSEUM LATE: The Postal Museum has delivered its first ever after-hours event. The festive package includes a letter writing station, the first known Christmas card and performances from the Royal Mail Choir. Postal Museum, £12/£9, book ahead, 6.30pm-9.30pm
---
Sponsor message
What would you do with an extra £300?
It's happening again — this new year, fares are going up by a whopping 3.5%. If the thought of spending yet more money on travel fills you with dread, join CommuterClub. It's a scheme where you'll get all the savings and value of your annual ticket, while keeping the flexibility of paying monthly.
You'll get a full month of free travel and lock in current fares so you can dodge the price hike. On average, savvy Londoners who join CommuterClub save around £300.
Pocket more savings by using the Gold Card that you'll get free when you join. This magic ticket gives you 1/3 off National Rail fares, and lots of 2-for-1 offers on London attractions such as the Tower of London and St Paul's Cathedral.
Think of all the Christmas gifts you could buy (or treat yourself) with all that extra cash. Spread the word and you'll get £20 for every friend who joins. For the ultimate value when it comes to travel — sign up to CommuterClub here and get £20 off.
Representative example: Credit limit: £1,200. Interest: £67 Total payable: £1,267 in 11 monthly instalments of £115. Representative 10.6% APR. Interest rate: 5.6% pa (variable).
---
I AM NEXT: There's more to the UK's music scene than Ed Sheeran (sorry Ed). At this rave, you'll discover some of the most hyped names in UK drill, grime, trap, hip hop, afro trap and RnB, without a Spotify advert in earshot. Village Underground, £5-£8, book ahead, 7pm-11pm
ART OF BRIXTON: See Brixton portrayed in all its wonderful, messy, colourful diversity through screen prints, photography, oil paintings and more at this fundraiser for Brixton Soup Kitchen & Support Centre. At the exhibition's launch night tonight, there will be spoken word, acoustic music and a DJ. The Ritzy (Brixton), £5, book ahead, 7pm-11.30pm
POETRY AT THE PRINT ROOM: Sinéad Morrissey, Michael Symmons Roberts and Maria Stepanova are on the Print Room lineup tonight. These lyrical wordsmiths have more literary awards between them than you can shake a pen at. The Print Room (Notting Hill), £10, book ahead, 7.30pm
NEW ROOTS: LOW CHIMES: New Roots gigs are always an intimate affair, where the quality of the songwriting and musicianship takes centre stage and the audience have come here to listen (not talk loudly about what their boss did at the Christmas party). Alt folk, five-piece band Low Chimes perform tonight. The Sebright Arms (Bethnal Green), £9.35, book ahead, 7.30pm
Good cause of the day: Go to a candlelit carol service
This candlelit service featuring readings, the lighting of the Advent Candle and special performances from the English National Opera Chorus and Soul Symphony Choir will have even the gloomiest of grinches humming Silent Night by the end of the evening. All funds are donated to Ronald McDonald House Charities and its work supporting families with children in hospital. St Martin in the Fields, £20/£9, book ahead, 6pm-8pm
Fun things to do with our friends and sponsor Funzing...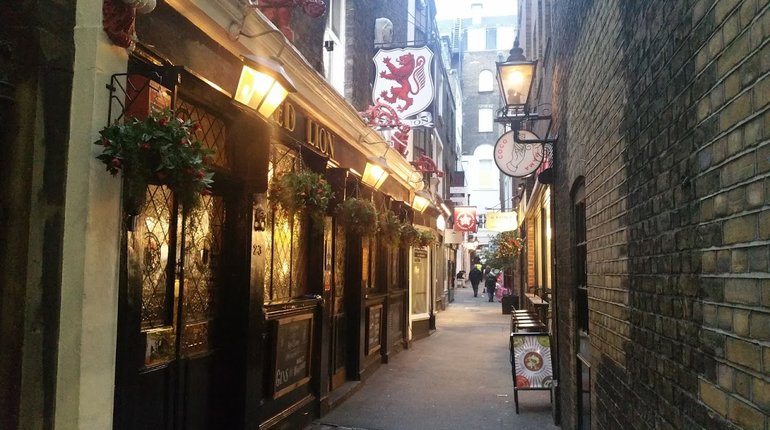 London is a city of incredible transformation. With structural remains that date back to ancient history still in existence, this unique walking tour takes in Lost London in all its former glory. From the Titanic booking office to the graveyards of man's best friend, you'll discover the weird and wonderful places that used to exist in the capital but are now only committed to memory. Using old photographs, newspaper cuttings and stories from the past, you'll be amazed at what has largely been written out of our history books... Get tickets
Whether you're a pre-grated cheddar sprinkler or mimolette fan, this cheesy walking tour will delight your senses. Starting off at a cheese counter in Mayfair that has been serving for more than 300 years, you'll tour the city's best dairy delights - including Fortnum & Mason, where the royals get their fix. Get tickets
Take to the waters and glide about in this beginner paddleboarding session. By the end of it, you'll be standing up and paddling solo, and there's plenty of help on hand to improve your technique. Change of clothes required. Get tickets
Get creative with your partner in this date night with a difference. Between you, you'll get to create your very own piece of artwork on a large canvas. Help is on hand if you need it, but freestyle pieces are always encouraged… Get tickets