Things to do today is sponsored by the Old Royal Naval College.
What we're reading
Things to do
SNAP HAPPY:Pop down to the Polaroid pop-up in Boxpark to try out the latest range of instant digital cameras, as well as traversing memory lane with some vintage camera models on display. Boxpark Shoreditch, free, just turn up,until 30 July
WAR OF TERROR:This exhibition is bringing together work by photographer Edmund Clark, as he explores the hidden experiences of state control during the 'Global War on Terror', looking at issues such as security and legality. Imperial War Museum, free, just turn up, 10am-6pm
AMAZING AEROPLANES: Kids aged 5-12 can learn about the Fairlop airfield and aeroplanes from the past. Little ones will love making their own model plane to take home. Redbridge Museum (Ilford), £1, book ahead, 10.30am-12.30pm
COAT AND BADGE RACE: They've managed to pull this off every year since 1715, making it the world's longest running rowing challenge. Head down to the river to see 2017's Doggett's Coat and Badge Race, where young Watermen apprentices contest the sculling race. Starts at London Bridge, free, just turn up, 11.30am
BLUE PLAQUES: 2017 is the 150th anniversary of the blue plaques, revealing fascinating glimpses of history all over the city. Celebrate the occasion and learn more at this free talk about the history of the scheme. London Metropolitan Archives (Clerkenwell), free, book ahead, 2pm-3pm
HISTORY IN THE PUB: History and the pub make the perfect combination. Nurse a pint as you hear from ten London Historians about their favourite Londoner from history. Our own Matt Brown is overseeing proceedings. The Sir Christopher Hatton (Leather Lane), £5, book ahead, 6.30pm-9pm
PICK YOUR FLICK: What will you choose: Romy & Michele's High School Reunion or Clueless? Voting for the screening closes one hour before the showing, so you better get a move on. Drink, Shop & Do (King's Cross), free, just turn up, 7pm
MERMAID CROWNS: DIY blogger Zen will teach you how to make your own mermaid crown using shells, glitter, and other shipwrecked bric-a-brac. Drink, Shop & Do (King's Cross), £35/£49, book ahead, 7pm-9pm
COMEDY: Comedian Mae Martin tops the bill at this stand up comedy show. Robyn Perkins will also be attempting to take the Laugh Train Home. The Honor Oak Pub, £6, book ahead, 8pm-10pm
---
Sponsor message
Get up close to some of Europe's best artwork
There's a new way to see the exquisite baroque paintings that line the walls and ceilings of the Painted Hall at the Old Royal Naval College. Rather than admiring them from the ground, you can now ascend a 60ft high observation deck and get up-close to the artwork, exploring the mysteries and intricacies of these masterpieces.
It's all due to the fact that the Hall's 40,000sq ft of paintings are being restored in a major conservation project. On this limited edition tour you'll see the conservators at work too. The Painted Hall Ceiling Tour really is a viewing experience like no other — find out more here.
---
Art review: typewrite your dreams
Navigate a translucent maze to find a mini office where you can sit at a typewriter, jot down your dreams, secrets and memories, and file them anonymously. You can read previous visitors' submissions while you're there — they're also projected onto the walls of the maze. Book ahead for an hour slot or turn up and jump on a free typewriter. It will all culminate with a performance, incorporating these stories, at the end of the exhibition. We found this confessional process absorbing. Internal Library by Bongsu Park at Print Room at The Coronet, 103 Notting Hill Gate, W11 3LB. Until 29 July, free. ★★★★☆ [Monday-Saturday]
Food review: vegan doners make triumphant Shoreditch return
Vegans wept protein-deficient tears when street food market The Pump shut a couple of months ago, all for the loss of the incredible What The Pitta. Their prayers have been answered, as WTP has reopened just around the corner in Boxpark. With this new stall they've added more to the menu; the doner box with 'meat' and chips is an attractive form of vegan carbicide for sure. However, for our money it's still the kebab wrap that tops the bunch, which is both healthier and tastier. What The Pitta, Boxpark Shoreditch, 2-10 Bethnal Green Rd, E1 6GY, ★★★★★ Harry Rosehill
Theatre review: Nina Simone receives political nod (or political tribute)
Swedish-based actor/singer Josette Bushell-Mingo uses song, video projection and at times, a bit too much talk, to express her disappointment in today's continued racism against black people; a sentiment she shares with the late jazz and blues artist Nina Simone whose music was often based on her experiences with America's Civil Rights Movement.  The show starts slow, where Bushell-Mingo takes on Simone's persona at a concert in 1969 in which the singer is voicing a political message.  Luckily the programme builds to what audiences are there to see — Bushell-Mingo's run-through of Simone's famed, sing-along hits. A standing ovation justifiably results. Nina. Young Vic, 66 The Cut, London SE1 8LZ, sold out for remaining shows, limited tickets on the door for £20-£25, until 29 July ★★★ [Monday-Saturday] Tiffany Pritchard
Good cause for the day
STREAK FOR TIGERS: Run around London Zoo naked on a normal day, and you'd probably get in a spot of bother. Do it on 10 August though, and you can raise money for charity whilst you're at it. Result. London Zoo, £20 with minimum £150 funding, book ahead, 10 August, 7pm
Fun things to do with our friends and sponsor Funzing...
London is a city of incredible transformation. With structural remains that date back to ancient history still in existence, this unique walking tour takes in Lost London in all its former glory. From the Titanic booking office to the graveyards of man's best friend, you'll discover the weird and wonderful places that used to exist in the capital but are now only committed to memory. Using old photographs, newspaper cuttings and stories from the past, you'll be amazed at what has largely been written out of our history books... Get tickets
Take to the waters and glide about in this beginner paddleboarding session. By the end of it, you'll be standing up and paddling solo, and there's plenty of help on hand to improve your technique. Change of clothes required. Get tickets
Have you visited London's Roman ampitheatre? What about London's Medieval market places? Hear weird and wonderful tales of our beautiful city as you take a walking tour, seeing everything from centuries-old churches to the hanging place of William Wallace. Whether you've lived here all your life or are visiting for a few days, you're sure to learn something new about London. Get tickets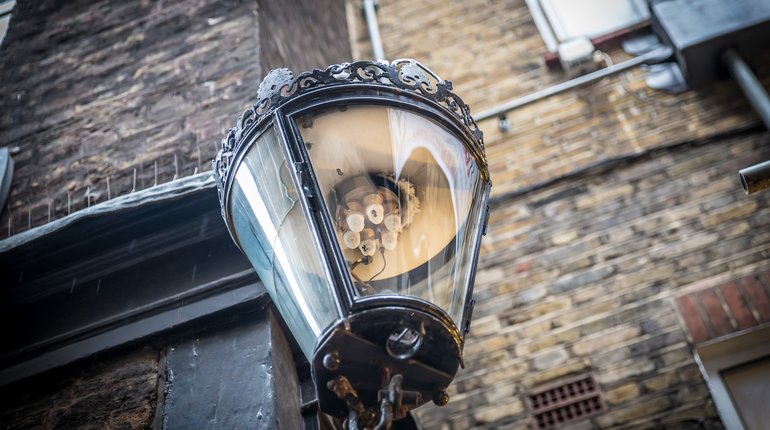 How well do you really know London? Visit the streets that inspired Harry Potter locations and see London's most superstitious hotel. On Matt's tour you will explore hidden places and discover stories unknown to even the most knowledgeable of Londoners. Get tickets