Things to do today in London is sponsored by CommuterClub
What we're reading
---
Things to do
ROYAL OBSERVATORY CHRISTMAS: Ever wondered what the Christmas star might have been? Find out as you travel across the skies with The Sky Tonight - Christmas Stars at the Royal Observatory in Greenwich. Various prices, book ahead, until 23 December
ADVENT WINDOWS 2016: Celebrate the Christmas season with Advent Windows: 2016. Greenwich's St Alfege's Church is unveiling a newly-decorated window in its living advent calendar every day until Christmas Eve. You can check the locations of each window here. Free, just turn up, until 2 January
CHRISTMAS PANTO: Give the kids a festive giggle with The Missing Stockings Christmas Show at Farmopolis in Greenwich. Help Goldilocks, Little Red and the Gingerbread Man rescue Christmas from a very silly fox. £3 (suggested donation), book ahead, 10am/11am
STOCKING FILLERS: Make your gifts that much more meaningful this Christmas. Head over to Farmopolis to make your own soap balls and learn about the the lost, traditional knowledge and mysticism of herbs. £3 (suggested donation), book ahead, noon-2pm
IT'S A WONDERFUL LIFE: Feel all the feels with It's A Wonderful Life at the Prince Charles Cinema in Leicester Square. Join James Stewart as he finds out what the world would be like if he wasn't born. £8/£4 or £11/£8.50, book ahead, from 3pm/8.45pm
MASS CAROL SINGALONG: Let the festive spirit overcome you, with a mass carol singalong on Lower Marsh in Waterloo. Don't worry, it won't just be out of tune amateurs — local choirs will be leading the singing. Free, just turn up, 6pm-7pm
LOLITICS: Self-described as London's friendliest lefty political comedy club, Lolitics is where comedians come with jokes that aim to make the world a better place. It doubles as a live podcast taking place upstairs at The Black Heart in Camden. £3, just turn up, 8pm
OH BOY, COMEDY!: 'A laughing orgasm from start to finish'. So one reviewer said about a Helen Duff set, the headliner for this alternative comedy night at The Rose & Crown in Kentish Town. Free entry/pay what you want, just turn up, 7.30pm
LIFE AFTER DEATH: Don't be fooled by the name, it's actually a comedy show. Join Scott Gibson for Life After Death, a story of Gibson's fight for life after suffering a brain haemorrhage. A darkly hysterical show at Soho Theatre. £10, book ahead, 8.45pm
---
Sponsor message
Fancy more cash for Christmas? Save with CommuterClub
With presents, food and drink to buy, Christmas is a pricey time of year. Why not reduce your travel costs so you can put more towards the festive season? CommuterClub is the money-saving solution.
With CommuterClub you can get the value of a yearly travelcard, but with monthly payments — and even get your 12th month free. There's no better time to join the club, as fares are set to increase by 2% in the New Year — buying now gives you one last chance to lock in today's prices for a whole 12 months but you must hurry. If you want a few extra pennies in your pocket, CommuterClub is the answer.
Representative example: Credit limit: £1,200. Interest: £67 Total payable: £1,267 in 11 monthly instalments of £115. Representative 10.6% APR. Interest rate: 5.6% pa (variable).
---
Good cause of the day
SING FOR SAMARITANS: Get festive and give back this Christmas with Samaritans' A Christmas Chorus: Pop-up Festival and Market. Head to Charing Cross station for performances by West End Stars, The Piano Works Live Band and more alongside a pop-up market. Free, just turn up, 7am-8pm
---
Review: An 18th Century Mystery
A unique immersive exhibition. Step into this National Trust property and explore the story of the 18th century Gee family, through the works of contemporary artists and designers. Guide yourself in the low light with an electric candle as you navigate wills, a virtual reality experience and eat some sweetmeat. Traces at Fenton House, Hampstead Grove, NW3 6SP. Until 23 December, £10 - booking required. ★★★★☆ [Monday-Friday]
---
Fun things to do with our friends and sponsor Funzing...
London is a city of incredible transformation. With structural remains that date back to ancient history still in existence, this unique walking tour takes in Lost London in all its former glory. From the Titanic booking office to the graveyards of man's best friend, you'll discover the weird and wonderful places that used to exist in the capital but are now only committed to memory. Using old photographs, newspaper cuttings and stories from the past, you'll be amazed at what has largely been written out of our history books... Get tickets
Whether you're a pre-grated cheddar sprinkler or mimolette fan, this cheesy walking tour will delight your senses. Starting off at a cheese counter in Mayfair that has been serving for more than 300 years, you'll tour the city's best dairy delights - including Fortnum & Mason, where the royals get their fix. Get tickets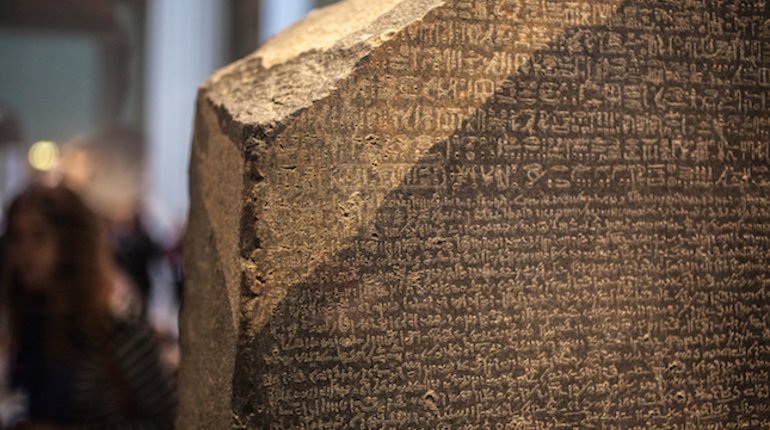 Track the journey of humanity through this tour around the British Museum. The tour aims to help you understand why the world is the way it is, and show how humans learned to question absolutely everything. Get tickets
At night, the City of London is at its creepiest... discover the area's most haunted locations with paranormal writer Richard Jones, London's longest established ghost walk guide - he's been at it since 1982! You'll visit hidden passages, ancient burial grounds, haunted alleyways and ghostly passageways - all places where people have been known to capture ghostly images on their cameras. Get tickets