Things to do today is sponsored by Cityread.
What we're reading
Things to do today
NATIONAL ARMY MUSEUM: After a three year refurbishment, this Chelsea Museum reopens to the public today. Find out about the British Army and its impact on society. Discover what it's like to serve as a soldier — and learn all about Britain's most highly decorated ass. National Army Museum, free entry, just turn up, 10am-5.30pm every day
HAND TIED FLOWERS: Learn how to make a bouquet of spring flowers with this free workshop in Waterloo. Materials are provided, but are first come first served, so get there early. Lower Marsh, Waterloo, free, book ahead, noon-3pm
ANIMAL TOUR: Explore the Wellcome Collection's Making Nature exhibition with UCL professor of biology, Helen Chatterjee. Wellcome Collection, free, just turn up, 6pm-6.45pm
ARTIFICIAL INTELLIGENCE: What will happen when artificial intelligence and the internet meet the professions? In other words, is a robot going to turf you out of your job anytime soon? That's the topic of this evening's Gresham lecture. Barnard's Inn Hall, free, just turn up, 6pm-7pm
FLAMENCO: It's time for a celebration of Latin American dance. Prepare yourself for a performance of wild fun, laid on by Morley College's students and teachers. Morley College, £6/£8, book ahead, 7.30pm-8.30pm
FALSE SCIENCE: Londonist's own Matt Brown will be telling you why Everything You Know About Science Is Wrong. His new book picks apart some of the most-famous science 'facts'... you might want a word with your old science teacher by the end of the evening. The Bell, Spitalfields, £4, book ahead, 7.45pm
PLAYGROUND ANTICS: Relive your childhood in the Playstation (not the video game console). Dip into a sea of nostalgia for games more including duck, duck, goose, alongside some new treats. Wac Arts, £10, book ahead, 7.30pm-9pm
JAZZ NIGHT: Get some speakeasy vibes down at Kentish Town's Map Cafe, with jazz trumpeter Damon Brown. Map Studio Cafe, £10, book ahead, 8pm
LYING CONTEST: The wonderful storytelling squad The Crick Crack Club present the 2017 edition of The Grand Annual Lying Contest. People tell fabricated stories or tales of fibbing and a winner will be crowned by judges (well versed in the realm of leg-pulling we believe). Rich Mix, £7, book ahead, 8pm
FREE COMEDY: Sheraz Yousaf, Jimmy Bird and Jo Coffey are among the comedians on the bill at this free comedy evening. If you're willing to splash out a bit, treat yourself to some of the venue's legendary pizza while you watch the show. The Dogstar, Brixton, free, Just turn up, 8pm-10.30pm
NINA SIMONE: Nina Simone's drummer of 18 years, Paul Robinson, supports dramatic and gutsy singer Gill Manly who's performing her classics tonight. Brasserie Zedel, £20, book ahead, 9pm
---
Sponsor message
Go back in time at this Elizabethan immersive experience
Don your cloak and explore the historic cloisters of the Charterhouse in this immersive, participatory experience.
Picture this: Cecily Ashe has been murdered and her body lies at the Charterhouse. The Queen's spymaster suspects a plot to overthrow the crown and calls on international man of mystery Giordano Bruno to recruit a band of spies. This is where you come in. Help to uncover the truth at this night of historical intrigue. The event is part of this year's Elizabethan themed Cityread programme.
Book your tickets here for Prophecy — Behind Closed Doors. The event runs at weekends in April.
---
Art review: jump into a skip
A white skip has appeared in Hoxton Square, but rather than old sofas, this one contains an art exhibition. Step into the darkness with headphones on for an immersive experience focussing on the death of the artist's mother. The unique setting only adds to the atmosphere. Skip Gallery at Hoxton Square, until 2 April, free ★★★★☆ (Thursday-Sunday) Tabish Khan
Theatre review: Chinese cracker
An American signage manufacturer stumbles through hilarious mistranslations and the fog of understanding to win a contract and possibly the heart of a crisp and wanton female politician. Although free from stereotyping, character development is secondary to the brisk comedy in David Henry Hwang's genuinely laugh-out-loud Chinglish, smartly staged by Andrew Keates with finessed comic turns like Siu-see Hung's dodgy translator, and a juicy Mandarin romance making the point that words don't matter if you love how his lips move. Chinglish, Park Theatre, Clifton Terrace, N4 3JP, £20-£29.50, until 22 April ★★★★☆ [Monday-Saturday] Johnny Fox
Good cause for the day
GOAT FOOD: Gone with the Goat is a supper club by Women For Rwanda, that aims to help Rwandan women support themselves with goats. To aid this, eat a lot of delicious goat-based food. Stoke Newington, £25, book ahead, 7.30pm
Fun things to do with our friends and sponsor Funzing...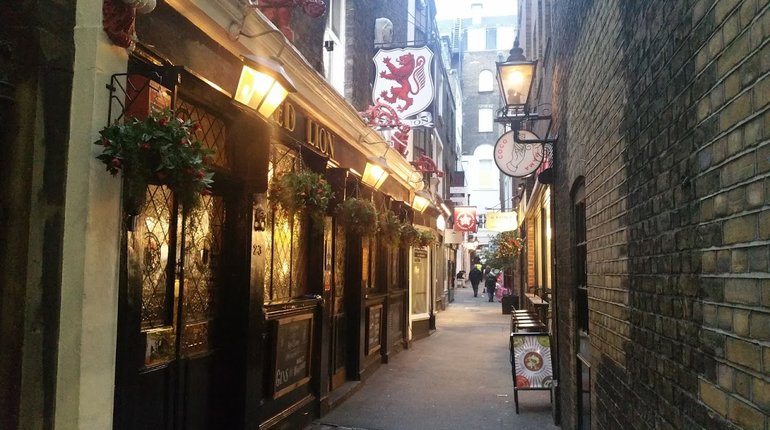 London is a city of incredible transformation. With structural remains that date back to ancient history still in existence, this unique walking tour takes in Lost London in all its former glory. From the Titanic booking office to the graveyards of man's best friend, you'll discover the weird and wonderful places that used to exist in the capital but are now only committed to memory. Using old photographs, newspaper cuttings and stories from the past, you'll be amazed at what has largely been written out of our history books... Get tickets
Whether you're a pre-grated cheddar sprinkler or mimolette fan, this cheesy walking tour will delight your senses. Starting off at a cheese counter in Mayfair that has been serving for more than 300 years, you'll tour the city's best dairy delights - including Fortnum & Mason, where the royals get their fix. Get tickets
Take to the waters and glide about in this beginner paddleboarding session. By the end of it, you'll be standing up and paddling solo, and there's plenty of help on hand to improve your technique. Change of clothes required. Get tickets
Get creative with your partner in this date night with a difference. Between you, you'll get to create your very own piece of artwork on a large canvas. Help is on hand if you need it, but freestyle pieces are always encouraged… Get tickets