What we're reading
Things to do
HALF TERM: Running out of ways to keep children entertained? We've got it covered, from family-friendly exhibitions, theatre shows for little ones, places to let off steam, rainy day ideas and restaurants kids'll love — check out our half term guide.
PIZZA LOVE: Pizza restaurant Voodoo Ray's in Camden is teaming up with Camden Market pop up Ink on Thursday night. It's £20 for a 22" pizza (we'd suggest bringing a couple of friends to help out...), book a table, noon-10pm
HISTORY WALK: Explore the history of City Road on this guided walk. Hear about a building that made gin, streets that have starred in films, and the world's oldest eye hospital. Angel tube station, £12/£9, book ahead, 3pm-5pm
NATURE: Get a new perspective of man's relationship with nature in this audio described tour of Wellcome Collection's Making Nature exhibition. Wellcome Collection, free, book ahead, 6pm-7pm
CUTTY SARK KIDS: Get the little ones learning with STEAMFest at Cutty Sark. Kids will learn about the science of sailing ships, and have the chance to build a giant one out of unlikely materials — all the while learning about the Cutty Sark. Cutty Sark, free with admission, book ahead, 11.30am-3.45pm [until 18 February]
GET CRAFTY: Create the album cover you want on Thursday with Now That's What I Call: Collage! at Drink, Shop & Do. Put your collaging skills to the test and be 'number one' on the charts. Drink, Shop & Do, free when you buy a drink, just turn up, 7pm
SOUTHWARK STORY: Discover the history of Southwark and the cathedral that at its heart. From Roman settlement, to the Medieval era and the founding of St Thomas's Hospital, explore the area's rich and scandalous history. Southwark Cathedral, £7, book ahead, 7pm-9pm
UNDER THE SEA: Live out your Little Mermaid fantasies at the Oceans Festival. Try scuba diving in the indoor dive pool, hear from expert speakers, and get up close to (inflatable) mammals. Excel Centre, Thursday & Friday: £16/£10/free, weekend: £18/£12/£6, book ahead, 16-19 February
TRIATHLON: Get your hands on the latest equipment, get advice and expert training assessments and be inspired with the London Triathlon Show. Excel, Various prices, book ahead, 11am-4pm
THE LONDONERS: Whether it's wrestling, waitressing or politics, London has become a hub for job seekers. Explore 400 years of London living with The Londoners: Portraits of a Working City, an exhibition covering the period 1447-1980. London Metropolitan Archives, free, just turn up, until 4 July
---
Sponsor message
Free travel for the rest of the year with CommuterClub
CommuterClub are offering a fantastic opportunity for Londoners on their transport for the year ahead. You can win a free travelcard, valid for the rest of 2017. Whether you're a keen urban explorer determined to hit up every nook and cranny of London, or if you're just looking to save some money on your daily commute, this is the key to your success.
Enter before 25 February for your chance to master the transport network. Even if you don't win, check out the massive savings you can get buying a travelcard with CommuterClub: often over £100 a year.
---
Stage review: Patchy pirates at the Coliseum
Searching for a crowd-pleaser, ENO opts for a popular comic operetta. But unlike their blockbuster 20s-styled Mikado by Jonathan Miller, film director Mike Leigh delivers Gilbert and Sullivan's Pirates of Penzance surprisingly straight: no tweaks, no twerks, no tongue-in-cheek. Fortunately the singing is exemplary, especially young lovers Soraya Mafi and David Webb. And even if the jokes are mostly lost in time, Ashley Riches's Jack Whitehall-ish Pirate King and the resonant chorus of Policemen led by veteran bass John Tomlinson certainly make up for it. The Pirates of Penzance, English National Opera, London Coliseum, St Martin's Lane, WC2. From £12, 16 February-25 March ★★★☆☆ Johnny Fox Read more
Art review: Woolf's experimental sister
Vanessa Bell's sister, Virginia Woolf, may be better known, but Bell was an accomplished painter. She was constantly trying new styles and the influence of the likes of Matisse and Picasso can be seen in her work. But while there are some great works in this show, the exhibition highlights that Bell never really found her own distinctive style. Vanessa Bell at Dulwich Picture Gallery. £14, until 4 June ★★★☆☆ [Tuesday-Sunday]
Good cause for the day
FOR THE KIDS: Join a line up of talented comedians — including Nathan Caton, Mike Wozniak, Mae Martin and Tom Ward — at Chuckle for Children, and help raise funds for the Richard House Children's Hospice. Richard House Children's Hospice, £20, book ahead, 6.30pm
Fun things to do with our friends and sponsor Funzing...
London is a city of incredible transformation. With structural remains that date back to ancient history still in existence, this unique walking tour takes in Lost London in all its former glory. From the Titanic booking office to the graveyards of man's best friend, you'll discover the weird and wonderful places that used to exist in the capital but are now only committed to memory. Using old photographs, newspaper cuttings and stories from the past, you'll be amazed at what has largely been written out of our history books... Get tickets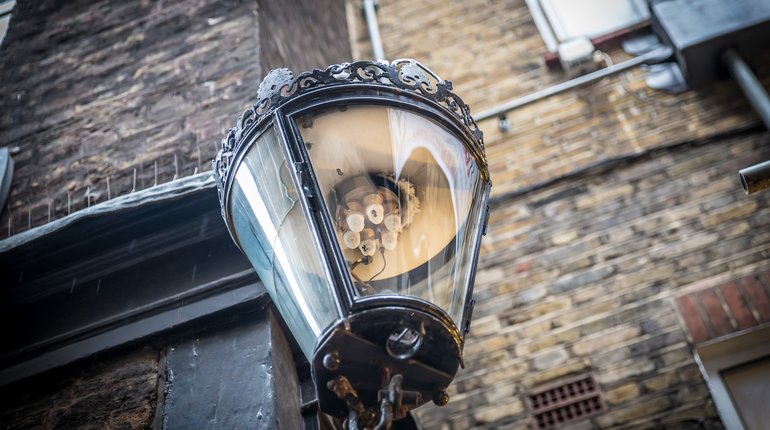 How well do you really know London? Visit the streets that inspired Harry Potter locations and see London's most superstitious hotel. On Matt's tour you will explore hidden places and discover stories unknown to even the most knowledgeable of Londoners. Get tickets
If you've never paired ceramics and prosecco before, why on earth not? It's a match made in heaven as Sam and Diana, co-creators of 'Make Your Own', prove at their wonderfully welcoming ceramic painting workshop. Pull up a stool, don an apron and get to work on your very own mug, plate, tile, bowl or ornament. They provide the ceramics as well as a selection of patterns, and will show you exactly how to transfer designs and paint to your heart's content. It's BYO so feel free to pop the prosecco and enjoy the company of like-minded Londoners as you get stuck into your creations. Get tickets
Join a full moon ceremony and uncover how to fully appreciate the cycles of nature, and how these align with the cycles of our own bodies. Simply, the full moon is a time when our energy peaks - a time of fruition, a time of perception, a time of strength. In this ritual experience, Ena and Gammadian will take you on a beautiful journey guided by the moon, lead a guided meditation and create a safe space in which to reflect, relax and grow in the company of like-minded people. Get tickets