Things to do today is sponsored by Headout.
What we're reading
Things to do today
EASTER HOLIDAYS: If you're running out of ideas for how to keep the little ones entertained, look no further than our list of things to do during the Easter holidays.
NATURE EXPLORERS: Go on safari without leaving London. Horniman Museum's minibeast safari takes place on the nature trail in the museum's grounds. £3, buy tickets on the day, 11am/noon/2pm/3pm
BEER FESTIVAL: Start your Easter weekend the right way at this fantastic beer festival at The Crown And Anchor in Brixton. It's to celebrate the pub's five year anniversary. Things will get lively. The Crown And Anchor, just turn up, 4.30pm-1am
FOOD AND WINE TASTING: A selection of Whole Foods stores are running Thirsty Thursday, where you get to try five food tasters and five wine samples to match. Various locations, £5/free at select stores, book ahead, 5.30pm-7.30pm
WAVEY PARTY: Popular fashion brand Wavey Garms have a week long pop-up in Boxpark, and they're throwing one of their legendary parties on Thursday evening. Boxpark Shoreditch, free, book ahead, 6pm-9pm
LATE NIGHT PAINTING: Paint your own ceramics without a children's birthday party raging around you. If you do want to get a little lively though, it's BYOB. Creative Biscuit Ceramics Cafe, £4, book ahead, 6pm-10pm
SOFT DRINK WORKSHOP: This might sound obvious, but delicious soft drinks aren't usually all that healthy. Well here's your chance to make your own that you don't need to feel guilty about. Sourced Market, £5, book ahead, 7pm-9pm
FOLK MUSIC: Listen to two of Scotland's finest folk musicians soothe the evening's troubles away, when Mairearad Green and Anna Massie perform. Green Note, £13, book ahead, 7pm-10.30pm
AFRICAN DRUMMING: Create some bouncing beats with West African djembe drums, for an evening of good vibes. Wac Arts, £10/£15, book ahead, 7.30pm-9pm
GRIMELIGHT: Who decided what poetry is? This evening of performances and discussion explores the relationship between poetry and grime. Age 16+. Rich Mix (Shoreditch), free, book ahead, 8pm
---
Sponsor message
Drive a supercar around London, with GT Rush
Forget Top Gear — here's a properly exhilarating way to get your sports car fix.
Introducing GT Rush, a luxury driving experience like no other. Get behind the wheel of a Maserati GranCabrio — a four-seater convertible supercar — and cruise around London in style.
Fancy escaping the smog? Take the car for a spin in the country, or — if you're feeling particularly posh — be driven about by a chauffeur.
GT Rush is just one of the many events and activities you'll find on Headout — an on-demand mobile concierge that makes the most of your city.
To book your GT Rush fast car adrenaline fix, check out the Headout website.
---
Art review: a talking cow and a computer astrologer
The cavernous Ambika P3 space plays host to an ambitious installation by six artists all based on an historical medical archive. A calf made from the same calfskin that binds the archive books repeats words from texts, a giant blue lake is part of performance and a computer tells us our future. It's bonkers, but brilliant. Casebooks at Ambika P3, 35 Marylebone Road, NW1 5LS, until 23 April, free ★★★★☆ Tabish Khan
Theatre review: what goes around
Starring celebrity singers Alfie Boe and Katherine Jenkins, Carousel's short run isn't the only limited thing about this outdated revival. The same crew behind last year's hit production Sunset Boulevard are back at the Coliseum with a disappointing take on Rogers and Hammerstein's tale of doomed love and celestial redemption. Even if we look past the musical's "romantic approach to domestic violence", the dialogue is still as stiff and corny as ever but now the acting is largely risible, Lonny Price's direction is too languid and the leads have next to zero in the way of chemistry. Thankfully, the songbook is the saving grace here with a talented cast (featuring the brilliant pair Alex Young and Gavin Spokes) belting out uplifting numbers like Mister Snow, June Is Bustin' Out All Over and Anfield anthem You'll Never Walk Alone. Carousel, London Coliseum, St. Martin's Lane, WC2, until 13 May 2017 ★★★☆☆ Franco Milazzo
Theatre review: locking horns with social taboo
The late Edward Albee's late tragicomedy The Goat, or Who Is Sylvia? is a strange beast that challenges conventional morality a bit like his early absurdist plays. A celebrated 50-year-old architect threatens to destroy his family and career by falling in love with a goat — some mid-life crisis! — but as a metaphor it's about animal passions not bestiality that questions what is "unnatural". Damian Lewis and Sophie Okonedo impress by playing it straight as the seemingly perfect couple falling apart, while getting plenty of laughs in Ian Rickson's smart production. The Goat, or Who Is Sylvia?, Theatre Royal Haymarket, 18 Suffolk Street, SW1Y 4HT, £30‒99, until 24 June ★★★★☆ [Monday‒Saturday] Neil Dowden
Good cause for the day
WALK 50KM: Does what it says on the tin as fundraisers walk 50km overnight through central London, to raise money for Dimbleby Cancer Care. £25 per person to register with £300 fundraising target, book ahead, 9 June, 7pm-10am
Fun things to do with our friends and sponsor Funzing...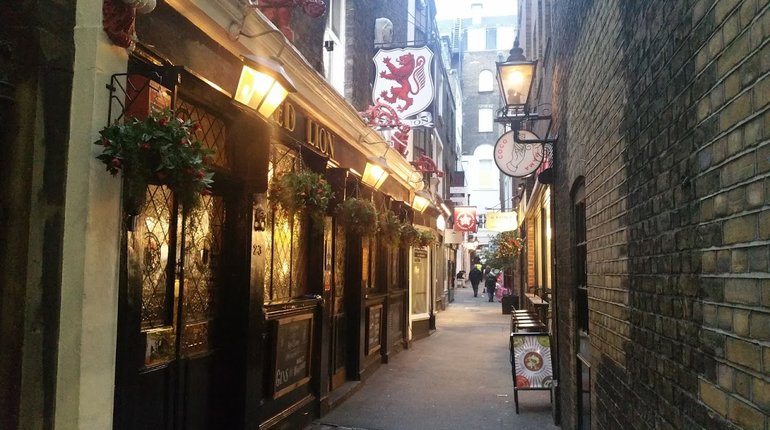 London is a city of incredible transformation. With structural remains that date back to ancient history still in existence, this unique walking tour takes in Lost London in all its former glory. From the Titanic booking office to the graveyards of man's best friend, you'll discover the weird and wonderful places that used to exist in the capital but are now only committed to memory. Using old photographs, newspaper cuttings and stories from the past, you'll be amazed at what has largely been written out of our history books... Get tickets
Take to the waters and glide about in this beginner paddleboarding session. By the end of it, you'll be standing up and paddling solo, and there's plenty of help on hand to improve your technique. Change of clothes required. Get tickets
Cross gas lit alleyways and stroll by ancient pubs as you discover forgotten parts of London. See the world's smallest police station and visit London's most superstitious hotel on a walking tour covering everything weird, wonderful and London. £12 Get tickets
Have you visited London's Roman ampitheatre? What about London's Medieval market places? Hear weird and wonderful tales of our beautiful city as you take a walking tour, seeing everything from centuries-old churches to the hanging place of William Wallace. Whether you've lived here all your life or are visiting for a few days, you're sure to learn something new about London. Get tickets