Things to do is sponsored by the Houses of Parliament.
What we're reading
Things to do
PARK PICNIC:Ratty, Mole and Badger have something special in store. St. James's Hotel and Club has partnered with Wind in The Willows to create a British picnic of salads, sweet things, and squeezed lemonade for two, before you stroll through the doors of the London Palladium for a musical night. St. James's Hotel and Club, £40 hamper only, £55/£65 with tickets, book ahead, until September
UNDERBELLY FESTIVAL:The best in live circus, comedy, cabaret and family entertainment comes the South Bank — soak up the festival atmosphere than on the banks of the Thames. Have a tipple in one of London's largest outdoor bars before you kick back and watch some of the amazing performances. Tonight, why not jove away the night at a Gatsby party? South Bank, various prices, book ahead,until 30 September
OCEAN MYSTERY: Like piecing together clues? Head to the National Maritime Museum's exhibition, Death In The Ice, to learn about the disappearance of Franklin's ship, which left England in 1845 and was never heard from again. The remains have now been found, but nobody knows what happened to send the expedition awry. £9.60-£12, book ahead,until January 2018
ILLUSTRATION AWARDS: 50 original illustration projects are on show at Somerset House — everything from drawings, to murals, to posters, to packaging — before the winner is announced at the World Illustration Awards. Somerset House, free, just turn up, until 28 August
SWEET SCENTS: Embark on an olfactory journey, smelling smells from the self-taught to the classically trained. Some visceral, some surprising, and others simply unsavoury all feature in this celebration of the perfumery craft, perfect for so-called 'fumeheads'. Somerset House East Wing Galleries, £11, book ahead, until 23 September
SNAIL CARAVAN: Join this giant story-telling snail in getting closer to nature. Learn more about the wonderful world of invertebrates and the fascinating creatures that inhabit London's Royal Parks. Bushy Park, free, just turn up,11am-3pm
HOMEMADE COSMETICS: There's no need to pop into Superdrug or Boots if you know how to create your own homemade cosmetics. Find out how to make hand creams, body butters, scrubs and more using household ingredients and keep what you make during each session. Every Monday until 11 September. Poplar Union, £5/£3, noon-2.30pm
FOODIE DELIGHT: Canadian pop-up Little Social...Eh! is returning to Mayfair with chef patron Cary Docherty's a la carte menu celebrating the Canadian dishes of his childhood, all with a luxurious twist. How does poutine topped with maple-glazed Morteau sausage sound? Little Social (Mayfair), various prices, book ahead, noon-10.30pm (until 9 August)
ALL THAT JAZZ: Come on babe, why don't we paint the town... learn all the dance moves to Chicago theme tune All That Jazz at this 90 minute dance class, where the gin is cold but the piano's hot. Drink Shop & Do (King's Cross), £15, book ahead, 6.45pm
WINE CLUB: Monday is never too early for wine, and you can celebrate South Africa's finest at Vivat Bacchus as part of their Wine Club events. Sip on a Cape Point Sauvignon Blanc, or chug down a Meerlust Rubicon, there's no judging here. Vivat Bacchus (Farringdon), £15, book ahead, 7pm-10pm
PUB QUIZ: The Clifton gastropub has been lacking one traditional pub staple: a good quiz night. That all changes from today, as professional quizmasters The Quiz Team will be testing the trivia knowledge of The Clifton's drinkers and diners for the first time. Win glory as well as a £50 bar tab (1st prize) or a bottle of house wine (2nd prize). The Clifton (St John's Wood), £2, just turn up, 8pm
---
Sponsor message
Check out this first world war exhibition at the Houses of Parliament
Did you know that you can take a guided or an audio tour of the mega-impressive Houses of Parliament? Open to visitors, these tours will give you a glimpse behind the scenes of one of the most important institutions in Britain.
As well as exploring both the House of Lords and House of Commons, visit the exhibition about the first world war which is running until the end of September. It's all about the role of Parliament during the war, focusing on men and women whose lives were affected by it. Check out what's on for visitors at Parliament, and how to book yourself on to a guided or audio tour here.
---
Art review: marble mattress
Artist Jonathan Roson merges the old school with the new, by carving a mattress and a hashtag out of marble — a medium only associated with the ancient world and not mod cons or the digital world. A surreal door has folded in on itself and tactile works hang from the wall, all in this gallery tucked away near Barbican. Jonathan Roson: Formation / Reformation at Dreamspace Gallery, 3 Dufferin Street, EC1Y 8NA, free. Until 25 August ★★★☆☆ (Monday-Friday) Tabish Khan
Theatre review: mosquitoes buzzes with ideas
Chimerica-author Lucy Kirkwood once again explores big themes in her new play Mosquitoes, set against the backdrop of the experimental Large Hadron Collider in Geneva, with Rufus Norris's production featuring some impressive visual effects. But the references to particle physics act as an extended metaphor for the emotional chaos of a dysfunctional family on a collision course.  At its heart is the close but fractious relationship between Olivia Williams's high-achieving, rationalising scientist and her younger, messily unpredictable sister played with terrific comic pathos by Olivia Coleman. Mosquitoes, National Theatre, South Bank, SE1 9PX, £15‒20, until 28 September ★★★★☆ [Monday‒Saturday] Neil Dowden
Food review: finger lickin' good Pan-Asian cuisine
This brunch club has no place for cutlery; it's all about diving in fingers first. Masterchef winner (2014) Ping Coombes has certainly brought her Malaysian roots to the table with her Pan-Asian recipes all served on a banana leaf. Everyone is there to eat the same dish at the same time, and it feels more like an intimate dinner party than a restaurant outing. With a mix of vegetarian and meat portions, a particular stand out favourite is the lamb with a surprisingly strong aniseed kick. While not a pretty serving of food to say the least, it's fun to go back to basics and scoop up the offerings with a pinch of sticky rice. We polish off the trio of mango which followed and, despite not being a fan of mango, it was utterly delicious — especially the sorbet and the nutty payasam. Ping Coombes' Brunch Club, Chi Kitchen in Debenhams, 334-348 Oxford Street, W1C 1JG, £32.50. ★★★★☆ Eleana Overett
Good cause of the day: sleeping rough
It'll be quite the sight in Duke of York Square on 6 October as hundreds of people, sleep rough for the night to raise money for Glass Door's night shelters. Glass Door want to raise enough funds to ensure they can run all their winter shelters this year for homeless people. Last year saw 300 participants out in the streets and they raised over £150,000. Can you be a part of the movement to help them reach this year's goal of £200,000? Duke of York Square, register ahead, 6 October
Fun things to do with our friends and sponsor Funzing...
London is a city of incredible transformation. With structural remains that date back to ancient history still in existence, this unique walking tour takes in Lost London in all its former glory. From the Titanic booking office to the graveyards of man's best friend, you'll discover the weird and wonderful places that used to exist in the capital but are now only committed to memory. Using old photographs, newspaper cuttings and stories from the past, you'll be amazed at what has largely been written out of our history books... Get tickets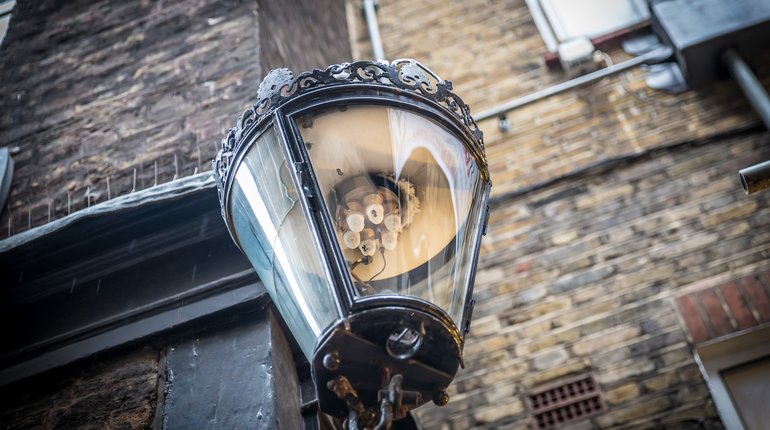 How well do you really know London? Visit the streets that inspired Harry Potter locations and see London's most superstitious hotel. On Matt's tour you will explore hidden places and discover stories unknown to even the most knowledgeable of Londoners. Get tickets
If you've never paired ceramics and prosecco before, why on earth not? It's a match made in heaven as Sam and Diana, co-creators of 'Make Your Own', prove at their wonderfully welcoming ceramic painting workshop. Pull up a stool, don an apron and get to work on your very own mug, plate, tile, bowl or ornament. They provide the ceramics as well as a selection of patterns, and will show you exactly how to transfer designs and paint to your heart's content. It's BYO so feel free to pop the prosecco and enjoy the company of like-minded Londoners as you get stuck into your creations. Get tickets
Join a full moon ceremony and uncover how to fully appreciate the cycles of nature, and how these align with the cycles of our own bodies. Simply, the full moon is a time when our energy peaks - a time of fruition, a time of perception, a time of strength. In this ritual experience, Ena and Gammadian will take you on a beautiful journey guided by the moon, lead a guided meditation and create a safe space in which to reflect, relax and grow in the company of like-minded people. Get tickets