What we're reading
Things to do
BAILEYS TREAT STOP: Love Baileys? Get yourself down to Covent Garden for the Baileys Treat Stop. It's a pop-up cafe/bar where you can customise your Baileys drinks — pick your own toppings and flavours for a Baileys hot chocolate or latte, or go all out with the reindeer cocktail and sup Baileys out of a chocolate reindeer. Just turn up for the bar, book ahead for cocktail workshops, 4-17 December (closed 11 December)
MUSICAL RUMPUS: Even the most fidgety balls of energy will love this opera adventure, which has been specially created for babies and toddlers. Expect singing, music and plenty of interaction to keep your little one entertained. Rich Mix (Shoreditch), £8/£2, book ahead, 11am and 1.30pm, repeated on 6 December
BOAT TALK: Join other curious Londoners on this 100-year-old Dutch barge to hear a talk on tech and the future of health, then use your £5 voucher on a book from the boat's collection. Word on the Water (King's Cross), £20, book ahead, 6.30pm-8.30pm
CRAFT WORKSHOP: Bring nimble fingers to this craft workshop, where you'll be hand stitching cute wooden hoop Christmas decorations. Perfect for bare-looking trees or gift inspiration. For the Core (Shoreditch), £39, book ahead, 6.30pm-9.30pm
ROYAL SOCIETY LATE: Get your geek on at this science late, where you can draw and screen print images from the archives, tuck into treats from the festive food hall and explore Carlton House Terrace by candlelight. The Royal Society, free, just turn up, 6.30pm-10pm
HUMAN FLOW: Tonight a number of cinemas are screening the premiere of this new documentary from Chinese political artist Ai Wei Wei. Like a lot of his recent work, the film is a haunting portrayal of the refugee experience across 23 countries. Stick around for the post-screening discussion with Jon Snow and the artist himself. The Ritzy (Brixton), £15.70, book ahead, 7pm-10pm
CAPTURING THE CITY: From the congested streets of Tokyo's Shibuya crossing to the garment factories of Dhaka, to the homeless camps of San Francisco, this photo exhibition presents a snapshot of life across 62 cities. Hear Guardian photographer David Levene discuss his work tonight. Foyles (Charing Cross Road), £8, book ahead, 7pm-8pm
CAROL CONCERT: For a Christmas concert that will in all likelihood melt your heart, head to this Chelsea church, where you'll be greeted by Battersea's tail-wagging pooches, before settling in for a night of carol singing, all raising money for the excellent work done by Battersea Dogs and Cats Home. St Luke's Church (Chelsea), various prices, book ahead, 7pm
THE OFFICE QUIZ: Anyone who has binge-watched The Office can test their knowledge at this pub quiz. Bring your best David Brent moves for a robot dance-off. The Old Queens Head (Islington), free, book ahead, 7.30pm-10pm
BARBERSHOP CHRONICLES: Poet, performer and man of many talents, Inua Ellams has spent more time than most in barbershops around the world. The result of his travels is this honest and captivating play about the state of modern masculinity. It's received rave reviews and is sure to sell out so nab your ticket now. Dorfman Theatre, £25-£30, book ahead, 8pm,
SAMANTHA BAINES: In One Woman, a High-flyer and a Flat Bottom, stand up comic Samantha Baines takes you on a journey of the lost women of science through facts and puns, but mostly puns. Soho Theatre (upstairs), £13/£11, book ahead, 9pm
Good cause of the day: Feed your memories to this "memory powered Christmas tree"
This very modern Christmas tree, launched by terminal illness charity Marie Curie, is powered by social media. The idea is to shine a light on the charity's work helping families spend Christmas together and foster new memories with each other. The more positive memories you feed it (using the hashtag #LightUpXmas), the brighter it shines, so dig deep and get sharing. Next to the London Eye, free, just turn up, until 17 December
Fun things to do with our friends and sponsor Funzing...
London is a city of incredible transformation. With structural remains that date back to ancient history still in existence, this unique walking tour takes in Lost London in all its former glory. From the Titanic booking office to the graveyards of man's best friend, you'll discover the weird and wonderful places that used to exist in the capital but are now only committed to memory. Using old photographs, newspaper cuttings and stories from the past, you'll be amazed at what has largely been written out of our history books... Get tickets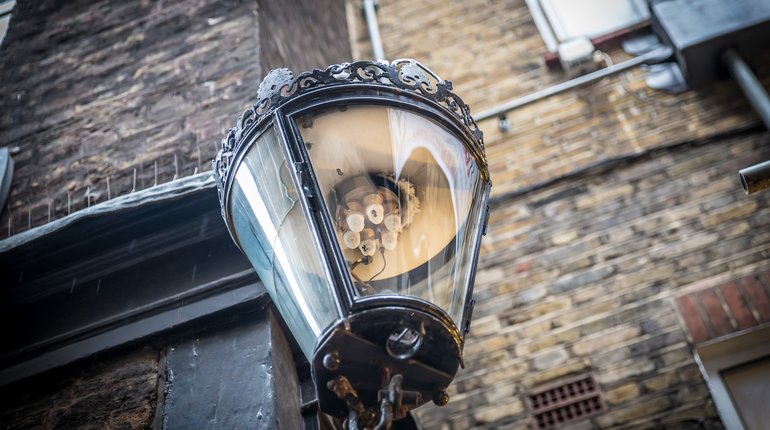 How well do you really know London? Visit the streets that inspired Harry Potter locations and see London's most superstitious hotel. On Matt's tour you will explore hidden places and discover stories unknown to even the most knowledgeable of Londoners. Get tickets
If you've never paired ceramics and prosecco before, why on earth not? It's a match made in heaven as Sam and Diana, co-creators of 'Make Your Own', prove at their wonderfully welcoming ceramic painting workshop. Pull up a stool, don an apron and get to work on your very own mug, plate, tile, bowl or ornament. They provide the ceramics as well as a selection of patterns, and will show you exactly how to transfer designs and paint to your heart's content. It's BYO so feel free to pop the prosecco and enjoy the company of like-minded Londoners as you get stuck into your creations. Get tickets
We all know Soho is changing - and fast. But does the Soho of decades past - fiercely independent, occasionally seedy, always flamboyant - still exist? Antony Robbins claims it does - if you know where to look. A former director at the Museum of London, Robbins now leads walking tours of Soho, delving into the area's past and present. His Sex, Death and Shopping tour covers scandals of yesteryear through to present-day erotica - taking in hidden gardens, sinister histories, and little-known facts of famous places. A bit sinister. A bit salacious. And exceedingly well-tailored. It's a tour to have you falling in love - or lust - with this part of London all over again. Get tickets