Things to do today is sponsored by BFI Southbank
What we're reading
Things to do
STRAWBERRIES AND SCREEN: Yep, it's that time of year again, when the tennis balls are ripe for thwacking and the strawberries are ripe for the eating (we'll be doing the latter, FYI). If you haven't got a ticket to Wimbledon, kick back and watch the action at one of these large screens across the capital. 3-16 July
MINI MUDLARKS:Got a little one to entertain? This special one-hour session is designed to help you and your under 5s learn together in a unique museum environment. Includes time in the Mudlarks Gallery prior to public opening. Museum of London Docklands, free, book ahead,12.45pm-1.45pm
LIBRARY TOUR: Steeped in 175 years of history and lined with a fascinating and varied collection, the London Library is a treasure. Book lovers will enjoy this free tour, guiding you through the 17 miles of shelving filled with 1 million volumes. The London Library, free, book ahead, 6pm-7pm
TWILIGHT SCIENCE: Celebrate the materialistic side of life in this exploration of all things synthetic, simulated, fabricated and fake. The event features mixologists serving up intoxicating cocktails and edible insect treats, and a chance to glimpse the materials we'll be using to build things in the future. The Royal Society, free, just turn up,6pm-10pm
OPEN AIR CINEMA: Family favourite The Lion King (starts 6pm) and the glitzy La La Land (starts 8.30pm) feature on the opening night of free open air cinema at Hyde Park. We can think of no better place to catch a film under the stars, can you? Hyde Park, free, just turn up,6pm-10.30pm
HYDE PARK: Silence is something of an endangered species these days. Join this walking mediation group through some of the lesser-known parts of Hyde Park, and slow down to enjoy one of London's most beautiful settings. A great opportunity to 'check-out to check-in' with ourselves and nature. The Education Centre (Hyde Park), £15, book ahead,6.30pm-8pm
ROLE OF ARCHITECTURE: What is the role of architects and designers in the political economy of build infrastructure? With investments set to affect the way we live for years, it is crucial for architects to mediate the relationship between the aspirations of citizens and the policies of the state. Build Studios (Waterloo), £15, book ahead, 6.30pm-8.30pm
FABULOUS SOHO: For decades, Soho has been London's escape, sanctuary and place to be seen. For many, it's also been a place to call home. Take a look into the lives of characters who have minced, lived and loved down the streets of London's seediest district on this intimate tour. Palace Theatre, £15, book ahead,7pm-8.30pm
CAVALRY BEHIND YOU:A first world war play for people who are tired of first world war plays, following six incredible stories from the period, and a million different things that can kill you. This one is sure to evoke emotion as it transports you back. Theatre503 (Battersea), £12, book ahead, 7.45pm
GROUCHO CLUB: Home to the creative elite since 1985, spend an evening exploring the club's unrivalled collection of contemporary art. A rare and exclusive look around this building adorned with art from more than 140 acclaimed artists. The Groucho (Mayfair), free, book ahead, 9pm-10pm
---
Sponsor message
Hoffman season continues at BFI Southbank
This year marks Hollywood legend Dustin Hoffman's 80th birthday — join in the party by watching some of his biggest blockbusters at BFI Southbank.
Dustin Hoffman helped pave the way for a new generation of Hollywood leading men in the late '60s. The BFI completes its celebratory season with films from the latter part of his career. Highlights include classics like Rainman, Kramer v Kramer and Tootsie.
Don't miss the chance to see The Graduate — as the film reaches its 50th anniversary, BFI are delighted to screen this newly restored 4K digital print. No film has done quite so much for middle-aged sex appeal than the 1967 hit as Anne Bancroft plays the original cougar, Mrs Robinson.
Witness the master at work for yourself with the BFI Southbank's Hoffman season. Full line-up can be found here.
---
Art review: vampiric chaos
Vampire flick meets family drama in a film by artist Paul Kindersley. The rest of the exhibition in this gallery / jewellery shop revolves around this central film with sculpture, cushions, and a curtain with a giant face on it. The whole show works because it is light hearted and bonkers. Paul Kindersley: Narrator, Relator & Stimulator at Belmacz, 45 Davies Street, W1K 4LX. Until 28 July, free. ★★★☆☆
Food review: rethink bubbly at Fiz
Forget everything you know about sparkling wine — this pop-up bar at Lights of Soho is here to show you there's much more than prosecco when it comes to the pop. The ethos of the bar is sociability and accessibility — the house fizz, notably served in a coupe glass and not a flute, is £4.50 a glass. The drinks menu features English sparkling wines as well as pink-hued proseccos and even bubbly shiraz — an absolute winner in our eyes. Food is all made to be eaten with the hands — bruschetta-style charcoal sourdough topped with smoked trout is fresh with the addition of dill pickles; the roast beetroot in chicory cups is light and zingy, complementing the subtle fizz perfectly. The buns at Fiz, though are where it gets exciting — get your teeth into shredded duck with pomegranate and cucumber yoghurt in a charcoal bun, or go for the pastrami with red leicester and sauerkraut. Fiz Bar, Lights of Soho, 35 Brewer Street, W1F, ORX. ★★★★☆ Hari Mountford
Theatre review: rise of The Sun sparks battle of the red tops
James Graham's new play Ink is a rip-roaring account of old Fleet Street when Australian iconoclast Rupert Murdoch re-launched The Sun as a tabloid in 1969 and started a circulation war with the Daily Mirror to become Britain's top-selling newspaper. The so-called 'people's paper' broke journalistic ethics with screaming headlines and Page 3 topless models, but this is a laudably non-judgemental, entertaining show that captures the era's non-PC, vulgar energy without glossing over its dark aspects. Rupert Goold's ENRON-like production features song-and-dance routines, with outstanding performances from Bertie Carvel as the diabolically persuasive Murdoch and Richard Coyle as his hard-bitten editor Larry Lamb who makes a Faustian pact from which there is no going back. Ink, Almeida Theatre, Almeida Street, N1 1TA £10‒39.50 Until 5 August [Monday‒Saturday]★★★★☆ Neil Dowden
Good cause for the day
PRETTY MUDDY: Dash around this brilliant 5k muddy obstacle course over a lap of Wormwood Scrubs park. Scramble over the A-frame, crawl through the mud put, and have fun with your friends — all while raising valuable funds for Cancer Research UK. Wormwood Scrubs, £19.99, book ahead, various times
Fun things to do with our friends and sponsor Funzing...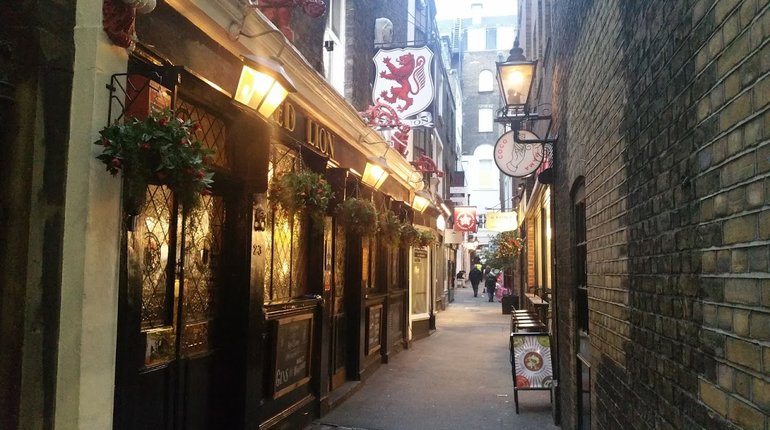 London is a city of incredible transformation. With structural remains that date back to ancient history still in existence, this unique walking tour takes in Lost London in all its former glory. From the Titanic booking office to the graveyards of man's best friend, you'll discover the weird and wonderful places that used to exist in the capital but are now only committed to memory. Using old photographs, newspaper cuttings and stories from the past, you'll be amazed at what has largely been written out of our history books... Get tickets
How well do you really know London? Visit the streets that inspired Harry Potter locations and see London's most superstitious hotel. On Matt's tour you will explore hidden places and discover stories unknown to even the most knowledgeable of Londoners. Get tickets
If you've never paired ceramics and prosecco before, why on earth not? It's a match made in heaven as Sam and Diana, co-creators of 'Make Your Own', prove at their wonderfully welcoming ceramic painting workshop. Pull up a stool, don an apron and get to work on your very own mug, plate, tile, bowl or ornament. They provide the ceramics as well as a selection of patterns, and will show you exactly how to transfer designs and paint to your heart's content. It's BYO so feel free to pop the prosecco and enjoy the company of like-minded Londoners as you get stuck into your creations. Get tickets
Join a full moon ceremony and uncover how to fully appreciate the cycles of nature, and how these align with the cycles of our own bodies. Simply, the full moon is a time when our energy peaks - a time of fruition, a time of perception, a time of strength. In this ritual experience, Ena and Gammadian will take you on a beautiful journey guided by the moon, lead a guided meditation and create a safe space in which to reflect, relax and grow in the company of like-minded people. Get tickets