What we're reading:
Things to do:
CAROL NUNES: It's your last chance to see green-fingered artist Carol Nunes' vibrant, plant-like sculptures at the Barbican Library. Drawing inspiration from Columbia Road Flower Market, the exhibition echoes both English gardens and tropical shrubbery. Free, just turn up, 10am-8pm
WHALE OF A TIME:Catch the Natural History Museum's Whales: Beneath the Surface exhibition before it washes away. There are over 100 specimens of the ocean's giants to behold, including the famous Thames whale. Natural History Museum (South Kensington). £11.50, just turn up, 10am-5.30pm, until 28 February
HOLI-DAY: Banish winter blues with a visit to Cinnamon Kitchen's House of Holi pop-up. The restaurant is celebrating the Indian festival of colour early, with paint-pelting parties for kids and adults alike. Cinnamon Kitchen (Liverpool Street), book in advance, 2pm-9.30pm, until 10 March
ORPHANED LAND: Pioneers of Oriental Metal Orphaned Land descend upon The Underworld, Camden, with support from In Vain, Subterranean Masquerade and Aevum Door. The Underworld (Camden), £20, book in advance, 6pm
SCRUMPTIOUS SOHO: The University of Westminster's Difference festival kicks off its celebration of Soho's unique history by focussing on the neighbourhood's vibrant culinary culture. Sip drinks, catch a viewing of the 1956 short film Sunshine in Soho, and learn about the area's historical and contemporary restaurants. University of Westminster (Regent Street), free, book in advance, 6pm-8pm
FOOD FOR THE SOUL: Learn how to whip up delicious Ethiopian dishes at Migrateful's latest cookery class. This for-profit social venture sees asylum seekers, refugees and migrants with a passion for cooking, teach their traditional cuisines to the public. Cafe Van Gogh (Brixton), £35, book in advance, 6.30pm-9.30pm
MOVING HOLOCAUST STORIES: Professor of Social History Tim Cole explores the colourful life of artist and Holocaust survivor Toni Schiff in this lecture held in her memory. The Wiener Library (Russell Square), free, book in advance, 6.30pm-8pm
FRINGE THEATRE: Preview not one, not two, but seven ambitious new plays as companies battle for a £10,000 fund to present a professional production at the Edinburgh Festival Fringe. Pleasance Theatre (Islington), £7, book in advance, 7pm-9.15pm
FAIRY TALE OPERA: This is opera with a difference. Goldilocks and the Three Little Pigs reveals both the darkness and light of human nature through beloved childhood tales in this atmospheric new production. Copeland Gallery (Peckham), £25, book in advance, 7.30pm
CAMDEN CALLING: Author Tom Bolton brings the history of Camden to life in a talk that explores the borough's most significant buildings, both forgotten and vanished. Small Hall (East Croydon), £2, just turn up, 7.45pm
Good cause of the day
Migrant Connections are hosting a migration-themed Spoken Word open mic night. Participants are welcome to perform using their chosen medium — expect a melting-pot of spoken word, prose, poetry, rap and more. The proceeds will fund the upcoming Migration Connections festival in April, which seeks to bring together individuals from diverse backgrounds and build practical and political solidarity through workshops, performances and art. LimeWharf (Bethnal Green), from £2.74, book in advance, 7pm-10pm
Fun things to do with our friends and sponsor Funzing...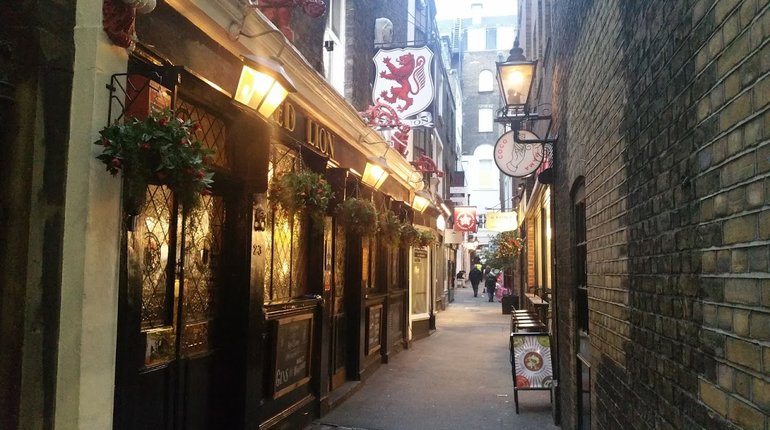 London is a city of incredible transformation. With structural remains that date back to ancient history still in existence, this unique walking tour takes in Lost London in all its former glory. From the Titanic booking office to the graveyards of man's best friend, you'll discover the weird and wonderful places that used to exist in the capital but are now only committed to memory. Using old photographs, newspaper cuttings and stories from the past, you'll be amazed at what has largely been written out of our history books... Get tickets



Take to the waters and glide about in this beginner paddleboarding session. By the end of it, you'll be standing up and paddling solo, and there's plenty of help on hand to improve your technique. Change of clothes required. Get tickets



Whether you're a pre-grated cheddar sprinkler or mimolette fan, this cheesy walking tour will delight your senses. Starting off at a cheese counter in Mayfair that has been serving for more than 300 years, you'll tour the city's best dairy delights - including Fortnum & Mason, where the royals get their fix. Get tickets



Track the journey of humanity through this tour around the British Museum. The tour aims to help you understand why the world is the way it is, and show how humans learned to question absolutely everything. Get tickets