Things to do today is sponsored by Hollywood Bowl.
What we're reading
Things to do
WALKFIT CLASS: A low impact, outdoor workout involving bodyweight exercises mingled with brisk walking. The sessions are led by qualified military instructors — but don't let that put you off, it's just a fun way to burn some calories while you meet new people. Finsbury Park, free, book ahead, 9.30am-10.30am
TRANSGENDER ART: It's your last chance to catch the works of Byron Newman and Aphrodite Papadatou at the Herricks Gallery. Both artists take transgenders as their subject matter, but in very different ways — through photography and through canvas. Herrick Gallery (Piccadilly), free, just turn up, 11am - 6pm
GIN'S THE THING: If you like a good garden terrace, and you like a spot of gin, the good news is they have come together at Jason Atherton's Temple & Sons where gin brand Warner Edwards is offering a taste of their exclusive one-off gin Jardin Blanc, which was distilled live on site at the RHS Chelsea Flower Show in May. Jason Atherton's Temple & Sons, free, just turn up, noon-2.30pm/5.30pm-10pm
TRUMAN SHOW: Pitch Stratford's outdoor cinema is showing The Truman Show as part of its showcase of '80s and '90s classic films. Plant your butt on a bean bag chair and listen through the wireless headphones. Pitch Stratford, £12, book ahead, 5pm-10pm
TEQUILA TAKEOVER: To celebrate National Tequila Day, Salsa in Soho is giving away free margaritas for the first 150 punters through the door. Make sure you quote 'national tequila day' for your complimentary cocktail. Salsa (Soho), free, just turn up, doors open at 5pm-close
NEW MUSIC: Grab a burger and spend a few hours listening to the sounds of blues and folk -pop as Alex Seel, Moody Will & the Roll, Anemary, Cecil and Diego Philips take to the stage in a night of live performances showcasing new music. The Half Moon (Putney), £2.50/£10, book ahead, 7.30pm-11pm  
SCANDALOUS POLITICS: It's been a time of upheaval in world politics, from Donald Trump's shock election win to the majority vote for Nigel Farage's Brexit campaign. These issues are confronted head in Theatre Renegade's In Response To... Politics, where all profits from the evening will be donated to Liberty, to protect civil liberties and promote human rights. The Other Palace (Victoria), £20, book ahead, 8pm
SOULFUL SINGING: An evening of music good for the soul, Kate T is performing at 100 Wardour St with an arrangement of jazz, soul, R'n'B and pop — from Stevie Wonder to Ed Sheeran. 100 Wardour Street, book ahead, 8pm-10pm
FREE COMEDY: Spend an evening at Carmen Lynch's Edinburgh preview show as she shares her twisted stand-up comedy, discussing everything from Jesus to giraffes, scoliosis to her Spanish mother. The Betsey Trotwood (Clerkenwell), free, book ahead, 8pm-10.30pm
---
Sponsor message
Lace up and book a lane at The O2's Hollywood-style bowling centre this summer
Hurrah! Summer has finally hit London but we all know how unpredictable the English weather can be. Luckily, Hollywood Bowl, The O2's latest boutique bowling centre is now taking bookings. Whether you're looking for respite from the sun or shelter from the rain bowling is pretty much the satisfy-all-ages-and-all-weathers activity.
It doesn't matter if you're king-of-the-pins or your balls always gravitate towards the gutter, there's plenty here to keep the whole family satisfied, including slot machines, pool tables and air hockey.
The Hollywood Diner is a great spot to stop off for pre-gig drinks, post-event gourmet burgers or cool-down shakes. Got a special occasion coming up? Celebrate by booking the VIP lanes to bowl in the presence of your favourite Hollywood stars.
---
Art review: vulnerable figures
Jayne Anita Smith has drawn and painted delicately intricate figures in stages of vulnerability. Some are shown on their own, while others are huddled together en masse. Beautifully drawn with their features just visible, this is an impressive set of new work. Jayne Anita Smith: Fool's Paradise at Coates & Scarry, 8 Duke Street, St James's, SW1Y 6BN, free. Until 29 July ★★★★☆ (Monday-Saturday) Tabish Khan
Theatre review: Bridget Jones's bedsit
Touch may come from the same stable as the amazing Fleabag,but drops the posh and goes Welsh. Imagine Stacey left Gavin for a squalid London bedsit, a diet of Echo Falls, microwave dinners and random sex and you have Amy Morgan's deliciously messed-up Dee. We get that 30-something women own their own sex lives, but there are plenty of hilarious moments of domestic as well as actual sluttery in Vicky Jones' sharp script. Its real smarts come to light when Edward Bluemel's horse-hung teenage intern and James Clyde's hairbrush-wielding spank daddy each deliver some home truths about Dee's Guardian-derived politics and morality. A show to see, and definitely a writer to watch. Read more here. Touch, Soho Theatre, Dean Street, W1  £26-31. Until 26 August ★★★★☆  [Monday-Saturday] Johnny Fox
Food review: summer menu sorcery
With the introduction of Ping Pong's new summer menu, our initial sighs of disappointment that the bao were already sold out were soon overwhelmed by smacking lips as the smoked chilli chicken wings hit the table. The honey-glazed spare ribs were sticky and gorgeously sweet, though we could have done with double the sauce. You could take or leave the soy chicken skewers, but the arrival of the rice burger sliders had us wide-eyed at the buns made out of sticky rice and teeth-sinkingly tender pork. We could have done with another plate of those. What really blew our socks off, somewhat unusually for Ping Pong, was dessert. Their coconut ash ice cream was just what we needed after a meal of intense and syrupy flavours. The strong coconut taste had summer written all over it, and yes, the charcoal black colouring was a fun novelty. We might go back just for ice cream. Ping Pong, 23-24 Maiden Lane, WC2E 7NA ★★★★☆ Eleana Overett
Good cause of the day: Love Island quiz
Head to The Hare and Hounds Pub tonight for a Love Island themed pub quiz and a screening of the final, live on the big screen. Get your team names at the ready — there will be a prize for the best one — and don't forget to check out the bar for a cheeky Sex in the Hideaway cocktail. Money raised on the night will be donated to the Alzheimer's Society, and additional donations are welcome. The Hare and Hounds Pub, £2 per head/ £10 for team of 6, book ahead, 24 July, 7.30pm-11pm
Fun things to do with our friends and sponsor Funzing...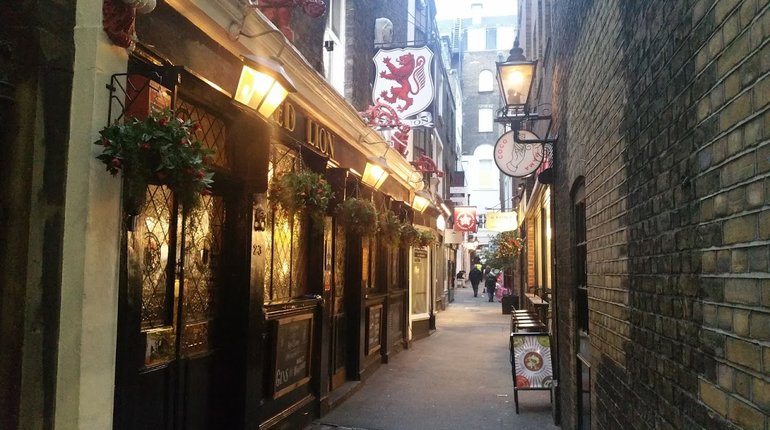 London is a city of incredible transformation. With structural remains that date back to ancient history still in existence, this unique walking tour takes in Lost London in all its former glory. From the Titanic booking office to the graveyards of man's best friend, you'll discover the weird and wonderful places that used to exist in the capital but are now only committed to memory. Using old photographs, newspaper cuttings and stories from the past, you'll be amazed at what has largely been written out of our history books... Get tickets
Take to the waters and glide about in this beginner paddleboarding session. By the end of it, you'll be standing up and paddling solo, and there's plenty of help on hand to improve your technique. Change of clothes required. Get tickets
Cross gas lit alleyways and stroll by ancient pubs as you discover forgotten parts of London. See the world's smallest police station and visit London's most superstitious hotel on a walking tour covering everything weird, wonderful and London. £12 Get tickets
The afterlife is an intriguing subject, but how close to ghosts do we truly want to get? For those with a fascination of all things spooky, test your limits with The Westminster Ghost Walk. You'll explore this deeply historic and fascinating area of London and hear tales of ghosts, poltergeists and body snatchers along the way. Your experienced guide will lead you through dark alleyways, haunted buildings and human burial grounds - sharing the chilling secrets London has long been hiding in its past. Get tickets