Things to do today is sponsored by Cityread.
What we're reading
Things to do today
SCHOOL HOLIDAYS: As the school holidays enter their second week, banish boredom with our guide to things going on in and around London.
HAMLET FOR FREE: Under 25s can get involved in all manner of theatrical activities at Almeida Theatre's Hamlet For Free Festival. Events include acting masterclasses, writing workshops, sword fighting, and behind the scenes tours. Almeida Theatre, free, book ahead, 10-13 April
EXPLOSIVE FOOD: See food in a new light. An exploding light. Perfect for kids and adults. Royal Institution, £14/£10/£7, book ahead, 2.30pm-3.45pm and 6pm-7.15pm
SIGN LANGUAGE TOUR: A British Sign Language tour of the London, Sugar & Slavery display tells how London was involved in the transatlantic slave trade, for deaf and hard of hearing visitors. Museum of London Docklands, free, book ahead, 6pm
PUNDEMONIUM: Love a double-entendre? This event's for you. A game show based on linguistic puns and tomfoolery, led by guest pundits including comedians and poets. The Book Club (Shoreditch), £5, book ahead, 7.30pm
FILM SCREENING: Love or your career? It's a question that's troubled many for years and it's the central theme in American Friends. See it with an introduction from director Tristam Powell and a Q&A at the end. Snacks and a drink are included in the ticket price. Dulwich Picture Gallery, £9/£7, book ahead, 7.30pm
FEMALE THEATRE: Watch a selection of short theatre pieces dealing with the issues that women face today in Women Redressed: Act II. Jermyn Street Theatre, £15/£13, book ahead, 7.30pm
COMEDY AWARDS: Find out who will be crowned the winner of this year's Wegottickets Musical Comedy Awards. The night's a riotous showcase of the UK's best up and coming talent. Lyric Theatre, £15, book ahead, 7.30pm-10.15pm
FREE FILM: The final screening of Camberwell Free Film Festival is Victoria, a German drama shot in a single continuous take. Sun of Camberwell, free, just turn up, 8pm
---
Sponsor message
Learn about writing a historical novel at Lambeth Palace
S.J. Parris, author of the novel Prophecy, will be in conversation with historian Tracy Borman for a night of literature and learning at Lambeth Palace. Prophecy — an Elizabethan spy thriller — is the chosen book for this year's Cityread, a month-long book celebration in London. Parris's novel stars real life spy Giordano Bruno and focuses on the plot to replace Elizabeth with Mary Queen of Scots.
Hear from the author, and learn about the plots that rocked Elizabethan England as well as what it's like to take real historical events and turn them into novels. The execution warrant of Mary Queen of Scots will be on display, along with Elizabethan manuscripts from Lambeth Palace Library's collections. Whether you're a history buff or a literature lover, this event is set to be a thoroughly inspiring evening.
S.J. Parris and Tracy Borman in conversation takes place on Wednesday 19 April at 6.30pm at Lambeth Palace. For further information and tickets, visit www.cityread.london/events
---
Art review: photography takes centre stage
The Zabludowicz Collection has put together a group show of their big photography stars. Wolfgang Tillmans, who currently has a big show at Tate Modern, gets a wall full of photos. A highlight is Andreas Gursky's chaotic collage of a ridiculously busy trading floor. Not all the photographers appeal to us, but there are some great works in this show. You are looking at something that never occurred at Zabludowicz Collection, 176 Prince of Wales Road, NW5 3PT, until 9 July, free ★★★☆☆ (Thursday-Sunday) Tabish Khan
Theatre review: Manhattan transfer
In The Life, drug-dealing guys and rent-by-the-hour dolls populate a side of 42nd Street far shadier than the tap dancing one at Drury Lane. The daily grit and the nightly grind are underpinned with a spectacularly revitalised score from Cy Coleman, fusing jazz and blues with his musical theatre roots and some spunky new script from still-got-it-baby director Michael Blakemore, 88. All the cast have dynamic vocals but sporting a Joan Armatrading wig as an ageing hooker who works out she's had 50% more men than the Grand Old Duke of York, Britain's best blues diva Sharon D Clarke is unmissable. The Life, Southwark Playhouse, Newington Causeway, SE1 6BD, £20-£25, until 29 April ★★★★☆ [Monday-Saturday] Johnny Fox
Good cause for the day
MUSIC AND COMEDY: A who's who of music and comedy stars collide in Symfunny 2 at The Royal Albert Hall. It's an eclectic mix, from Agnes Brown to Pete Townshend, but all are certain to put on a fabulous show. Proceeds go to Parkinson's UK, which fights the debilitating disease both medically and socially. Royal Albert Hall, £38-£22, book ahead, 19 April, 7.30pm
Fun things to do with our friends and sponsor Funzing...
London is a city of incredible transformation. With structural remains that date back to ancient history still in existence, this unique walking tour takes in Lost London in all its former glory. From the Titanic booking office to the graveyards of man's best friend, you'll discover the weird and wonderful places that used to exist in the capital but are now only committed to memory. Using old photographs, newspaper cuttings and stories from the past, you'll be amazed at what has largely been written out of our history books... Get tickets
Take to the waters and glide about in this beginner paddleboarding session. By the end of it, you'll be standing up and paddling solo, and there's plenty of help on hand to improve your technique. Change of clothes required. Get tickets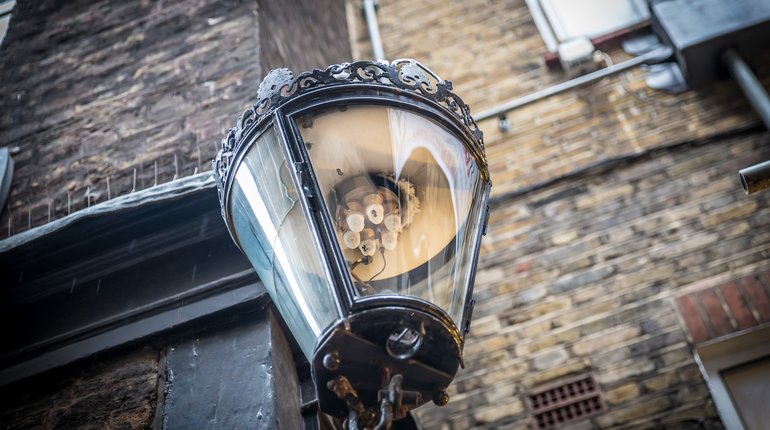 How well do you really know London? Visit the streets that inspired Harry Potter locations and see London's most superstitious hotel. On Matt's tour you will explore hidden places and discover stories unknown to even the most knowledgeable of Londoners. Get tickets
If you've never paired ceramics and prosecco before, why on earth not? It's a match made in heaven as Sam and Diana, co-creators of 'Make Your Own', prove at their wonderfully welcoming ceramic painting workshop. Pull up a stool, don an apron and get to work on your very own mug, plate, tile, bowl or ornament. They provide the ceramics as well as a selection of patterns, and will show you exactly how to transfer designs and paint to your heart's content. It's BYO so feel free to pop the prosecco and enjoy the company of like-minded Londoners as you get stuck into your creations. Get tickets