Things to do today is sponsored by Musical Theatre Walking Tour.
What we're reading
Things to do
HALAL STREET FOOD: Struggling to find halal street food? Head to Old Spitalfields Market where Halal Gems hosts all manner of stalls. Tuck into ice cream, halloumi fries, Dutch pancakes and an alcohol-free bar. There will also be live music and entertainment. Old Spitalfields Market, free entry (£2 donation recommended), book ahead, 28-29 July
DOODLEMANIA: The enigmatic Mr Doodle began work on the Doodle corridor at The Exhibitionist Hotel as part of the Art Corridors programme, where four public corridors are under constant transformation. It's the last day you can check out completed work by popping along to the hotel. The Exhibitionist Hotel (South Kensington), free, just turn up, all day
BATTERSEA FEST: Have you made it down to Battersea Power Station's Circus West Village festival yet? Fancy free pizza, beer and wine? How about some comedy performances, hip-hop and hula hoop classes, boxing, busking and more? Battersea Power Station, free, just turn up, 10am-10.30pm (festival runs until September)
ANIMAL HOSPITAL: After its first four months, this animal hospital throws open its doors for an afternoon of celebrations. Tour the bespoke clinics and help create an animal themed chalk mural. Plus, there's face-painting and animal balloons for the kids. The London Animal Hospital (Camberwell), free, just turn up, 2pm-7pm
LIFE IN LONDON: Join the opening party for Roland "Charlie" Phillips's new print exhibition London is the Place For Me. Born in Jamaica in 1944, Charlie moved to the UK in 1956 and began documenting life in London with his first ever camera. Lomography Gallery Store (Soho), free, just turn up, 6pm-9pm
COMEDY FESTIVAL: Your comedy favourites are on stage for the last day of the Ealing Comedy Festival. See Russell Kane, Phil Wang, Joanne McNally and more for some top quality laughs. Walpole Park (Ealing), £20, 6.30pm-10.30pm
GOGH FOR IT: Diners can enjoy a night of art-inspired theatre and food with Vincent Van Gogh lookalike actor Walter DeForest. DeForest's show Van Gogh Find Yourself will follow dinner, and be topped off with sticky toffee pudding, apple strudel or summer fruit. Cafe Van Gogh (Brixton), £35, book ahead, 7.45pm-10pm
ROCKAOKE:Live your childhood rockstar dream at this rock band karaoke evening. Have a few drinks and take to the stage — you're great at singing all your favourite hits, you really are... Star of Kings (King's Cross), £3, book ahead, 9pm-2am
NIGHTLIFE: It's Friday and time to let you hair down, so escape into a world where ancient South American tradition meets futuristic electronic sounds and let loose at Love Carnival. Bussey Building (Peckham), £10, book ahead, 10pm-5am
---
Sponsor message
Have a Wicked time on the Musical Theatre Walking Tour
Love musical theatre? Know your Lion King from your Les Mis? Embark on a fascinating tour of the West End and get an insight into how the glamorous world of musical theatre works.
Tours are led by award-winning soloist and musical theatre expert Neil Maxfield, who will perform some of the industry's best-known songs along the way — and you're encouraged to sing along.
You don't have to be a musical theatre fanatic to enjoy the tour. Neil will fill you in on plenty of London's theatre history, including tales of shows, performers, writers and theatres, for those that enjoy an easy route into the thespian world.
---
Art review: rococo glamour
Alexia Sinclair poses fantastic scenes that look more akin to fashion shoots. The backgrounds are filled with historical and art references and they look stunning. Alongside these photographs are the graphite landscapes of Sue Williams A'Court, which pull you into the detailed scenes. Echoes of Rococo at James Freeman Gallery, 354 Upper Street, N1 0PD, free.Until 29 July ★★★☆☆ (Tuesday-Saturday)  Tabish Khan
Art review: colourful constructions
Step inside a world of colourful blocks, walls and sculpture. It's all clean lines and crisp colours in this gorgeous show that makes you feel more awake just being inside this immersive environment. Nathalie du Pasquier: From time to time at Pace London, 6 Burlington Gardens, W1S 3ET, free. Until 4 August ★★★☆☆ (Tuesday-Saturday) Tabish Khan
Food review: office escapology
New to Clerkenwell, The Localist is delivering usual-suspects pub stuff — fish and chips, pasta, calamari — the majority of it done well. There's nothing small about the burrata small plate, in size or richness: the best of our choices, the cream-stuffed cheese comes on a heap of citrus-drizzled broad beans, singing with freshness. The rest of our dishes are uncontroversially nice — no big flourishes and no big disappointments. Clerkenwell isn't great at middle-ground work lunches — plenty of takeaway, al desko options, and a scattering of restaurants too formal or pricey to be an obvious spontaneous, escape-from-the-office choice. The Localist fills the gap nicely, and it may not be serving up many surprises, but this is a solid, gastropub-style addition to an area that could do with a few more options like it. The Localist, 38 St John Street, EC1M 4DL. ★★★☆☆ Lydia Manch
Good cause of the day: dodgeballdayer
Sign up to Dodgeballdayer in aid of Mencap. Grab your team, put on your kit, and dodge your way to victory in fancy dress. Alongside the competition are live DJs, a raffle and an auction. There is no fundraising expectation - but if you want to raise some dosh your efforts won't go unappreciated. Sign up here. Wimbledon Rugby Football Club, free, register your team, or just turn up to watch, 5 August, 1pm-1am
Fun things to do with our friends and sponsor Funzing...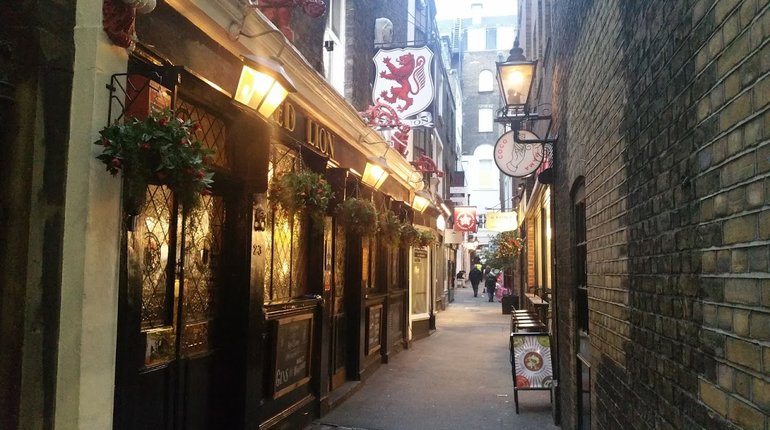 London is a city of incredible transformation. With structural remains that date back to ancient history still in existence, this unique walking tour takes in Lost London in all its former glory. From the Titanic booking office to the graveyards of man's best friend, you'll discover the weird and wonderful places that used to exist in the capital but are now only committed to memory. Using old photographs, newspaper cuttings and stories from the past, you'll be amazed at what has largely been written out of our history books... Get tickets
Take to the waters and glide about in this beginner paddleboarding session. By the end of it, you'll be standing up and paddling solo, and there's plenty of help on hand to improve your technique. Change of clothes required. Get tickets
Tales of torture and plagues await you on a historical walk around London -- see bombed out ruins, discover Medieval markets and even visit a Roman ampitheatre. £12 Get tickets
How well do you really know London? Visit the streets that inspired Harry Potter locations and see London's most superstitious hotel. On Matt's tour you will explore hidden places and discover stories unknown to even the most knowledgeable of Londoners. Get tickets