What we're reading
Things to do today
BANKSIDE FESTIVAL: London's SE1 postcode is transforming over the next few weeks with the launch of Merge Bankside festival. There's lots to check out but our pick are the dodgems in a 1960s supercar in a disused fire station. Bankside, various prices, just turn up, 12 May-4 June
POP-UP MUSEUM: The National Maritime Museum has popped up in Lewisham Shopping Centre; explore the museum's collections and come up with your own sailor's ditty box. Lewisham Shopping Centre, free, just turn up, 10am-5pm
BEER MANSION: Brooklyn Brewery is putting on its own extravaganza, made up of beats, food, tech, art, games and, unsurprisingly, beer. MC Motors (Dalston), £35, book ahead, 12-13 May
CREATIVE HUB: Creativity vs Commerce. That's the theme for FYI The House Party, a series of panel discussions, workshops and a pop-up shops championing independent businesses. Shacklewell Lane, various prices, book ahead or just turn up to the pop-up shop, 12-15 May
POWER WALK: Take in London's shifting landscape of power on this guided tour; you'll even go inside the Royal Courts of Justice to see law in action. Somerset House, £15/£12, book ahead, 11am-1.15pm
ARMY NURSING: To mark International Nursing Day, find out about the history of army nursing, from the Crimean War through to the first world war, beginning with Florence Nightingale's famous efforts. National Army Museum (Chelsea), free, book ahead, 11.30am
DANCE: Breathing is a key part of dancing and it's at the centre of 10,000 Litres, a performance which tackles community, freedom and power through inhalation and exhalation. Rich Mix, £12/£10, book ahead, 7.30pm
CHOIRS: Dulwich Festival kicks off with an evening of choirs: Note-Orious, Pink Singers and Gospel Essence. Holst Hall at JAGS, £6, book ahead, 8pm
PUPPET CLOWNS: Be entertained by the macabre Boris & Sergey's Astonishing Freakatorium. Follow the tragic story of Pierre le Petit Tête Gustav and his wildly deranged tap dancing companion Juan Tamino. Wilton's Music Hall, £17, book ahead, 9pm-10pm, until 13 May
EMO NIGHT: Time for an injection of 2004 into your 2017 at Emo Calypso. Listen to the bands that soundtracked many a millennial's awkward teen years and reminisce about those ridiculously tight skinny jeans you thought completed your look. Bunker Club (Deptford), £8, book ahead, 10pm-3am
Art review: a virtual reality beating
Don a VR headset and watch a man smash another's face in with a baseball bat and stamp on his head repeatedly. It's a shocking watch, but shock is what Jordan Wolfson deals in, with a sense of humour to boot. Across at the other Sadie Coles Gallery, watch a film where animated characters mix humour with introspection. This work is less sure of itself and is nowhere near as effective as the VR beating. Jordan Wolfson: Riverboat Song at Sadie Coles, 1 Davies Street & 62 Kingly Street, W1, until 17 June, free ★★★☆☆ (Tuesday-Saturday) Tabish Khan
Theatre review: lipstick on a pig?
Helena Rubinstein was not a 'nice woman', but cresting her recent Bucket and Real Marigold Hotel TV successes, Miriam Margolyes bears all to impersonate the outrageous potty-mouthed tyrant of the cosmetics industry. Focused on her career-long rivalries with Revlon, and particularly Elizabeth Arden (played with venomous camp by Frances Barber), it's staged like a bitch fight between Bette Davis and Joan Crawford. The performances are splendid, but the beauty only runs skin-deep as the script is rather slight and the play underpopulated, with just Rubinstein's tearoom-trade male assistant for company. Read more here. Madame Rubinstein, Park Theatre, Clifton Terrace, Finsbury Park, N4 3JP. £25-29.50 (waitlist: call 020 7870 6876), until 27 May ★★★☆☆ Johnny Fox
Bar review: campfire cocktails
London's most romantic bar is open again for the summer. The Midnight Apothecary is a welcome change from the usual overpriced, overcrowded drinking dens. Think delicious (and potent) flower-inspired cocktails (hats off to whoever named the Rhubarbra Streisand) and marshmallows toasted on a campfire — all in a secret, candelit rooftop garden next to the Thames. If you like your cocktails with a side of culture, take a guided tour of Brunel's Grand Entrance Hall (included in ticket price). An ideal way to spend a summer evening. The Midnight Apothecary, Brunel Museum, Rotherhithe. Tickets £5, advance booking essential. [Every Friday and Saturday night until September, 5.30pm-10.30pm] ★★★★★ Laura Reynolds
Good cause for the day
PARTY NIGHT: It's time to get groovy in Tottenham, as the female DJs of ResisDance get the party going. The event's a fundraiser for a few different causes including the struggle to keep Seven Sisters' Latin Market open. Read more about that here. Styx, £3/£5/£7, book ahead, 5pm-midnight
Fun things to do with our friends and sponsor Funzing...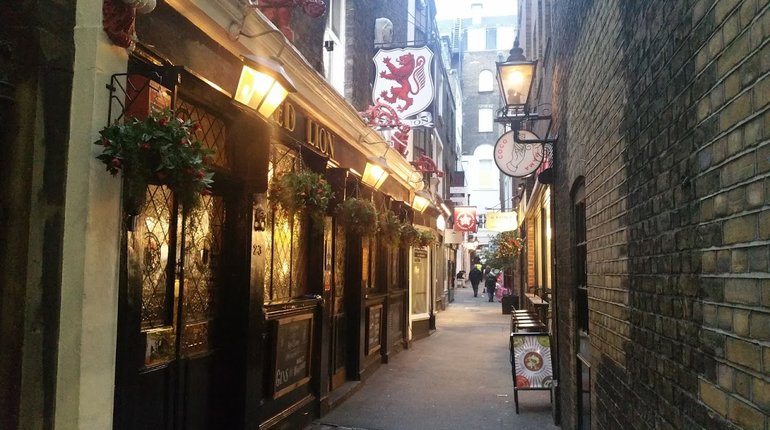 London is a city of incredible transformation. With structural remains that date back to ancient history still in existence, this unique walking tour takes in Lost London in all its former glory. From the Titanic booking office to the graveyards of man's best friend, you'll discover the weird and wonderful places that used to exist in the capital but are now only committed to memory. Using old photographs, newspaper cuttings and stories from the past, you'll be amazed at what has largely been written out of our history books... Get tickets
How well do you really know London? Visit the streets that inspired Harry Potter locations and see London's most superstitious hotel. On Matt's tour you will explore hidden places and discover stories unknown to even the most knowledgeable of Londoners. Get tickets
Struggling to find someone who shares your dark sense of humour? This twisted speed dating event can help. A group of 30-40 people will take part - with equal male/female ratios - and play a few rounds of the hilarious (and slightly dark) card game, Cards Against Humanity. After the event, connect with those who you found suitably sinister using a unique online matching system. Get tickets
If you've never paired ceramics and prosecco before, why on earth not? It's a match made in heaven as Sam and Diana, co-creators of 'Make Your Own', prove at their wonderfully welcoming ceramic painting workshop. Pull up a stool, don an apron and get to work on your very own mug, plate, tile, bowl or ornament. They provide the ceramics as well as a selection of patterns, and will show you exactly how to transfer designs and paint to your heart's content. It's BYO so feel free to pop the prosecco and enjoy the company of like-minded Londoners as you get stuck into your creations. Get tickets