Things to do this week is sponsored by Grosvenor London.
All week
OTHELLO: We all know the story. When Othello, an accomplished and valiant General of constant loving and noble nature marries the divine Desdemona and appoints handsome young Cassio as his lieutenant, it sets in motion a catastrophic series of events. Moors Bar Theatre (Crouch End), £10, book ahead, 7.30pm-10pm, until 29 September
RAINDANCE: It's the 25th year of Raindance Film Festival, showcasing over 250 of the best independent shorts, features, documentaries, web series, music videos and VR experiences from all over the globe. Discover a multitude of on screen action before they gain cult followings. Until 1 October. Vue Leicester Square, various prices, book ahead, various times, until 1 October
SO SHINY: Discover the next biggest thing when it comes to contemporary jewellery and silver at the Goldsmiths' Fair. Collectors, design lovers and luxury shoppers can find a new piece to add to their collection by browsing trinkets in the magnificent setting of the Goldsmiths' Hall. Goldsmiths' Hall, £15, book ahead, 11am-6pm, 26 September-8 October
ROCK'N'ROLL: On 4 December 1956, global rock'n'roll stars Elvis Presley, Johnny Cash, Jerry Lee Lewis and Carl Perkins got together at Sun Records in Memphis for an epic jam session. Million Dollar Quartet is a musical inspired by that famous recording session, bringing the night to life. Queen's Theatre Hornchurch, £30, book ahead, 2.30pm/7.30pm until 30 September
DODGY DEALINGS: Would you be prepared to sell your soul to the devil for incredible power? Doctor Faustus tells the story of a scholar who rejects his studies and instead turns to the black arts to discover hidden truths. You have been warned, freshers. Closed Sunday/Monday. Chickenshed Theatre, £18, book ahead, 7.30pm, until 21 October
Monday 25 September
DRONE FESTIVAL: Drone footage is becoming incredibly popular, both in YouTube videos and mainstream film and TV. Despite the fact that drones are forbidden to fly in London, the 2nd annual London Drone Film Festival will be held here, showcasing just how amazing this technology can make your latest project look. Institute of Contemporary Arts, £20, book ahead, 6pm-11pm
BEGINNERS SWORD COURSE: Have you ever wanted to be a samurai warrior? Battodo Fudokan are inviting beginners to live out those dreams with a three week sword course learning Tanren (conditioning), Kihon (the basic sword movements), how to hold a bokken (wooden sword), basic cutting and thrusting, footwork and the first kata (form). Haggerston School, £60, book ahead, 6.30pm-8.30pm
SCIENCE OF SLEEP: People underestimate how important sleep is, and how much they need, especially us busy bee Londoners. Sleep scientist Matt Walker discusses how to shift our values and habits around sleep, and recognise that sleep is the single most effective thing we can do for our health and wellbeing. Royal Institution, £7/£10/£16, book ahead, 7pm-8.30pm
CALLING SINGLE MEN: Looking to find 'the one' but tried all the usual avenues (i.e. Tinder)? Guerilla Science is taking 'blind date' to a literal extreme by holding a Sensory Speed Dating night. You'll take part in sensory based rounds and discover the neuroscience, genetics and psychology behind attraction. Men can use code 'queenofhoxton' for a free ticket, all female tickets have sold out. Queen of Hoxton, London, free, book ahead, 7pm-10pm
Tuesday 26 September
SO RETRO: 'Wake Me Up Before You Go Go' to Gaucho's Retro Brunch because we've been feeling 'Under Pressure' to choose the best bottomless brunch in town, and perhaps we've now found it. On second thoughts, maybe you can just let us know if the food has you 'Spinning Right Round' — in a good way of course. Gaucho (various locations), £49, book ahead, 11am-4pm
FREUD: How much do you know about Freud, the iconic founder of psychoanalysis? Professor Dany Nobus joins Élisabeth Roudinesco to discuss her latest book, Freud: In His Time and Ours, which offers an appraisal of the genius that has been greatly admired and yet also misunderstood in his own time and in ours. Freud Museum London, £8/£12, book ahead, 7pm-8.30pm
TOM, DICK AND HARRY: Tom and his wife are adopting a baby and it's the happiest day of their lives... or it could have been if his brothers, Dick and Harry, hadn't decided to help. What do two illegal immigrants, a Mafia mobster, a dead body and a van load of smuggled contraband have to do with them and their new bundle of joy? Until 30 September. Dugdale Centre, free, book ahead, 7.45pm-10.30pm
---
Sponsor message
Step onto Motcomb Street for the perfect end of summer celebration
Forget cheap bunting and homemade cakes — this gourmet street party is certainly somewhere to be seen. Marking the reopening of the newly pedestrianised Motcomb Street, this boutique-filled stretch in Belgravia will be filled with whimsical edible fancies and celebrity appearances, making for the perfect end of summer celebration.
Marcus Wareing, MasterChef judge and Chef Patron of local two-Michelin-starred restaurant Marcus, and Alexandra Dudley, Instagram star and founder of Punch Foods, will be there to kick things off — and there's a whole evening of Belgravia's finest fashion, food and entertainment to take in.
Popular local eateries, such as The Good Life Eatery and Pierre Hermé, are extending their opening hours and serving up guest tasters and treats, and live jazz music from favourites, like the Old Dirty Brasstards, will fill the streets.
Of course, any modern street party is only as good as it is Instagram-friendly, so sensory experts Bompas & Parr are on hand with their edible sherbet fountain — perfect for some sweet snaps. The party takes place between 5pm-10pm on Wednesday 27 September, and is completely free to attend.
---
Wednesday 27 September
HISTORY BUFFS: How much do you know about Barnet's history? Do you know how Chipping Barnet got its name? How about why Barnet High Street became home to an incredibly high number of pubs? Using drawings, maps and photos, Rob Kayne is examining the rich history of Barnet from medieval times to the present. Society of Genealogists, Islington, £8, book ahead, 2pm-3pm
WALK CAMDEN: See Camden differently with Tom Bolton's cultural walk through the historic market to mark the publication of his new book Camden Town: Dreams of Another London. Meet at Camden Town tube station, £20, book ahead, 6.15pm-8.15pm
PHONE PHOTOGRAPHY: Budding photographers looking to get the best out of their iPhone may be interested in a photography workshop by Tom Graham who is sharing his tips to help you sharpen up your skills and bring more sparkle to your selfies. Gallery Elena Shchukina (Mayfair), £9/£18, book ahead, 6.30pm-7.30pm
MONSTER: The story of Medusa was enough to give any primary school kid nightmares, but who was the woman behind the myth? Her story is revisited through sensory theatre, contemporary dance, shadow puppetry and sound installations. Thames Tunnel Shaft (Brunel Museum), £10, book ahead, 7.30-8.30pm
SPELLING MASTER: Spelling bees have provided some amazing viral material, but do you have what it takes? Prove your skills are top notch without Google or auto-correct at this laid back spelling bee, with rounds ranging from easy to difficult (to insanely hard). There are prizes to be won. The Star of Kings (King's Cross), £7, book ahead, 7pm-10pm
DONORS: Older egg seeking hot, young sperm. In this theatrical production, desperate times call for desperate measures when your biological clock is ticking. Desperation for motherhood and a misplaced model of masculinity turns a chance encounter in a last-ditch attempt at fixing all that life has dealt. Until 30 September. Theatre N16 (Balham), £8/£10, book ahead, 9.15pm-10.05pm
Thursday 28 September
SCIENCE IS COOL: Celebrate new ideas and discoveries with New Scientist Live, featuring the likes of Tim Peake, Heston Blumenthal, Chris Packham and Margaret Atwood, as the latest innovations from science are shared with visitors to inspire and excite. Until 1 October. ExCeL London, from £26, book ahead, 10am-5pm
ETHICAL FASHION: London Fashion Week has been epic, but how can we encourage more ethical fashion, and how can technology help us? Go behind-the-scenes of sustainable clothing with Fashion Plugin. Makerversity (Somerset House), Strand London, Monthly, £7-£10, book ahead, 5.30pm-7.30pm
CONSERVING BEAUTY: There's a lot that goes into preserving the Painted Hall of the Old Royal Naval College. Those that work on it have interests and experience based in architecture, art history, and conservation. Now these leading conservation experts are engaging in an insightful talk that reveals what goes on that visitors aren't even aware of. The Art Worker's Guild (Bloomsbury), £20, book ahead, 6pm-8pm
SENSORY OVERLOAD: Artists and lighting/sound designers Emily Motto, Ed Haslam, Henry Howe and Jack Dale have created something huge and intriguing for Art Lick Weekend along this year's theme of Finding Solutions. Nexus Space will guide you through the room, whilst tactile glowing orbs host sensors that trigger sound and light animations. Platform Southwark, free, just turn up, 6pm-9pm
FILM SCREENING: Catch the screening and following panel discussion of 1999 film Ratcatcher, which explores a young boy's troubled childhood on a housing estate in Glasgow during the national garbage strike of the 1970s. V&A Museum of Childhood (Bethnal Green), £5/£7, book ahead, doors open 6.30pm
Friday 29 September
BASIC INSTINCTS: The Foundling Museum's new exhibition Basic Instincts explores Georgian attitudes to love, desire and female respectability through the radical paintings of Joseph Highmore (1692-1780). Until 7 January 2018. The Foundling Museum, £11, just turn up, 10am-5pm
OOH LA LA: London is the new Paris, don't you know? Brixton certainly thinks so, and is offering red wine and baguettes all night at Pop Brixton's French market with DJs spinning tunes until midnight. Pop Brixton, free, just turn up, 6pm-midnight
QUITE A STIR: Soho is launching its newest addition to the gay bar scene with cocktail masterclasses at the Old Compton Cocktail Club. Head upstairs for some seriously cool views over Soho. Bring a bottle or two of your own chosen poison for their in-house mixologists to shake and stir with fresh ingredients. Old Compton Cocktail Club, £20, book ahead, various times from 6pm-1am
Saturday 30 September
ANTIQUE ARMS FAIR: Are you a military historian/art historian/medievalist or collector? Or maybe just dabble in your spare time? The Olympia Antique Arms Fair are showcasing antique arms, armour and various other militaria from all around the world. Pillar Hall, £13, book ahead, 9am-3pm
PATHS TO FREEDOM: October is Black History Month and New Unity are kicking things off with a series of talks and discussions focusing on slavery within a historical and global context, and uncover Hackney's significance within the anti slavery movement. Newington Green Unitarian Church, £3/£5, book ahead, 10.30am-4.30pm
SOLVE THE CLUES: Have you got an inquisitive mind? Marsden Mysteries is hosting a treasure hunt to fundraise for The Royal Marsden Cancer Charity. You'll complete a series of clues, conundrums, and challenges using an interactive app, and help The Royal Marsden improve the lives of people affected by cancer in the process. Repeated 1 October. Mystery location (South Kensington), £50, book ahead, start times from noon
WIZARDS WANTED: Calling all Potter geeks: Defend the City needs your help. Dark Wizards have invaded London, and are casting curses. Evil witches and wizards are running amok, and the city at risk. Your wand skills are needed to find the hidden hexes and save London. Every Saturday/Sunday until 12 November. The Shed (Canada Water), £18/£23, book ahead, 7pm
YOU'RE GLOWING: Enter the glow zones amongst electrifying light shows to a backdrop of energising music as you take on Glow in the Park, a combination of a work-out and a night-out. Get your glow on in the Foam Zone, powder up in the UV Paint Blast Zone and get grooving in the Time Tunnel. Kempton Park Racecourse, £36/£30, book ahead, 7pm
Sunday 1 October
SCULPTURE TRAIL: How often do you stop and look the sculptures littered around the city of London? Take some time out of the rush and rumble to explore the urban sculpture park in your backyard. This walk will take you to 18 works by 16 different artists that have been selected for Sculpture in the City 2017. Starts at Liverpool Street station, £8/£10, book ahead, 11am-12.30pm
COLLECTION EXPERTS: Find out how the Museum of Brands reconnects you with your past, with an introductory talk explaining the behind-the-scenes of how the museum has collected such famous iconic brands. Museum of Brands, Packaging and Advertising (Notting Hill), £9, just turn up, 11.30am/2.30pm
RAIN: In a moving tribute to the legends of the Beatles, Rain are celebrating 50 years since the release of The Sgt. Pepper's Lonely Hearts Club Band album with a full range of The Beatles' discography live on stage. Until 7 October. London Palladium (Soho), various prices from £40, 7.30pm
Fun things to do with our friends and sponsor Funzing...
London is a city of incredible transformation. With structural remains that date back to ancient history still in existence, this unique walking tour takes in Lost London in all its former glory. From the Titanic booking office to the graveyards of man's best friend, you'll discover the weird and wonderful places that used to exist in the capital but are now only committed to memory. Using old photographs, newspaper cuttings and stories from the past, you'll be amazed at what has largely been written out of our history books... Get tickets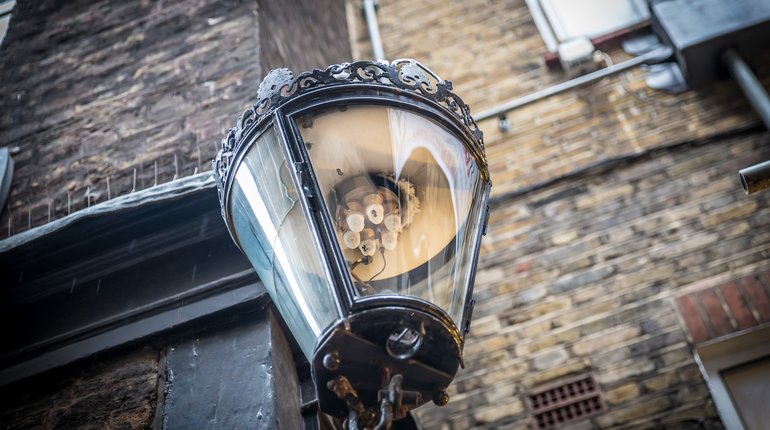 How well do you really know London? Visit the streets that inspired Harry Potter locations and see London's most superstitious hotel. On Matt's tour you will explore hidden places and discover stories unknown to even the most knowledgeable of Londoners. Get tickets
If you've never paired ceramics and prosecco before, why on earth not? It's a match made in heaven as Sam and Diana, co-creators of 'Make Your Own', prove at their wonderfully welcoming ceramic painting workshop. Pull up a stool, don an apron and get to work on your very own mug, plate, tile, bowl or ornament. They provide the ceramics as well as a selection of patterns, and will show you exactly how to transfer designs and paint to your heart's content. It's BYO so feel free to pop the prosecco and enjoy the company of like-minded Londoners as you get stuck into your creations. Get tickets
Have you visited London's Roman ampitheatre? What about London's Medieval market places? Hear weird and wonderful tales of our beautiful city as you take a walking tour, seeing everything from centuries-old churches to the hanging place of William Wallace. Whether you've lived here all your life or are visiting for a few days, you're sure to learn something new about London. Get tickets