Things to do in London this week is sponsored by Kids Week 2017.
All week
FLOATING FITNESS: Take a load off, get fit and chill out with yoga and pilates classes on the brand new Floating Pocket Park on the canal in Merchant Square. Free, book ahead, until 18 June
OVERGROUND FESTIVAL: If you enjoy live music, theatre, visual arts and crafts, spoken word, comedy, storytelling, sports, community activities, food and drink and vintage shopping then good news, there's a festival made for you at Crystal Palace Park all week. Free, just turn up, until 18 June
FESTELON: This festival of Spanish Theatre brings top-ranking Spanish performances to London, from adaptations of classics from the Spanish Golden Age to contemporary theatre and mime. City Lit (Covent Garden), various prices, book ahead, until 25 June
Monday 12 June
RICHARD E GRANT: Spend an evening with actor Richard E Grant as he discusses insights into his 30 year career and the challenges and rewards of playing such a wide variety of roles including Bram Stoker's Dracula, as well as TV shows such as Downton Abbey, Doctor Who, and Girls. China Exchange, £10, book ahead, 6.30pm-7.30pm
ALL STAR COMEDY: Join comedians Alan Davies, Jo Brand, Dara O'Briain and friends for this special comedy benefit night for Harry Potter star Jim Tavare who was seriously injured in a  car crash in Los Angeles earlier this year. Lyric Theatre (Shaftesbury Avenue), £30, book ahead, 7.30pm
JAZZ FUNK QUARTET: Vocalist, keyboardist and songwriter Kate Ockenden, along with her husband Geoff on bass, brings 70s soul and groove to Chelsea with the KoGo Project. 606 Club (Chelsea), £10-£14, book ahead, 8.30pm
Tuesday 13 June
TECH GEEKS: If you are excited by the fact there's a Drone Racing League, and the thought of being surrounded by tech fills you with glee, you'll love London Tech Week featuring the most innovative and cutting edge technology. Various locations, free, just turn up, 8.45am-6pm
MENTAL HEALTH ART: Students from Centrals Saint Martins are displaying their work in an exhibition exploring how art can support the physical and mental health of their peers. Menier Gallery, free, just turn up, 13-17 June
MUCH ADO: You won't have seen anything like this before. Shakespeare's classic tale is restructured using only the original text to portray this dark comedy. Hero is dead, and the strange circumstances of her death hang in the air while her fiancé Claudio attempts to atone for former wrongs. The Hope Theatre, Islington, £15, book ahead, 7.45pm
---
Sponsor message
Free kids tickets for tons of West End shows
Plans for the school holidays? Make sure a theatre trip is in the diary, as Kids Week 2017 comes to London this August. The annual event is always popular, and some events sell-out quickly, so make sure you're ready when booking opens on 13 June.
Kids Week sees kids (16 or under) go free with any full paying adult to some of the city's best shows. There's something for all ages — under 5s may fancy We're Going on a Bear Hunt, while Miranda Hart's new starring role in Annie will appeal to older kids. Classics such as The Lion King and Les Miserables are included in the deal, as are plenty of activities and workshops related to the shows (puppets and sing-alongs anyone?).
Up to two more children can come along to the shows for half price — why not use the kids as an excuse and go and see something you've always wanted to?
Kids Week runs from 1-31 August —booking opens on 13 June. Find out what shows and activities are on offer here.
---
Wednesday 14 June
ICE CREAM: Luxury Swiss ice cream brand Mövenpick will be chilling at Taste of London with some bespoke mocktails and ice cream concoctions. Fingers crossed for a hot summer day to make the most of tasting their range of ice cream and sorbets, and while you're there enjoy demonstrations from a Monin syrups mixologist. Taste of London (Regent's Park), free with festival entry (from £17), noon-9.30pm
DREAMGIRLS: The Luna Cinema is back and kicking off another series of outdoor cinema viewings in unusual locations, starting with Dreamgirls. Victoria Embankment Gardens, £17.50, book ahead, 7pm-11.30pm
EDINBURGH PREVIEW: Have a good laugh with a double bill of brandy new comedy from award-winning comics John Kearns and Joz Norris, familiar faces on Cats Does Countdown and Drunk History, before they head to the Edinburgh Comedy Festival.The Rose & Crown (Kentish Town), free, book ahead, 7.45pm-10.15pm
MUSICAL EVENING: Pianist Kate Williams, a critically acclaimed jazz composer, will be playing alongside her father, classical guitar player John Williams, for the very first time in an evening of jazz and strings with original compositions. 606 Club (Chelsea), £16, book ahead, 8.30pm
Thursday 15 June
MARITIME ARCHAEOLOGY: Imagine if there were still bombed-out houses, factories and whole streets wrecked by air raids in the first world war. What lies off the East Coast of Britain is the maritime equivalent. Hear from Anthony Firth, Director of Fjordr discussing this phenomenan in this free talk. The National Archives (Kew), free, book ahead, 2pm-3pm
LIVE MUSIC: Glaswegian singer Paul 'McGoozer' McGee is turning up the music for a live performance in-store at Yamaha Music London to celebrate the release of his debut EP. You might have heard his vocals before, on the McDonald's I'm Lovin' It campaign. 152-160 Wardour St (Soho), free, book ahead 6pm-8pm
SOHO HISTORY: Delve into the history of Soho with this London's Great Melting Pot historical walk around its streets, celebrating 350 years of Soho immigration. Hear the great success stories and personal stories behind big historic events. Tottenham Court Road tube station (Exit 1), £7/£10, book ahead, 6.30pm-8.15pm
SHAKESPEARE: The Royal Shakespeare Company is performing Antony & Cleopatra in Stratford-Upon-Avon tonight, but save the travel time by heading to Canary Wharf instead, where the play will be broadcast live from the bard's hometown. East Wintergarden, £10, book ahead, 6.30pm
Friday 16 June
GELATO FESTIVAL: Old Spitalfields Market will play host to 16 of the finest gelato artisans who will revealing tempting new flavours in their bid to be crowned the European Gelato Champion. We know you'll be sorely tempted to try them so for a fee on the door, you can sample the inventive delicacies. Old Spitalfields Market, various prices, just turn up, noon-7pm
CANDY CRUSH: If you've ever played Candy Crush and found it super addictive, then you're going to love this adults-only pop-up board game café. Hitting Soho for two days only, it features super-sized board games, Candy Crush themed cocktails and cakes, striped candy and popping treats. 19 Greek Street, free, 4pm-11pm
ZOO NIGHTS: Get your weekend off to a wild start as ZSL London Zoo stays open late, for adults only. See the animals as they settle down (or wake up) for the night, tuck into dinner from the street food market, or take part in activities such as Zooniversity Challenge while stilt walkers and performers mingle among you.  Age 18+. ZSL London Zoo (Regent's Park), £17.50, book ahead, 6pm-10pm
DUNGEON DELICACIES: Do you dare to enter the London Dungeons after hours? If you do, you'll be in for an unusual treat as you eat and drink your way through the seven deadly sins down the dark streets of London's past. The London Dungeon, £59, book ahead, 7.15pm-8.30pm
Saturday 17 June
BUSHCRAFT CHALLENGE: Stay out all night and sleep under the stars at Lee Valley's Bushcraft Challenge Residential. Tackle it with family or three of your mates — you'll learn how to survive in the wild like Bear Grylls. Light a natural fire, build a shelter, purify water and prepare wild foods during this overnight stay. Lee Valley Almost Wild Campsite, £50/£100, book ahead, 17-18 June
PHOTOGRAPHY: Everyone can be a photographer with their phone camera, but if you're wanting to go that extra mile for top-notch snaps, photographer and author Iain Green will be on hand to guide you through the automatic settings of your DSLR or point-and-shoot, before challenging you to make dreaded the switch to manual. London Wetland Centre, £60, book ahead, 10am-4pm
FORGOTTEN SERVICEMEN: The contribution of West Africa to the first world war is considered largely overlooked. This free talk on the Forgotten Servicemen will take an in-depth look at this piece of history. The National Archives (Kew), free, book ahead, 2pm-3.30pm
GREAT GATSBY: It's the roaring 1920s at the Hilton for a special night of decadent dancing, cabaret and feathers. Throw the dice at the casino, makes shapes on the dance floor, and watch for the magician's sleight of hand, all while raising money for charity to support education for Syrian children in Beirut. Hilton Paddington, £60, book ahead, 7pm-late
TREASURE HUNT: Take a theatrical literary journey through London by navigating your way through the misunderstandings and mishaps of Shakespeare's comedy A Midsummer Night's Dream. Starting in a secret Clapham location, you and your team will follow the trails and deliver the wedding invitations, picking up clues and characters along the way. Clapham Omnibus, £18, book ahead, 7.30pm-9.30pm
FABRIC: Hit the dance floor and party until the early hours to the beat of house and techno as Air London celebrates its 10th birthday at Fabric. Ibiza artist Darius Syrossian headlines. Fabric, £21, book ahead, 11pm-8am
Sunday 18 June
RIVER CRUISE: Celebrate Father's Day on board The Lady of Lee Valley. Treat dad to a relaxing three hour river cruise during which he'll enjoy a three course meal, all the while gliding along and taking in the sights of the picturesque River Lee. Lee Valley Boat Centre, £14/£27.50, book ahead,noon-3pm
SHORT FILMS: You may not have thought it was possible to watch 40 films in one day, but Short Sighted Cinema is celebrating the art of short films featuring new works from emerging British filmmakers, with free popcorn and summer festival vibes. The Yard Theatre, £6/£30, book ahead, noon-10pm
CHILDREN'S ART WEEK: To top off a week celebrating children's art, head to the National Portrait Gallery where kids can create stop-frame animation with the help of award-winning animator Lizzy Hobbs, or get creative with their own artwork at the Royal Collection Trust. Various locations, free, just turn up, various times
Fun things to do with our friends and sponsor Funzing...
London is a city of incredible transformation. With structural remains that date back to ancient history still in existence, this unique walking tour takes in Lost London in all its former glory. From the Titanic booking office to the graveyards of man's best friend, you'll discover the weird and wonderful places that used to exist in the capital but are now only committed to memory. Using old photographs, newspaper cuttings and stories from the past, you'll be amazed at what has largely been written out of our history books... Get tickets
Whether you're a pre-grated cheddar sprinkler or mimolette fan, this cheesy walking tour will delight your senses. Starting off at a cheese counter in Mayfair that has been serving for more than 300 years, you'll tour the city's best dairy delights - including Fortnum & Mason, where the royals get their fix. Get tickets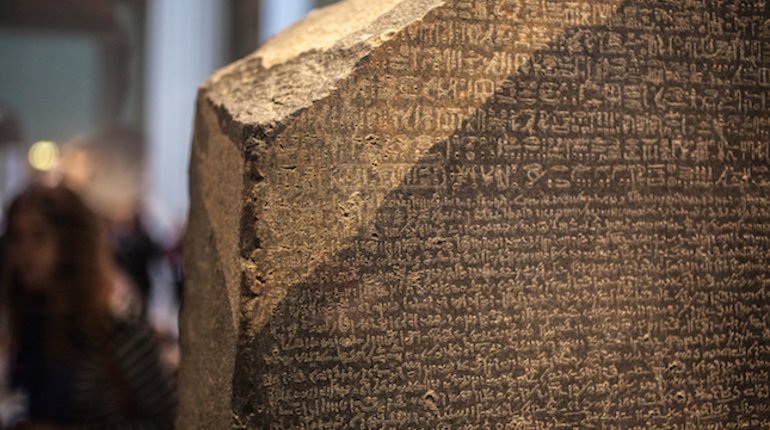 Track the journey of humanity through this tour around the British Museum. The tour aims to help you understand why the world is the way it is, and show how humans learned to question absolutely everything. Get tickets
The Underworld collides with the Underground in more ways that one -- from the angel that saved a tube worker from death to the ghosts of King's Cross, discover the ghoulish history of the Undergound on a tour around the city. £10 Get tickets