Things to do this week is sponsored by Institution of Civil Engineers.
All week
MADE LONDON:Furniture, clothes, jewellery and homewares are just some of the products on display at Made London. 60 designers will be selling their products, so you can meet the person who made your new vase/rug/ring. Canary Wharf, free entry, just turn up, 17-20 and 22-25 March
#IAMYEZIDI: This photography exhibition portrays the hardships faced by Yezidi women in Iraq. It includes stories of women who have escaped slavery and rescued their children from ISIS captivity. Lacey Contemporary Gallery, free, just turn up, 21-26 March
NO 1 POULTRY: Did you know that Postmodern masterpiece No 1 Poultry almost didn't happen? This exhibition compares it to its unrealised predecessor, Mansion House Square. The Architecture Gallery, free, just turn up,8 March-25 June
Monday 20 March
SPRING EQUINOX: This druidic ceremony welcomes the increasing amount of light from day to day at this time of year. It includes a brief talk, meditation and call for peace. Tower Hill, free, just turn up, noon
ORCHESTRAS OF AUSCHWITZ: Jewish musicians imprisoned in Auschwitz were forced to perform for slave labour commandos in the camp. This evening consists of a talk, followed by a performance, including original music that was written in Auschwitz. The Wiener Library, free, book ahead, 6.30pm-8.30pm
MILESTONES: It's the last night of the Jazz Cafe's Milestones series. For the past 12 weeks they've brought iconic jazz albums reimagined by the genre's hottest talent today. They're closing with a recreation of Duke Ellington's classic The Blanton - Webster Band. Jazz Cafe, £10, book ahead, 7pm-10.30pm
Tuesday 21 March
MAKING MONEY:  Ever wondered how money is made? Bank of England Museum curator Jennifer Adam talks about the launch of the polymer £5 note last year, and the history of the production of banknotes. Guildhall Library, £5 (+ booking fee), book ahead,6pm-8pm
SEXY SHORTS: Short film night Bar Shorts is back with a line-up that will explore sexuality, liberty, frustration, humour in all that is amorous. Watch the films, then chat to the filmmakers and directors. The Book Club, free, book ahead,7pm-11pm
DEEP LIFE: Travel deep into the earth's crust with geochemist Tullis Onstott, to take a look at the life forms living down there and whether their presence gives us clues towards the possibility of extraterrestrial life. Royal Institution, £14/£10/£7, book ahead, 7pm-8.30pm
LOLITICS: Self-proclaimed 'Lefty political comedy club' Lolitics makes its monthly appearance in Camden, with a line-up including feminist activist Chloe Green and stand-up comedian Charlie Partridge. Best of all? No heckling, and the comedians won't pick on you. The Black Heart, £5, just turn up, 7.30pm
---
Sponsor message
Get on your bike and vote for London's best infrastructure
The London Civil Engineering Awards are coming up and Londoners can have their say. The Londonist People's Choice Award is chosen by you, with seven projects on the shortlist.
One of the options is the North-South Cycle Superhighway, a 3km route from Elephant and Castle to Holborn Viaduct. With segregation kerbs, this is a much safer and more direct way for cyclists to negotiate the city. Do you think the North-South Cycle Superhighway could win the title of London's best infrastructure project? Get moving and cast your vote here.
---
Wednesday 22 March
FREAKS CABARET: The freaks are out in full force at Brasserie Zédel tonight. BBC3's Mawaan Rizwan brings you the capital's biggest names in drag, including seven foot singer Gingezilla. Brasserie Zédel, £15, book ahead, 7pm
DASH CAFÉ: The politics of the Soviet film industry is the subject being tackled at this month's Dash Café. Watch film clips from across the decades accompanied by debates with experts and get an insight into how the industry was censored. Rich Mix, free, book ahead, 7.30pm
STAND UP HUMAN: If you could redesign the human body, what would you change? Scientists and comedians come together to tell you, basically, why your body isn't fit for purpose (and why lions are better than you). The Book Club, £5, book ahead, 7.30pm-10pm
Theatre review: intimate variety show
Staged in an absolute peach of a West End cabaret joint, The House of Q's latest outing once again shows off the extraordinary talents of compère and chanteur Mercury, conjurer Neil Kelso and dancer Felicity Furore. Their intimate variety show in this stylish and sexy underground boudoir encompasses sassy mashups, stunning magic and scintillating burlesque. There's rarely a dull moment in this hugely entertaining and lively show. The House of Q's Champagne Cabaret, Brasserie Zédel, 20 Sherwood St, Soho, London W1F 7ED, £15, Shows 22 March and 10 May ★★★★☆ Franco Milazzo
Thursday 23 March
LUNCHTIME CONCERT: Head to LSE in your lunch break for the final lunchtime concert of the term. The Castalian String Quartet will perform works by Haydn and Beethoven. LSE, free, just turn up,1.05pm-2pm
FREE POPCHIPS: Comedy from spoof artist Deliciously Stella, voguing classes, and makeovers from a drag expert are just some of the rooms you can visit at the pop-up Popchips store in Soho. It all sounds very high energy, but they'll be giving out free Popchips, and that's something we can get on board with. 19 Greek Street, free, just turn up, 5.30pm-8pm
THE RISE OF SOURDOUGH: If you had sourdough bread down as a new-fangled hipster snack, think again. It's been around for 6000 years, and fed the people that built the pyramids. Find out how it became so popular — and why it was replaced with modern, yeast-based bread. Barnard's Inn Hall, free, just turn up, 6pm-7pm
VIDEO GAMES BURLESQUE: Show Me Your Moves is a video game themed burlesque night. We hear there might be a Drowzee strip-tease. For real. Secret Weapon Stratford, £10, book ahead, 8.30pm-11.30pm
Friday 24 March
FLORIMANIA: This Mother's Day weekend, Hampton Court Palace brings you Florimania, a festival of flowers that celebrates royal women throughout history. Hampton Court Palace, price of admission to entire Palace £20.90/£17.10/£10.45, just turn up, 10am-6pm
FREE MUSIC: Jazz pianist Will Bartlett is the latest musician on the Friday night music line-up at Verdi Italian Kitchen. Royal Albert Hall, free entry, book ahead, 7.30pm
BIRTHDAY LECTURE: Today is William Morris's birthday. Celebrate with than a lecture on Morris's determination to save historic architecture, at the Walthamstow gallery named after him. William Morris Gallery, £10/£5, book ahead, 7.30pm
Art review: heritage of the docks
In the new housing development London Dock, artist Gordon Young has been commissioned to create sculpture and artworks referencing the heritage of the area. It's all word based and references the many commodities that came into the docks in days past. A nice touch but does feel like this idea could have been expanded on a bit more to look into the history of these items. Trading Words at London Dock, Wapping, until 30 April, free ★★★☆☆ (Open every day) Tabish Khan
Saturday 25 March
FILM FESTIVAL: West Norwood Free Film Festival sees the likes of  Northern Soul, Finding Dory and The Goonies screened at locations around the area. Tonight's offering? Back To The Future. Various locations, free, just turn up, 25 March- 1 April
PLAY ON WORDS: 5-11 year olds and their families are invited to take part in a words-themed creative workshop, inspired by words on display in the galleries and in the Library's collection. British Library, free, just turn up, 10.30am-12pm
NIGHTTIME WALK: A starlit walk of discovery through some of Kensington's most intriguing passageways, alleys and tunnels, culminating with storytelling on the theme of darkness. Bring a candle in a jar and dress warmly. Secret location, £6/£3, book ahead (email vanessa@londondreamtime.com), 7pm
Sunday 26 March
*Remember that the clocks go forward at 1am this morning. Don't be that person who's an hour late for everything today.*
FASHIONABLE RECYCLING: Freshen up your wardrobe by swapping your old clothes for replacements at a swishing event. Good quality men's, women's, children's and baby clothing can be swapped for tokens, which can in turn be swapped for items donated by other people. Recycling at its most fashionable. Studio 5, Free, just turn, 12.30pm-3pm
MOTHER'S DAY CRUISE: Treat your mum to a lovely day out on the River Thames, with a cruise from Chiswick Pier. If you're feeling peckish you can get cakes on board. Chiswick Pier, £10/£15, book ahead, 3.15pm
LIVE MUSIC: Celebrate Bangladesh Independence Day with live music from east London raised singer-song writer Shapla Salique and her jazz band, who will be performing Bengali folk music with a twist. Rich Mix, free, just turn up, 7.30pm
Fun things to do with our friends and sponsor Funzing...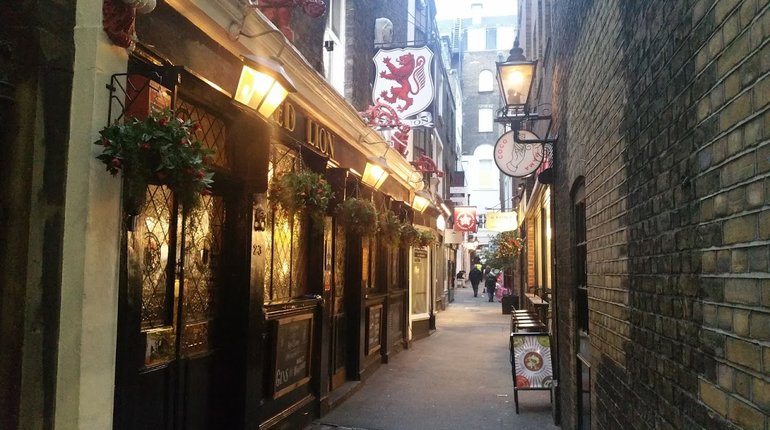 London is a city of incredible transformation. With structural remains that date back to ancient history still in existence, this unique walking tour takes in Lost London in all its former glory. From the Titanic booking office to the graveyards of man's best friend, you'll discover the weird and wonderful places that used to exist in the capital but are now only committed to memory. Using old photographs, newspaper cuttings and stories from the past, you'll be amazed at what has largely been written out of our history books... Get tickets
How well do you really know London? Visit the streets that inspired Harry Potter locations and see London's most superstitious hotel. On Matt's tour you will explore hidden places and discover stories unknown to even the most knowledgeable of Londoners. Get tickets
Struggling to find someone who shares your dark sense of humour? This twisted speed dating event can help. A group of 30-40 people will take part - with equal male/female ratios - and play a few rounds of the hilarious (and slightly dark) card game, Cards Against Humanity. After the event, connect with those who you found suitably sinister using a unique online matching system. Get tickets
If you've never paired ceramics and prosecco before, why on earth not? It's a match made in heaven as Sam and Diana, co-creators of 'Make Your Own', prove at their wonderfully welcoming ceramic painting workshop. Pull up a stool, don an apron and get to work on your very own mug, plate, tile, bowl or ornament. They provide the ceramics as well as a selection of patterns, and will show you exactly how to transfer designs and paint to your heart's content. It's BYO so feel free to pop the prosecco and enjoy the company of like-minded Londoners as you get stuck into your creations. Get tickets