All week
SCHOOL HOLIDAYS: As the school holidays enter their second week, banish boredom with our guide to things going on in and around London.
GEOMETRIC PLAYGROUND: This is a playground with a difference; kids and adults alike can get hands on with the cogs, levers and pendulums of the Geometric Playground at Artsdepot. Free, just turn up, until 15 April 2017 (closed Good Friday)
LEA RIVER PARK: The banks of the River Lea used to be little more than an industrial wasteland, but a recent project has regenerated the area, creating the Lea River Park. This exhibition gives further details about current and future plans for the area. New London Architecture (Bloomsbury), free, just turn up, until 27 April
BLACK SOUNDS: When the Southern Syncopated Orchestra arrived in London in 1919, so too did what we know today as black British music. This exhibition at The Black Cultural Archives in Brixton tracks 100 years of black sounds, featuring the likes of Lord Kitchener, Janet Kay and Eddie Grant. Free, just turn up, 10am-6pm. Until 4 November
ANATOMY OF A DOLL: Take a tour of the Royal Academy's Life Room, filled with uncanny dolls made by Cathie Pilkington. Royal Academy, £5, book ahead, until 14 April, 11am and 2pm daily
CARPENTRY EXHIBITION: See all the great things that The Carpentry Club has put together in this exhibition. Every wooden thing you can think of is on display: from chopping boards to go-karts. Oxford House, free, just turn up, 12-18 April
Art review: the diverse future
Realistic portraits, angular bright abstract works, fashion and furniture. A great group show, you might think, but shockingly it's the work of one extremely talented Italian artist, Giacomo Balla. The Estorick Collection delivers yet again with another outstanding show. Giacomo Balla: Designing the Future at Estorick Collection of Modern Italian Art, 39a Canonbury Square, N1 2AN, until 25 June, £6.50 ★★★★☆ (Wednesday-Sunday) Tabish Khan
Monday 10 April
SIGN LANGUAGE TOUR: A British Sign Language tour of the London, Sugar & Slavery display tells how London was involved in the transatlantic slave trade, for deaf and hard of hearing visitors. Museum of London Docklands, free, book ahead, 6pm
PUNDEMONIUM: Love a double-entendre? This event's for you. A game show based on linguistic puns and tomfoolery, led by guest pundits including comedians and poets. The Book Club (Shoreditch), £5, book ahead, 7.30pm
FILM SCREENING: Love or your career? It's a question that's troubled many for years and it's the central theme in American Friends. See it with an introduction from director Tristam Powell and a Q&A at the end. Snacks and a drink are included in the ticket price. Dulwich Picture Gallery, £9/£7, book ahead, 7.30pm
Tuesday 11 April
WILDLIFE CONSERVATION: Bit of a niche one, this, but if you're interested in conservation issues, get yourself to the ZSL offices for a talk about threats to the mountain chicken species of frog, and what can be done to avert said threats. ZSL London Zoo, free, just turn up, 6pm-7.45pm
PODCAST RECORDING: Author and podcast extraordinaire Emma Gannon has the BBC's Gemma Cairney as a guest on her latest episode. The recording takes place in front of a live audience, and could cover anything from first love to mental health. Waterstones Tottenham Court Road, free, just turn up, 6.30pm
LIFE DRAWING: Salvador Dali drew his own tarot cards and now it's your chance to do as the great one did. The Underdog presents life models to help you conjure up your own empresses and devils, and help you predict the future. The Underdog, £15, just turn up, 7pm-9pm
BLACK MUSIC CAPITAL: Former sound system owner and pirate radio broadcaster Lloyd Bradley talks about how London is the black music capital of the world. Rye Wax (Peckham), free, just turn up, 7.30pm-9pm
CIRCUS: Let the capital's cutting edge circus talent inspire and amaze you at this immersive night. There's danger, spectacle and even the odd moment of intimacy. Tooting Tram & Social, £10, book ahead, 8.30pm-10.30pm
Wednesday 12 April
POP-UP CARDS: A chance for your child to make you an Easter card that you'll cherish for years to come, at this pop-up card making workshop. Geffrye Museum, £20, book ahead, 2pm-4pm
GIN MASTERCLASS: Indulge in a Gin Rendezvous to celebrate the Tall Ships regatta weekend in Greenwich, hosted by Plymouth Gin. Rivington Greenwich, £20, book ahead, April 12-14, 5pm-7pm
EXPERT WITNESSES: This Gresham College lecture debates the merits and problems of relying on expert witnesses in the family courts. Barnard's Inn Hall, free, just turn up, 6pm
STREET ART:  What is street art and what is graffiti? Find out at this interactive art talk by Paint Jam London. Cass Art (Islington), free, book ahead, 7pm-8.30pm
BOOK LAUNCH: Poet Inua Ellams launches his new book at Southbank Centre's Poetry Library — the location where much of the book was written. Hear short readings from Ellams himself, plus there's a live DJ. Poetry Library, free, book ahead, 8pm
Theatre review: an intense and intimate incident
Arthur Miller's rarely performed Incident at Vichy is set in the detention room of a Vichy police station in 1942. As several men wonder why they have been picked up for questioning by the Germans, they have trouble accepting it is because they are Jewish, with the presence of one gypsy and an Austrian prince only helping them to deny the reality. Phil Willmott's immensely powerful production is complemented by an outstanding 13-strong all-male cast, while Georgia de Grey's brilliant set makes the Finborough stage even smaller than usual, and squashes the audience in the room with the men. Incident at Vichy, Finborough Theatre, 118 Finborough Rd, SW10 9ED, £14-18, 28 March - 22 April ★★★★★ [Tuesday-Sunday] Sam Smith
Thursday 13 April
NATURE EXPLORERS: Go on safari without leaving London. Horniman Museum's minibeast safari takes place on the nature trail in the museum's grounds. £3, buy tickets on the day, 11am/noon/2pm/3pm
SOFT DRINK WORKSHOP: This might sound obvious, but delicious soft drinks aren't usually all that healthy. Well here's your chance to make your own that you don't need to feel guilty about. Sourced Market, £5, book ahead, 7pm-9pm
GRIMELIGHT: Who decided what poetry is? This evening of performances and discussion explores the relationship between poetry and grime. Age 16+. Rich Mix (Shoreditch), free, book ahead, 8pm
Good Friday 14 April
EASTER EGG HUNT: London's not short of Easter egg hunts this weekend but we like the sound of this offering at Forty Hall in Enfield. Keep the kids occupied with a trail around the Hall before they get their chocolate reward. £1, book ahead, 14-17 April
THE PASSION OF JESUS: A Good Friday tradition, watch the Easter story played out in the open air with 100 actors, plus donkeys and horses, and relayed on large screens. Trafalgar Square, free, just turn up, 90-minute performances at noon/3pm (you'll want to get there early for any chance of seeing it unfold)
SOUTHBANK CENTRE: There are plenty of free activities at Southbank Centre this Good Friday, including a social dance where visitors of all ages can learn a street dance from Jamaica (1pm), live jazz and blues music courtesy of Randolph Matthews (5.30pm) and a vogue workshop and club night (7.30pm).
BENGALI NEW YEAR: As well as being Good Friday, today's also Bengali New Year. Celebrate with traditional music, spoken word, dance and rituals. Age 10+. Rich Mix (Shoreditch), free, just turn up, 5pm
SAILOR'S BALL: Dance the night away aboard the Cutty Sark. There'll be swing dancing lessons, followed by live music and rounded off with some banging DJs. Cutty Sark, £25/£39, book ahead, 7.15pm-11.30pm
Saturday 15 April
EASTER FAIR: Puppet making, face painting, dance workshops and Alice in Wonderland storytelling are just some of the family-friendly activities at the Horniman Easter Fair. There's also an arts and crafts museum in the Conservatory, as well as the weekly farmers' market. Horniman Museum (Forest Hill), free entry (charge for some individual events), just turn up (although you'll need to book ahead for storytelling), 15-16 April, 10.30am-4.30pm
MAP LONDON: We're quite excited about this one — London Metropolitan Archives is digging out some of its most interesting maps of London and showcasing them for the day. Royal Festival Hall, free, just turn up, 1pm. Also at Southbank Centre today is Craft the City, a chance to use cardboard to show what you think cities of the future will look like. Free, just turn up, 11am
BOOK SWAP: Kids run out of reading material? Take them along to this book swap where they can get rid of their old books, and take home a new tome or two to keep them busy. Children's book lovers will be on hand to help them choose their new books too. Rich Mix, free, just turn up, 11am-1pm/2pm-4pm
SHORTS ON TAP: New beginnings is the theme of this short film evening. Watch the films, which focus on childhood and preadolescence, then take part in Q&A sessions with the filmmakers. Rich Mix, free, book ahead, 7pm
Sunday 16 April
CROW CAFE: London's first ever Crow Café squawks into town on Sunday. Meet some crows, learn about them and — slightly bizarrely, this — eat some crow-shaped snacks. But not actual crows, we assume. Off Quay (Docklands), £10/£5, book ahead, noon-3pm
FAMILY DAY: Spend your Easter Sunday tracking down bunnies in the gardens of Keats House in Hampstead. Kids can also make their own carrot cone, which they can carry their chocolate prize home in. £1 donation suggested, just turn up, 1pm-4pm
OPEN MIC: Expect an eclectic blend of funk, soul and house music at Allsortz Open Mic Night. Rich Mix, free, just turn up, 7.30pm
Fun things to do with our friends and sponsor Funzing...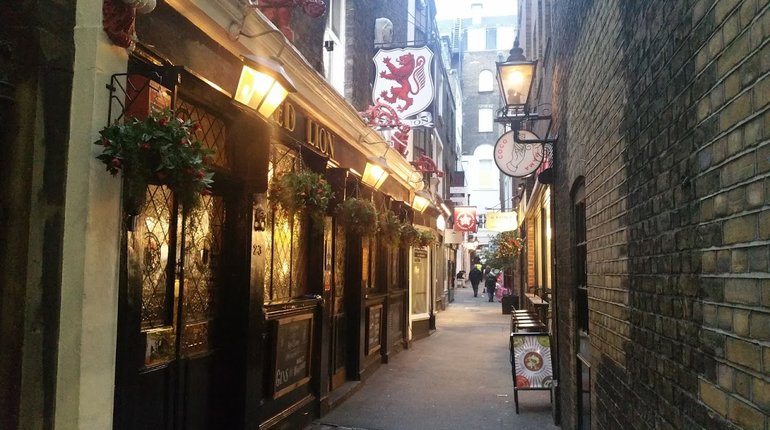 London is a city of incredible transformation. With structural remains that date back to ancient history still in existence, this unique walking tour takes in Lost London in all its former glory. From the Titanic booking office to the graveyards of man's best friend, you'll discover the weird and wonderful places that used to exist in the capital but are now only committed to memory. Using old photographs, newspaper cuttings and stories from the past, you'll be amazed at what has largely been written out of our history books... Get tickets
Take to the waters and glide about in this beginner paddleboarding session. By the end of it, you'll be standing up and paddling solo, and there's plenty of help on hand to improve your technique. Change of clothes required. Get tickets
Have you visited London's Roman ampitheatre? What about London's Medieval market places? Hear weird and wonderful tales of our beautiful city as you take a walking tour, seeing everything from centuries-old churches to the hanging place of William Wallace. Whether you've lived here all your life or are visiting for a few days, you're sure to learn something new about London. Get tickets
How well do you really know London? Visit the streets that inspired Harry Potter locations and see London's most superstitious hotel. On Matt's tour you will explore hidden places and discover stories unknown to even the most knowledgeable of Londoners. Get tickets