All week
UTHINK THEREFORE UART: Play existential video games and see the ghosts of office workers in a corporate space overtaken by plant life at this new exhibition curated by Martin Launet. Special guests Cos Chapman, Nikolai Kozin and Grundik Kayansky will be clocking in for experimental performances and live digital drawings. Riverside Building (Hammersmith), free, just turn up, 2 June-10 June
ARTS IN MIND FESTIVAL: See how creativity can provide new pathways for understanding the mind, open a dialogue about mental health, and improve wellbeing at a week-long festival of arts and mental health. King's College's Institute of Psychiatry, Psychology & Neuroscience is hosting over 30 exhibitions, performances, screenings and workshops on topics as diverse as wellbeing during pregnancy and audiovisual mood enhancers. Multiple venues (Denmark Hill), free, book ahead for some events, 4-10 June
CHANGING CLIMATES: For the past two summers, an intrepid team of female scientists has braved the hostile landscapes of the Arctic Circle to study the effects of global warming. Their fascinating stories are documented in a series of candid photographs, alongside their personal testimonies. The Brick Lane Gallery , free, just turn up, 5-11 June
CAPTURING ACTIVISM: A century of women's activism is commemorated in We Are The Granddaughters of the Witches You Could Not Burn, an exhibition co-curated by the young women of Parliament Hill School. Through historical and contemporary photography, the exhibition will celebrate the heroines who spearheaded local and global fights for equality. Rich Mix (Shoreditch), free, just turn up, 6-28 June
Monday 4 June
FOOTIE PHILOSOPHY: Did you know that Albert Camus was a big fan of the beautiful game? A panel of scholars give it 110% in tackling why football is such a big hit among philosophers and what philosophical principles can be put into practice on the pitch. Old Theatre, LSE, free, just turn up, 6.30pm-8pm
TURBULENCE: Fasten your seat belts, because you're about to experience some Turbulence — an evening of whimsical games, interactive performance and urgent conversation that puts you in the cockpit. The Rosemary Branch Theatre (Canonbury), pay what you can, book ahead, 7.30pm
Tuesday 5 June
BIT NIPPY: Who says you can't have it all? Have a go at becoming both a burlesque babe and crafting queen with the help of a naughty nipple tassle-making workshop. Everything you need (including Dutch courage) is available there, so just bring yourself and your filthiest-minded mates. Drink, Shop & Do (King's Cross), free when you buy a drink, just turn up, 6pm
THE FIX: Discover the best bands breaking onto the scene at The Social's new music showcase. Tonight's performances include the likes of synth pop artist Rina Mushonga and singer-songwriter Dom McAllister. The Social (Little Portland Street), free, just turn up, 7pm-10pm
BIRDS OF MUSIC: Hummingbird Promotions present an all-female line-up of musical talent to suit RnB fiends, electronic-heads, and anyone who's up for some seriously eclectic spins. Birthdays (Dalston), free, book ahead, 7pm-11.30pm
CREATIVE NIGHTS: A gaggle of gag merchants are coming to the Star of Kings to show off their latest material. Expect sketches, stand-up, music and more. The Star of Kings (King's Cross), free (donations welcome), just turn up, 7.30pm-10pm
---
Sponsored listings
Sounds Like London: our picks this week
June brings the Mayor of London's Sounds Like London campaign to the capital — a month-long celebration of both women in music and London's grassroots music scene. Here's our pick of this week's free and cheap Sounds Like London events.
WOMEN IN MUSIC: One of the main focuses of Sounds Like London, is to promote women within the industry. This panel talk with Rebecca Allen and Imelda May aims to do just that. National Portrait Gallery, free, 1pm-3pm, 4 June
KATY HURT: A night of fresh music down in Balham. One Eskimo, HOPE, Jade Williams and headliner Katy Hurt are all sure to wow. What grassroots music is all about. The Bedford, free, 7.30pm, 5 June
GRM DAILY: One of the most popular British music YouTube channels, dedicated to Grime is in town to discuss the most memorable moments on the platform. Platform LDN, free to enter ballot, 6pm-9pm, 6 June
BLACK DOLDRUMS: Things are about to get heavy down in New Cross as psych duo Black Doldrums headline a night of angst driven music. New Cross Inn, £4, 7pm, 6 June
HIP HOP DJ BATTLE: Pitch up just off Carnaby Street to see some of the best women hip hop DJs (some from Radio 1 Xtra) battle it out for your entertainment. Carnaby Street, free, 5pm-9pm, 7 June
SOHO BLACK MUSIC CAPITAL: For decades Soho's bars, record shops, clubs and characters have been a hub of quality black music. Soul II Soul's Jazzie B and Sounds Like London author Lloyd Bradley discuss the influence the area and the art have on each other. Platform LDN, free to enter ballot, 5pm-9pm, 7 June
DOC BROWN: Rapper, comedian, writer and actor, Doc Brown has done it all. Hear him chat about said all and bringing underground culture into the mainstream. Platform LDN, free to enter ballot, 5pm-9pm, 8 June
JUMPIN JACK FROST: In honour of his new autobiography, join legendary Jungle pioneer Jumpin Jack Frost as he recounts stories from his quarter century career. Platform LDN, free to enter ballot, 12pm-6pm, 10 June
---
Wednesday 6 June
BOFFINS, BEARDS, AND B MOVIES: Geek out over a pint or two at a boozy, science-themed meet up. This time, PubSci is getting introspective, as Dr Jennifer Rohn tells an illustrated story of scientist stereotypes from Socrates to sci-fi. The Old King's Head (Borough), free (donations welcome), just turn up, 6pm
FILM NIGHT: Each and every one of you can be a brain, an athlete, a basket-case, a princess, and a criminal at Merchant Square's outdoor cinema club. Get read to fist bump like Fender, because tonight they're screening '80s classic The Breakfast Club. Merchant Square (Hounslow), free, just turn up, 6pm-8pm
PARK LIFE: Trace the extraordinary history of public parks with acclaimed author Travis Elborough, whose book A Walk in the Park explores our relationship with green spaces throughout the centuries. Putney Library, free, book ahead, 6.45pm
PRESENT IMPERFECT: In the decayed elegance of the former Estée Lauder HQ, Contemporary Art Collective present their debut art exhibition. Present Imperfect explores themes of uncertainty, absence and nostalgia through a range of multimedia works. 73-75 Grosvenor Street (Mayfair), free, just turn up, 7pm-9pm, until 7 June
Thursday 7 June
TOMMA ABTS: See the work of a Turner Prize winner for free at the Serpentine. Tomma Abts' arresting and abstract acrylic and oil paintings get their first solo UK exhibition. Serpentine Sackler Gallery (Kensington Gardens), free, just turn up, until 9 September
POPLAR CLOTHES SWAP: Could your wardrobe do with a bit of a revamp? Declutter your closet and bring the spoils to Poplar where you'll receive tokens based on the quality of your donated clobber, and then exchange them for some new-to-you goodies. The Cabin (Poplar), free, book ahead, 5pm-8pm
PRODUCTION OF MONEY: What is money, where does it come from, and who controls it? Find out with financial analyst Ann Pettifor, who's dropping in to Sutton House for a natter about history's most misunderstood invention. Sutton House (Hackney), £5, book ahead, 7pm-9pm
Friday 8 June
JULIE BECKER: The title of the first survey exhibition devoted to the work of the late Julie Becker is probably all too relatable to creative types struggling to make ends meet in London. I must create a Master Piece to pay the Rent charts the artist's exploration of the late 20th century American Dream turned nightmare through pop cultural references embedded in her impressive body of multimedia work. Institute of Contemporary Arts (St James's), until 12 August
STORY NIGHT: Proving that bedtime stories aren't just for kids, a diverse array of London authors present a heart-warming and bone-chilling collection of tales just for grown-ups. Drinks and nibbles are provided. John Harvard Library (Borough), free, book ahead, 7pm
BECHDEL SOUND TEST: Move over Morrissey, take a hike, Drake — tonight it's all about the best female-fronted music across pretty much every genre you can imagine. Expect the likes of Blondie, Yeah Yeah Yeahs, Kelis, Janelle Monae and everything between. The Book and Record Bar (West Norwood), £5, book ahead, 8pm-1am
Saturday 9 June
WORLD ARCHAEOLOGY FESTIVAL: Unleash your inner Indiana Jones at a festival all about archaeology. From ancient East Asian civilisations to Roman mystery boxes, there are plenty of surprises waiting to be unearthed. UCL Institute of Archaeology (King's Cross), free, book ahead, 12pm-5pm
GASWORKS OPEN STUDIOS: A gallery in Oval opens its doors to introduce you to its international artists in residence. See their work and discuss the extensive research underpinning it at Gaswork's summer open studios. Gasworks (Lambeth), free, just turn up, 12pm-6pm
LIVE AT THE BANDSTAND: Enjoy a toe-tapping afternoon of tunes at Battersea Park's beautiful Victorian bandstand. This session promises performances for London's best big brass and Latin Afrobeat bands, as well as free kids' activities and a well-stocked bar. Battersea Park, free, just turn up, 12pm-6pm
CLAYMATION FAMILY FILM CLUB: Travel back to the dawn of time with your kids. South Norwood's family film club is screening Early Man, the latest feature from Wallace and Gromit creator Nick Parks. Before the film, Lightbox Cinema will lead a special claymation workshop to show you how to make and animate a prehistoric character out of plasticine. Harris Academy (South Norwood), £5, book ahead, 2pm
MURAL PROJECT CALL OUT: Are you a first generation migrant? If so, street artist Dreph would love to meet, with the possibility of featuring you on a large scale portrait somewhere on the streets of the UK. Head the the Migration Museum to see if your life story can become a work of art. Migration Museum at The Workshop (Lambeth), free, book ahead, 2pm-6pm
Sunday 10 June
ANTIQUES ROADSHOW FILMING: Dust off those family heirlooms and car boot bargains and head to the art deco marvel that is Eltham Palace and Gardens, where the Antiques Roadshow crew is rolling into town. Not only do you have the chance to meet TV legend Fiona Bruce and get your treasures valued for free, you could also end up on TV. Eltham Palace, free, just turn up, 9.30am-4.30pm
FOAM TALENT: It's your last chance to see the work of talented young photographers who are shaping the future of their field. From the 1790 artists who responded to Foam's annual Talent Call, just 20 image-makers were chosen — so expect great things. Beaconsfield Gallery (Vauxhall), free, just turn up, 11am-5pm
LONDON FOUNDATION FETE: An action-packed day of footie, food, and community fun awaits at the London Foundation Fete. All money raised will go to Jack Tizard School, an SEN institution for pupils with learning difficulties. PlayFootball (Shepherds Bush), free, just turn, 12pm-3pm
Fun things to do with our friends and sponsor Funzing...
London is a city of incredible transformation. With structural remains that date back to ancient history still in existence, this unique walking tour takes in Lost London in all its former glory. From the Titanic booking office to the graveyards of man's best friend, you'll discover the weird and wonderful places that used to exist in the capital but are now only committed to memory. Using old photographs, newspaper cuttings and stories from the past, you'll be amazed at what has largely been written out of our history books... Get tickets
Whether you're a pre-grated cheddar sprinkler or mimolette fan, this cheesy walking tour will delight your senses. Starting off at a cheese counter in Mayfair that has been serving for more than 300 years, you'll tour the city's best dairy delights - including Fortnum & Mason, where the royals get their fix. Get tickets
Take to the waters and glide about in this beginner paddleboarding session. By the end of it, you'll be standing up and paddling solo, and there's plenty of help on hand to improve your technique. Change of clothes required. Get tickets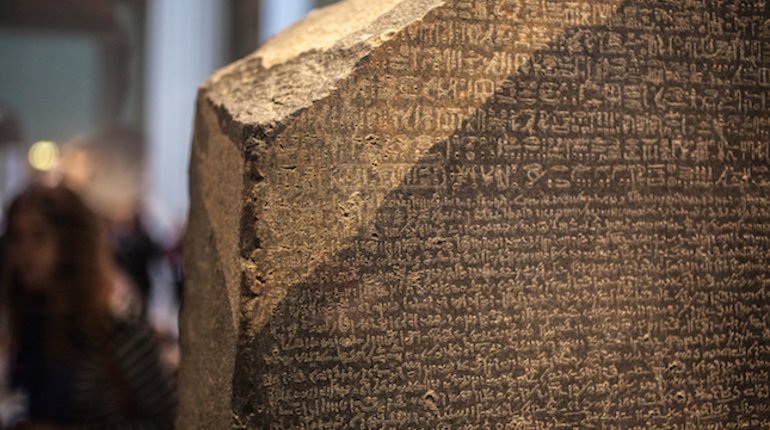 Track the journey of humanity through this tour around the British Museum. The tour aims to help you understand why the world is the way it is, and show how humans learned to question absolutely everything. Get tickets