Things to do in London for £5 or less this week.
All week
FESTIVAL OF CULTURE: A free week-long festival celebrating the arts, humanities and social sciences at UCL through guided tours, exhibitions, talks and workshops. Highlights include a night walk through Dickens's London, playing with maths through coding and stepping into the world of comic superheroes and the political landscape. UCL, free, book ahead, 5-10 June
LONDON RIVIERA: Not jetting off somewhere sunny? You'll have to make do with London's own riviera. Pitching up next to City Hall, this summer festival offers free entertainment every night, including film screenings, reggae aerobics, break dancing and live music. Free entry, just turn up, 1 June-31 August
ARCHITECTURE FESTIVAL: London Festival of Architecture runs through this week, and as Europe's biggest annual architecture festival, there are plenty of free and cheap things to see and do with over 450 events spread over the month of June. Various locations and prices, 1-30 June
Monday 5 June
CRAZY GOLF: To say thank you for a great first year, Swingers are offering free crazy golf all day on their two challenging courses. Wash it all down with half price bubbly and discounted street food from favourites such as Pizza Pilgrims. Swingers Crazy Golf Club (City of London), free, just turn up, midday-midnight
DIAGRAMATIC MATHEMATICS: Maths and art lovers alike will love this one. M.C. Escher used seemingly infinite tilings of the plane with interlocking figures in his work, yet this could not be represented within a finite space — this Gresham College lecture shows how mathematics can offer a solution to this conundrum. Museum of London, free, just turn up, 1pm-2pm
Tuesday 6 June
MOOD SHIFTS: Mary Cappello, in performing multi-modal readings from her latest collection of essays, asks the question of whether we can create a poetics of atmosphere as antidote to post-election and post-Brexit airlessness, moodlessness and disrepair. The Horse Hospital (Bloomsbury), free, book ahead, 6pm-8.30pm
THE FIX: Fans of live music are in for a treat as three new hip and happening bands take centre stage at this evening celebrating new talent. Headlining is Phoenix & The Flower Girl, a fantastic new project that's part left-field hip-hop, part visual art. The Social, free, just turn up, 7pm-late
FREE COMEDY: This award-winning Mediterranean restaurant offers up a comedy night in the style of a panel show, featuring comedians Sonia Aste, Anna Dominey and Trevor Tokabi. Forget the TV panel shows, come to this free version. Grove Bar and Restaurant, Hammersmith, free, book ahead, 7.30pm-9.30pm
CONSERVATION AREA: This year marks the golden anniversary of the first designated conservation areas. Explore the origins, variety and future challenges for these 10,000 treasured sites in this presentation by Gresham College. Museum of London, free, just turn up, 6pm-7pm
CLAPHAM JUNCTION: Contemporary maps and photographs accompany this talk from railway historian Steven Taylor, detailing the history and constant expansion of Clapham Junction station over the first 50 years of its life. A must for all railway aficionados. Battersea Library, free, just turn up, 6.30pm
CONSCIOUSNESS: Humans are conscious beings — but are there any other conscious animal species? When did this trait first evolve, and what is its function? This panel discussion brings together philosophers and scientists alike to discuss recent developments in neuroscience and shed new light on these puzzling questions. LSE, free, just turn up, 6.30pm-8pm
Thursday 8 June
CONCERT LAB: Ditch the rush hour crush and come for an hour of orchestral music instead. In this latest edition, the orchestra will be liberated from their seats and the audience immersed in music as Southbank Sinfonia's young musicians ask the question: why do orchestras sit still? St John's Waterloo, free, just turn up, 6pm-7pm / 8pm-9pm
CROWN AND REBELLION: Renowned medieval historians discuss the most important battle ever fought on English soil — 800 years ago, a royal army defeated a force of French and English baronial troops, ensuring that England would not become a cadet kingdom of France. The National Archives (Kew), free, just turn up, 6pm-8pm
BETWEEN THE LINES: Wandsworth Common is dissected by railway lines, and Battersea's Queenstown Road hosts the intersection of three twisting and turning rail arteries. Explore how the borough was shaped and defined by the railways in this history filled talk. St Mary's Parish Church, £5 including a glass of wine, just turn up, 7pm
Friday 9 June
GRANITE AS HEIRLOOM: Jordan Stephens of Rizzle Kicks, and Caleb Femi, the Young People's Poet Laureate for London, host their first ever photography exhibition deconstructing the young Black British working-class face. Highlighted is the perception that poorer neighbourhoods of London and their culture are seen to be something sinister. Space Studios (Hackney), free, book ahead, 6pm
SHAKESPEARE RETOLD: Tracey Chevalier reworks the Shakespeare classic Othello into a 1970s playground story, featuring a young black boy as he arrives at an all-white school and finds himself at the centre of a vicious plot of jealousy, betrayal and revenge. Dorfman Theatre, £5/£4, book ahead, 6.30pm-7.30pm
BREAK UP TOUR: Neoliberalism comes under the microscope in this interactive performance, likening it to a band long past its heyday. Having toured the world in triumph for decade to packed houses of adoring fans, the glory days of this economic doctrine are coming to an end. Toynbee Studios (Whitechapel) £5, book ahead, 7.30pm
Saturday 10 June
GUN SALUTE: It's the Duke of Edinburgh's birthday, and as is customary on such occasions, a gun salute by the King's Troop Royal Horse Artillery will be taking place in Green Park. Free, just turn up, midday
Sunday 11 June
CRAFT FESTIVAL: Over 30 independent traders selling their high quality wares pack in to the beautiful ballroom of Balham Bowls Club for a summer craft market. You'll be spoilt for choice for unique handmade gifts — now you'll have no excuse not to find something in time for Father's Day. A great line-up of live musicians soundtrack the event. Balham Bowls Club, free, just turn up, 12pm-5pm
CLIMATE CHANGE: It affects us all. Taking India as a case in point, researcher Jimmy O'Keefe looks at the links between climate, energy, food and water, and illustrates how small changes in climate can make a big difference to people on the ground. Conway Hall (Holborn), free, book ahead, 1pm-2pm
ART OF COMMUNICATION: There's a lot more to communication than just talking. Why are we so challenged by something we do so much, and something so essential to relationships? Learn the art of communication and develop your interpersonal skills at this workshop. The Neighbourhood Centre, free, just turn up, 4.30pm-6pm
Fun things to do with our friends and sponsor Funzing...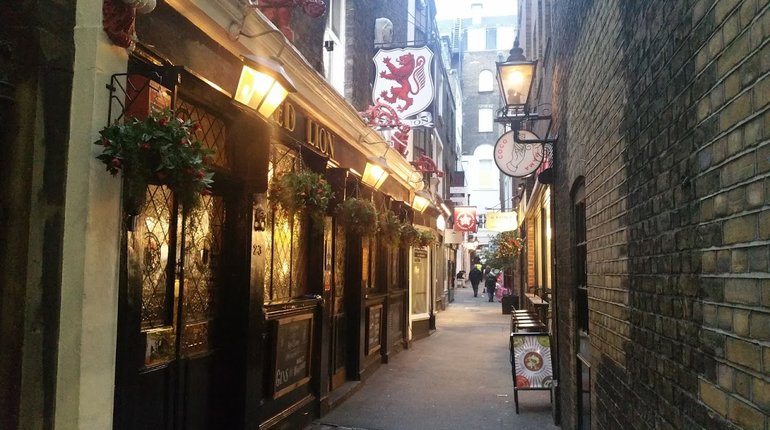 London is a city of incredible transformation. With structural remains that date back to ancient history still in existence, this unique walking tour takes in Lost London in all its former glory. From the Titanic booking office to the graveyards of man's best friend, you'll discover the weird and wonderful places that used to exist in the capital but are now only committed to memory. Using old photographs, newspaper cuttings and stories from the past, you'll be amazed at what has largely been written out of our history books... Get tickets
Take to the waters and glide about in this beginner paddleboarding session. By the end of it, you'll be standing up and paddling solo, and there's plenty of help on hand to improve your technique. Change of clothes required. Get tickets
Cross gas lit alleyways and stroll by ancient pubs as you discover forgotten parts of London. See the world's smallest police station and visit London's most superstitious hotel on a walking tour covering everything weird, wonderful and London. £12 Get tickets
The afterlife is an intriguing subject, but how close to ghosts do we truly want to get? For those with a fascination of all things spooky, test your limits with The Westminster Ghost Walk. You'll explore this deeply historic and fascinating area of London and hear tales of ghosts, poltergeists and body snatchers along the way. Your experienced guide will lead you through dark alleyways, haunted buildings and human burial grounds - sharing the chilling secrets London has long been hiding in its past. Get tickets