All week
SCHOOL HOLIDAYS: Want to keep the kids busy but don't want to spend an arm and a leg? We're here to help, so check out our helpful list of free things to do with kids in London.
KNITTED PAINTINGS: It's the last week to catch this exhibition dedicated to Rosemarie Trockel's knitted wool paintings from the 1980s and early 1990s. These early works by Trockel used a computerised knitting machine to create a multitude of unusual horizontals and verticals. Skarstedt Gallery, free, just turn up, until 4 August
PAPER CLAY ART: It's your last chance to catch Italian ceramist Paola Paronetto's gallery of paper clay. Her work takes the forms of everyday objects — bottles, bowls, cacti — and makes them seem weightless. Contemporary Ceramics Centre (Bloomsbury), free, just turn up, until 5 August
ILLUSTRATION AWARDS: 50 original illustration projects are on show at Somerset House — everything from drawings, to murals, to posters, to packaging — before the winner is announced at the World Illustration Awards. Somerset House, free, just turn up, 31 July - 28 August
LONDON RIVIERA: If the weather's looking decent, get yourself down to City Hall for the London Riviera festival. Every evening there's different entertainment, including film and sport screenings, dance classes, and live music. Best of all, it's free. Just turn up, until 31 August
Monday 31 July
LAST CHANCE ART: Inspired by the colour compositions of historical paintings by Hans Holbein, Gustav Klimt, and Vincent van Gogh, it's your last chance to catch artist Ian Davenport's series of monumental triptychs. Alan Cristea Gallery, free, 10am-5.30pm
JET SET COCKTAILS: If you can't jet off to the sandy beaches of Jamaica, enjoy a little taste of the good life by taking a rum trip round six London bars. You'll unlock your travel ticket to the Frequent Flyers Cocktail Club by showing off some holiday snaps at one of the destinations, where you'll redeem a Koko Kanu passport and map, and two complimentary drinks. Various location, free, 6pm
CODING CHOREOGRAPHY: Step into the future of dance as performers and coders work together to produce The Bridge Remix, a dance choreography that will change in real time as the performance progresses using code, movement sensors, sound and light. The Vaults in Waterloo, free, book ahead, 7pm
ARTS AND CRAFTS: Crafty so-and-so's can get together with like-minded individuals for a free night of cutting and sticking, with a drink in hand and the opportunity to make some new friends. All materials are provided and tutors are on hand for a little extra advice if needed. This month's theme is Summer Of Love. Hackney Attic, free, just turn up, 7.30pm-11pm
CAMDEN COMEDY: The plan to become a world famous comedian hasn't quite gone 25 year-old Irish Kevin O Connell's way yet, but he hasn't given up. His debut show Rebel Against Reality hits Camden Fringe, so enjoy a skinny-jean clad oddball take on foxes, photosynthesis and dreams. Camden Comedy Club, £5, book ahead, 9.15pm-10.30pm
Tuesday 1 August
STREET PHOTOGRAPHY: Look to the outside from the inside at photography exhibition The Quotidians, City Scenes and Transport featuring the works of London-based photographer Natalia Jaeger. Hatch (Homerton), free, just turn up, 8am-10.30pm
WOUNDED: Explore the limits of human life and the extraordinary cost that is paid on the battlefield. How has medicine developed to keep up with modern warfare? Imperial College London's Dr Emily Mayhew's talk will take you from the first world war to the present day. The National Archives (Kew), free, book ahead, 2pm-3pm
MOOD LIGHTING: You'll feel like an archaeological explorer as you discover the secrets of the Sir John Sloane Museum by candlelight, a special open evening which occurs on the first Tuesday of every month. Make sure to arrive early as after the first 200 visitors enter it's one-in-one-out. Sir John Sloane Museum, free, just turn up, 6pm-9pm
Wednesday 2 August
INDIAN INDEPENDENCE: Getty Image's Indian Treasures exhibition marks the 70th anniversary of India's independence from Britain with a showcase of historical and rarely seen images that provide some of the earliest photographic documentation of India. Getty Images Gallery (Fitzrovia), free, just turn up, until 7 September
RUINOUS ALLEGATIONS: Professor Chris Given-Wilson (University of St Andrews) takes on the royal family in his talk Sorcery, bastardy and the English Royal Family presenting 'alternative facts' of 15th-century England. The National Archives, free, book ahead, 4.45pm-6.30pm
THE GAME IS ON: Hoping to follow in the footsteps of Led Zeppelin, Queen and Pink Floyd are bands from around London and Essex competing in the semi-finals of the Roundhouse Battle of the Bands to find 2017's rising stars of the music world. The Roundhouse (Dagenham), free, just turn up, 6.30pm
Thursday 3 August
PERCEPTION: How do artists with brain injuries see the world? How do they now perceive identity, physically and emotionally? Hackney-based art collective Submit to Love Studios is exhibiting a series of works and installations from artists facing these questions. Royal Festival Hall, free, just turn up, 10am-11pm (until 23 August)
FINDING HOME: Canadian artist Zadie Xa uses paint, textile, video and sound to tell her story in The Conch, Sea Urchin and Brass Bell exhibition, telling the story of a displaced body's journey and return to a 'homeland'. Pump House Gallery (Battersea Park), free, just turn up, 11am-5pm (until 24 September)
PADDLE BOARD: The Red Paddle Co tour bus arrives at Royal Victoria beach with free paddle boarding sessions up for grabs. Perfect your balance have a laugh at the expense of strangers when someone falls in, because of course it won't be you. Lululemon will also be pitching up in their Meditation Bus for some group exercise if the mood grabs you. Wakeup Docklands, free, book ahead, noon-8pm
SUSTAINABLE SALAD: Learn how GrowUp is creating an efficient and sustainable system to produce food at an aquaponic farm, and have a taste of the salad being produced to see if it can match up. Museum of London (Barbican), free, just turn up, 1pm-2pm
BLUES BROS: Fans of The Blues Brothers will feel right at home at Streatham Free Film Festival's showing of the classic film. You're encouraged to dress up in true Blues Brothers style to win a prize — though not compulsory, so just don a pair of sunglasses if you wish. The event raises money for the next film festival. Hideaway Jazz Club, £5, book ahead, 8.30pm-11pm
Friday 4 August
TRAVEL PHOTOGRAPHY: Travel the world without leaving the country as the Travel Photographer of the Year awards exhibits its prize-winning images. Take a look at a fascinating depiction of life, cultures, wildlife and landscape all over the planet. University of Greenwich, free, just turn up, until 3 September
FILM BUFFS: BAFTA is celebrating 70 years of film award history with a free photography exhibition throughout the building and several talks and events. Explore the UK's rich cultural film heritage. (screenings cost extra). BAFTA (195 Piccadilly), free, just turn up, 4-6 August
IMPROV BATTLE: Who will win an adrenaline fuelled improv comedy show? Well, that's up to you, the audience. As part of Camden Comedy Fringe, Improv Deathmatch will finally see who will be crowned the kings and queens of comedy. Aces & Eights Saloon Bar (Tufnell Park), £5, book ahead, 10.15pm-11.15pm
Saturday 5 August
FAMILY FUN: As part of The Broadwalk Centre's Love Your World environmental campaign, families are invited to take part in their free upcycling workshops in Edgware every Saturday until 26 August. Bring along an old t-shirt and walk away with a brand new look. The Broadwalk Shopping Centre (Edgware), free, just turn up, noon-4pm
MUSIC FESTIVAL: South London is home once more to the Tooting Folk & Blues Festival, an open air music and food festival showcasing the best local folk and blues musicians such as Pepper & Shepherd, Whom By Fire, Emily Lee, The Rob Booth Band and more. Tooting Bec Common, free entry, noon-7pm
GOOD DEED: Spend an evening dancing in aid of Missing People and support Team MP's Tough Mudder Girl Warriors who are attempting to raise £2,000 for their Tough Mudder event on 16 September. Cake, raffle prizes, more cake, and more prizes have been promised. The Good Ship (Kilburn), £5, book ahead, 7pm-3am
Sunday 6 August
SKY HIGH: Croydon Airport was Britain's first major international airport, and its visitors centre and micro-museum tells the story of how air travel began in England. Find out the part Croydon played in guided tours around the Grade II listed building. Croydon Airport Visitor Centre, free (donations encouraged), just turn up, 11am-3pm
PLAZA LATINA: Get a real taste of Latin America without splashing cash on a plane ticket at Plaza Latina, London's biggest Latin American festival. Latin music, food, arts and crafts are all in one place, with local and international artists performing all day. Nursery Row Park (Elephant & Castle), free, just turn up, 11am-9.30pm
MAGICAL NIGHT: If you've ever wished someone would combine magic and comedy in a live show, Marvin Alan has come to the rescue with Gangster Magic, his debut performance. Water Rats (King's Cross), £5, book ahead, 3pm
MIND OVER MATTER: Do some good at an evening of Spoken Word and Live Hip Hop which is raising money for and awareness around mental health. All proceeds of ticket sales go to Mind in the City: Hackney & Waltham Forest. The Bedford (Balham), £5 when you book ahead, 7pm-10pm
Fun things to do with our friends and sponsor Funzing...
London is a city of incredible transformation. With structural remains that date back to ancient history still in existence, this unique walking tour takes in Lost London in all its former glory. From the Titanic booking office to the graveyards of man's best friend, you'll discover the weird and wonderful places that used to exist in the capital but are now only committed to memory. Using old photographs, newspaper cuttings and stories from the past, you'll be amazed at what has largely been written out of our history books... Get tickets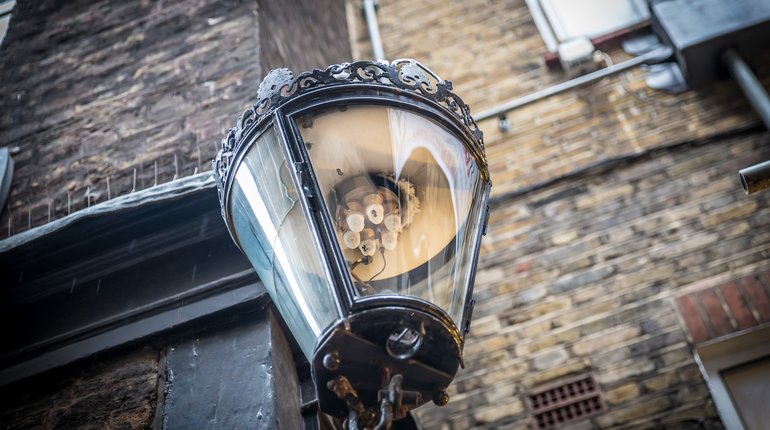 How well do you really know London? Visit the streets that inspired Harry Potter locations and see London's most superstitious hotel. On Matt's tour you will explore hidden places and discover stories unknown to even the most knowledgeable of Londoners. Get tickets
Take to the waters and glide about in this beginner paddleboarding session. By the end of it, you'll be standing up and paddling solo, and there's plenty of help on hand to improve your technique. Change of clothes required. Get tickets
If you've never paired ceramics and prosecco before, why on earth not? It's a match made in heaven as Sam and Diana, co-creators of 'Make Your Own', prove at their wonderfully welcoming ceramic painting workshop. Pull up a stool, don an apron and get to work on your very own mug, plate, tile, bowl or ornament. They provide the ceramics as well as a selection of patterns, and will show you exactly how to transfer designs and paint to your heart's content. It's BYO so feel free to pop the prosecco and enjoy the company of like-minded Londoners as you get stuck into your creations. Get tickets