Things to do today is sponsored by Commuter Club.
What we're reading
Things to do
WORKOUT WITH DARCEY BUSSELL: Strictly Come Dancing judge and former Principle of the Royal Ballet Darcey Bussell is inviting you to take part in her dance workout. The session is open to all ages and abilities. Everyone Active Paddington Recreation Ground, free, book ahead,7am - 8.30am
ALL MIND NO BODY: Today's your last chance to catch this exhibition, which explores the separation between mind and body in the context of developments in artificial intelligence. Gallery 46, free, just turn up, noon-6pm
ROMAN LONDON: London boasts all the features of a modern metropolis but the city's been here for a while. At this lecture you can learn the secrets of Londinium and where Roman London was founded. Museum of London, free, just turn up, 1pm-2pm
HISTORY BUFFS: How much do you know about Barnet's history? Do you know how Chipping Barnet got its name? Why Barnet High Street became home to an incredibly high number of pubs? Using drawings, maps and photos, Rob Kayne is examining the rich history of Barnet from medieval times to the present. Society of Genealogists (Islington) £8, book ahead, 2pm-3pm
WALK CAMDEN: See Camden differently with Tom Bolton's cultural walk through the historic market to mark the publication of his new book, Camden Town: Dreams of Another London. Meet at Camden Town tube station, £20, book ahead, 6.15pm-8.15pm
PHONE PHOTOGRAPHY: Budding photographers looking to get the best out of their iPhone may be interested in a photography workshop by Tom Graham who is sharing his tips to help you sharpen up your skills and bring more sparkle to your selfies. Gallery Elena Shchukina (Mayfair), £9/£18, book ahead, 6.30pm-7.30pm
CONSTANCE AND EVA: This play by Kimberley Campanello tells the story of two sisters who abandon their privileged lives to fight for women's rights and seek to redefine gender and sexuality. The Bread and Roses Theatre, £12, book ahead, 7.30pm
MONSTER: The story of Medusa was enough to give any primary school kid nightmares, but who was the woman behind the myth? Her story is revisited through sensory theatre, contemporary dance, shadow puppetry and sound installations. Thames Tunnel Shaft (Brunel Museum), £10, book ahead, 7.30-8.30pm
SCIENCE MUSEUM LATES: Enjoy an evening of science at Science Museum's late, and learn about the biology of our bodies when you take a journey through the human digestive system. There's also the wonders of the animal kingdom, stand-up comedy, and a live recording of the award winning podcast Science(ish). Science Museum, free, just turn up, 6.45pm-10pm
AFRICAN MUSIC FEST: Enjoy a vibrant evening of music with Sudanese singer lsarah and The Nubatones at CLF Art Cafe. Alsarah blends ancient tradition with East African pop and is very popular amongst audiences. Bussey Building (Peckham), £15, book ahead, 8pm-11.30pm
---
Sponsor message
It's time to freeze your travel fares
Commuting is getting increasingly expensive, and the cost is set to rise yet again. In January 2018, fares will increase by 3.5%, the biggest jump in over five years. As if daily train travel wasn't stressful enough, that increase could be equal to an eye-watering two weeks of extra commuting fares.
There is, however, a way to lock in current 2017 prices — by joining CommuterClub. Buy an annual travelcard with these guys and you'll be able to beat the price hike.
What's more, you'll get the better value that comes with a yearly pass, without the huge up-front cost. With CommuterClub, you pay for the annual travelcard in 11 monthly instalments.
And in your 12th month, you travel free.
Until 5 October, you can get £20 off, too. Find out more about the scheme here.
Representative example: Credit limit: £1200. Interest £67. Total payable: £1267 in 11 monthly instalments of £115. Representative 10.6% APR. Interest rate 5.6% (variable)
---
Art review: heads you win
Thomas Schütte creates heads, and lots of them. This exhibition contains massive ones with two faces and heads of ghosts and spirits. Each has a remarkable intensity and dignity about them. The slabs in the colours of the German flag and the watercolours aren't as strong, but it's the heads we're really here for. Thomas Schütte at Frith Street Gallery, Golden Square & Soho Square. Until 11 November, free. ★★★☆☆ (Tuesday-Saturday) Tabish Khan
Food review: sleek and stylish
Plant based food is going through a real moment right now. A new vegan menu appears in London almost daily, so it's no longer possible for a place to stand out by virtue of being meat, fish and dairy free. Shoreditch's Essence knows that it needs to be special, to stake its place in a crowded scene. Right from the moment you enter, it's clear this place is different. People sit side on to minimalist tables which fold out from futuristic cubes. Perhaps a tad uncomfortable for some, but it's refreshing for somewhere to try something new. Then it's onto the food, the standout is the wonderful heirloom tomato lasagna, beautifully presented — a jenga tower of vegetables and gorgeous pesto. The Caesar salad and raw pad Thai also deliver in a big way, the former so creamy you'll be checking with the waiter to make sure it's really vegan, the latter perfectly spicy. Dessert is equally as wonderful: the lime cheesecake bursts with citrus flavours that bounce around your mouth, while the raw macaroons crumble perfectly as you chow down on them. Follow that up with a lemongrass tea to cleanse all the toxins out and leave satisfied. Essence, 94 Leonard Street, Shoreditch, EC2A 4RH ★★★★★ Harry Rosehill
Theatre review: air craft
Seeing the brilliant Juliet Stevenson literally flying through the air as she metaphorically explores the fractured mind of a stroke victim is an unforgettable experience. In the Young Vic's revival of the 1978 play Wings, she wears an aerial harness throughout and spends much of the time floating off the ground, sometimes balletically twisting and turning, sometimes just hanging there. Similarly, the script by American playwright Arthur Kopit is occasionally exhilarating in its use of language, but too soon runs out of inertia and put-puts through to to an unsatisfying landing. Natalie Abrahami's staccato direction serves the stop-and-start nature of this moving drama well but provides too little insight into the inner turmoil of Stevenson's character. Go for the star name, stay for the staging. Wings. Young Vic, 66 The Cut, Lambeth, London SE1 8LZ. Until 4 November. £10-£38. ★★★☆☆ Franco Milazzo
Good cause for the day
The Surgeon, the Streets and the Scalpel, is a talk by Mr Duncan Bew, the lead clinical trauma surgeon at King's College Hospital. He's speaking about his role as a trauma surgeon and what his charity — GAV (Growing Against Violence) — does in order to help reduce knife and gun crime on the streets of London. The talk is free but you can donate to Leann's Amazing Medics Programme to help increase the number of medical students from under represented backgrounds. The Worshipful Society of Apothecaries (Blackfriars), free, book ahead, 10 January, 5.45pm-7pm
Fun things to do with our friends and sponsor Funzing...
London is a city of incredible transformation. With structural remains that date back to ancient history still in existence, this unique walking tour takes in Lost London in all its former glory. From the Titanic booking office to the graveyards of man's best friend, you'll discover the weird and wonderful places that used to exist in the capital but are now only committed to memory. Using old photographs, newspaper cuttings and stories from the past, you'll be amazed at what has largely been written out of our history books... Get tickets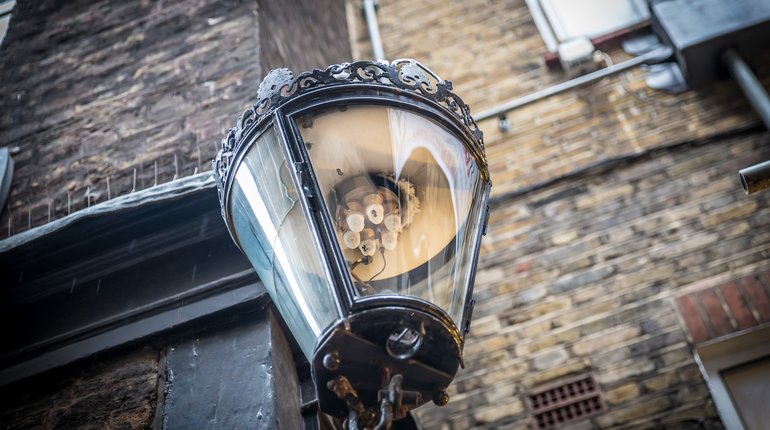 How well do you really know London? Visit the streets that inspired Harry Potter locations and see London's most superstitious hotel. On Matt's tour you will explore hidden places and discover stories unknown to even the most knowledgeable of Londoners. Get tickets
Join a full moon ceremony and uncover how to fully appreciate the cycles of nature, and how these align with the cycles of our own bodies. Simply, the full moon is a time when our energy peaks - a time of fruition, a time of perception, a time of strength. In this ritual experience, Ena and Gammadian will take you on a beautiful journey guided by the moon, lead a guided meditation and create a safe space in which to reflect, relax and grow in the company of like-minded people. Get tickets
We all know Soho is changing - and fast. But does the Soho of decades past - fiercely independent, occasionally seedy, always flamboyant - still exist? Antony Robbins claims it does - if you know where to look. A former director at the Museum of London, Robbins now leads walking tours of Soho, delving into the area's past and present. His Sex, Death and Shopping tour covers scandals of yesteryear through to present-day erotica - taking in hidden gardens, sinister histories, and little-known facts of famous places. A bit sinister. A bit salacious. And exceedingly well-tailored. It's a tour to have you falling in love - or lust - with this part of London all over again. Get tickets