Things to do today:
NEW EXHIBITION: UCL's Grant Museum of Zoology opens a new exhibition today. Natural Creativity: Sex and Trickery is an exhibition of drawings by artist Clara Lacy which show some of the behavioural tactics that animals have developed in order to survive. Free, just turn up, 19 October-23 December
BLOOMSBURY FESTIVAL: The annual Bloomsbury Festival begins today, along the theme of Language. Today's events include a tour of the Wiener Library, a musical celebration of Europe and a performance of Under Milk Wood. See individual event pages for details. 19-23 October
TUNNEL THROUGH TIME: The London and Middlesex Archaeological Society hosts Gillian Tindall (author of A Tunnel Through Time) for a talk in Farringdon. She'll be discussing the route of the newly laid Crossrail, followed by a wine reception. £12, book in advance, 6pm
ENGLISH HERITAGE NIGHT: Learn about the history of Apsley House through a series of talks, and admire its art collection at this after hours event. £12, book in advance, 6pm
FABULOUS NICHOLAS BROTHERS: Rare film clips and photographs are used to tell the story of the Nicholas Brothers' 75-year dancing career. The screening of The Fabulous Nicholas Brothers at Picturehouse Central is introduced by New York Film programmer Bruce Goldstein. £8, book in advance, 6.30pm
WOMEN IN REVOLT: Shorts On Tap at 93 Feet East in Brick Lane screens a series of short films directed and produced by women. £3, book in advance, 7pm
IMPORTANCE OF THE 90S: Guests including Observer columnist Miranda Sawyer discuss the success of the nineties — everything from New Labour to Spice Girls Feminism — at The House of St Barnabas in Soho. £15, book in advance, 7pm
THE BOOKSHOP BAND: Join The Bookshop Band for an evening of stories and music inspired by authors Kate Mosse, Ben Okri and Eleanor Catton at Browns Covent Garden. The event was due to be at Foyles Charing  Cross Road but has been moved due to flooding. £12, book in advance, 7pm
STANLEY KUBRICK: See the life of reclusive film director Stanley Kubrick through the eyes of his driver, in award-winning Italian documentary S Is For Stanley at Regent Street Cinema. £12, book in advance, 7.30pm
FILM CLUB: Head to the film club at Stanley Halls in South Norwood to watch Precious, a film about the human ability to tackle obstacles. The film is preceded by tasty Caribbean food. The event is part of Black History Month. £8, just turn up, 8pm
---
Good cause of the day
ST PAUL'S SERVICE: Two specially commissioned anthems will be performed at St Paul's Cathedral's evening interfaith service, to commemorate 150 years of Barnado's Children's Charity. Free, just turn up, 7pm
---
Fun things to do with our friends and sponsor Funzing...
London is a city of incredible transformation. With structural remains that date back to ancient history still in existence, this unique walking tour takes in Lost London in all its former glory. From the Titanic booking office to the graveyards of man's best friend, you'll discover the weird and wonderful places that used to exist in the capital but are now only committed to memory. Using old photographs, newspaper cuttings and stories from the past, you'll be amazed at what has largely been written out of our history books...   Get tickets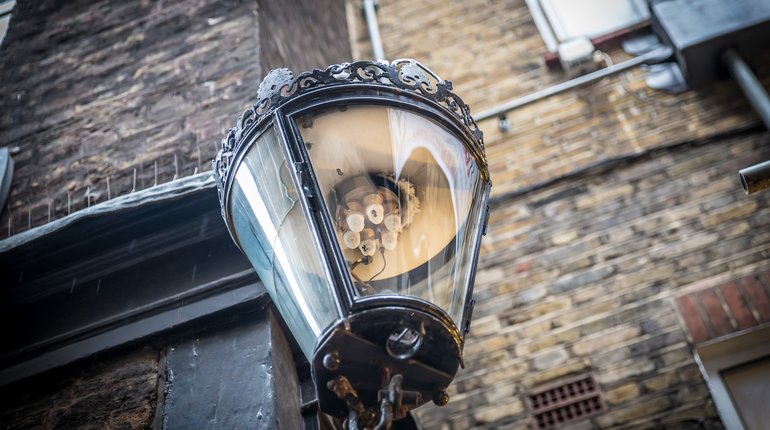 Cross gas lit alleyways and stroll by ancient pubs as you discover forgotten parts of London. See the world's smallest police station and visit London's most superstitious hotel on a walking tour covering everything weird, wonderful and London. £12 Get tickets
Take to the waters and glide about in this beginner paddleboarding session. By the end of it, you'll be standing up and paddling solo, and there's plenty of help on hand to improve your technique. Change of clothes required.  Get tickets
If you've never paired ceramics and prosecco before, why on earth not? It's a match made in heaven as Sam and Diana, co-creators of 'Make Your Own', prove at their wonderfully welcoming ceramic painting workshop. Pull up a stool, don an apron and get to work on your very own mug, plate, tile, bowl or ornament. They provide the ceramics as well as a selection of patterns, and will show you exactly how to transfer designs and paint to your heart's content. It's BYO so feel free to pop the prosecco and enjoy the company of like-minded Londoners as you get stuck into your creations.  Get tickets