Things to do today:
DESIGN AND CRAFTS: Made in London's Design and Craft Fair in Marylebone showcases work by 120 national and international designers, across ceramics, wood, textiles and more. £10, just turn up, until 23 October
CONFLICT PHOTOGRAPHY: Photojournalist Rick Findler's images of the world's most conflict-ravaged places are on display at The Republic Gallery near Poplar. The photos were taken over a period of six years in places including Somalia, Iraq and Syria. Free, just turn up, until 30 October
CROYDON PARTY: Hackney Colliery Band performs two sets at the launch of CROWD, a new pop-up event space in Croydon. There will also be live DJs, two bars, and a host of local street food stalls to keep you nourished. Free, just turn up, 4.30pm-9.30pm
CABARET VOLTAIRE: Everything from Hungarian poetry to Music Concrète is on offer at Senate House to mark 100 years of the Dadaist movement, as part of Bloomsbury Festival. There will be performances in languages from Russian to Latin to Spanish. £6 (drink included), book in advance, 6pm
HOXTOBERFEST: If you fancy a beer and a Bavarian bratwurst (or three), head to Hoxtoberfest on Regent's Canal, where there'll be live brass bands, a Berlin cocktail bar and a chalet full of beer. £15-£30, book in advance, 6pm-midnight (repeated tomorrow)
SPEAK MY LANGUAGE: Author Henry Hitchings quizzes guests including Countdown's Susie Dent and the world's leading slang lexicographer about the relationship between language and identity at The British Library. £10, book in advance, 7pm
ANTIQUE SUPPERCLUB: From the French Huguenots to Brick Lane's Curry Mile, explore the foodie history of Spitalfields with a supper club at Town House, an antique shop in the area. Get tickets from seasonsupperclub@outlook.com. £45, book in advance, 7pm
BALLROOM DANCING: It doesn't matter if you have two left feet — dance everything from swing to ballroom at Rivoli Ballroom in Crofton Park, with expert guidance from Olympian and Strictly Come Dancing contestant Louis Smith. £25, book in advance, 7.30pm
---
Good cause of the day
SLEEP OUT: Sleep out in the gardens of Piccadilly's St James's Church to raise money for West London Day Centre which helps to get people off the streets and into paid employment. If you can't make the event, you can donate here. £20 (+£250 fundraising pledge), book in advance, 8pm
---
Fun things to do with our friends and sponsor Funzing...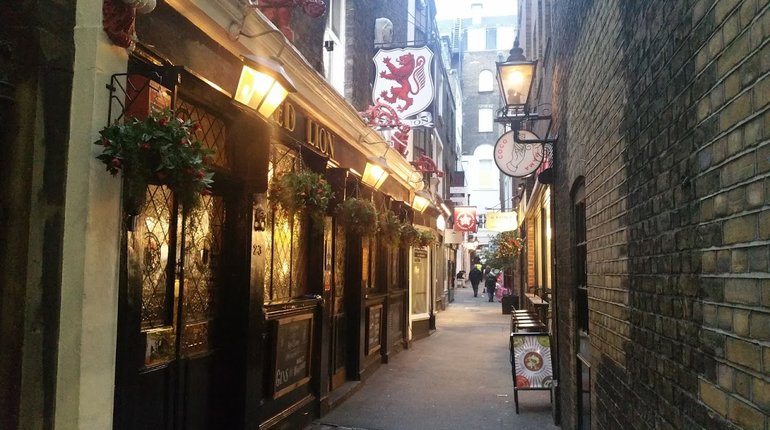 London is a city of incredible transformation. With structural remains that date back to ancient history still in existence, this unique walking tour takes in Lost London in all its former glory. From the Titanic booking office to the graveyards of man's best friend, you'll discover the weird and wonderful places that used to exist in the capital but are now only committed to memory. Using old photographs, newspaper cuttings and stories from the past, you'll be amazed at what has largely been written out of our history books...   Get tickets
How well do you really know London? Visit the streets that inspired Harry Potter locations and see London's most superstitious hotel. On Matt's tour you will explore hidden places and discover stories unknown to even the most knowledgeable of Londoners. Get tickets
Struggling to find someone who shares your dark sense of humour? This twisted speed dating event can help. A group of 30-40 people will take part - with equal male/female ratios - and play a few rounds of the hilarious (and slightly dark) card game, Cards Against Humanity. After the event, connect with those who you found suitably sinister using a unique online matching system.  Get tickets
If you've never paired ceramics and prosecco before, why on earth not? It's a match made in heaven as Sam and Diana, co-creators of 'Make Your Own', prove at their wonderfully welcoming ceramic painting workshop. Pull up a stool, don an apron and get to work on your very own mug, plate, tile, bowl or ornament. They provide the ceramics as well as a selection of patterns, and will show you exactly how to transfer designs and paint to your heart's content. It's BYO so feel free to pop the prosecco and enjoy the company of like-minded Londoners as you get stuck into your creations.  Get tickets