What we're reading:
Things to do:
BUILD IT: Is your child a Bob the Builder fanatic? Take 'em to Redbridge Museum for some hands-on fun at their building site. They'll get to drive diggers, lay walls, build bridges, and balance the tallest tower block. Redbridge Central Library, free, just turn up, 10am-5pm, until September
ETHICAL FASHION EMPORIUM: Feast your eyes on the beautiful wares produced by socially responsible UK entrepreneurs at this fashion and homeware pop up. The selection is curated by Secret Projects, a business that trains and empowers women in India through the making and selling of ethical products. Its founder will be on hand to offer tips for budding social entrepreneurs. Stables Yard (Camden Market), free entry, just turn up, 11am-6pm, until 22 July
CLOSE TO THE BONE: Thanks to the miracles of modern bioarcheology, we can now tell a whole lot about who a person was using only their remains — even if these date back millennia. Learn the techniques used to construct biological profiles of individual skeletons at a hands-on workshop with the help of experts from the terrifically-named Sherlock Bone. Museum of London Docklands (Canary Wharf), £28, book ahead, 6.30pm
JUMP TO THE BEET: Vegans! Tuck into some spec-taco-lar spicy snacks from Jump To The Beet. They'll be serving up their plant-powered tacos for one night only. Fillings include roasted sweet potato, smoked aubergine, and wild mushroom. The Sympathetic Ear (Brixton), just turn up, 6.30pm-9.30pm
WONDERFUL WORLD LATE: Have you checked out the Horniman Museum's new World Gallery yet? If not, tonight's evening of dance, tours, and talks is the perfect time to have a gander. Go around the globe in 80 tunes, explore the links between natural history and sci-fi, and hear gory tales of vengeance from the deep. Horniman Museum (Forest Hill), free, book ahead, 6.30pm-9.30pm
STREET FOOD AND CINEMA: Start your adventure above ground with cocktails and street food in the Brunel Museum garden, before descending into the world's oldest railway tunnel shaft for a film screening. Is there a better way to spend a summer's evening? Brunel Museum (Rotherhithe), £25, book ahead, 6.30pm-10pm (partner)
FIVE BY FIVE: Humour sits with tragedy in a short story anthology covering everything from stolen toys to stolen children. Join four of the five female authors who have contributed to Five by Five at their book launch. There's been talk of themed cocktails too. Out of the Brew (New Cross), free, book ahead, 7.30pm-9.30pm
DANCE AND DUALITY: Contemporary dance double bill An Evening, A Beginning, explores two aspects of creation — emotional and analytical — through performances that take you from Tracy Emin's Bed to the Moon. Blue Elephant Theatre (Camberwell), £10, book ahead, 8pm, until 21 July
QUEER COMEDY NIGHT: Join the Queer Improv team at south London's brand new queer arts space. James Le Lacheur, Harry Wright, and Rita Suszek will be taking to the stage, and there's even a chance for you to make your improv debut. The Chateau (Camberwell), free book ahead, 7.30pm-10.30pm
Good cause of the day
Treat your taste buds to a night of nostalgia. Sareta Puri is taking her 90s convenience food faves (think potato waffles and mac'n'cheese) and veganising them in aid of Gingerbread — the charity for single parent families.
Fun things to do with our friends and sponsor Funzing...
London is a city of incredible transformation. With structural remains that date back to ancient history still in existence, this unique walking tour takes in Lost London in all its former glory. From the Titanic booking office to the graveyards of man's best friend, you'll discover the weird and wonderful places that used to exist in the capital but are now only committed to memory. Using old photographs, newspaper cuttings and stories from the past, you'll be amazed at what has largely been written out of our history books... Get tickets
Tales of torture and plagues await you on a historical walk around London -- see bombed out ruins, discover Medieval markets and even visit a Roman ampitheatre. £12 Get tickets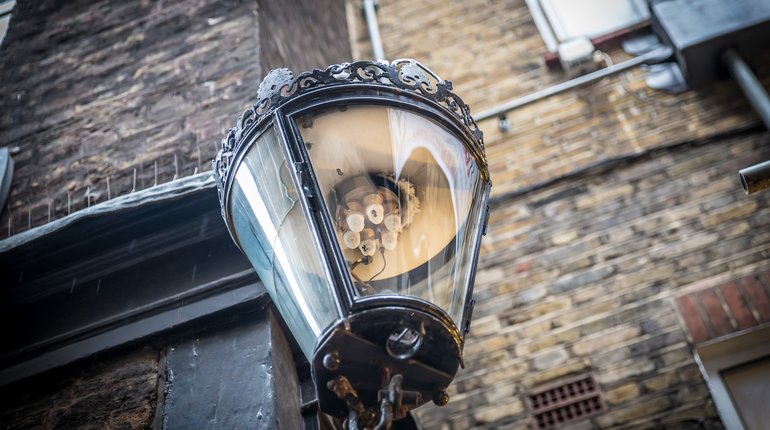 Cross gas lit alleyways and stroll by ancient pubs as you discover forgotten parts of London. See the world's smallest police station and visit London's most superstitious hotel on a walking tour covering everything weird, wonderful and London. £12 Get tickets
Take to the waters and glide about in this beginner paddleboarding session. By the end of it, you'll be standing up and paddling solo, and there's plenty of help on hand to improve your technique. Change of clothes required. Get tickets