Things to do this week is sponsored by clueQuest.
All week
THE PLAGUE: Albert Camus' classic novel about living through a time of crisis and fighting back against despair gets a stark modern day revamp. You can see what we thought of it here. Arcola Theatre (Dalston), from £10, book ahead, until 29 September
UNDERGROUND RAILROAD GAME: This Off-Broadway smash hit has hurtled into London to rave reviews (including one of our own) for its witty portrayal of American race relations and power politics. What starts as an ordinary school lesson about the US Civil War, becomes much bigger when it emerges that the teachers have as much to learn as their students. Soho Theatre (Dean Street), from £18, book ahead, until 13 October
RENZO PIANO: You may not have heard of architect Renzo Piano, but if you've ever been within spitting distance of London, you've definitely seen his work. From The Shard to the Centre Pompidou in Paris and the New York Times building in NYC, he boasts a ridiculously impressive resume and now the Royal Academy of Arts reveals the vision behind his pioneering creations. Royal Academy of Arts (Piccadilly), £12, book ahead, until 20 January
RIDING HIGH: This week-long bike party proves that it's possible to be health conscious and a hedonist. The fun kicks off on Monday at Ministry of Sound where you work up a sweat to 90s bangers as UV lights illuminate your glitteriest outfit and Holly Madge plays the bongos. There's more themed events throughout the week, as well as non-alcoholic beer, cannabis-infused facials, and more neon than you can shake a stick at. Ministry of Sound (Elephant & Castle), £20, book ahead, 17-21 September
Monday 17 September
JAMAVAR WOMEN'S CLUB: For their last women's club of the season, Jamavar restaurant will be rolling out the red carpet for British Hockey stars Kate and Helen Richardson-Walsh. Not only did the Olympians earn team GB their first ever gold medal for women's hockey in Rio 2016, their victory made them the first same-sex married couple to win Olympic gold. Jamavar (Mayfair), £45, book ahead, 6.30pm
HOW TO BECOME AN ENGINEER: It's no secret that the UK is facing a serious shortage when it comes to STEM skills. Engineer Martin Belshaw wants to change all that by inspiring a new generation of engineering greats — find out how (and maybe even find your new dream career) at this evening talk. The Royal Institution (Mayfair), £16, book ahead, 7pm-8pm
TRUMAN AT TWENTY: For its latest outing, sci-fi film club Science Fiction Theatre is revisiting modern classic The Truman Show. The film follows a young Jim Carey whose entire existence is, unbeknownst to him, part of one massive TV series orchestrated by a director with one hell of a God complex. Ethics professor Dr Tony Milligan introduces the film. The Institute of Light (London Fields), £6, book ahead, 7pm-10pm
Tuesday 18 September
BAFTA MASTERCLASS: Ever wonder how awe-inspiring martial arts movie stunts make it to the big screen? Acclaimed Chinese action choreographer and director Tony Ching discusses his pioneering cinematic style, as seen in films like the BAFTA-nominated House of Flying Daggers. BAFTA (Piccadilly), £8, book ahead, 6.30pm-8pm
CONFLICT CAFE: Get a taste of Myanmar in tunnels under Waterloo station at a supper club that serves up peace through food. Throughout the three-course Burmese meal, you sit at a communal table and are encouraged to strike up conversation with your dining partners. All proceeds from the evening go to peace-building charity International Alert. House of Vans (Waterloo), £48, book ahead, 7pm-10.30pm, until 23 September
LUCKY STIFF: A wacky musical caper featuring love, death, dogs, and diamonds comes to Bridewell Theatre in the form of Lucky Stiff. See Tony Award-winning dream team Lynn Ahrens and Stephen Flaherty's murder mystery farce tonight in Blackfriars. Bridewell Theatre (Blackfriars), £17, book ahead, 7.30pm, until 22 September
DISSECTING THE JOKE: Laughter may not always be the best medicine, but it can certainly be welcome distraction from the fact we're all falling apart of the seams. A stellar line up of doctors and comedians turn their attention to your funny bone for a comedy night all about health. Backyard Comedy Club (Bethnal Green), £6.50, book ahead, 7.30pm-10.30pm
Wednesday 19 September
PRINT YOUR TOTE: Make your very own 'It' bag with the help of textile designer Samantha Warren. Whatever your artistic abilities, she teaches you all the tricks of her trade to create a unique and stylish screen printed tote bag. Squire and Partners, The Department Store (Brixton), £15, book ahead, 12pm-1pm
PRINCESS CHARMING: Take the kids to a stereotype-smashing cabaret show about finding the courage to defy traditional gender roles. Created for children, by children, these performers celebrate being true to yourself through song, dancing, and skits. Poplar Union (Hackney), £9, book ahead, 4pm-5pm
IMMERSIVE WINE TASTINGS: Expect the unexpected at this multi-sensory wine tasting that a dash of theatre, a drop of dystopia, and a whole bottle's worth of storytelling. As you journey through the history of typography, enjoy a perfectly paired wine that captures the spirit of each cultural milestone. Laithwaite's Arch (Borough Market), £40, book ahead, 7pm-9pm
---
Win a trip to Budapest, the European capital of escape rooms

Think you and your mates are a brainy bunch? clueQuest, which runs some of London's most quirky (and fun!) escape rooms, has a two night, all-expenses-paid group trip to Budapest — a city lauded as the European capital of escape rooms — up for grabs.
To be in with a chance of winning, assemble your dream team and book yourselves in to tackle one of clueQuest's famous escape missions before 26 September. Successfully make it out, and your time will be recorded on the leaderboard. Come out tops, and you'll be jetting off to Budapest...
For those not so lucky, there are plenty of goodybags and team vouchers up for grabs too. Up for it? Book an escape room mission and use the code COMPETITION before checkout to enter your team. Find out more here. T&Cs apply.
---
Thursday 20 September
NEW SCIENTIST LIVE: Ride a VR rollercoaster, hug a bug, and find out what it's like inside a human brain at one of the biggest science events of the year. New Scientist Live is a gloriously geeky festival of ideas that suits anyone with a curiosity about the world around them. ExCel London (Royal Victoria Dock), £30, book ahead, 10am-5pm, until 23 September
CHINATOWN TASTE TOUR: Discover stories of Chinatown's past, present and future through food on a two hour jaunt through one of London's most iconic enclaves. Having munched on savoury, spicy and sweet snacks, round off your adventure in a Chinese bun and tea house that hides a special secret. Chinatown (Westminster), £20, book ahead, 6pm-8pm
CLOSE TO THE BONE: Thanks to the miracles of modern bioarcheology, we can tell a whole lot about who a person was using only their remains — even if these date back millennia. Uncover the stories of Roman Londoners at a hands-on forensics workshop with the help of experts from the excellently-named Sherlock Bone. Museum of London Docklands (Poplar), £28, book ahead, 6.30pm-9.30pm
DINA TORKIA: Social media sensation and Muslim lifestyle blogger Dina Torkia comes to Rio Cinema to share her fashion and beauty tips and launch her first book, Modestly. Make sure you stick around to get your copy signed. Rio Cinema (Dalston), £12, book ahead, 7pm-8pm
Friday 21 September
100 COCKPITS AND CABS: Play at being a pilot at the RAF Museum. This evening, visitors have the rare chance to actually get inside a variety of cockpits and cabs from their century-spanning collection of aircrafts.  Royal Air Force Museum (Colindale), £13.50, book ahead, 6pm-9pm
SOANE LATES: Way back in 1812, eccentric architect John Soane imagined his home as a ruin centuries in the future. Over 200 years later, the curators of his museum bring these musings to life on a tour that delves into the intriguing stories Soane constructed. Sir John Soane's Museum (Covent Garden), £20, book ahead, 6pm-8.15pm
AFROCIDADE: Celebrate Afro-Brazilian rhythms and song with Bahian powerhouse Afrocidade. Joining them onstage are Baque Luar, an all-female collective of vocalists and percussionists, and their spectacular array of drums. Rich Mix (Shoreditch), from £8 book ahead, 8pm
SHEZ RAJA: Here's one for the jazz cats and night owls. British-Asian electric bassist Shez Raja stays up late with his world-class band to bring your a unique blend of Indo-jazz funk. Ronnie Scott's Jazz Club (Soho), £12, just turn up, 1am
Saturday 22 September
TIBETFEST: A day-long celebration of Tibetan culture, history, and activism is coming to Angel. As well as mindfulness, poetry, and circle dancing, the Tashi Lhunpo monks — the festival's special guests — conduct a blessing ceremony and create a beautiful and intricate sand mandala. Candid Arts Trust (Angel), £15, book ahead, 9am-9pm
BRIXTON BREWERY PARTY: Beer fans, hop along to south west London and help Brixton Brewery wet their new site's head at their open party. There's brand new brews, live music, an art wall, brewery tours, and even an ice cream truck. Big Brixton Brewery (Brixton), free entry, book ahead, 12pm-9pm
THE PANTHEON OF PANCRAS: Up for a nice long stomp? Walk through Georgian squares, down secluded footpaths and along canal towpaths on plod though St Pancras. And if all that seems like thirsty work, you'll be pleased to know that the walk begins and ends at a pub. Begins at The Friend At Hand (Bloomsbury), £20, book ahead, 2pm-6.30pm
DEEP TRASH ESCORIA: Subversive flamenco, Latinx-burlesque, and Frida Kahlo restagings are all on the agenda at biannual exhibition-cum-performance club night Deep Trash. A word of warning: their website is slightly NSFW. Bethnal Green Working Men's Club (Bethnal Green), £12, book ahead, 8pm-2am
Sunday 23 September
DRAWING MASTERCLASS: Unleash your creativity with the help of a professional artist. Known for her dreamlike and vibrant interpretations of domestic spaces. Rose Electra Harris guides you through sketching still life and interiors. Your ticket includes a free drink. Modern Society (Shoreditch), £25, book ahead, 10.15am-11.15am/11.30am-12.30pm
INDIE CERAMICS MARKET: From cute crockery to delicate sculptures, there's plenty of unique ceramics for you to find in Stokey this weekend. Head on down and help support independent traders by picking up a lovely new treasure. EartH (Stoke Newington), £1 entry, just turn up, 11am-6pm
GRIME TIME: Some of London's finest grime artists come to Peckham for a celebration of the UK cultural phenomenon. From the Patois-laden calls of Irah and Riko Dan, to the timeless bass-heavy grooves of Spooky and Grandmixxer, there's plenty to get excited about. The CLF Art Cafe, Bussey Building (Peckham), from £8, book ahead, 6.30pm-11pm
Fun things to do with our friends and sponsor Funzing...
London is a city of incredible transformation. With structural remains that date back to ancient history still in existence, this unique walking tour takes in Lost London in all its former glory. From the Titanic booking office to the graveyards of man's best friend, you'll discover the weird and wonderful places that used to exist in the capital but are now only committed to memory. Using old photographs, newspaper cuttings and stories from the past, you'll be amazed at what has largely been written out of our history books... Get tickets
Whether you're a pre-grated cheddar sprinkler or mimolette fan, this cheesy walking tour will delight your senses. Starting off at a cheese counter in Mayfair that has been serving for more than 300 years, you'll tour the city's best dairy delights - including Fortnum & Mason, where the royals get their fix. Get tickets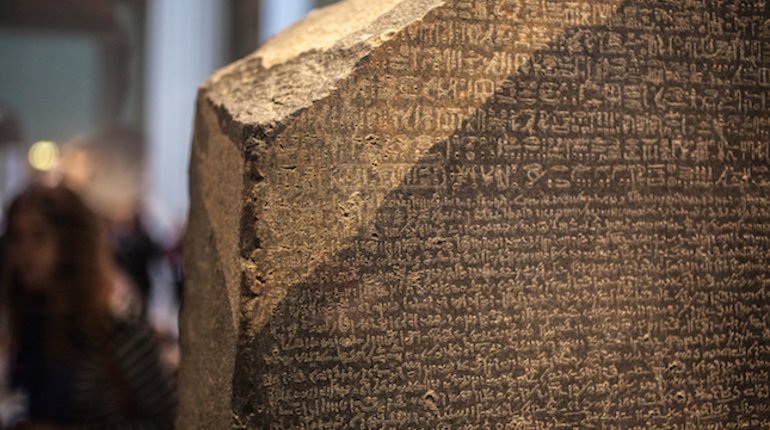 Track the journey of humanity through this tour around the British Museum. The tour aims to help you understand why the world is the way it is, and show how humans learned to question absolutely everything. Get tickets
The Underworld collides with the Underground in more ways that one -- from the angel that saved a tube worker from death to the ghosts of King's Cross, discover the ghoulish history of the Undergound on a tour around the city. £10 Get tickets