Things to do this week is sponsored by Label 5 Scotch whisky.
All week
THE TIME CAPSULE: Five estranged friends walk into a pub. This isn't the set up to a joke, but a choose your own adventure play where you control the characters' fates — will they fall in love? Come to blows? Reveal their darkest secrets? It's basically like a real life Sims game (but hopefully less sadistic). The Landor Space (Clapham), £15, book ahead, 17-29 July
CHE MALAMBO: Argentinian machismo is the order of the week at Sadler's Wells, where all-male percussive dance sensation Che Malambo will be strutting their stuff. Admire the power, poise, and posturing of these gaucho cowboys, whose fast-paced footwork combines flamenco, step dancing, and body percussion. The Peacock Theatre (Holborn), £15, book ahead, 18-22 July
A MILE IN MY SHOES: Take an empathetic amble around the Freud Museum, which invites you to quite literally walk a mile in someone else's shoes. You'll hear a collection of audio stories shared by a diverse array of migrants and refugees who have made London their home. Freud Museum London (Hampstead), £9 (includes museum admission), just turn up, 18-23 July
Monday 16 July
NOVELIST OF THE SEA: Celebrate the late author Patrick O'Brian, whose sea-faring stories featuring Captain Jack Aubrey and Stephen Maturin brought him critical acclaim. Flying the flag for the novelist tonight is historian (and O'Brian's stepson) Nikolai Tolstoy, marine artist Geoff Hunt, and historian and presenter Kate Williams. British Library, £12, book ahead, 7pm-8.30pm
NEON NAKED LIFE DRAWING: See the human form in a whole new light at a terrifically trippy life drawing class. Having been artfully adorned in reactive body paints, your models will become living sculptures under UV light for you to recreate in pencil or fluoro neon pastels. The Duke of Wellington (Dalston), £12, book ahead, 7.30pm-9.30pm
DIDO AND AENEAS: Seduction, sorcery and a betrayal of epic proportions — the legend of Dido and Aeneas has it all. Add Henry Purcell's Baroque operatic compositions into the mix and you've got more than enough drama for one night. The Albany (Deptford), £20, book ahead, 7.30pm-8.30pm, until 20 July
Tuesday 17 July
KIDDIE CANDLE MAKING: Struggling to keep your brood entertained this summer? Get them stuck into a scented candle making workshop with candle maker, Jonathan Ward. Not only will it silence any complaints of boredom, they'll have their own organic candle to take home at the end of the session. Beaufort House (Chelsea), £30, book ahead, 11am-12.30pm
CORBYNMANIA: Wherever you fall on the political spectrum, there's no denying that the leader of the opposition has made a massive impact on the social media generation. From memes to Jeremojis, writer Huw Lemmey will look at the many ways social media has fuelled Corbynmania. The Design Museum (Kensington), £12, book ahead, 6.30pm-8pm
UNIVERSALLY CHALLENGED: From origami Olympics to pun play, this pub quiz-cabaret night promises to be a nerdy night to remember. Join Jonny Berliner and Simon Watt for  your chance to get your hands on some seriously niche prizes. The Book Club (Shoreditch), £6/£8, book ahead, 7pm
DONA ONETE: The woman crowned the Grande Dame of Amazonian Song comes to Shoreditch, and she's bringing her intoxicating blend of Amazonian, Afro-Brazilian and Caribbean rhythms with her. See stunningly talented septuagenerian Dona Onete perform live tonight. Rich Mix (Shoreditch), £10-£15, book ahead, 8pm
---
Sponsor message
Free street art masterclasses in Shoreditch this Friday
Fancy yourself a bit of a street art whizz, but don't know where to start? There are free graffiti masterclasses taking place in Shoreditch this week, thanks to Label 5 Scotch Whisky.
They've drafted in street art experts Graffiti Kings to provide one-on-one workshops to members of the public, as part of a Worldwide Street Art Tour. Need a bit of 'creative inspiration', or prefer to watch someone else do the hard work? There's also a pop-up bar serving free, street art inspired cocktails made with award-winning Label 5. What a way to start kick off the weekend.
Free street art masterclasses take place at BoxPark Shoreditch on Friday 20 July 2018, 12pm-7pm. Just turn up, over 18s only. Always drink responsibly.
---
Wednesday 18 July
WINE TASTING SOCIAL: If you're looking for an event to meet new people, why not try one with a generous dose of inbuilt social lubrication? Enjoy an hour of interactive wine education while mixing with like-minded lovers of the grape and the folks at Tastour. Walrus and Carpenter (Monument), £15, book ahead, 6.45pm
PIRATES OF PENZANCE: Shiver me timbers, Illyria's open air theatre has returned. Tonight they're performing family classic the Pirates of Penzance, so pack a picnic (and maybe a brolly) and head east for some sea-faring fun. The Temple (Wanstead), £15, book ahead, 6pm
FOREVER YOUNG FILM CLUB: Let's face it, there's only so many times you can rewatch Mean Girls. Discover a whole new world of teen flicks with the help of the Forever Young Film Club, starting with 2005's Brick. Starring a young Joseph Gordon Levitt, this genre-bending film noir sees a high school loner obsessively investigate the mysterious disappearance of his ex-girlfriend. Deptford Cinema, £6, book ahead, 7.30pm
BAHA YETKIN AND THUMBELINA: Start your evening enjoying to the dulcet tones of the Turkish oud before delving into a musical fairy tale. Egyptian-German singer-composer Merit Ariane will be bringing the Hans Christian Andersen classic Thumbelina to life through the power of song amid the cosy glamour of Sands Films. Sands Film Studio (Bermondsey), £14, book ahead, 7.45pm
Thursday 19 July
PORTMAN MARYLEBONE SUMMER STREET PARTY: There's hula hooping, Latin dance, and plenty of street food for you to tuck into at the Portland Marylebone Summer Street Party. If you're tempted to splurge, make sure you take advantage of the many promos offered by the nearby boutiques. Seymour Place & New Quebec Street (Marylebone), free entry, just turn up, 5pm-10pm
STREET FOOD AND CINEMA: Start your adventure above ground with cocktails and street food in the Brunel Museum garden, before descending into the world's oldest railway tunnel shaft for a film screening. Is there a better way to spend a summer's evening? Brunel Museum (Rotherhithe), £25, book ahead, 6.30pm-10pm (partner)
WOMEN'S ADVENTURE FILM TOUR: From scaling mountains to plunging into the depths of the ocean, the stars of this adventure film anthology will have you on the edge of your seat. Discover the most inspiring women in outdoor sports with the help of the Women's Adventure Film Tour. Ritzy Cinema and Cafe (Brixton), £14, book ahead, 6.30pm-8.30pm
PYROGRAPHY CLASS: Feel the burn at the Royal Society of Sculptors, where London Craft Club will be teaching you the ancient art of pyrography (fire-writing). There's some wood offcuts for you to practice on before you get cracking creating artful burn marks on chopping boards, kitchen utensils, or whatever tickles your fancy. Royal Society of Sculptors (South Kensington), £49, book ahead, 6.30pm
LOOSE CANNONS: Tomfoolery is the order of the day aboard The Golden Hinde, where a crew of comedians will regale passengers with surreal sketches and stand up. The Golden Hinde (Bankside), £5, book ahead, 7.30pm-10pm
Friday 20 July
KERB CAMDEN LATE: Your street food faves are staying up late at KERB Camden to bring you delights such as jerk chicken nuggets, tofish tacos, and cheese drenched hand-rolled pasta. As it's a Friday, the market will also play host to some banging DJs and KERB's signature cocktails. KERB Camden (Camden Lock Place), free entry, just turn up, 6pm-10pm
LONDON MAORI CLUB: Celebrate six decades of Māori culture in London with waiata and haku performed in traditional costume. Ngāti Rānana London Māori Club will take you on a fascinating journey into indigenous Polynesian culture. British Library, £12, book ahead, 7pm-8.30pm
KEATON HENSON: Melancholic melody maker Keaton Henson's new multi-sensory piece, Six Lethargies, premieres tonight with a performance from Britten Sinfonia. The composer has handed these six connected movements exploring anxiety and depression over to the string orchestra and, in part, to the audience — a portion of whom will have their reactions monitored via bio-metrics to influence aspects of the production. The Barbican Centre, £18, book ahead, 8pm-11pm
PARK NIGHTS: You've never witnessed a dance battle like this before. Join Meriem Bennani and Flavien Berger for a free style virtual dance off that integrates motion capture technology, 3D animation and a digital avatar. Serpentine Pavilion, £5, book ahead, 9pm
Saturday 21 July
LONDINIUM MORTUUM: Take a trip to old Londinium on walk through a key Roman burial site. At the eastern cemetery, you'll take in memorial structures, chalk burials, and discover why 100 frogs were laid to rest here. Meet at Tower Hill Underground Station, £20, book ahead, 11am
PROSECCO AND PUPPIES: Are there two words in the English language more beautiful than prosecco and puppies? We think not. Bring your four-legged friend along for a luxury dog meet up featuring pupcakes and puppucinos for the pooches, and bottomless fizz, vegan cupcakes and a luxury goodie bag worth over 50 quid for their humans. Don't fret if you're dogless — there are person-only tickets available too. ICETANK (Covent Garden), from £50, book ahead, 12pm-4pm
TOWN MOUSE AND COUNTRY MOUSE: Follow two mice-y marionettes onto a floating theatre for an afternoon of music and adventure. The Puppet Theatre Barge have reimagined the children's favourites in (you guessed it) puppet form. Puppet Theatre Barge (Richmond), £13, book ahead, 2.30pm, until 5 August
TEA CEREMONY: Join artist Yoi Kawakubo at his solo exhibition for a traditional Japanese tea ceremony... carried out in total darkness. You'll need to contact the gallery to participate and, if there's space, you'll receive and handwritten invitation for matcha tea and Japanese sweets in a pitch black room where touch, taste, and sound come to the fore. Yamamoto Kieko Rochaix (Spitalfields), £10, book ahead, 4pm/5pm/5.30pm
BENEATH THE SURFACE: Join our very own visual arts editor Tabish Khan for an evening chat with artist Thomas J. Price. They'll be discussing Price's figurative sculptures, which draw on observed individuals, media archetypes, and ancient, classical, and neo-classical sculptures to create psychological portraits of imagined subjects. Under the Leadenhall Building (Bank), free, book ahead, 8pm-9pm
Sunday 22 July
ROYAL PARKS 10K: Got an impromptu 10k in you? Runners of all abilities are invited to race three laps of Regent's Park, with everyone who crosses the finish line rewarded with a shiny medal. Plus, the fastest five male and female runners will get their hands of some rather swish running gear. Regents Park, £18, book ahead, 9.30am-12.30pm
DINOSAUR CRAFTING: Take the little ones for some pre-historic themed fun at OKIDO's latest science and art workshop. Suitable for ages 3-7. Telling Tales (Hackney), £8, book ahead, 10am-2.30pm
BLITZ GARDENS: Discover the beautiful urban oases that were once places of devastation on a guided walk across the City's second world war bomb sites. From former Christopher Wren churches to Roman ruins, there's plenty to discover. Meet outside the Museum of London, £12, book ahead, 2.30pm-4.30pm
HENNING WEHN: If you're a fan of Germany's self-proclaimed comedy ambassador Henning Wehn, you might want to get your skates on and snap up tickets to his Edinburgh Fringe Preview — all his other UK dates are sold out until October. The Comedy Pub (Piccadilly), £12, book ahead, 7.30pm
Fun things to do with our friends and sponsor Funzing...
London is a city of incredible transformation. With structural remains that date back to ancient history still in existence, this unique walking tour takes in Lost London in all its former glory. From the Titanic booking office to the graveyards of man's best friend, you'll discover the weird and wonderful places that used to exist in the capital but are now only committed to memory. Using old photographs, newspaper cuttings and stories from the past, you'll be amazed at what has largely been written out of our history books... Get tickets
Tales of torture and plagues await you on a historical walk around London -- see bombed out ruins, discover Medieval markets and even visit a Roman ampitheatre. £12 Get tickets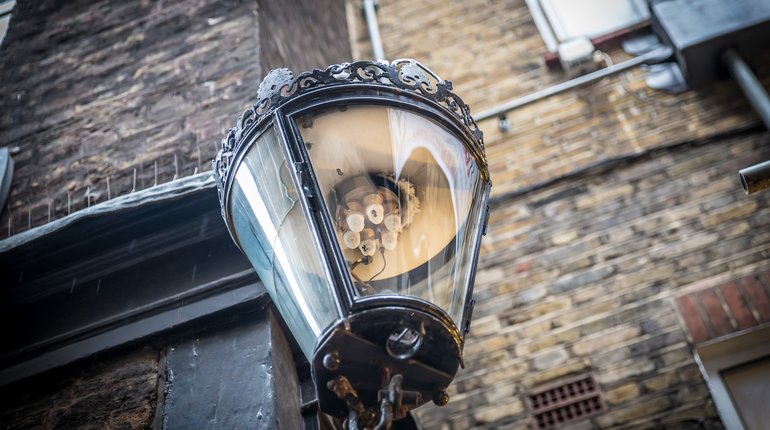 Cross gas lit alleyways and stroll by ancient pubs as you discover forgotten parts of London. See the world's smallest police station and visit London's most superstitious hotel on a walking tour covering everything weird, wonderful and London. £12 Get tickets
Take to the waters and glide about in this beginner paddleboarding session. By the end of it, you'll be standing up and paddling solo, and there's plenty of help on hand to improve your technique. Change of clothes required. Get tickets