Things to do today is sponsored by The Postal Museum.
What we're reading
Things to do
FILM SCREENING: Bring little ones along to this screening of Raymond Briggs' Father Christmas and Peter and the Wolf, accompanied by a live score from the Mozart Symphony Orchestra and actors performing the dialogue (including Brian Blessed as narrator). A treat for the eyes and ears. Cadogan Hall, £15-£30, book ahead, 1.30pm/4.30pm
SOLSTICE SHORTS: Join artists, writers and musicians as they perform at 12 locations across the UK to mark the shortest day of the year. The performances take place at (astronomical) Dusk exactly, and will overlap, so that somewhere in the ether everyone is reading/singing together. How cool is that? The London readings take place in Greenwich. West Greenwich Library, £3, book ahead, 5pm-7pm
LATE NIGHT SHOPPING: Strike up a conversation with the LRB staff and you're bound to come away with an armful of books and a list of recommended reads. Tonight you can browse with a mulled wine in hand and get 10% off any purchase you make. London Review Bookshop (Bloomsbury), free, just turn up, 6pm-8pm
COCKTAIL MASTERCLASS: If you like your coffee strong and served up in a Martini glass then make a beeline for this masterclass, where you'll whip up a classic Tia Espresso Martini plus a new mulled recipe: a heady mix of Tia Maria, Jamaican rum, amaro liqueur and cafetière coffee, infused with fragrant lemon peel and cassia bark. Yum. Chapter 72 (Bermondsey), £25, book ahead, 6pm-8pm
MIDWINTER STORYTELLING: Urban storytellers London Dreamtime invite you to swap your evening in the warm for a late night meander around the city. You'll hear tales of the Thames followed by live music from George Hoyle and a hot drink on the Battersea Barge. It'll be way more exiting than Netflix, promise. The 6.30pm walk is fully booked but an extra slot has been added. Nine Elms, free, book ahead, 5pm-7pm
---
Sponsor message
Struggling to find a truly original Christmas present? Try a slice of hidden underground history.
Tickets to Mail Rail at The Postal Museum are the perfect gift that can be enjoyed by the whole family. You'll be giving a unique gift:
A 20 minute ride through a stalactite-filled network of tunnels. These were previously used by Royal Mail to shuttle millions of letters and parcels from one end of London to the other. The ride is narrated by a former Mail Rail engineer, who worked in the tunnels for 40 years, and incorporates an impressive audio visual display that is projected onto the walls of the former Mail Rail platforms.
Access to a Mail Rail exhibition in a former engineering depot, deep below Mount Pleasant Sorting Office in Clerkenwell.
Access to The Postal Museum across the street, which reveals five centuries of Britain's social history, and tells the story of the earliest social network: the post.
That's got to be better than another pair of socks or bottle of bubble bath.
Tickets cost £16 each, including a £1.50 gift aid donation. The Postal Museum and Mail Rail, Phoenix Place, WC1X 0DA. Open every day, 10am-5pm, except 24-26 December 2017.
---
AFFORDABLE ART GROTTO: Pick up affordable art from local Dalston artists at this modern, minimalist wine bar, which also does a mean winter spritz. Acqua7, free, just turn up, 7pm-2am
APOCALYPSE MEOW: Emma Rice, the Aussie-born cabaret queen is back with this anti-Christmas extravaganza. It promises to be both heartwrenching and hilarious. Shakespeare's Globe, £10-£35, book ahead, 7.30pm
LIVE MUSIC: Go to Cafe Oto if you're after something a little eclectic and experimental. Tonight SVS Radio are welcoming the winter solstice with a mix of ambient, acoustic and electronic sounds from Jessica Sligter and BirdWorld. Cafe Oto (Dalston Junction), £10, book ahead, 7.30pm-11pm
BEAT MEET BRIXTON: Get down to Brixton for a mixture of hip-hop, experimental beats and snazzy samples from the best of the UK/international Beat scene. Plus, projected visuals and video game tournaments will keep you occupied throughout the night. Upstairs at the Ritzy (Brixton Oval), £5, book ahead, 7.30pm-midnight
SLEAZE: After one final piss-up before you make a run for the holidays? Make it this fruity and festive cabaret night, featuring drag acts, pole dancing and plenty of prizes and maybe even a visit from the big man himself. The Bethnal Green Working Men's Club, £10/£8, book ahead/just turn up, 7.30pm-midnight
Good cause of the day: Hug for the homeless
Join volunteers as they attempt to break the world record for world's longest hug to raise awareness of homelessness in the UK. Rough sleeping in England rose by 134% between 2010 and 2016. The team need willing huggers, entertainment and hot drinks and food to keep morale high. Find out more about the hug-out here. Parliament Square, free, just turn up, 8am, until 22 December
Fun things to do with our friends and sponsor Funzing...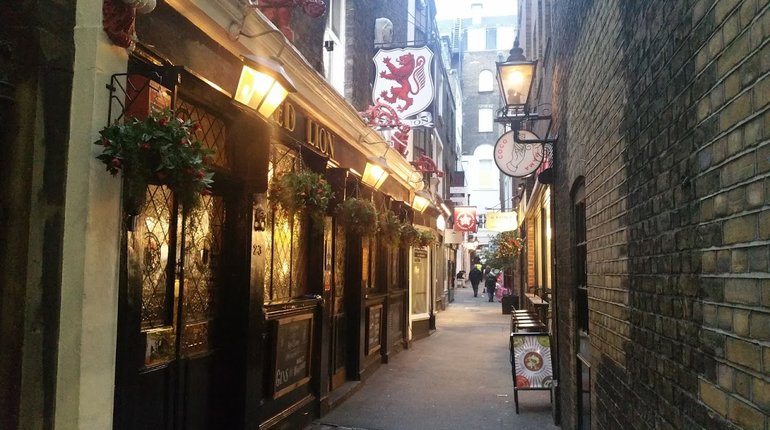 London is a city of incredible transformation. With structural remains that date back to ancient history still in existence, this unique walking tour takes in Lost London in all its former glory. From the Titanic booking office to the graveyards of man's best friend, you'll discover the weird and wonderful places that used to exist in the capital but are now only committed to memory. Using old photographs, newspaper cuttings and stories from the past, you'll be amazed at what has largely been written out of our history books... Get tickets
Tales of torture and plagues await you on a historical walk around London -- see bombed out ruins, discover Medieval markets and even visit a Roman ampitheatre. £12 Get tickets
Cross gas lit alleyways and stroll by ancient pubs as you discover forgotten parts of London. See the world's smallest police station and visit London's most superstitious hotel on a walking tour covering everything weird, wonderful and London. £12 Get tickets
Become more connected to your body and learn how to express yourself sexually is this workshop open to both males and females. Fully clothed and without touch, you'll learn how to utilise ancient practices to build a strategy to experience a full-body orgasm whenever you feel like it. Get tickets