Things to do today is sponsored by The Postal Museum.
What we're reading
Things to do
ENCHANTED PALACE: Whether you're looking for a bit of a history lesson or just some pretty lights to fill your Insta feed on this cold winter night you'll find it at Eltham Palace and its grounds, which will be lit up with twinkling, medieval-themed illuminations. Eltham Palace, £12, book ahead, 4.30pm-9pm, until 23 December
CHILDREN'S BOOK FAIR: Wondering what to feed the mind of your little bookworm? There'll be plenty of literary inspiration, arty workshops, author readings and a live drawing session with illustrator Emily Rand at the London Children's Book Fair. Parasol Unit Foundation for Contemporary Art, free, book ahead, 15-16 December
VIOLINS & BUTTERFLIES: If you missed out (or can't afford Nutcracker tickets) but still want to get your ballet fix, head to Devonshire Square to see the Sophie Adams Ballet Company, who will be twirling their LED tutus and enchanting butterfly costumes with illuminated wings. Devonshire Square (Liverpool Street), free, just turn up, 5pm-5.45pm
---
Sponsor message
Mail Rail: A Christmas gift like no other
Struggling to find a truly original Christmas present? Try a slice of hidden underground history.
Tickets to Mail Rail at The Postal Museum are the perfect gift that can be enjoyed by the whole family. You'll be giving a unique gift:
A 20 minute ride through a stalactite-filled network of tunnels. These were previously used by Royal Mail to shuttle millions of letters and parcels from one end of London to the other. The ride is narrated by a former Mail Rail engineer, who worked in the tunnels for 40 years, and incorporates an impressive audio visual display that is projected onto the walls of the former Mail Rail platforms.
Access to a Mail Rail exhibition in a former engineering depot, deep below Mount Pleasant Sorting Office in Clerkenwell.
Access to The Postal Museum across the street, which reveals five centuries of Britain's social history, and tells the story of the earliest social network: the post.
That's got to be better than another pair of socks or bottle of bubble bath.
Tickets cost £16 each, including a £1.50 gift aid donation. The Postal Museum and Mail Rail, Phoenix Place, WC1X 0DA. Open every day, 10am-5pm, except 24-26 December 2017.
---
LIGHT NIGHT: This pretty oasis in the opposite Dalston Junction station is one of east London's best-kept secrets. Pull up a tree stump seat among the fairy lights and make the most of the winter greenery away from the high street traffic. Double bass Dan & Friends play this evening. Dalston Eastern Curve Garden, free, just turn up, 5pm-10pm
VEGAN MARKET: Browse animal-free cosmetics, pleather goods and meat-free treats for your vegan mates (or yourself) at this new night market. We've heard there might even be something that tastes suspiciously like Baileys (without the dairy). London Irish Centre,  just turn up, 5pm-10.30pm
ROOF PARTY: Just 'cause the sun's done a runner doesn't mean you have to stay in. Especially when there's a rain-proof, heated rooftop to party on. At the launch tonight expect a photobooth/grotto, free shots and Christmas-themed sets from the DJs. Dalston Roof Park, £10, book ahead, 5pm-midnight
CHRISTMAS QUACKS: Seen the BBC's hit series Quacks and wondering if the 19th century world of medicine was really THAT gruesome? Meet the team behind the series over a mince pie (if you aren't put off your food). Royal College of Physicians (Marylebone), £9.57, book ahead, 6pm-8pm
MOOMIN LATE: There's no shame in being a grown-up Moomin fan, as many will attest at this gallery late put on just for you weirdos (joking!). Create a Moomin-inspired self-portrait, enjoy candlelit readings of Moomin stories and drink cocktails at this adults-only late. If you've got kids check out the child-friendly programme happening this weekend. Dulwich Picture Gallery, £12.50-£15.50, book ahead, 6pm-10pm
WREATH MAKING: Come and get hands-on with pine cones, chestnuts, baubles and berries at this wreath-making workshop, which is also BYOB, if you need to get the creative juices flowing. M.Y.O @ re-creation (Borough), £30, book ahead, 6.45pm
BRIXTON BURLESQUE: For sassiness, sex appeal and tongue-in cheek humour, pull up a seat at the South Pole Saloon, where striptease artist Dinah Might is putting on a show alongside a pop-up lingerie boutique from Rosie Von Boschan. Brixton Rooftop, from £19, book ahead, 7.30pm-9pm
Good cause of the day: Do your Christmas shop and support Calais
Bridge the Channel is a pop-up shop, where you can buy the work of local south London makers, take part in free screen printing and drawing workshops and donate your stuff or your money to L'Auberge des Migrants, a charity providing vital support to vulnerable people in Calais. Pempeople (Peckham), free, 10am-7pm, 15-17 December
Fun things to do with our friends and sponsor Funzing...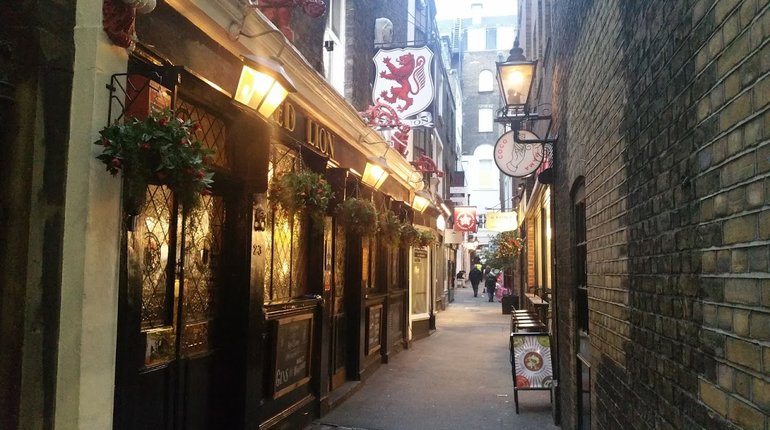 London is a city of incredible transformation. With structural remains that date back to ancient history still in existence, this unique walking tour takes in Lost London in all its former glory. From the Titanic booking office to the graveyards of man's best friend, you'll discover the weird and wonderful places that used to exist in the capital but are now only committed to memory. Using old photographs, newspaper cuttings and stories from the past, you'll be amazed at what has largely been written out of our history books... Get tickets
Tales of torture and plagues await you on a historical walk around London -- see bombed out ruins, discover Medieval markets and even visit a Roman ampitheatre. £12 Get tickets
Cross gas lit alleyways and stroll by ancient pubs as you discover forgotten parts of London. See the world's smallest police station and visit London's most superstitious hotel on a walking tour covering everything weird, wonderful and London. £12 Get tickets
Become more connected to your body and learn how to express yourself sexually is this workshop open to both males and females. Fully clothed and without touch, you'll learn how to utilise ancient practices to build a strategy to experience a full-body orgasm whenever you feel like it. Get tickets