All weekend
POLO IN THE PARK: Watch world-class polo players go mallet to mallet while you guzzle champagne and Pimm's at Chestertons Polo in the Park. There's plenty to keep the kids entertained, too. Hurlingham Park (Fulham), £30, book ahead, 8-10 June
CRAFTY FOX MARKET: Go west for an eclectic selection of affordable wares from over 70 independent traders. From handmade ceramics to quirky jewellery and art prints, Crafty Fox Market has it all. It's also a prime opportunity to have a nose around a beautiful artists' co-working space. Kindred Studios (Queen's Park), free, just turn up, 9-10 June
SOHO FOOD FEAST: Over 50 of London's top eateries will be cooking up an alfresco storm while you get your groove on to live music and indulge in a bit of celeb spotting. The likes of Ember Yard, Brindisa and Bone Daddies will be treating you to their signature small plates for just £2 a pop, with all proceeds going to local primary school Soho Parish. St Anne's Gardens (Soho), from £15, book ahead, 9-10 June
AIRCRAFT CIRCUS ACADEMY: Ever wanted to learn the art of trapeze? How about the tightrope? You can with the help of London's oldest independent circus school, which opens the doors of its brand new training venue this weekend. If heights aren't your thing, you can keep your feet planted firmly on the ground with a tour, a sizzling cabaret show, and a masterclass in hula-hooping. AirCraft Circus Academy (Greenwich), £10, book ahead, 9-10 June
THE TRUTH DETECTIVES: Follow a map of an artist's life or explore the inner self using a one-of-a-kind tarot deck at an exhibition and open house that's all about introspection. Six artists invite you to discover their life histories, creative influences and artistic practice over homemade cakes as part of The Crouch End Festival. Space 36 (Crouch End), free, just turn up, 9-10 June
Saturday 9 June
FUTURE ME: You don't need a TARDIS to travel through time when the Imagination Lab's around. Through imaginative invention, VR, puppetry, green screen, and so much more, you and the whole family can get a sneak peek at the future of tech. The Workshop (Lambeth), £7-£12, book ahead, 10am-5pm
LABYRINTH LOVERS: Fancy yourself as a Theseus type? Ok, so hopefully there won't be any Minotaur-slaying on the agenda, but you'll definitely need to know your labyrinths at this gathering for those who just love to get lost. Meet fellow labyrinth enthusiasts and explore a beautiful pocket of Epping Forest at The 'Labyrinths In Britain' Gathering 2018. Wanstead Quaker Meeting House (Leytonstone), £25, book ahead, 10am-4pm
TALES FROM THE NORTH BANK: From medieval cloisters to jazz modernity and Parisian-style boulevards, the architecture of the 'North Bank' is nothing if not eclectic. Discover its hidden gems and sleeping giants on a guided walk from Blackfriars to Aldwych. Meet at Blackfriars tube station, £16, book ahead, 10.30am-1pm
CROSSRAIL PLACE ROOF GARDEN: Explore an exotic oasis in the heart of Canary Wharf as part of Open Garden Squares Weekend. Crossrail Place Roof Garden is hosting an exciting programme of free events including children's workshops, guided tours, and a classical harpist performance. Crossrail Place Roof Garden, free, just turn up, 10am-6pm
POP BRIXTON BIRTHDAY: Many happy returns to Pop Brixton, which is celebrating turning three in spectacular fashion. There's daytime crafts for the kids, pop up shopping courtesy of Wasted Chic and a stellar musical line up. Pop Brixton, free entry, just turn up, 11am-midnight
CONSERVATION STUDIO TOUR: Go behind the scenes at The National Archives and see the work that goes into keeping their treasures in mint condition. Conservators and conservation scientists will be on hand to demonstrate how they care for the nation's history as part of International Archives Day. The National Archives (Kew), free, book ahead, noon/2pm/3.30pm
GIN AND FORAGING: Get into the spirit of World Gin Day with expertly mixed G&Ts from The Botanist and a foraging masterclass in the midst of an Edwardian hotel's courtyard. You'll learn the story behind The Botanist Gin and discover the edible plants just waiting to be found all around London. Rosewood London (Holborn), £45, book ahead, 3pm-5pm
BEARPIT KARAOKE: What started as one man's mission for attention has become a landmark of Berlin's cultural scene. Now, Joe Hatchiban's Bearpit sessions return to Vauxhall. Here's it in a nutshell — you coax a complete stranger into singing karaoke in the park, and if a crowd gathers, persuade a spectator to give it a go too. Repeat these simple steps until everyone runs out of steam. Easy, right? Vauxhall Pleasure Gardens, free, just turn up, 3pm-7pm
NOCTURNE CYCLE RACE: On yer bike — Cheapside has been transformed into a closed 1.2k cycling circuit for a mix of elite and amateur racing that lasts well into the night. Before the pros go head-to-head after dark, there's the folding bike and penny farthing races to keep you entertained. Cheapside Circuit (City of London), free to watch, just turn up, 3pm-10pm
---
Sponsored listings
Sounds Like London: our picks this weekend
June brings the Mayor of London's Sounds Like London campaign to the capital — a month-long celebration of both women in music and London's grassroots music scene. Here's our pick of this weekend's Sounds Like London events.
JUNCTION 2 FESTIVAL: Way out in Boston Manor, comes a festival filled with some of the biggest superstar DJs on the planet. The lush surroundings of suburban London juxtapose with thumping bass. It's headlined by the beloved techno queen, Nina Kraviz. Boston Manor Park, £41-£70, 12pm-10pm, 9 June
UMPALIFIRE: The Nest Collective's family friendly, worldwide roots festival returns to Deptford. There are four stages showcasing music from all over the globe along with a campfire sing-a-long area. The Master Shipwright's Palace, £28-£35, 3.30pm-11pm, 9 June
JUMPIN JACK FROST: In honour of his new autobiography, join legendary Jungle pioneer Jumpin Jack Frost as he recounts stories from his quarter century career. Platform LDN, free to enter ballot, 12pm-6pm, 10 June
KATIS: Funk-infused pop from KATIS in the heart of Hackney, thanks to Little Concert and Airbnb. Behind The Wall, £10, 7pm-10pm, 10 June
---
Sunday 10 June
ANTIQUES ROADSHOW: Don't pretend you're too cool for a bit of classic BBC 2 programming. This weekend, Londoners can experience the excitement of Antiques Roadshow first-hand, as Fiona Bruce and the gang rock up to appraise your family heirlooms. That vintage salt shaker might not make you a millionaire, but at least you might get on the telly. Eltham Palace and Gardens, free, just turn up, 9.30am-5.30pm
FROCK ME VINTAGE FAIR: Have a rummage through a veritable treasure trove of old clobber at London's original vintage fashion fair, with items dating all the way back to Georgian times. Kensington Town Hall, £4, book ahead, 11am-5pm
HERE EAST: Explore what concrete jungles are really made of with the whole family at this free architecture festival. There's model-making, Lego, storytelling, and city trails to inspire  your little ones — who knows, maybe you'll end up raising the next Zaha Hadid. Queen Elizabeth Olympic Park (Stratford), free, just turn up, 11.30am-3pm
UNION CHAPEL SUMMER FETE: An afternoon of arts, music, games, and competitive baking awaits, all in honour of the centenary of women's suffrage. As well as placard making and female-led live performances, you've the chance to claim baking glory by recreating one of four recipes from the original Women's Suffrage Cookery Book. Union Chapel (Islington), free, just turn up, 12pm-4pm
THE SWING COMMANDERS: Someone tell The Swing Commanders that the 1940s called and they want their music back. From American Songbook classics to Western Swing, this quirky quintet's lush vintage covers are guaranteed to get you onto the dance floor. Hideaway Jazz Club (Streatham), £15, book ahead, 2pm
THE COMEDY SCORE: Joel Dommett and Steve Dunne return for series two of The Comedy Score Podcast live. Ever wondered what a stand up story accompanied by a custom-composed cinematic score sounds like? You're about to find out. The Bill Murray (Islington), £5 in advance/pay what you want OTD, 4pm-5.30pm
OAK TREE WALK: There's nothing more wholesome than a Sunday afternoon ramble. Learn about the ancient trees of Dulwich Park on this free guided walk, part of the Great North Wood Project. Meet at the Court Lane gates of Dulwich Park, free, just turn up, 4pm-6pm
MISSION TO MARS: Take your protein pills and put your helmet on, because it's time for a cinematic adventure that's totally out of this world. Backyard Cinema is here to take you to outer space for an immersive film experience complete with floating stars and a space station bar. Choose between Black Panther and Star Wars: The Last Jedi as your in-flight entertainment. Backyard Cinema (Elephant & Castle), from £17.50, book ahead, 4.30pm/8.30pm
GUT INSTINCT: Four off duty musicians from the UK's finest period instrument orchestras have come to Islington to introduce you to stylus fantasticus — an early baroque musical genre that introduced 17th century Germany, Austria, Bohemia and Italy to mind-bending new sounds. St James's Church (Islington), £15, book ahead, 7.30pm
EDINBURGH PREVIEWS: Expect horoscopes, Cary Grant, and self-deprecation as comedians Lisanne Fridsma and Mel Byron warm up for the Edinburgh Fringe. Avoiding your personal destiny and learning all about life from old movies? We can relate. Hornsey Town Hall (Crouch End), free, book ahead, 8pm-10.15pm
Fun things to do with our friends and sponsor Funzing...
London is a city of incredible transformation. With structural remains that date back to ancient history still in existence, this unique walking tour takes in Lost London in all its former glory. From the Titanic booking office to the graveyards of man's best friend, you'll discover the weird and wonderful places that used to exist in the capital but are now only committed to memory. Using old photographs, newspaper cuttings and stories from the past, you'll be amazed at what has largely been written out of our history books... Get tickets
Take to the waters and glide about in this beginner paddleboarding session. By the end of it, you'll be standing up and paddling solo, and there's plenty of help on hand to improve your technique. Change of clothes required. Get tickets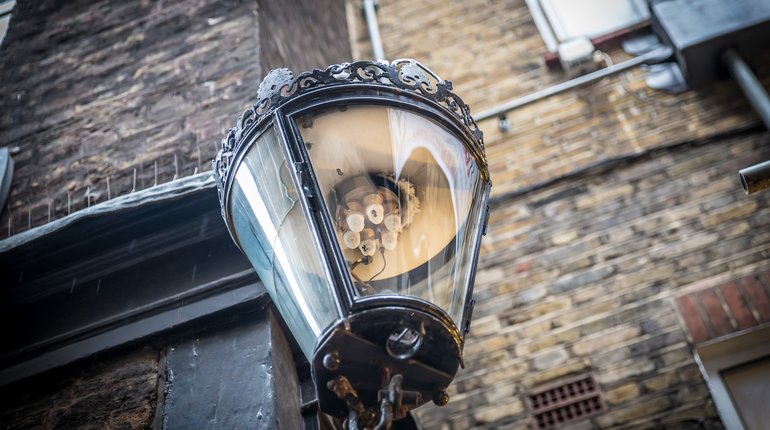 Cross gas lit alleyways and stroll by ancient pubs as you discover forgotten parts of London. See the world's smallest police station and visit London's most superstitious hotel on a walking tour covering everything weird, wonderful and London. £12 Get tickets
Whether you're a pre-grated cheddar sprinkler or mimolette fan, this cheesy walking tour will delight your senses. Starting off at a cheese counter in Mayfair that has been serving for more than 300 years, you'll tour the city's best dairy delights - including Fortnum & Mason, where the royals get their fix. Get tickets