Alas it's not coming home, but if you're still looking for somewhere to watch the World Cup, check out our full guide here. If Wimbledon is more your thing, we've got a guide on where to watch that too.
All weekend
THE IDLER FESTIVAL: Summer festivals don't have to mean getting caked in mud before retreating to a baking hot tent. This weekend, head to a 17th century mansion in the heart of Hampstead Village instead. The Idler's got a carefully curated line up of classes, debates and performances, including harpsichord recitals, tips on idle beekeeping, and talks from the likes of Michael Palin and David Graeber. Fenton House (Hampstead), from £35, book ahead, 13-15 July
STEAM TUG BOAT TRIP: Take a trip on an historic ship down the Thames. At the ripe old age of 101, the Steam Tug Portwey is the last coal-fired twin engine steam tug in the UK, and she's just waiting for your patronage. Thames Quay, £35, book ahead, 13-15 July
DANCE OVERTURE: Get ready for a jazz, ballet, contemporary dance, and musical theatre mash up that combines young dance talent with the work of emerging and established choreographers. New Wimbledon Theatre, £13, book ahead, 13-15 July
EVELYN'S ROOTS: Discover 400 years of Deptford's past on a storytelling stroll through the district. You'll hear tales, both real and imagined, of the celebrated and forgotten people who have put down roots here over the centuries. Sayes Court Park (Deptford), free, just turn up, 11am-12.30pm, 14-15 July
HACKNEY FLEA MARKET: One of east London's best vintage markets returns to bring you more salvaged treasures. Expect old clobber, vinyl, kitsch homeware, and plenty of other bric-a-brac. Abney Hall (Stoke Newington), free, just turn up, 11am-6pm, 14-15 July
Saturday 14 July
EAST VILLAGE SUMMER FETE: The former Olympic Village has a sparkling afternoon of fun planned to mark the neighbourhood's fifth birthday. East Village is celebrating with a glitterball fancy dress disco, free shimmery makeovers, and 200 slices of glitter pizza to give away. East Village (Stratford), free, just turn up, 11am-4pm
THE ART OF BONSAI: Let Peter Warren give you a tree-torial in bonsai cultivation. He'll brief you on bonsai history, varieties, and styles, as well as doling out practical tips for care and maintenance. Japan House (Kensington), free, just turn up, 11am-1pm/2pm-4pm
SHOUTOUT LIVE: The UK's first women's podcast festival lands in King's Cross today to celebrate the industry's best female voices. The likes of Anita Rani, Cariad Lloyd, and The Slumflower will be rocking up, and if you're an aspiring podcaster yourself, there'll be plenty of tips for taking your show to the next level. Kings Place, £25-£35, book ahead, 12pm-8pm
THE CHAP OLYMPIAD: Modern day dandies and those with a flair for flamboyancy, this is the eccentric sporting event for you. Bourne & Hollingsworth and The Chap Magazine team up for the annual celebration of unconventionality, the Chap Olympiad. Games include a tea relay race, umbrella jousting, and butler baiting. Plus, there's loads of gin. Bedford Square Gardens (Bloomsbury), £25, book ahead, 12pm-9pm
HACKNEY BREWERY OPEN DAY: Pinball and beer — what more could you ask for on a Saturday afternoon? Hackney Brewery is celebrating turning seven in style, by opening its doors for birthday cake, retro gaming and plenty of hoppy goodness. Hackney Brewery, free entry, just turn up, 1pm-8pm
BEAUTY AND THE BEAST: Staged in true Gothic horror style, this theatrical adaptation of Villeneuve's classic French fairy tale is quite possibly one of the darkest yet. Disney, this ain't — so best leave the kids at home. Omnibus Theatre (Clapham), £15, book ahead, 2pm/7.30pm
POETRY READINGS: Are you a sucker for a bit of poetry? Then this afternoon drop-in event from The White Review and Serpentine Galleries is for you. Readers include Alex Bell, John McCullough, and the twice-named Foyle Young Poet of the Year A. K. Blakemore. Serpentine Gallery (Kensington Gardens), free, just turn up, 3pm
GALA BLUES PARTY: Grab your dancing shoes, because it's time for an evening of jump-jive, upbeat R&B, calypso, ska, and reggae in honour of the Windrush Generation. The likes of Moa Anbessa, Soft Wax, and the Youthsayers will be helping you get your groove on. Period appropriate dress and dance moves will be more than welcome. Poplar Union (Tower Hamlets), £5, book ahead, 5pm-11pm
BOTTOMLESS BASTILLE DAY: Nothing quite says liberté, égalité, and fraternité than bottomless Ricard Pastis and Cassoulet Toulousain. For those not au fait with French cuisine, the former is a traditional French anise-flavoured aperitif, while the latter a deliciously indulgent meaty bake. Today, you can enjoy as much as you can stomach of both in commemoration of the storming of the Bastille. Vive la révolution! Comptoir Gascon (Smithfield), £29, book ahead, 6pm-9.30pm
PAINTING AND PROSECCO: With your prosecco flute in one hand and a paintbrush in the other, PopUp Painting has everything you need to help you create your masterpiece. This time you'll be taking Lizzie Kennedy's soothing Sunset in Lavender Wood painting as your inspiraton for your own sundown scene. Le Meridien (Piccadilly), £36, book ahead, 7.30pm-10pm
Sunday 15 July
ADAMS ANTIQUES FAIR: Head to the 'Horti' and drool over all sorts of antique treasures. The July edition of Adams Antique Fair features fine jewellery, silver, ceramics, paintings, and much more. The Royal Horticultural Hall (Westminster), £4, book ahead, 10am-4.30pm
CATFORD VEGAN FESTIVAL: Go cruelty-free in Catford, which today plays host to south London's first free, all-day vegan festival. There's street food, cookery demos, and a free after party courtesy of Plant Bass LDN. Catford Broadway, free, just turn up, 10am-5pm
THERE NOT THERE: Today is your last chance to see a temporary exhibition the Courtauld Gallery before it shuts its doors for two years as part of a major redevelopment project. Conceived as a response to the closure, in There Not There 12 artists interrogate the boundary between absence and presence. Courtauld Gallery (Somerset House), £8, just turn up, 10am-6pm
NORTHCOTE SUMMER FETE: From carousel rides to live music and interactive games, it's all kicking off on Northcote Road this Sunday. Battersea's famous shopping hub is shutting down traffic for a day of fun for all the family. Northcote Road, free, jut turn up, 11am-6pm
HOT ORANGE BIG BAND: Enjoy your Sunday lunch with a side helping of jazz, courtesy of the Hot Orange Big Band. Led by trombonist Richard Pywell, this twenty piece orchestra will certainly put a swing in your step. Hideaway Jazz Club (Streatham), £10, book ahead, 12pm-4pm
MAGIC SHOW: Prepare for your mind to be boggled, because it's magic time with Tom Brace. Expect top tricks, plenty of laughs and, most importantly, the unexpected at his Edinburgh Preview. Pleasance Theatre (Islington), £5, book ahead, 2pm
COMMUNICATION IS KEY: Ever heard of transactional analysis? A form of psychoanalytic theory and therapy, it focuses on the influences of ego states on social interactions. Join Laura Smith for a short TA workshop and get ready to up your communication skills. Freud Museum London (Hampstead), £8, book ahead, 2.30pm-3.30pm
THE ALMIGHTY DOLLAR: Confused about how the global economy really works? Broadcaster and economist Dharshini David is here to help clear things up, by following the incredible journey of a single dollar from a shopping trip in suburban Texas, via China's central bank, Nigerian railroads, the oilfields of Iraq and beyond. Conway Hall (Holborn), £8, book ahead, 3pm
PRIDE, POWER AND POLITICS: Take a twilight tour of the Tower of London and explore how attitudes towards gender and sexuality have evolved from medieval times to the present day. Hear true tales of LGBT+ loves and lives, including how the same-sex relationships of kings became major political scandals and how prisoners' sex lives were used against them. Age 16+. Tower of London, £15, book ahead, 6.30pm/7.30pm
WES AT WOODBERRY: Plunge into indie darling Wes Anderson's The Life Aquatic With Steve Zissou while you relax next to an idyllic reservoir. The fifth annual Summer Screenings have returned to Woodberry Down, so pack a picnic and get ready for a pastel-hued watery adventure. Woodberry Down (Finsbury Park), £3, book ahead, 7.30pm
Fun things to do with our friends and sponsor Funzing...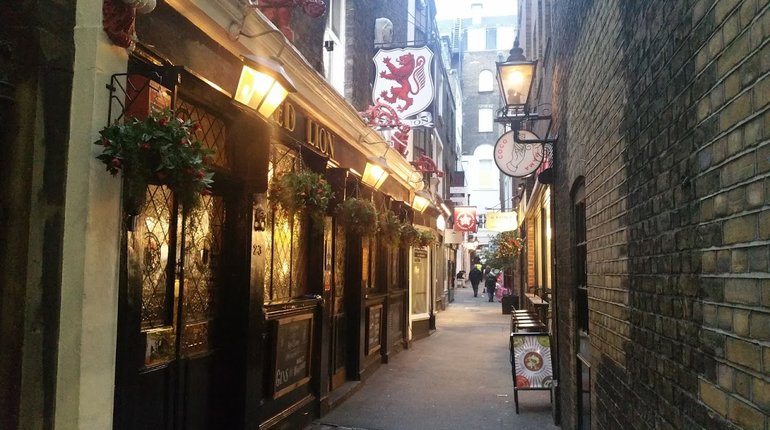 London is a city of incredible transformation. With structural remains that date back to ancient history still in existence, this unique walking tour takes in Lost London in all its former glory. From the Titanic booking office to the graveyards of man's best friend, you'll discover the weird and wonderful places that used to exist in the capital but are now only committed to memory. Using old photographs, newspaper cuttings and stories from the past, you'll be amazed at what has largely been written out of our history books... Get tickets
Whether you're a pre-grated cheddar sprinkler or mimolette fan, this cheesy walking tour will delight your senses. Starting off at a cheese counter in Mayfair that has been serving for more than 300 years, you'll tour the city's best dairy delights - including Fortnum & Mason, where the royals get their fix. Get tickets
Track the journey of humanity through this tour around the British Museum. The tour aims to help you understand why the world is the way it is, and show how humans learned to question absolutely everything. Get tickets
The Underworld collides with the Underground in more ways that one -- from the angel that saved a tube worker from death to the ghosts of King's Cross, discover the ghoulish history of the Undergound on a tour around the city. £10 Get tickets