Things to do this week is sponsored by Rooftop Film Club.
All week
LONDON DESIGN FESTIVAL: The big daddy of design shows is back for its fifteenth year. There's a ridiculous amount to see and do across the week, so it can be somewhat overwhelming. If you just want to see some highlights head to the V&A, which acts as a hub for the festival. Various locations, various prices, 16-24 September
COMEDY SHOW: Enjoy an enlightening and funny evening from Mae Martin, exploring the reasons why we pursue short term pleasure that has harmful consequences in the long term. Described as "effortlessly amusing, highly watchable charm" and the perennially helpful "very funny". Soho Theatre, £10, book ahead, 9.30pm, until 30 September
SUPER SALE: United Nude in Covent Garden is closing in preparation of the grand opening of their headquarters in Los Angeles. So they are inviting all Londoners to visit the store for one last time with massive reductions. Covent Garden, free, just turn up, 10am-6pm, until 24 September
THEIR MORTAL REMAINS: Experience an immersive and unique audio-visual journey into the psychedelic world of Pink Floyd. This exhibit chronicles the music, design and staging of the band, from their debut in the 1960s through to the present day. The exhibition has been extended an extra two weeks due to popularity, eclipsing even that of Bowie. Victoria and Albert Museum, £20-£30, book ahead, daily 10am-5.30pm
THEATRE: The Test sees a reckless scientist and a computer hacker come together to take control of the internet in an attempt to manufacture a genuinely conscious artificial intelligence. They apply the 'Turing Test' to assess their creation but who is really being tested? Who will gain the upper hand? The future of humanity hangs in the balance. White Bear Theatre (Kennington), £15, book ahead, 9pm-10pm, until 30 September
---
Have yourself a rooftop date with Ryan Gosling
Rooftop Film Club's going gaga for Gosling this summer, screening Drive and La La Land several times over. They've even drafted in a Gosling lookalike for some of the screenings, who will be mingling with cinema goers for chats and those all-important selfies.
'Resident Ryan' could pop up at any screening of a Gosling films across Rooftop Film Club's venues in Peckham, Stratford and Hoxton. Book tickets now to be in with a chance of catching him — and start practising your Gosling selfie face. Ryan Gosling season is open.
Find out more and book tickets here.
---
Monday 18 September
TURING LECTURE: This talk by Lenroe and Manuel Blum explains and recognises mathematician Alan Turing's work in the foundation of numerical computation. The British Library, free, book ahead, noon-3.30pm
CURATING NIGHT CULTURE: In this talk, Dr Aleksandra Loewenau explores how the Dering v. Uris libel trial drew the attention of the British public to wartime atrocities. Wiener Library (Bloomsbury), free, book ahead, 6.30pm-8pm
COOKALONG: Learn how to make authentic Thai food with Andy Oliver, renowned Masterchef finalist and head chef of London's acclaimed restaurant, Som Saa. Cactus Kitchens (Clapham), £35, book ahead, 6.30pm, until 20 September
ART AND SOUL: Can art and design continue to flourish in Brixton amongst the gentrification that's rapidly enveloping the area? Join the discussion with these Brixton creatives as they discuss whether Brixton can avoid the shade of beige that inevitably comes when big business moves in. The Department Store, free, book ahead, 6.30pm-9.30pm
Tuesday 19 September
STRANGELOVE: At the moment there are two overgrown toddlers waving their rattles at each other across the Pacific. Unfortunately, those toddlers are the president of the United States and the Supreme Leader of North Korea, and their rattles are radioactive. Should we be afraid? Can the potentially terrible outcomes of this conflict be contained? Find out at this talk followed by a screening of Kubrick's Dr Strangelove. Barbican Centre, £11.10, book ahead, 6.15pm
RUTHLESS SCIENCE: This talk reconstructs the overlooked stories of holocaust victims who were subjected to heinous medical experiments in Nazi extermination camps. Hard hitting lecture by professor Paul Weindling. The Wiener Library (Bloomsbury), free, book ahead, 6.30pm-8pm
FEMINIST EMBROIDERY: Learn to embroider your favourite feminist heroes at this workshop. You get a free drink, a wooden embroidery hoop and needle to take home, some linen and a cotton sewing bag to carry your work in. The Nines (Peckham), £39, book ahead, 6.30pm-9.30pm
LOLITICS: Those who find themselves milling about Millbank Towers may want to give this show a wide berth. But if you're leaning more towards the left and you like your comedy to have as few edges as possible, then this safe space comedy show is for you. The Black Heart (Camden), £5, just turn up, 8pm
Wednesday 20 September
CLINIC: This event explores the blurred line through simulation and reality with a series of exhibits. The featured artists explore the future and the boundaries between our living and digital realities with innovative and cutting edge installations, including a synthetic sky created from algorithms. Oxo Tower, free, just turn up, noon-6pm
BANKSIDE GHOSTSIGNS WALK: On this walking tour through Bankside you can take in some of London's best ghost signs. We've covered them before and they're fascinating. The Tanneries, £15, book ahead, 12.50pm-1.30pm
STAR GAZING: As you look up into the sky at night have you ever wondered how the stars were formed? In this lecture, professor of astronomy Joseph Silk is on hand to explain the complex processes behind the birth of these gleaming gas giants that punctuate the night's sky. Museum of London, free, just turn up, 1pm-2pm    
PENNY LECTURE: Was King John as cowardly, cruel, and greedy as depicted in the legend of Robin Hood? Who was the real man in this story? In this talk, Marc Morris examines the life of John and attempts to place his actions into the historical context of the time. Morley College (Lambeth), free, book ahead, 5.30pm-6.30pm
OKTOBERFEST: Bavarian Beerhouse is back with Oktoberfest, a German inspired month of beer, including pigtails, sausages, and synchronised belching every Wednesday till Saturday. Old Street, £14, book ahead, 7pm-midnight, until October 21st
PIZZA AND REGGAE: Made of Dough bring quality pizza, award winning wines and reggae riddims for a banging night. Made of Dough (Peckham), £35, 8pm
GRAEME OF THRONES: This parody of HBO's smash hit series, Game of Thrones, tells the story of a Thrones fanboy and his quest to recreate the acclaimed fantasy saga on stage. Charing Cross Theatre, £25, book ahead, 10pm, until 11 October
Thursday 21 September
ONE SUN ALLOTMENT: This herbal workshop has fresh produce from the the Living Under One Sun allotment which you can use to make herbal tea blends and lip balms. Museum of London, free, book head, just turn up, 1pm-2pm
NURSES OF PASSCHENDAELE: Drawing on letters, diaries and personal accounts from archives all over the world, Christine Hallett recounts the stories of nurses who cared for the wounded in one of the deadliest battles in the First World War. Royal College of Nursing Library and Heritage Centre (Bloomsbury), free, book ahead, 5.30pm
THE PRODUCTIVITY PUZZLE: You'll need your thinking cap for this discussion on productivity in Britain. Jagjit Chadha discusses why productivity in the UK is poor, and argues that Britain will not find a solution to its economic problems without increasing labour and total factory productivity. Barnard's Inn Hall (Holborn), free, just turn up, 6pm-7pm
FAGIN'S TWIST: The only twist in this tale is that Oliver is not the protagonist. Instead Fagin, the villain of Dickens' classic tale takes the lead in this musical comedy. Dance company Avante Garde imagine Fagin's youth, his escape from the workhouse and his search for riches on the streets. Queen's Theatre (Hornchurch), £14, book ahead, 7pm, until 23 September
Friday 22 September
POP UP ART: Come along to the Sunny Art Centre for this art fair featuring the work of the very best young and emerging artists from across the UK and around the world. Sunny Art Centre (Holborn), free, just turn up, 10.30am-6pm
GOOD FOODS FEAST: Gauge yourself on Michelin quality cuisine this September at the BBC's brand new Good Food's Feast — excitingly it's held in a moat. Tower of London, £10, book ahead, 11am-8pm
COLOMBIAN FOOD TOUR: Sample Colombia's most popular street food dishes and learn the fundamentals of Colombian cuisine during this walking tour through the heart of the Colombian community in London. Elephant and Castle station, £45, book ahead, 5pm-8.30pm
REGINALD D HUNTER LIVE: The acclaimed and sometimes controversial comedian returns to Bush Hall for a rare live set. Bush Hall (Shepherd's Bush), £18, book ahead, 7pm
WILDERNESS OF RUSSIA: This photo exhibit features work from an unprecedented project by the Russian preservation system. See pictures that capture the beauty of Russia's wildlife and natural landscapes. Russian House for Culture (Bloomsbury), free, just turn up, 7pm
TWILIGHT TRANSITIONS: Come along to an evening of classical music and enjoy the sound of a full orchestra up-close and personal. Pieces include Beethoven's 4th symphony and 20th century Russian composer Shostakovich's 2nd Piano Concerto. Oval Space (Bethnal Green), £20, book ahead, 7pm-midnight
Saturday 23 September
MARKET: To celebrate its 130th birthday this year, the North End Road Market will roll out over 150 stalls where you can enjoy live music and entertainment. Fulham, free, just turn up, 9am-5pm
SAVING THE SUMMER: Can't let the summer go? Well go and learn how to keep it alive at this workshop where you will be taught how to dry, pickle and preserve your summer produce. The workshop will finish with a tasting session and lunch cooked using produce grown on the rooftop. The Culpeper (Aldgate), £25, 10.30am-12.30pm
BLOCK PARTY: Tuck into some brunch from an array of stalls offering food from around the world, then dance on the block to a mix of disco, afrobeat, and house tunes. Garden Bar (Borough), £10, just turn up noon-7pm
PAINT JAM NIGHT: Bring your paint brush and some inspiration to this arty party, with a glass of prosecco on arival. Secret Central London venue, £30, book ahead, 7pm-10pm
PROVOKED WIFE: It's your last chance to catch this comedy about the tedium and pitfalls of marriage. Expect extra marital drama, scheming lovers, all soaked in bourgeois angst and champagne. The Hope Theatre (Angel), £15, book ahead, 7.45pm
THE DECAY: Apparently gig promoters An Alternative Gathering are "well chuffed" to welcome back their friends and rock band The Decay for this live show. Go along and see why they're so happy. The Unicorn (Camden), free, just turn up, 8pm-11.45pm
Sunday 24 September
COMEDY: Have a laugh this Sunday at Collywobblers night of comedy featuring award winning TV stars, special guests, Edinburgh previews and free lollipops too. The Railway (Streatham), £16, book ahead, 8pm-11pm
LIVE MUSIC BRUNCH: Sit back and relax with a full tummy at the Royal Albert Hall this Sunday and listen to to exceptional musicians from London's jazz scene. The music will be led by composer Barbara Snow and lyricist Tom Hannah. Royal Albert Hall, £31, book ahead, noon
TROLL TWO: This movie is known as the "best worst movie ever made". So if you enjoy astoundingly dire dialogue, pathetic production design, crappy cinematography, awful acting, and a piffle plot then this movie covers all of those bases and more. Genesis Cinema (Stepney Green), £9, book ahead, 1pm-3pm
SOUND ALONG THE STREAM: This workshop is perfect for those of you who are disposed to wearing chains of flowers around your neck, and delicately dragging the palm of your had across a tree trunk as you walk past it. Explore our relationship with rivers and ideas about presence, flow and the dynamics of water. River Wandle, free, book ahead, 1pm-4pm
GALA CONCERT: Celebrate 30 years of West End musicals with Lesley Garett at the Theatre Royal this Sunday. Garett will be joined by Ruthie Henshall, G4, Jacqui Dankworth, The London Gay Men's Chorus, along with special guests Angela Rippon and Judith Chalmers. Theatre Royal Haymarket, £10-£85, book ahead, 5pm
BACH VESPERS: The Bach Vespers series will return again today for a range of orchestral pieces in an ecclesiastical setting. A cantata will be performed, which demands the audience consider the world around them. St Mary-at-Hill Church (Monument), free, just turn up, 6.30pm-7.45pm
Fun things to do with our friends and sponsor Funzing...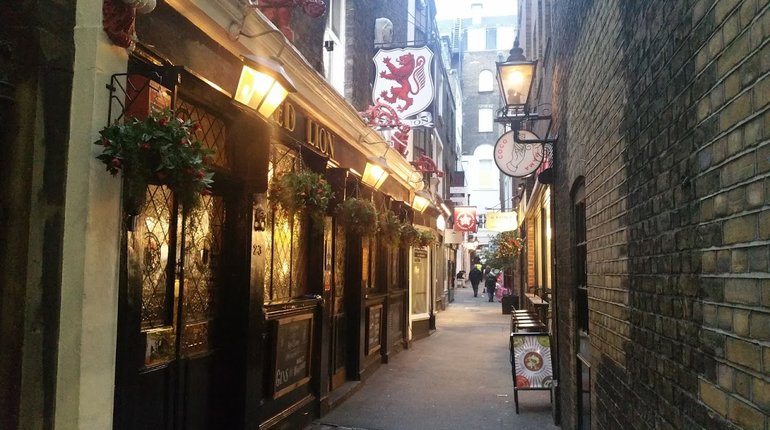 London is a city of incredible transformation. With structural remains that date back to ancient history still in existence, this unique walking tour takes in Lost London in all its former glory. From the Titanic booking office to the graveyards of man's best friend, you'll discover the weird and wonderful places that used to exist in the capital but are now only committed to memory. Using old photographs, newspaper cuttings and stories from the past, you'll be amazed at what has largely been written out of our history books... Get tickets
Whether you're a pre-grated cheddar sprinkler or mimolette fan, this cheesy walking tour will delight your senses. Starting off at a cheese counter in Mayfair that has been serving for more than 300 years, you'll tour the city's best dairy delights - including Fortnum & Mason, where the royals get their fix. Get tickets
Take to the waters and glide about in this beginner paddleboarding session. By the end of it, you'll be standing up and paddling solo, and there's plenty of help on hand to improve your technique. Change of clothes required. Get tickets
The Underworld collides with the Underground in more ways that one -- from the angel that saved a tube worker from death to the ghosts of King's Cross, discover the ghoulish history of the Undergound on a tour around the city. £10 Get tickets