Things to do this weekend is sponsored by the Gentleman's Grooming Show.
All weekend
ICE SKATING: Feeling festive yet? Plenty of London's winter ice rinks are already open — why not get in some practice before they get too busy?
SCANDI-MARKET: Handily located between Finnish and Norwegian Churches (which also happen to have Christmas fairs on), this market is the perfect place to pick up authentic Scandinavian goods, arts and crafts. Albion Street (Rotherhithe), free, just turn up, 24-26 November
CHRISTMAS FAIR: Pick up a wreath created from foliage pinched from this lovely Chelsea garden and stick around for the carols at 4pm on Saturday. Chelsea Physic Garden, £6, children free, book ahead, 25-26 November
PUSSY RIOT: This immersive production from Les Enfants Terribles aims to throw its audience into the heart of the Russian system to recreate the protest and incarceration of punk activists Pussy Riot. Sassy protest theatre or punk prayer fallen on deaf ears? You decide. Saatchi Gallery, £21.50+ bf, book ahead, until 24 December
MUSICAL ICONS: Elvis Presley, the king of rock and roll and Prince, the genre-mashing, flamboyantly dressed superstar both have exhibitions landing at the same time at the O2 in Greenwich. Our reviewer reckons their music should have taken precedence over artefacts, what do you think? The O2 Arena, My Name is Prince, £25, book ahead, until 7 January, Elvis on tour, £25, book ahead, until 4 February.
Saturday 25 November
TALKING HEADS TRIBUTE: This must be the place for all hardcore Talking Heads fans. Tribute band Speaking In Tongues will be playing two classic albums over two nights. Moth Club (Hackney), £15, book ahead, 24-25 November
MASKED BALL: Give it your best Spock impression and enter the Vaults, which has been given a space-age, sci-fi-inspired makeover. Expect out of this world performers from cosmic cabaret and stargasm aerialists to performances from a dominatrix and death drawing from art macabre. The Vaults, £25/£20, book ahead, 24-25 November
FEMINISM & TECH: Hear tech talks from successful women in the industry and take part in practical workshops from digital zine-making to creating your own bot or Wordpress blog. Feminist Library, free, just turn up, 11am-6.30pm
BREWERS' MARKET: London's beer-swigging, vinyl heads can stock up on both at this market flogging music from independent record labels alongside booze from more than 16 brilliant breweries. Old Spitalfields Market, free, just turn up, 11.30am-6.30pm
CHEERS TO BEERS: Camden Town Brewery has only crafted 900 bottles of 2017 Beer and if you're lucky enough to be one of the first 100 punters through the door, they'll give you a 12 pack of Camden Hells for free. We'll drink to that. Camden Town Brewery (Kentish Town), free, just turn up, noon-9pm
SCREENPRINTING WORKSHOP: If you think creative labour shouldn't go unpaid, then you're a decent human being and you should join this free workshop and event hosted by activist group Get Artists Paid (GAP). R.A.W Lab, free, book ahead, 2pm-6pm
PROVOCATION CAMPAIGN: Got an eye for graphic design and an interest in healthcare? Join this workshop considering the role of graphic design in constructing and communicating healthcare messages around the world. Wellcome Collection, free, just turn up, 2.30pm-4.30pm
TASTE OF TRINIDAD: Spice up your Saturday with this Caribbean pop-up. On the menu is a delicious medley of curried goat, roasted fish and pumpkin, sweet potato and swiss rainbow shard for veggies. Café Adagio (Croydon), book ahead, 5pm-10pm
PURSUIT OF MANLY-NESS: Learning and unlearning how to be a man is the premise of this show from standup comic and actor Sheraz Yousaf, a must-see for any guy going through a masculinity-crisis. 34 Thurloe Place (Kensington), £10, book ahead, 6.30pm-8pm
RAVE IN BLACKNESS: Partying in the dark isn't just an opportunity to throw your wildest shapes. BOOM! The Politics of Black Sound is throwing this rave in a tunnel under Somerset House to highlight black femmes, black queer female and non-binary artists in the electronic dance music scene. The Deadhouse (Somerset House Studios), £8, book ahead, 8pm-1pm
---
Sponsor message
Gentlemen of London — it's time to get grooming
On 3 December, The Gentleman's Grooming and Lifestyle Show is heading to Tobacco Dock for a day dedicated to all things manly. This event is for the modern man who likes to smell good, look good and feel good — grab your tickets now and get 20% off when you use code LONDONIST20.
Expect some serious shopping opportunities; buy everything from razors to shoe polish, beard oil to shower gel from over 75 brands. Treat yourself to something special or stock up on gifts in time for Christmas.
Make the most of the show by picking up some freebies — nab a complimentary trim if your hair is in need of a tidy. You might even fancy indulging in a whisky tasting before learning all the tricks of the trade from industry experts. Find out all about the show here, and get your discounted tickets for just £8 before it's too late.
---
Sunday 26 November
MUSEUM SHOP SUNDAY: Swap Black Friday for Museum Shop Sunday, a national day inviting savvy shoppers to choose culture over consumerism by spending your hard-earned cash in London's many museum gift shops. Various venues, free, just turn up, all day
CHRISTMAS FAIR: The real draw of this festive fair is to snoop around the grounds and rooms of London's only gothic castle. Expect children's crafts, live music and food from local producers at one of the city's more atmospheric venues. Strawberry Hill House (Twickenham), £4, just turn up, 10am-4pm
DESIGNER MARKET: Treat yourself to mince pies, mulled wine and unique gifts from London's hottest designers while a brass band soundtracks your festive shop. V&A Museum of Childhood, free, just turn up, 10am-5pm
PRIMROSE HILL XMAS: You could stuff your face with street food, browse gifts at the craft fair and listen to the Christmas choir, but we know the real reason you're here is to fuss over pooches in the dog show. Regents Park Road, free, just turn up, 10am-5pm
HELIX GUITARS: Looking to buy a guitar for Christmas? Make your purchase easier by booking a one-on-one session with top guitarist and Helix expert Ross Bailey, who will give you a tour of the Revstar and Helix ranges. Yamaha Music London, free, book ahead, 11am-5pm
WINE TASTING: Grab your mates and schedule in some wine time at this festive walk around tasting session, featuring more than 40 bottles of plonk, plus canapés to soak it up. 1 Ethelburga Street, £14.50, book ahead, 2pm-5pm
CHRISTMAS SWITCH ON: Take a spin on a Victorian carousel and stop off for mulled wine and food while Twickenham gets the festive treatment. Twickenham, free, just turn up, 2pm-6.30pm
UNDERWIRE FESTIVAL: This is one of the few festivals where you'll find women at the helm — not just in front of the camera but directing, editing, writing, composing and producing. See the Tango Lesson at Barbican tonight and check out the full programme here. Barbican, £11.50+bf, book ahead, 4pm
JAPANESE WHISKY: Swig and swill five types of whisky with a guy who knows his stuff. Dave Broom has just published The Way of Whisky: A journey around Japanese Whisky and he's the curator of the whisky selection at Spiritland. Spiritland, £43.20, book ahead, 6pm
FESTIVE RUN: Fancy an exercise session that'll leave you feeling all warm, Christmassy and a little bit sweaty? Join this 5km tour around twinkling London sights, past markets, trees and lights. Covent Garden, £16, book ahead, 6pm
Fun things to do with our friends and sponsor Funzing...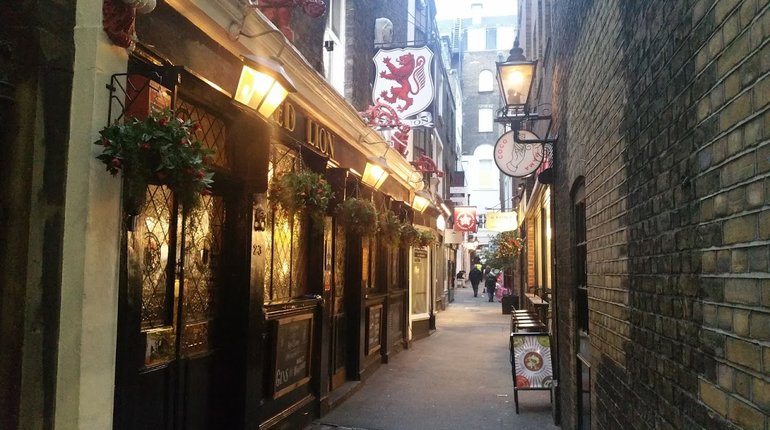 London is a city of incredible transformation. With structural remains that date back to ancient history still in existence, this unique walking tour takes in Lost London in all its former glory. From the Titanic booking office to the graveyards of man's best friend, you'll discover the weird and wonderful places that used to exist in the capital but are now only committed to memory. Using old photographs, newspaper cuttings and stories from the past, you'll be amazed at what has largely been written out of our history books... Get tickets
Whether you're a pre-grated cheddar sprinkler or mimolette fan, this cheesy walking tour will delight your senses. Starting off at a cheese counter in Mayfair that has been serving for more than 300 years, you'll tour the city's best dairy delights - including Fortnum & Mason, where the royals get their fix. Get tickets
Get creative with your partner in this date night with a difference. Between you, you'll get to create your very own piece of artwork on a large canvas. Help is on hand if you need it, but freestyle pieces are always encouraged… Get tickets
Track the journey of humanity through this tour around the British Museum. The tour aims to help you understand why the world is the way it is, and show how humans learned to question absolutely everything. Get tickets