This is a sponsored competition on behalf of Hilton Hotels & Resorts.  
All weekend
LONDON DRUM SHOW: Have a *banging* time at The London Drum Show... See Stereophonics' Jamie Morrison and Rudimental's Beanie behind the kit, take masterclasses from the industry's best and peruse the latest drum equipment. £20-£35, book in advance, 12-13 November
DULWICH LITERARY FESTIVAL: 1875 exposé of British society The Way We Live Now is the theme behind this year's Dulwich Literary Festival, where speakers including Harriet Harman, Nick Clegg and Joanna Trollope. £40-£75, book in advance, 11-13 November
STORIES OF WAR: From the Suez Canal to the 50 degree heat of the Sinai desert, see the first world war through the eyes of South Asian men and women at the Royal Geographical Society. Free, just turn up, 5-13 November
Saturday 12 November
LORD MAYOR'S SHOW: Watch the new Lord Mayor float down the Thames, see the famous procession through the streets of London, and finish the day with fireworks — check out our guide here. Free, just turn up, 9am-5.15pm
WOMEN'S CONFERENCE: Be inspired by speakers like MP Stella Creasy, Women's Hour presenter Dame Jenni Murray and journalist June Eric-Udorie at The Fawcett Society's Spirit of Women Changemakers Conference. There'll be panel discussions, interactive workshops and art too. £25, book in advance, 10am-5pm
DULWICH CHRISTMAS BAZAAR: Head to St Barnabas Church Hall in Dulwich Village for all your Christmas shopping needs. Pick from knitted cushions, homemade jams, woodwork crafts and much more. Free, just turn up, 10am-5pm
FAMILY MUSIC: Find out if your little one is the next Mozart with an under 4's music class at JW3. £8/child (must be accompanied by an adult), book in advance, 10.30am
FURNITURE UPCYCLING: From sanding to waxing, painting to repairs — literally update your wardrobe in Shepherd's Bush Green. £35, book in advance, 1pm
SLOW-MOTION WALK: How often do you actually stop and look at the London streets you walk through? Rosie's tour around central London's famous (and hidden) gems encourage you to pause and look at the city's architectural triumphs. £18, book in advance, 2pm
SCRAPBOOKING FOR ADULTS: Paperchase Tottenham Court Road is hosting a scrapbook masterclass so you can record your memories in the style they deserve. £20, book in advance, 4pm
WEST PAPUAN INDEPENDENCE: See the story of Nobel Peace Prize-nominated West Papuan independence leader Benny Wenda and ask the man himself questions after the screening at St Margaret's House. Free, book in advance, 6.30pm (screening starts at 7.30pm)
80s Vs 90s: Make your way to central London's ultimate retro venue, Bloomsbury Bowling Lanes, for a battle of the decades. This Saturday sees the ultimate retro night of 80s and 90s tunes for those of you who really can't decide which decade is best. From £4.95, 9pm
---
Sponsored message
Win a two-night adventure to any Hilton Hotels & Resorts destination in the world
Hilton Hotels & Resorts recently challenged vlogger and traveller, Ben Brown, to the ultimate 24 hours in Tallinn, Estonia. Staying at the Hilton Tallinn Park, Ben explored the capital city's famous abandoned Soviet relic, Linnahall, by skateboard, before heading to the Estonian forests for a 4x4 driving experience.
If this has inspired you to embark on your own adventure, you're in luck. Hilton Hotels & Resorts, always located in the heart of the action, is offering Londonist readers a chance to win a two-night stay at any one of its 570 properties across the world. Set up base in one of its locations and get ready to explore, whether you choose the balmy beaches of Mauritius or the vibrant Croatian city of Dubrovnik. If making memories, courtesy of Hilton Hotels & Resorts, sounds up your street, enter here.
---
Sunday 13 November
WAR AND WANDSWORTH: Firefighting, rationing and imprisoning — find out from Wandsworth local Jack the role the area played in the second world war. £12, book in advance, 10am
BREAKFAST CLUB: Feast on a brunch created by Masterchef champion Ping Coombes at Chi Kitchen on Oxford Street. £20/£25, book in advance, 10.30am
GLUTEN-FREE PASTA: Mamma mia! Discover how to make gluten-free pasta from scratch in a workshop in Shepherd's Bush. £35, book in advance, 10.30am
CHRISTMAS AT LIBERTY: Liberty is open outside of normal business hours so you can pick up Christmas presents without the hassle of all the weekend shoppers. There are complimentary breakfast nibbles (to sustain your energy while you shop) and 20% off too. £10 (redeemable against purchases), book in advance, 10am-noon
LITERARY COVENT GARDEN: Hear the words of Jane Austen and Samuel Pepys as you stroll around the coffee houses, theatres and pubs of Soho, learning about the area's literary past. £12, book in advance, 11am
SOHO'S MUSIC CLUBS: From the rock'n'roll of the 50s to the punk of the 70s, discover the legendary music venues of Soho with a walking tour. £12, book in advance, 11.30am
INDIAN FOOD TOUR: Tantalise your taste buds with fresh mango lassis, spicy curries and syrupy sweets, to experience the flavours of India without leaving north west London. £25 (+booking fee), book in advance, noon
WINTER FOOD CLUB: Have a glass of mulled wine and get into the Christmassy spirit with a hearty three-course meal at Goldfinger Factory. £25, book in advance, 1pm/3pm
ARCHIVE TALK: In the impressive drawing room of Clissold House, Stoke Newington, discover the locals' fierce campaign in the 1880s to save this architectural treasure. £5, book in advance, 2pm
STORYTELLING: Take your kids to hear tales of wonder and wisdom, and kings and queens in Willesden Green. £10, book in advance/just turn up, 2.45pm
WOMEN ON SCREEN: From women's rights activists to the meaning of friendship, see a selection of short films from London's best female filmmakers. The screenings at Hackney Picturehouse are followed by a panel discussion. £7 (+booking fee), book in advance, 6pm
BULGARIAN MUSIC: Journey along the Danube without leaving Conway Hall — pieces include Dohnányi's String Trio and Vladigerov's Vadar. £10 (or free if you're under 25), book in advance 6.30pm
---
Fun things to do with our friends and sponsor Funzing...
Take to the waters and glide about in this beginner paddleboarding session. By the end of it, you'll be standing up and paddling solo, and there's plenty of help on hand to improve your technique. Change of clothes required.  Get tickets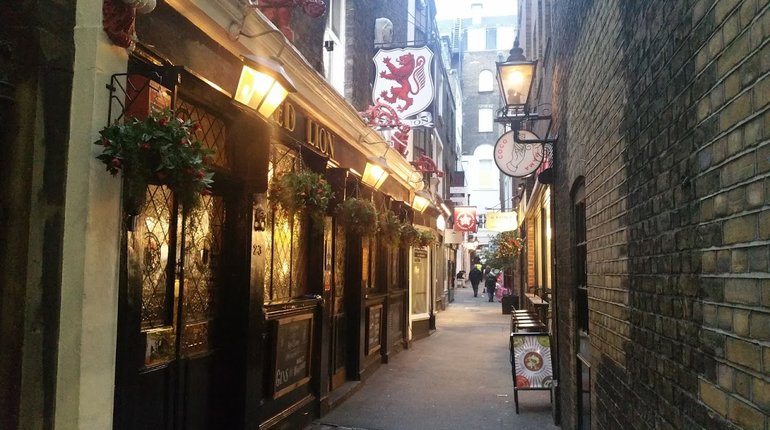 London is a city of incredible transformation. With structural remains that date back to ancient history still in existence, this unique walking tour takes in Lost London in all its former glory. From the Titanic booking office to the graveyards of man's best friend, you'll discover the weird and wonderful places that used to exist in the capital but are now only committed to memory. Using old photographs, newspaper cuttings and stories from the past, you'll be amazed at what has largely been written out of our history books...   Get tickets
How well do you really know London? Visit the streets that inspired Harry Potter locations and see London's most superstitious hotel. On Matt's tour you will explore hidden places and discover stories unknown to even the most knowledgeable of Londoners. Get tickets
Whether you're a pre-grated cheddar sprinkler or mimolette fan, this cheesy walking tour will delight your senses. Starting off at a cheese counter in Mayfair that has been serving for more than 300 years, you'll tour the city's best dairy delights - including Fortnum & Mason, where the royals get their fix.   Get tickets