Things to do today is sponsored by Match.com.
What we're reading
Things to do
DESIGNING THE V&A: A visit to the V&A is always a masterclass in art and design, but that's just the exhibits — have you ever stopped and looked at the building around you? In this exhibition, original drawings and photographs chart the building's transformation from the 1850s to today. V&A Museum, free, just turn up, 10am-5.45pm (until 7 January 2018)
KING'S CROSS TOUR: This once dilapidated area — formerly 67 acres of old railway and industrial land — is being transformed into a shiny new district for living, working and playing. Learn about some of the glitzy new buildings on the site on this walking tour. St Pancras International, £18, book ahead, 10.30am-12.30pm
HOLBORN HOUSES: Did you know that the only British prime minister to be assassinated lived in Holborn? Tour the houses formerly occupied by famous people, and dwellings from the history of literature and invention. Holborn Station kiosk, free, just turn up, 1pm-1.45pm
BOWIE'S BRIXTON: He may have seen stardom the world over, but this was a boy born and bred in London — a Brixton boy, to be precise. This two hour guided tour of his vibrant home town covers everything from birth to death, and features an ensemble of Bowie songs performed en-route. Brixton Tourist Information, £15, book ahead, 2pm-4pm
HITLER IS DEAD: Or is he? This lecture by Professor Sir Richard Evans of the University of Cambridge explores the rumours of Hitler's survival, from where they originated to what evidence has been advanced to support them. The National Archives (Kew), free, book ahead, 4.45pm-6.30pm
SPACE LATES: This adults-only, after-hours event takes on all things space this month, in an evening that promises to be out-of-this-world (sorry...). With experts on hand to answer all your questions, there's plenty to discover before you hit the dance floor at the silent disco. The Science Museum, free, just turn up, 6.45pm-10pm
CATHEDRAL CAPTURES: Photographers — amateur and professional alike — will love this rare, after-hours opportunity to take photos of Southwark Cathedral lit not just by candlelight, but by natural sunlight too. A great way to showcase the stunning stained glass windows. Southwark Cathedral, £10, book ahead, 7pm-9pm
CREATIVE MASTERCLASS: Author Sheila Chandra and renowned street artist STIK join forces to present an organisational masterclass for creative people — helping put you on the path to artistic career success. Foyles Bookshop (Charing Cross), £8/£5, book ahead, 7pm-9pm
---
Sponsor message
Make the most of being single: Join Match and check out these first date suggestions
With over 20 years in the industry, Match understands the pressure is on when choosing the setting for your first date. According to the dating gurus, most people meet for after-work drinks or a weekend coffee date.
For something a little quirky head to Waterloo's Scooter Caffe. There's plenty of Vespa memorabilia to keep your eyes occupied when your date nips to the loo. The Water Poet in Shoreditch has an excellent fairy-lit beer garden if you'd rather a cheeky pint in the sunshine.
Now the pressure's off, join Match here for your three day free trial and within the hour you could be chatting to singles in your area, and enjoying a stream of personalised matches
Sign up to Match here to begin your three-day free trial.
---
Art review: locking horns
After the major exhibitions, visit this small display of lovely sketches of animals and illustrations by Charles Tunnicliffe. Some are illustrations for Ladybird books, and there is a corner where children can try their own hand at drawing animals. The standout work for us is a black and white sketch of two bulls locking horns - perfectly sketched so you can see the strain each animal is under. Second Nature: The Art of Charles Tunnicliffe at Royal Academy of Arts. Until 8 October, £3 (or free with an exhibition ticket). ★★★☆☆
Food review: a must do for brunch fanatics
Alright, so bottomless brunches are all the rage in London, but sometimes it's nice to get back to our brunching roots with some solid breakfast grub and the company of some seriously cute poodles. We can't guarantee the poodles will be there every time, but Alma Cafe is pet friendly and several canine friends came in and out while we chowed down on delicious runny yolk Eggs Benedict with oodles of tangy hollandaise sauce, and the chef's special of smoked salmon on sourdough with little bursts of juice from pomegranate jewels. It went down a treat with the freshly made apple and mango juices. The light and airy cafe itself is a gorgeous little find in Barnes, and the deli offerings are definitely worth a second visit for lunch. Alma Cafe, 2-3 Rocks Lane, Barnes, SW13 0DB ★★★★★ Eleana Overett
Theatre review: game of throne
The old Leicester car-park corpse is back with a vengeance. Antic Disposition's RayBan-and-head-mike-modernised Richard III contrasts the glorious 12th century setting of Temple Church, with a terrific crash course in modern ensemble acting and a booming soundtrack that could have been chosen by Guy Ritchie. Toby Manley's tormented and uneasily charming Richard shifts restlessly between scheming bastard and emotionally vulnerable with a clarity not often seen in showier renditions of this part. As Richard's evil counterpart the Duke of Buckingham, Joe Eyre is a captivatingly sinister spider-man crawling all over his prey.  The bodies pile up and their ghosts stand guard at the edge of the stage, a reminder of the lengths to which a man can go in pursuit of absolute power. Great stuff. Richard III, Temple Church, EC4Y 7BB.  £20-40 until 9 September [Tuesday-Saturday] ★★★★☆ JohnnyFox
Good cause for the day
OLD OAK COMMON: Train geeks rejoice, as Old Oak Common railway depot opens its doors for one day only. A unique collection of steam, diesel, and electric locomotives will all be on display, and plenty of rides, stalls and activities are on offer too. All proceeds will go towards Place2Be, a children's mental health charity. Old Oak Common railway depot, £20, book ahead, 2 September, 10am-4pm
Fun things to do with our friends and sponsor Funzing...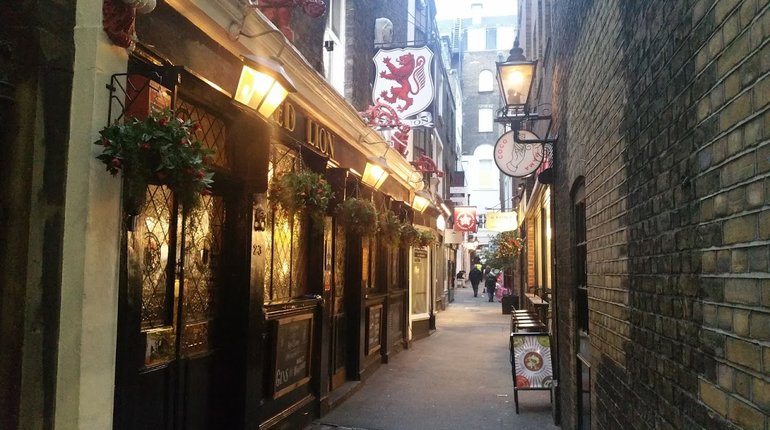 London is a city of incredible transformation. With structural remains that date back to ancient history still in existence, this unique walking tour takes in Lost London in all its former glory. From the Titanic booking office to the graveyards of man's best friend, you'll discover the weird and wonderful places that used to exist in the capital but are now only committed to memory. Using old photographs, newspaper cuttings and stories from the past, you'll be amazed at what has largely been written out of our history books... Get tickets
Whether you're a pre-grated cheddar sprinkler or mimolette fan, this cheesy walking tour will delight your senses. Starting off at a cheese counter in Mayfair that has been serving for more than 300 years, you'll tour the city's best dairy delights - including Fortnum & Mason, where the royals get their fix. Get tickets
Track the journey of humanity through this tour around the British Museum. The tour aims to help you understand why the world is the way it is, and show how humans learned to question absolutely everything. Get tickets
The Underworld collides with the Underground in more ways that one -- from the angel that saved a tube worker from death to the ghosts of King's Cross, discover the ghoulish history of the Undergound on a tour around the city. £10 Get tickets