Things to do in London today is sponsored by CommuterClub.
What we're reading
Grenfell Tower fundraiser axed when venue objected to "crap" trap and bashment music line-up.
60-year-old pays £1billion for terraced property on Downing Street.
IanVisits relays the story of the day a plane landed in the middle of Canary Wharf.
Things to do
HEATHROW EXRESS: To celebrate the milestone of reaching 100 million passengers, Heathrow Express has been photographing passengers and staff travelling on its trains, in collaboration with travel blogger and photographer Dave Burt. HExibition is a pop-up interactive photography exhibition to pay tribute to the diverse travellers across the UK. Paddington station, free, just turn up, 28 June-4 July
UNDERGROUND MEMORABILIA: Peruse original vintage posters from the London Underground and around the world at Antikbar's gallery preview. Checking out what's on offer in advance of their auction on Saturday 1 July will give you time to find a perfect spot on your walls for a little piece of history. AntikBar (Chelsea), £5, just turn up, 10am-6pm
BRITISH BOWLS: Lawn bowls might not usually scream "festival atmosphere", but Festibowl 2017 is changing that perception. Barefoot Bowls is the traditional British game but with a modern twist. Chuck a couple of balls around while chilling to DJs, with street food and cocktails. Finsbury Square, £25, book ahead, until 30 June
DNA REPAIR: Spend your lunch hour feeding your curiosity. Geneticist Charlotte Mykura speaks on how the DNA in our cells is broken down tens of thousands of times a day, and how these breaks are repaired to prevent the cells from dying or becoming cancerous. Wellcome Collection, free, just turn up, 1pm-2pm
TROUBLEMAKERS: The Society of Genealogists is revealing the stories behind some of Bishopsgate Institute's archives on radicals and troublemakers who dared to challenge the status quo. Bishopsgate Institute, £8, book ahead,2pm-3pm
EGYPTIAN SECRETS: Go behind the scenes at the Petrie Museum to learn about their collection of letters, drawings and tales on papyrus. Find out the fascinating process of making papyrus from the stem of the papyrus plant, and as these ancient and fragile documents age, see how researchers battle to conserve the delicate material. Petrie Museum, free, just turn up, 6pm-8pm
LGBTQ+ SASS:Take yourself off to the Science Museum for an LGBT-inspired evening of fabulousness, tying in with Pride in London. Drag kings and queens will be sashaying around the museum while you explore animal sex habits, sex counselling, the history of sexual orientation, walking like your opposite gender, and more. Age 18+. Science Museum, free, just turn up, 6.45pm-10pm
INSIDE CLERKENWELL: Photographers can catch a different glimpse of London to the rest of us — but how do they do it? Olivia Arthur and Mark Power discuss their most recent project, a photographic portrait of contemporary Clerkenwell. Museum of London, £10, book ahead, 7pm-8.30pm
CAMP FIRE STORIES:Forget it's only Wednesday at Skip Garden's evening of music and fresh veggie food around the camp fire, which raises funds for The Starfish Project. Ticket price includes entrance, food and live music. Skip Gardens, £15, book ahead, 7pm-11pm
BREWERY BRAWL: Who doesn't love a good local craft beer? But which is best? Five Points brewery in Hackney pit their top three beers against Orbit Beers of Walworth to see who will come out on top. Tickets include six beers and snacks. Jackdaw and Star, £10, book ahead, 8pm-10pm
---
Sponsor Message
Fancy saving some money on travel? Meet CommuterClub
Want to get away from the daily drudge and the expense of commuting? You could save up to £300 on travel to put towards an epic summer holiday when you join CommuterClub. These guys give you the value of a yearly travelcard — much cheaper than the monthly alternative — but let you pay for it in 11 instalments. This means you get a whole month of free travel.
When you join CommuterClub you'll even get your hands on a Gold Card, giving you 1/3 off National Rail travel, and 2-for-1 on plenty of London attractions. Better still, Londonist readers can get £20 off when they join – the summer savings just keep on coming. This is the ultimate way to pay for travel – flexible, manageable, and incredibly good value. Find out how much you could save here.
Representative example: Credit limit: £1,200. Interest: £67 Total payable: £1,267 in 11 monthly instalments of £115. Representative 10.6% APR. Interest rate: 5.6% pa (variable)
---
Art review: power politics
Duo kennardphillipps are renowned for the famous Tony Blair selfie in front of an explosion. This small exhibition sees them attacking Theresa May, David Cameron, Trump and the finance industry in collages made from newspapers and share prices. It's a no-holds-barred attack on the current political system. May Not at Dadiani Fine Art, 30 Cork Street, W1S 3NG, free. Until 6 July ★★★☆☆ (Tuesday-Saturday)
Theatre review: austerity folks
The legend of Richard the Lionheart's dubious rescue from captivity by his minstrel Blondel is the subject of this rock musical by Tim Rice and Stephen Oliver. With its youthful cast, it's well sung, and is funny in a pantomime sort of way. It's a pity that Blondel comes across less as a rock star and more of a folk singer — it could do with a throbbing beat and a few guitar riffs to keep the action moving. But you'll find a few wry observations about austerity which will seem as relevant as when the show first premiered in 1983. Blondel, Union Theatre, 229 Union Street, SE1 0LR, £22.50-£25. Until 15 July 2017 ★★★☆☆ (Tuesday to Sunday) Paul Ewing
Food review: street food stalwarts overlooking the docks
On arrival at Street Feast's Giant Robot, we're disappointed to learn we won't be dining inside an actual giant robot. But that disappointment is short-lived as we suss out the food options. Steamed buns, tapas, fried chicken and lobster rolls are on offer from some stalwarts of the London street food scene — and that's before we get to the bar. If you're suffering from the night before, Thunderbird's buffalo chicken will sort you right out, before you get started again on the peach bellinis. It's a relaxed, warehouse-style space, with tables inside and outside on the balcony overlooking the docks, the ideal place to get a group together for brunch. Before we know it, we've wiled away five hours of our Saturday here, and leave feeling full and satisfied. Extra hungry? Head down on a Sunday for Giant Sundays — supersized portion sizes for the same price. Open 11am-late everyday. Giant Robot, Crossrail Place, Canary Wharf, E14 5AR ★★★★☆ Laura Reynolds
Good cause for the day
Get your team together for costumed capers at Dodgeballdayer on 5 August in Wimbledon. Dodge, duck, dip and dive to raise money for Mencap at the UK's largest fancy dress dodgeball event. As well as a day full of dodging, there will be live DJs, a raffle and an auction with some top-notch goodies. There will also be food and drink stalls to keep you going throughout the day. Wimbledon Rugby Football Club, £30 per person, book ahead, 1pm-1am
Fun things to do with our friends and sponsor Funzing...
Take to the waters and glide about in this beginner paddleboarding session. By the end of it, you'll be standing up and paddling solo, and there's plenty of help on hand to improve your technique. Change of clothes required. Get tickets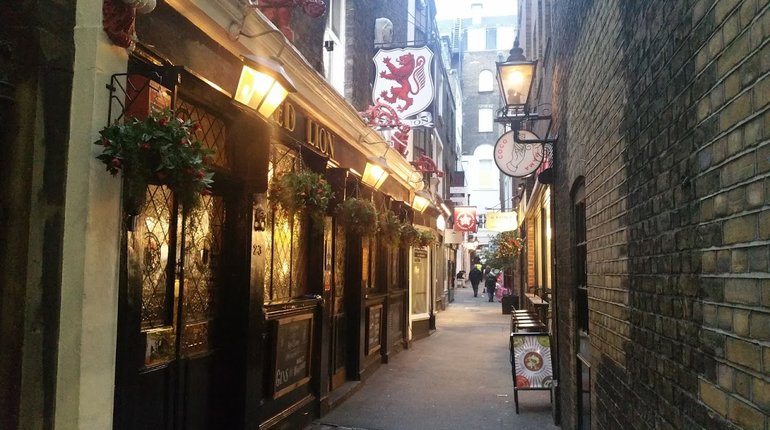 London is a city of incredible transformation. With structural remains that date back to ancient history still in existence, this unique walking tour takes in Lost London in all its former glory. From the Titanic booking office to the graveyards of man's best friend, you'll discover the weird and wonderful places that used to exist in the capital but are now only committed to memory. Using old photographs, newspaper cuttings and stories from the past, you'll be amazed at what has largely been written out of our history books... Get tickets
Cross gas lit alleyways and stroll by ancient pubs as you discover forgotten parts of London. See the world's smallest police station and visit London's most superstitious hotel on a walking tour covering everything weird, wonderful and London. £12 Get tickets
The afterlife is an intriguing subject, but how close to ghosts do we truly want to get? For those with a fascination of all things spooky, test your limits with The Westminster Ghost Walk. You'll explore this deeply historic and fascinating area of London and hear tales of ghosts, poltergeists and body snatchers along the way. Your experienced guide will lead you through dark alleyways, haunted buildings and human burial grounds - sharing the chilling secrets London has long been hiding in its past. Get tickets