What we're reading
Things to do
LITERARY SALON: Celebrate American writers such as Henry David Thoreau and Claudia Rankine with Waterstones, Gower Street. Analyse Thoreau's Walden in anticipation of Trump's inauguration, and discuss the significance of literature in this political climate. £5/£3, book ahead, 6.30pm-8pm
WAR ON DRUGS: Since his election, president of the Philippines, Rodrigo Duterte's mission on drugs has resulted in nearly 4,000 extrajudicial killings. Discover how this violence came to be and what it teaches us about impunity and power with Frontline Club in Paddington £12.50/£10, book ahead, 7pm-8.30pm
EXPERIMENTAL FILM: Fancy a giddy compilation of non-linear film and video art from around the globe? Of course you do. Get your fix at Underneath the Floorboards at Hackney Picturehouse. £2.50, from 7.30pm
ROMANCE AT THE THEATRE: A classic love story: she thinks he's a mistake, he thinks she's perfect. Dirty Great Love Story is a romantic catastrophe about bad timing, good intentions and the question as to whether a one-night stand could last a lifetime. From £20, book ahead, from 7.30pm [until 18 March, Monday-Saturday]
SKY HIGH MOVIE: Enjoy a classic movie, a glass of champagne and breath-taking views of central London. The Travelling Film Show makes its stop at the Shard with Some Like It Hot, starring Marilyn Monroe. £45, book ahead, from 8.30pm
LONDON ART FAIR: The annual London Art Fair kicks off this Wednesday. It offers four days of modern British art alongside contemporary work from talented artists. Various prices, book ahead, 18-22 January
PHOTOGRAPHY EXHIBITION: See winning images from the Wex Photographer of the Year competition, on display at Old Truman Brewery on Brick Lane. All images were entered into the 2016 weekly online photography competition, #WexMondays. Free entry, just turn up, until 23 January
GLASTONBURY: Looking forward to festival season already? The V&A has a sound and film installation about the world-famous Glastonbury festival. The footage, filmed at the Worthy Farm event in 2014, shows the festival from different people's perspectives. Free, just turn up, until 26 February
TERRAINS OF THE BODY: Whitechapel Gallery's new exhibition opens today. Terrains of the Body showcases work by artists embracing the female body as a vital medium for storytelling and expressing identity. Free, just turn up, until 16 April [Tuesday-Sunday, 11am-6pm]
ROYAL ACADEMY CELEBRATION: Celebrate Anthony Green's 40th anniversary as a Royal Academician in 1977. The Tennant Gallery will, for the first time, focus on his recently completed work, a 3m-tall portrait, The Fur Coat, "Hazana". It tells the story of his mother's second marriage. £4/£3, book ahead, until 30 April
Comedy review: best comedy conjurer since Cooper
The Great Houdini is refitted with a squeaky Yorkshire twang, courtesy of Nick Mohammed. He seems uncertain who Houdini was, let alone confident performing any of Harry's legendary acts. Cue Cooperesque cup tricks, musical numbers about dead mums and a (continually hilarious) atmosphere of impending doom. Kieran Hodgson and David Elms ensure Houdini Mark Two doesn't drown himself in a big tank of water... that's the idea anyway. Mr Swallow - Houdini, 21 Dean Street, W1D 3NE. From £19, until 18 February ★★★★★
Stage review: Art. But is it?
Yasmin Reza's 1996 three-hander shoves three nice actors as three nice blokes into an 'emperor's new clothes' situation. In this case the 'new clothes' are a very expensive white canvas, which threatens to destroy their friendship. Art is something of an 'emperor's new clothes' play, with opinion split over whether it's worth the money for 90 minutes — its success depends on the comic actors cast each time. With this threesome, there's no need to worry. Poet Tim Key is the surprising standout from Matthew Warchus's pert and pacy Old Vic revival. Art, The Old Vic, The Cut, SE1. From £12, until 18 February ★★★★☆ Johnny Fox
Art review: beautiful portraits
We recently gave Andrew Salgado's latest exhibition the full five stars. Now he's back with a survey show covering the last 10 years of his work at Canada House. It's an impressive feat for such a young artist, with more brilliant portraits to view. If you like the look of art in Canada House, you can also book onto a free tour of their art collection.  Andrew Salgado: Ten at Canada House Gallery, Trafalgar Square. Free, until 28 February ★★★★☆ [Monday-Saturday]
Good cause for the day
ROCK CHOIR: Bexleyheath Rock Choir supports a number of local charities, raising money and awareness for the likes of Comic Relief and Refuge. Join in and have fun while giving to good cause. Free, just turn up, from 8pm
Fun things to do with our friends and sponsor Funzing...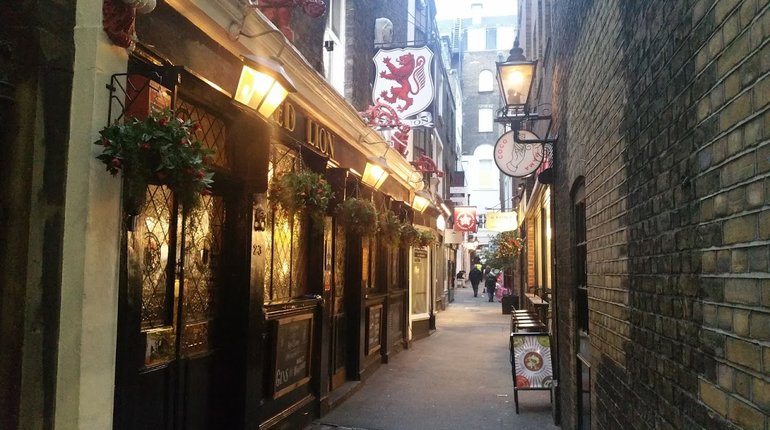 London is a city of incredible transformation. With structural remains that date back to ancient history still in existence, this unique walking tour takes in Lost London in all its former glory. From the Titanic booking office to the graveyards of man's best friend, you'll discover the weird and wonderful places that used to exist in the capital but are now only committed to memory. Using old photographs, newspaper cuttings and stories from the past, you'll be amazed at what has largely been written out of our history books... Get tickets
How well do you really know London? Visit the streets that inspired Harry Potter locations and see London's most superstitious hotel. On Matt's tour you will explore hidden places and discover stories unknown to even the most knowledgeable of Londoners. Get tickets
Take to the waters and glide about in this beginner paddleboarding session. By the end of it, you'll be standing up and paddling solo, and there's plenty of help on hand to improve your technique. Change of clothes required. Get tickets
If you've never paired ceramics and prosecco before, why on earth not? It's a match made in heaven as Sam and Diana, co-creators of 'Make Your Own', prove at their wonderfully welcoming ceramic painting workshop. Pull up a stool, don an apron and get to work on your very own mug, plate, tile, bowl or ornament. They provide the ceramics as well as a selection of patterns, and will show you exactly how to transfer designs and paint to your heart's content. It's BYO so feel free to pop the prosecco and enjoy the company of like-minded Londoners as you get stuck into your creations. Get tickets