What we're reading
Things to do today
EASTER HOLIDAYS: If you're running out of ideas for how to keep the little ones entertained, look no further than our list of things to do during the Easter Holidays.
BUNS POP-UP: Great British Bake Off winner Candice Brown presents a hot cross buns pop-up in Covent Garden, which is sure to be scrumptious. Primrose Bakery, Covent Garden, just turn up, 9am-4pm
CARPENTRY EXHIBITION: See all the great things that The Carpentry Club has put together in this exhibition. Every wooden thing you can think of is on display: from chopping boards to go-karts. Oxford House, free, just turn up, 12-18 April
POP-UP CARDS: A chance for your child to make you an Easter card that you'll cherish for years to come, at this pop-up card making workshop. Age 8+. Geffrye Museum, £20, book ahead, 2pm-4pm
GIN MASTERCLASS: Indulge in a Gin Rendezvous to celebrate the Tall Ships regatta weekend in Greenwich, hosted by Plymouth Gin. Rivington Greenwich, £20, book ahead, 12-14 April, 5pm-7pm
EXPERT WITNESSES: This Gresham College lecture debates the merits and problems of relying on expert witnesses in the family courts. Barnard's Inn Hall, free, just turn up, 6pm
DREAMING: Arrive from reality, then find yourself slowly sinking into your subconscious. Experience a full sonic and visual experience filled with art and live performances, all focusing on the subject of dreaming. Rich Mix, £3, book ahead, 6.30pm
ROBOTIC SURGERY: Hear how modern day surgeons are realising the impossible through the use of robots and 3D printing. The Royal Institution, £14/£10/£7, book ahead, 7pm-8.30pm
BOOK LAUNCH: Poet Inua Ellams launches his new book at Southbank Centre's Poetry Library — the location where much of the book was written. Hear short readings from Ellams himself, plus there's a live DJ. Poetry Library, free, book ahead, 8pm
AWKWARD TALK: When it comes to growing up, there's one conversation that all parties involved dread. The Talk. Well here's a show dedicated to that awkward and difficult watershed moment when families discuss sex. Battersea Arts Centre, £12.50/£10, book ahead, 8.30pm
Art review: refugee portraits
Eva Frankfurther uses a drab, dull palette of browns and greys — perfect for her paintings of refugees and working people in austere times, dockers having a meagre lunch and families going about their day to day lives. Downstairs is work of Germans who fled to the UK, including some fantastic drawings and paintings by Auerbach. It's a perfect time to look at the great contributions to art by refugees. Refugees: The Lives Of Others at Ben Uri Gallery, 108a Boundary Road, NW8 0RH, until 18 June (lower galleries until 4 June) ★★★★☆ (Open every day) Tabish Khan
Theatre review: objectivity versus empathy in consent
Nina Raine's new play Consent examines a rape case, where the lawyers for the prosecution and defence are friends. The debate over how empathy and emotion can be reconciled with rationality and objectivity is then played out in the men's own lives as their marriages fall apart. The play is well written, thought provoking and strongly acted — Anna Maxwell Martin proves particularly fine. Sometimes the intellectual exploration of the characters' motivations makes it difficult for us simply to feel their pain and emotions, but, considering the serious subject matter, the play succeeds in eliciting many — albeit occasionally nervous — laughs. Consent, National Theatre, £15-50, 4 April-17 May ★★★★☆ [Monday-Saturday] Sam Smith
Good cause for the day
CHARITY FOOTBALL: Watch a group of ex-pros and celebrities battle it out in this charity football match. Footballing legends Ricky Villa and Ossie Ardiles share the pitch with celebrities such as Josh Cuthbert and Dan Edgar. All proceeds go to Action for Children and The Brain Tumour Charity. Millwall FC £7.50/£10/£25, book ahead, 20 May
Fun things to do with our friends and sponsor Funzing...
London is a city of incredible transformation. With structural remains that date back to ancient history still in existence, this unique walking tour takes in Lost London in all its former glory. From the Titanic booking office to the graveyards of man's best friend, you'll discover the weird and wonderful places that used to exist in the capital but are now only committed to memory. Using old photographs, newspaper cuttings and stories from the past, you'll be amazed at what has largely been written out of our history books... Get tickets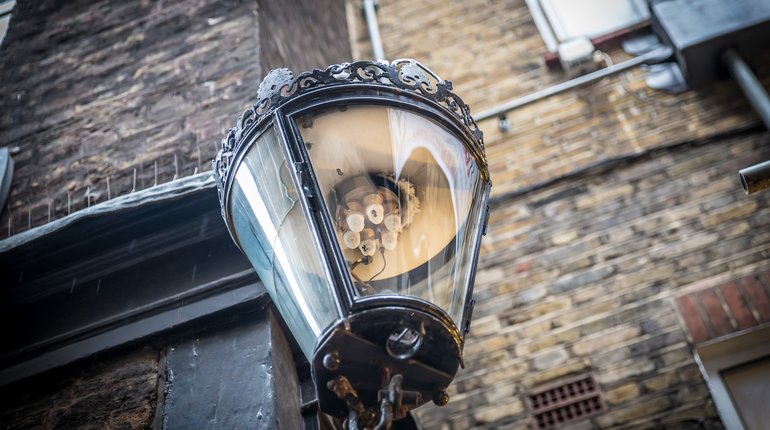 Cross gas lit alleyways and stroll by ancient pubs as you discover forgotten parts of London. See the world's smallest police station and visit London's most superstitious hotel on a walking tour covering everything weird, wonderful and London. £12 Get tickets
Take to the waters and glide about in this beginner paddleboarding session. By the end of it, you'll be standing up and paddling solo, and there's plenty of help on hand to improve your technique. Change of clothes required. Get tickets
If you've never paired ceramics and prosecco before, why on earth not? It's a match made in heaven as Sam and Diana, co-creators of 'Make Your Own', prove at their wonderfully welcoming ceramic painting workshop. Pull up a stool, don an apron and get to work on your very own mug, plate, tile, bowl or ornament. They provide the ceramics as well as a selection of patterns, and will show you exactly how to transfer designs and paint to your heart's content. It's BYO so feel free to pop the prosecco and enjoy the company of like-minded Londoners as you get stuck into your creations. Get tickets