What we're reading
Things to do
SEEDS AND SENSORS: Join the creators of the Connected Seeds Library at the launch of this new exhibition. A day of food, film and workshops gives you a chance to network with experienced and novice growers and learn about community growing seed spaces and more. Rich Mix, free, book ahead, 10am-6.30pm [exhibition runs until 12 February]
MOTHER NATURE: Join Professor Steve Jones of UCL for a discussion of the way in which creatures manipulate their fellows, partners and enemies to gain advantages for themselves. Museum of London, free, just turn up, 6pm-7pm
A NIGHT WITH FREUD: Spend an evening at The Freud Museum in Hampstead, a building which was once home to psychoanalyst Sigmund Freud. Enjoy wine as you view the museum after hours, listen to an introductory tour by the curator and learn more about the museum's collection. The Freud Museum, £25, book ahead, 6.30pm-9.30pm
FLORENCE NIGHTINGALE: Discover the life of reluctant celebrity Florence Nightingale. Though she hated having her portrait taken, it was through this that she gained her iconic status in Victorian England. Join Florence Nightingale Museum director Natasha McEnroe as she examines the life of Nightingale through a selection of images. The Old Operating Theatre, £8/£6, book ahead, 7pm-8.30pm
POETRY: Explore the themes of patriotism, friendship, class and the environment with Templar Poetry Live: The Penguin Diaries. Telling the haunting story of the British Antarctic Expedition, The Penguin Diaries include a sonnet for each member of the expedition. Keats House, free, book ahead 7pm-8.30pm
HEADS & BODIES: Be a kid a again with Heads and Bodies. Draw a head, pass it on and wait for the hilarious results. Prizes and goodies will be given out for the best drawings. Queen of Hoxton, free, just turn up, 7pm-8.30pm
POETRY, TERRITORY AND BORDERS: The world has been divided into territories, with many arbitrary borders drawn on the global map. Discuss how these divisions continue to be at the root of nationhood and identity, power and conflict. British Library, £12/£8, book ahead, 7pm-8.30pm
UNION CHAPEL DINNER: For one night only, you can dine inside Islington's beautiful Union Chapel. The pop-up fine dining restaurant is raising money to repair the chapel's clock. The menu is a Persian-inspired mezze, with vegetarian option available, and a glass of prosecco with every ticket.  £35, book ahead, 7pm
DOCTOR FAUSTUS: Join Doctor Faustus as he seeks to move beyond religion, law and science and makes a deal with the Devil himself; for 24 years of knowledge in exchange for his soul. The Tower Theatre, £12/£11, book ahead, 7.30pm
NEW WRITING: Flinn McManus and Matthew Gardner present an evening of extracts and short stories from up and coming performers and playwrights. Expect relevant and honest playwriting to shock and thrill audiences. Hackney Picturehouse, £10, book ahead, 7.30pm
SOHO COMEDY: Join funny lady Shappi Khorsandi as she celebrates the 40th anniversary of her arrival in Britain. 'Oh My Country' From Morris Dancing to Morrisey features whip-crack jokes, razor sharp wit and endless charm. Soho Theatre, £12/£10, book ahead, 9.30pm [until 11 February]
RE-IMAGINATION: At the London Transport Museum's Poster Parade: Re-imagining historical posters, old posters and memorable designs are cleverly modified for contemporary audiences. London Transport Museum, £16/£13.50, book ahead, until 27 April
Stage review:
Cirque Du Soleil Is Beautiful But Lacks Thrills
The latest slice of epic big top action from this world-conquering circus brand has beautiful imagery and choreography but lacks genuine heart-in-the-mouth action. Cirque du Soleil - Amaluña, Royal Albert Hall, Kensington Gore, Kensington, SW7 2AP. Tickets from £20. Until 26 February. ★★★☆☆ Franco Milazzo
Art review: I am the law
I AM THE LAW: 2000AD comics is best known for its creation Judge Dredd. But it did so much more and its wide range of characters is the focus of this exhibition, full of fantastic illustrations and plenty of information. It's great for comic book fans, though we're not sure if it will convert the uninitiated. Future Shock: 40,000 years of 2000AD at The Cartoon Museum, 35 Little Russell Street, WC1A 2HH. £7, until 23 April ★★★☆☆ [Tuesday-Sunday]
Good cause of the day
ZOO STAMPEDE: Sign up for the ZSL London Zoo Stampede and raise money to help conserve and protect some of the world's most wonderful and rare species. The event is a 5km or 10km run through the zoo in Regent's Park. Don't worry — you've still got a couple of months to train. £34, book ahead, 26 March 2017
Fun things to do with our friends and sponsor Funzing...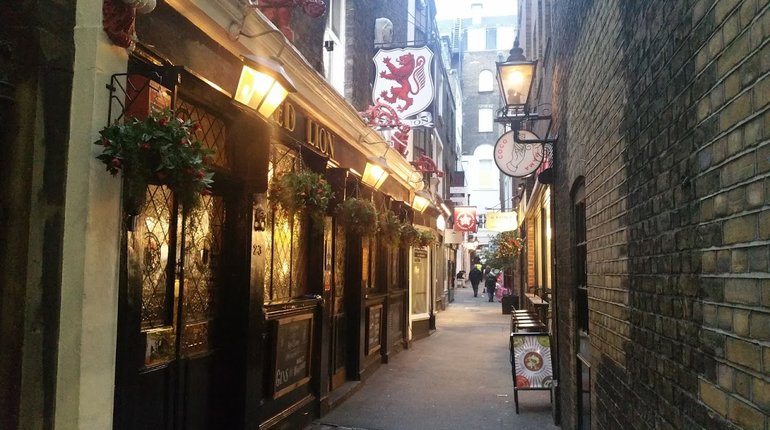 London is a city of incredible transformation. With structural remains that date back to ancient history still in existence, this unique walking tour takes in Lost London in all its former glory. From the Titanic booking office to the graveyards of man's best friend, you'll discover the weird and wonderful places that used to exist in the capital but are now only committed to memory. Using old photographs, newspaper cuttings and stories from the past, you'll be amazed at what has largely been written out of our history books... Get tickets
Whether you're a pre-grated cheddar sprinkler or mimolette fan, this cheesy walking tour will delight your senses. Starting off at a cheese counter in Mayfair that has been serving for more than 300 years, you'll tour the city's best dairy delights - including Fortnum & Mason, where the royals get their fix. Get tickets
Take to the waters and glide about in this beginner paddleboarding session. By the end of it, you'll be standing up and paddling solo, and there's plenty of help on hand to improve your technique. Change of clothes required. Get tickets
Get creative with your partner in this date night with a difference. Between you, you'll get to create your very own piece of artwork on a large canvas. Help is on hand if you need it, but freestyle pieces are always encouraged… Get tickets