Things to do today is sponsored by London Duck Tours.
What we're reading
Things to do today
EASTER HOLIDAYS: If you're running out of ideas for how to keep the little ones entertained, look no further than our list of things to do during the Easter Holidays.
RESTAURANT OPENING: Selfridges is bringing a welcome addition to its iconic store with a Californian-themed roof deck restaurant and bar — just in time for summer. Selfridges, book ahead, 11am-11pm
PODCAST RECORDING: Author and podcast extraordinaire Emma Gannon has the BBC's Gemma Cairney as a guest on her latest episode. The recording takes place in front of a live audience, and could cover anything from first love to mental health. Waterstones Tottenham Court Road, free, just turn up, 6.30pm
ARCHITECTURE PANEL: Is Architecture Art? That's the central question this panel consider. One panellist is Londonist's own superstar art critic Tabish Khan who — fair warning — has a penchant for leaving controversy in his wake. The Exhibitionist Hotel, free, RSVP required, 6.30pm for 7.15pm start
EASTER RECITAL: Hear a special Easter recital of Hadyn's Seven Last Words of Christ, by musicians from acclaimed Venetian chamber orchestra L'Offerta Musicale. Church of Saint Anselm & Saint Cecilia (Holborn), £8/free, book ahead, 6.45pm-7.30pm
HISTORIC HOUSE TALK: Great Dixter in Northiam dates all the way back to 1450s and remains a centre for horticultural creativity to this day. Join Aaron Bertelsen on the publication of his book covering the house, as he takes you through its intricacies. V&A Museum, £15 (refreshments included), book ahead, 7pm-8.45pm
BLACK MUSIC CAPITAL: Former sound system owner and pirate radio broadcaster Lloyd Bradley talks about how London is the black music capital of the world. Rye Wax (Peckham), free, just turn up, 7.30pm-9pm
IDIOT DINNER: Drop your favourite topic into a hat, no matter how obscure. Then everyone picks a topic out of said hat and starts a conversation on that topic, even if they know nothing about it. Conversation will be challenging but at least there's food too. The Book Club, £15, book ahead, 8pm
---
Sponsor message
See London as you've never seen it before with London Duck Tours
No need to choose between bus or boat to see London — with London Duck Tours, you'll get both. The bright yellow amphibious vehicles travel on the road and the river to see the best of the city's sights, all accompanied by an action-packed live commentary.
The Ducks were originally used in the second world war, but these vehicles have been rebuilt from scratch and modified. Choose from the Classic Sightseeing Tour, Historical D-Day Duck, or even the James Bond Tour — just be ready for the splash. Book your tickets here.
---
Art review: play on a curved pool table
This small, free exhibition looks at the history of how certain games came into origin, but more importantly lets you get hands on with several variants of chess, play pool on a curved table and navigate a ball through a maze. History meets a lot of fun, and it's game on. Game Changers: Another way to play at Somerset House, until 7 May, free ★★★★☆ Tabish Khan
Theatre review: access all jazz areas
There are 11 people on a stage for which 'postage stamp' would be a compliment, and two of them are hammering it into submission with the loudest synchronised rhythmic tap since those mice in the windmill. This Joint Is Jumpin' tells you no lies because every musician and songster is a virtuoso as they explore the back catalogue of Thomas 'Fats' Waller, from Mathis Picard's artfully crafted piano to Michael Mwenso's cool confident lead vocals.
Broadway veteran Lillias White is just a big ole succulent cherry on the top — the way she seduces you girlishly into every melody is sublime. Ignore the 'story' because there really isn't one, but as an accessible jazz concert even for non-jazz aficionados, it's one elegant evening.
This Joint is Jumpin', The Other Palace (Studio), 12 Palace Street, SW1E 5JA, £15-25, until 15 April ★★★☆☆ [Tuesday-Saturday] Johnny Fox
Good cause for the day
WILDLIFE CONSERVATION: Bit of a niche one, this, but if you're interested in conservation issues, get yourself to the ZSL offices for a talk about threats to the mountain chicken species of frog, and what can be done to avert said threats. ZSL London Zoo, free, just turn up, 6pm-7.45pm
Fun things to do with our friends and sponsor Funzing...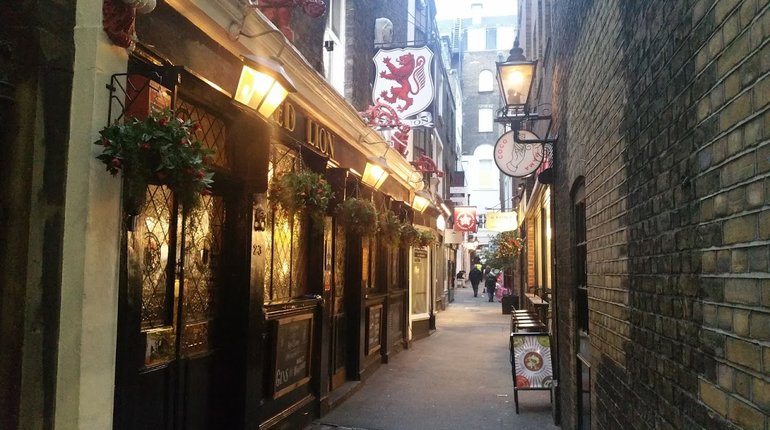 London is a city of incredible transformation. With structural remains that date back to ancient history still in existence, this unique walking tour takes in Lost London in all its former glory. From the Titanic booking office to the graveyards of man's best friend, you'll discover the weird and wonderful places that used to exist in the capital but are now only committed to memory. Using old photographs, newspaper cuttings and stories from the past, you'll be amazed at what has largely been written out of our history books... Get tickets
Take to the waters and glide about in this beginner paddleboarding session. By the end of it, you'll be standing up and paddling solo, and there's plenty of help on hand to improve your technique. Change of clothes required. Get tickets
Cross gas lit alleyways and stroll by ancient pubs as you discover forgotten parts of London. See the world's smallest police station and visit London's most superstitious hotel on a walking tour covering everything weird, wonderful and London. £12 Get tickets
The afterlife is an intriguing subject, but how close to ghosts do we truly want to get? For those with a fascination of all things spooky, test your limits with The Westminster Ghost Walk. You'll explore this deeply historic and fascinating area of London and hear tales of ghosts, poltergeists and body snatchers along the way. Your experienced guide will lead you through dark alleyways, haunted buildings and human burial grounds - sharing the chilling secrets London has long been hiding in its past. Get tickets