Things to do today is sponsored by Houses of Parliament.
What we're reading
Things to do
EUREKA: New Scientist Live — billed as the world's most exciting festival of ideas — is hitting ExCel this weekend, featuring the likes of Tim Peake, Heston Blumenthal and Margaret Atwood. And with a line-up like this, who knows what new ideas you'll discover. ExCel London, from £26, book ahead, 10am-5pm, until 1 October
VEGAN NIGHTS: Join Truman Brewery for a night featuring all things vegan. There's vegan food, beer, cakes and shakes, plus live music to keep you entertained. You'll be spoilt for choice, and that's not something vegans can say too often. Boiler House (Shoreditch), free entry, just turn up, 5pm-10pm
CONSERVING BEAUTY: There's a lot that goes into preserving the Painted Hall of the Old Royal Naval College. This insightful talk from leading conservation experts will reveal all the hard work that goes on behind the scenes. The Art Worker's Guild (Bloomsbury), £20, book ahead, 6pm-8pm
HOW THEY DID IT: Remember the amazing poppies sculpture in the moat of the Tower of London? In this talk, Chris West will discuss the brains behind the planting of the 888,246 poppies in the structure. Guildhall Library, £5.90, book ahead, 6pm-8pm
MINDFULNESS MASTERCLASS: Ruby Wax is no stranger to mental health issues, having suffered from depression and anxiety throughout her life. Join her in a humorous and stimulating discussion on the value of mindfulness, drawing from her personal experiences. China Exchange, £10, book ahead, 6.30pm-7.45pm
MODERN TIMBER: Take a glimpse at what the the future of timber housing might look like at this panel discussion on paradigms, technologies and the future of wooden housing. There's plenty of food and drink too. The Building Centre (Bloomsbury), free, book ahead, 6pm-8.30pm
BANNED BOOKS: As part of Banned Books Week, an international celebration of the right to read, Melvyn Bragg and guests reflect on their fight to end the fatwa against Salman Rushdie, twenty years after he was forced into hiding. The British Library, £10, book ahead, 7pm-8.30pm
VINTAGE CARS: Sure to paint a pretty picture, the cobbles of the old Greenwich Market will host a selection of vintage cars as the Mean OldTimers classic car and motorcycle club stage their monthly meet. Don't forget your camera. Greenwich Market, free entry, just turn up, 7pm-10pm
BRITISH BIGFOOT: Maybe the reason that Sasquatch can't be found in the States is because he/she has been lurking in England all along. Join photographer Harry Rose as he shares his theories on this elusive primate. The Bell (Aldgate), £4.40, book ahead, 7.45pm
CONCERT LATES: Take a later train home and catch this rush hour concert, with an ensemble of twenty one string musicians out to reimagine the concept of light as an extra instrument within the orchestra. St John's Waterloo, free, just turn up, 9pm-10pm
---
Sponsor message
Explore the Houses of Parliament for yourself
Not just for high-flying politicians and Lords, the Houses of Parliament are now open for visitors from Tuesday to Saturday, giving you the chance to get up close to the likes of Speaker's Chair, those famous green benches — and history in the making.
Book onto a tour and step inside both the Commons and Lords Chambers before admiring the centuries-old Westminster Hall. See where history is still being written, and learn about the inner workings of Parliament.
Afterwards, we suggest staying for afternoon tea, where you can savour a House of Commons sultana scone, while gazing out over the Thames. Find out how to book a tour here.
---
Art review: immigration post-Brexit
An exhibition looking at seven historical turning points in Britain's history of immigration from the expulsion of Jews to the latest census showing an increase in mixed race people living in the UK. It's a powerful exhibition that tells these eras through humans stories, highlighting how Britain has always been a land of immigrants, and yet has always had a history of anti-immigration sentiment. Another great exhibition from this important museum. No Turning Back: Seven Migration Moments That Changed Britain at The Migration Museum, The Workshop, 26 Lambeth High Street, SE1 7AG. Until 25 February, free. ★★★★☆ (Wednesday-Sunday)
Food review: a vibrant Laotian feast in Covent Garden
Chances are you're familiar with the coconut curries and chicken satay hailing from Thailand — but have you ever sampled the cuisine of neighbouring Laos? The stunning Lao Café in Covent Garden is the latest venture from the owners of Rosa's, and is one of the few places in London to offer an authentic taste of Laotian cuisine. Starters including rice crackers with minced pork chilli dip (originally created as a way to use of leftover rice), paved the way for a spice feast. Lao Café is not one for chilli-phobes. Tom Zaan Gai Gnar Dum, a comforting chicken soup with toasted black sesame served in a clay pot, is the perfect mix of spicy and sour. Meanwhile a herbal curry with white fish steamed in a banana leaf (Mohk Pla) is a phenomenally tasty, yet delicate introduction to the region's curries. Traditional papaya salads popular in Thai joints are also on the menu, but with twists such as salted eggs or pickled clams. If you're feeling brave, there's a chance to try crispy fried bugs (surprisingly nice), or top your dishes with ants' eggs. Accompaniments include sticky rice grilled in a cake-like form, perfect for mopping up sauces and soups. Inspired by traditional village dishes, Lao Café's menu is not for the faint-hearted – the spice game is certainly big here. Lao Cafe, 60 Chandos Place, WC2N 5HG. ★★★★★ Hari Mountford
Theatre review: death becomes him
The late Stephen Clark's short drama written for Julian Clary is a dark and tense exploration of the pain two strangers find in each other as they engage in mind games over a dinner with murder on the menu.  Julian Clary expertly balances wit and vulnerability against James Nelson-Joyce's well-endowed performance. The intimacy of the space and Clark's occasional step over the line of public decency make for some uncomfortable moments but overall this is an entertaining piece that keeps gay men's pain under the knife. Le Grand Mort, Trafalgar Studios, 14 Whitehall, SW1A 2DY. 20 September 2017 – 28 October 2017 ★★★★☆ David Lloyd-Davies
Fun things to do with our friends and sponsor Funzing...
Struggling to find someone who shares your dark sense of humour? This twisted speed dating event can help. A group of 30-40 people will take part - with equal male/female ratios - and play a few rounds of the hilarious (and slightly dark) card game, Cards Against Humanity. After the event, connect with those who you found suitably sinister using a unique online matching system. Get tickets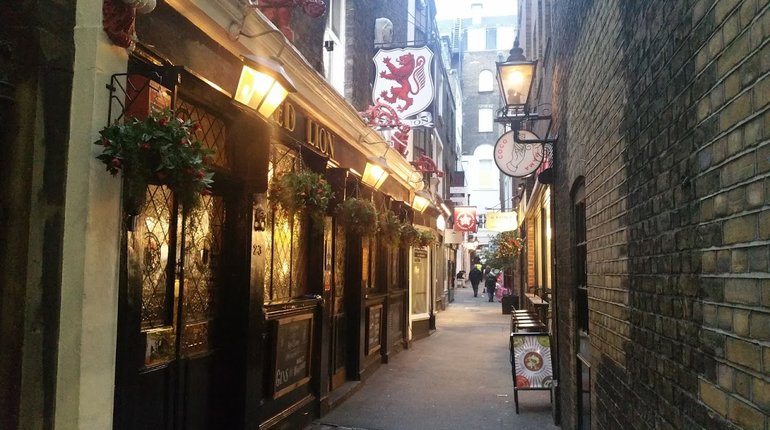 London is a city of incredible transformation. With structural remains that date back to ancient history still in existence, this unique walking tour takes in Lost London in all its former glory. From the Titanic booking office to the graveyards of man's best friend, you'll discover the weird and wonderful places that used to exist in the capital but are now only committed to memory. Using old photographs, newspaper cuttings and stories from the past, you'll be amazed at what has largely been written out of our history books... Get tickets
How well do you really know London? Visit the streets that inspired Harry Potter locations and see London's most superstitious hotel. On Matt's tour you will explore hidden places and discover stories unknown to even the most knowledgeable of Londoners. Get tickets
Take to the waters and glide about in this beginner paddleboarding session. By the end of it, you'll be standing up and paddling solo, and there's plenty of help on hand to improve your technique. Change of clothes required. Get tickets